Jim Fox answers questions from fans here at LA Kings Insider. This is the first in a multi-part series. Have a question for a future edition? Follow him on Twitter @JimFox19.

@NICDUMP


Q: Jim, do you think the Kings should keep the number two pick or trade it away for some serious talent along with some other picks? I know draft picks are the future but the young system is looking pretty good right now.
A: I'm sure the Kings are exploring all options available, but, with the depth of young prospects in the system currently, and the rarity of getting a top 2 pick, I think you stay at number 2.

@Skkyyyyyyyyyyy


Q: Byfield or Stutzle?????
A: Everything I read and everyone I talk to puts both players as potential star NHLer's and very close when you compare each player side-by-side. Having said that, here are some of the things that stand out: Byfield has the rare combination of top end speed with size and power. Byfield's acceleration is impressive for a player his size, but overall, Stutzle's agility, quick feet and quick hands, make him the more dangerous 1 on 1 player. Stutzle's creativity, puck possession and ability to open up passing and shooting lanes, all stem from his footwork. As far as shooting, Stutzle needs to improve in this area and shooting is an area I believe can be improved if prioritized, as compared to skating, where I believe the chances to improve dramatically are very difficult to accomplish. While Byfield, not considered to be a sniper, has a solid combination of power and accuracy with his shot, he likes to shoot off-the-rush and has an effective outside-inside move to get shots off. Hockey sense is a very difficult area to analyze, especially without watching any player in multiple games and in multiple game situations. For Stutzle, you must start with his 1 on 1 danger assets, which go a long way to buying himself time and space to "make things happen," with vision and sense. Byfield seems to possess and solid understanding of when to shot or when to pass.

As you can tell, these players are extremely close in many areas and this will be a difficult choice. If I had to break the tie (and I could go into this in depth, but it would take a couple of hours), this is how I break that tie. Although both players can play center, it appears that Byfield will be the more "natural" NHL center. Stutzle seems to possess the more dangerous 1 on 1 skill, but here is where I go a little deeper. I believe 1 on 1 skill superiority usually shrinks a touch when moving for a lower level to the NHL level, so until I see it at the NHL level, the 1 on 1 skill advantage is neutralized a bit. Bottom line, the very rare combination of size with a high skating skill gives Byfield the advantage to me.

Q: Do you think it is better to keep to developing the kids for a couple years before bringing in the difference making veterans, or bring the vets in earlier to teach the kids?
A: Using and the decision of when to use veteran "bridge" players is more difficult now than when Dean Lombardi did his masterful rebuild. The biggest difference between then and now is that there was no salary cap for Dean to deal with in the rebuild compared to now. Having said that, it appears the Kings salary cap issues will lessen I the next couple of years and the Kings may be able to insert some veteran bridge players in the very near future. It seems like the Kings are going to be well stock-piled with young developing prospects, but the big concern for me is to make sure that you don't end up with too many players who have the same strengths and are in the same age/development stage. Generally, I believe that the veteran leaders that will have to provide the veteran leadership will come more from current players who get older as opposed to veteran players brought in from the outside.

@trivialnunz


Q: Any insight on how the late start for the 2020-21 season will impact prospects and the Ontario Reign?
A: Due to the stage that the Kings are in, it goes without saying that the Kings organization will be putting an extremely high priority on developing players at the AHL level. Any late start for the AHL will probably have a more negative effect on the Kings organization than others who are not in the development stage as much as the Kings. With the number of "higher-end prospects" that Kings will have in Ontario, it will also be very important to put a high emphasis on winning at the AHL, as well as developing. If the prospects are indeed as highly rated as independent sources rate the Kings' prospects, success should also show in the standings as well as individual improvement.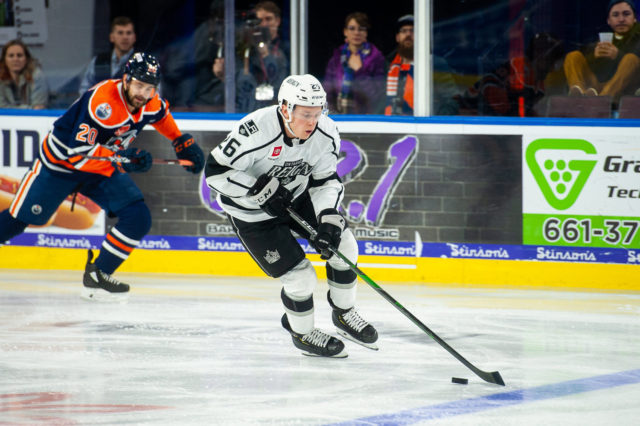 @NewfieDecker


Q: What's your opinion on (trying to) trading up for the #1 pick?
A: I find it hard to believe that it would be possible to come to an agreement with the Rangers for the #1 overall pick. But I assume that the Kings are exploring every option available. Bottom line for me, stay at #2 and get the player you want. I would put the percentage chance the Kings would be able to trade and move up at 5%.

Q: Do you think Cal Petersen will/should get a few more games in net over Quick next year?
A: I would assume that Cal will get more games as each year goes along. If Cal keeps developing like he has and does not have any major setbacks, then I think he should continue to get more games. The stage the Kings are in right now, I am looking 3, 4 or 5 years down the road, so to me that means that Cal will get more games.

Q: How has your summer been going?
A: Like everyone else, an adjustment has been made due to the COVID-19 situation. But, as far as the annual schedule/cycle goes, there really has not been a big change so far. The Kings were nearing the end of a season in which they were not going to make the playoffs, so my "schedule" really has not changed that much. Changes will be felt hear soon and as we get ready for the 2020-21 season. I expect to be broadcasting some playoffs games for NHL radio, like I have done for the past 15 years or so. Most of the changes will take place with the startup of next season. Whether it is December 1 or January 1 or so, this is where the big adjustments will have to be made. Unless things change dramatically with COVID-19, I assume that broadcasters will not be traveling with the team when the seasons starts again, so that will be an adjustment, but in all honesty, I thought that planning to have broadcasters travel less, was already being considered, due to costs, etc. I am just preparing to be as flexible as possible, trying to mentally prepare for many different possibilities.

@MeSflanagan89


Q: As far as you know, did the Kings ever look into moving during the 80s pre-Gretzky?
A: I think this would be difficult for anyone to admit, but I must assume that until Gretzky came aboard, everything was on the table. I assume discussions did take place, but as a league, I also assume that the NHL was putting a high priority of keeping the Kings in Los Angeles. As we look back now, with all the success the Kings have had, it seems weird to think of something like that, but think discussions did take place.

Q: Why did it take the NHL so long to ban the bench-clearing brawls from the 70s & 80s? I vaguely remember them (MON-CAL. from the '86 SCF I watched on ESPN). They're a kick to watch on YouTube, but if that was even a small part of the NHL today it's be harder to be a fan.
A: It is always a difficult thing to balance new ideas with traditions and history. Not sure why it took so long, but I believe a few reasons why the brawls have gone away are:
– The influx of more European players, who did not have fighting in their game.
– The influx of more college players, who did not have fighting in their game.
– The biggest reason may have been, when the rules were changed to start fining, suspending and penalizing coaches, for the actions of their players who crested a brawl. When this happened, coaches put an extra priority on making sure their players did not start brawls.

Q: Where were you when you heard we got Gretzky? I was at the bank with my dad.
A: I was at home in Redondo Beach when I heard about it and I immediately called my Dad to share the epic news. In all honesty, my agent Ron Salcer had heard rumblings about two weeks before the deal was actually made and he shared the news with me, so I was aware that things were being talked about. But the shock was still very much a part of things when it finally did happen.

Q: What do you think San Jose should do? I have a good friend up north who is a huge, knowledgeable Sharks fan. West Conf. finals to last in the conference in one year can't be ignored.
A: I don't put much thought into what the Sharks should be doing, but it appears, that like the Kings, the Sharks felt like there was one more run for the current group of players, but their struggle has caught them by surprise. Then thing that sticks out is the contract situations with Burns and Karlsson. As long as that situation still exists, I assume the Sharks feel like they need to be in a "win-now" mindset. We will probably know their direction sooner rather than later.

Q: Historically, how good is Jonathan Quick? it's largely subjective, I know (different eras, rules, pads, etc.). but still, top 15? 20?
A: Unfortunately, the way Jonathan is looked upon by others has diminished quite a bit in the last 2 years. My perspective is a bit different. In the right circumstances, I thin Jonathan is still a championship winning goaltender for the next 2 years. At that point, I assume his age will catch up with him. I have seen more things change around Jonathan in the last 2 years, than I have seen his game change.

NOTE – Jim Fox is the award-winning analyst for all Kings games on FOX Sports West. A former Kings winger, he is also one of many contributors to LA Kings Insider. Our organization understands the importance of LAKI to you and we remain committed to evolving the platform and providing exciting new content once we resume our usual operations.