Two different players, two different roles, one thing in common. Blaine Byron and Jacob Doty are back with the Ontario Reign for another season.
Both players were, in their own way, unexpected members of the 2019-20 Reign roster. Doty, by his own admission, wasn't even necessarily thinking he'd make the team to begin the season, but following a strong training camp on a professional try out (PTO), he was on the opening night roster after he impressed the coaching staff and management with his toughness and physical presence.
Byron, on the other hand, began the season across the country in the Eastern Conference with the Springfield Thunderbirds. With Ontario's forward corps depleted due to injuries and callups in mid-December, the Reign acquired the then 25-year-old forward via trade, and immediately inserted him into their lineup.
"I like the way that both players carry themselves on and off the ice, they have good practice habits, a high compete level in games and are good teammates, they're guys we want in our group," Ontario Reign General Manager Rich Seeley said of the two re-signings.
Byron immediately clicked in the Ontario lineup, slotting in on a line with Jaret Anderson-Dolan and Mikey Eyssimont, a line which became Ontario's most productive unit as the team continued to grind out wins and keep itself in the midst of the playoff push.
"I think I found some instant chemistry with guys right off the way, with JAD and Mikey Eyssimont there, and with Matt Luff," Byron said. "When you can find chemistry with guys, it definitely makes the transition easier. I thought I did a good job of earning the trust of the coaching staff, and I think it was a really good trade for me, personally. I was definitely happy with it."
That's not to say that Byron wasn't an effective player with Springfield, where he was in the midst of his third season at the time of the deal. The 6-0 forward scored at around a half point-per-game pace in his 107 games with the Thunderbirds, as one of 15 players in franchise history with more than 100 games played in its existence.
The Westward movement, however, provided Byron with a fresh start and a new outlook, as well as an intriguing new opportunity to take his game to another level.
"Coming from the trade, I didn't know much about [the Reign], so I just tried to look at it as a fresh opportunity to show who I am and kind of identify the kind of player I was," Byron said. "I just took the opportunity and tried to run with it."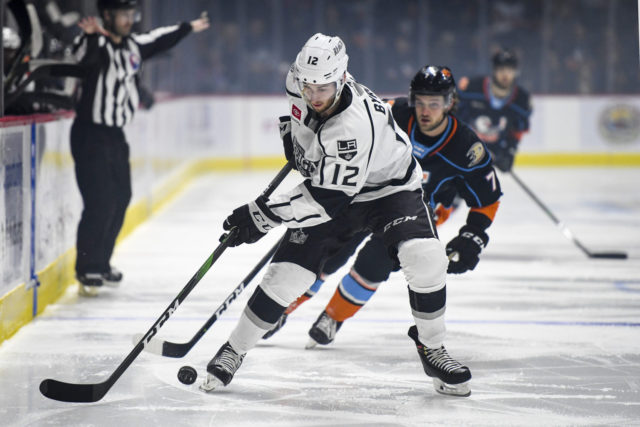 From the team's point of view, management was happy with how Byron came in, and it wasn't just about his play on the ice, which was, by the way, excellent as he led the team in scoring from the time he was acquired in mid-December.
Beyond just his 21 points from 29 games was an excellent teammate and person, as well as a strong work ethic in practice and leadership qualities in the locker room, traits that Seeley emphasized as reasons for bringing the forward back for a full season in Ontario.
"Blaine, he came in last year and did a really good job for us," Seeley said. "It's not easy being traded during the season and he joined our group seamlessly. He took advantage of his opportunity, quickly earning quality ice time contributing well offensively. I thought he had some chemistry with [Mikey] Eyssimont and Jaret Anderson-Dolan, they were an effective line, he also moved around within our group of forwards and was productive. Blaine is versatile, has good hockey IQ and possesses good leadership capabilities. We look forward to seeing Blaine continue to grow as a player"
The University of Maine product will re-join a Reign squad that is expected to add several first-year North American pros to its ranks, in addition to some returning faces from last year's squad. One of those familiar faces will be Doty, who's contributions to the team came in a different way.
Though his offensively driven season in the EIHL might say otherwise, at the AHL level, no one is mistaking Doty for a scorer, nor does he pretend to be one. The 6-3 forward knows his strengths on the ice, and those strengths bring something different to the team than any other player on the roster.
"Just a really honest hard-working guy that strives to get better every day," Seeley said. "Dots can play on a regular basis and has the ability to create positive moment shifts during a game. He brings an element of physicality to our group and his presence allows our group to play with a little bit more confidence. We look forward to having him back for the 2020-21 season."
For Doty, just returning to the AHL was an accomplishment in its own.
The veteran forward hadn't played an AHL game since 2016, when he skated four in four contests with the Chicago Wolves before he was assigned to the ECHL. From there, Doty went on to spend three seasons split between two leagues separated by one letter and one ocean, the ECHL and the EIHL. In his mind, he had almost come to terms with being an ECHL-level player, until he signed the PTO with Ontario a couple weeks before training camp in 2019.
From there, a hard-working camp impressed the staff enough to extend that PTO into the start of the season, a move which ended only when Doty earned an AHL contract midway through the season.
"Everything happened so fast for me last year," he said. "I think I signed a PTO maybe two or three weeks before training camp, and I ended up sticking and staying the whole year, which was nice. It was nice, for me, to show myself that I can play there again. If you look at my Elite Prospects, I was kind of over in the UK for parts of two years, and in the [ECHL] and I kind of accepted myself as being a Coast guy. When I came into camp, I had a good camp and wound up staying all year, which was nice and I was happy to do that."
While he spent the entire season with Ontario, outside of a three-game assignment to ECHL-Allen to get some game time in, Doty appeared in 18 AHL games with the Reign, serving as a healthy scratch on more nights than not.
Despite a limited run in the lineup, where he collected an assist, Doty was a positive influence in the locker room, setting strong practice and off-ice habits for his younger teammates. While he didn't quite establish the game totals he would have liked, Doty was able to stay positive through the scratches.
"It's getting back in, just trying to stay positive," Doty said of powering through. "It's finding something, just looking forward to that next chance. I think I did a good job of staying positive this year, and I was mostly just happy to be back in the American League. Now, I'm looking to take another step going into this season, and all I can do is prepare myself for that."
Looking ahead, Doty's next step is to cement himself as a regular in the Reign lineup. As Seeley mentioned, he feels that Doty has the ability to take that next step, to play a regular shift on most night, and the Montana native has the same sentiments.
"I have a new belief that I am a player and can be a full-time American Leaguer," Doty said. "I think my next step is that I'm coming for a roster spot every night. I was mostly out of the lineup last year, but I'm looking to take that next step and be a regular, push to be in that lineup every night. Personally, that's how I'm taking it, and I think I'd be selling myself short if I wasn't thinking like that."