The words we've all been waiting for…the NHL is back on Saturday!
It's been a long road to this point, but it feels rewarding for everyone as the NHL returns to play this coming weekend. The league will be broadcasting every qualifying round and round robin game, as of now through August 5, on NBC, NBC Sports, NHL Network and the occasional game on USA Network for those in the U.S., while Canadian viewers can watch the same games through the Sportsnet or TVA family of networks. Fans can also stream via NHL.TV and NHL Center Ice during the qualifying round and round robin stage.
Can an employee get paid for watching NHL action for 15 consecutive hours? Asking for a friend myself.
The schedule for all games from August 5-August 9, as of this writing, contains many games currently designated as "if necessary" in the best-of-five formats. That broadcast information will be announced later for those dates, as the eight series dictate how many Games 4 and Games 5, so we will see.
Here's how the league will breakdown its broadcasts in the United States for the first five days of play –
NBC Sports (U.S.)
• NBC Sports will present up to 120 hours of coverage of the 2020 Stanley Cup Qualifiers on NBC, NBCSN and USA Network beginning Aug. 1, highlighted by at least 10 hours of wall-to-wall NHL action each day from Aug. 1-5, comprised of Qualifying Round and Round Robin matchups.
• Beginning Saturday, Aug. 1, through Wednesday, Aug. 5, NBC Sports will present coverage from at least four games each day across NBC, NBCSN and USA Network, including some games that will be joined in progress.

NHL Network (U.S.)
• NHL Network will air a combined seven Stanley Cup Round Robin and Qualifier games in the first five days of the 2020 Stanley Cup® Playoffs. In addition to its live games, NHL Network will provide extensive studio coverage, including NHL Tonight before and after every Stanley Cup Playoff game. Stanley Cup Playoff games will re-air on NHL Network, and additional content featuring NHL Network analysts will be featured across NHL Network's digital platforms. Leading up to the 2020 Stanley Cup Playoffs, NHL Network will air exhibition games, beginning with the Toronto Maple Leafs against the Montreal Canadiens on Tuesday, July 28, at 5 p.m. PT.

NHL Center Ice and NHL.TV (Streaming)
• From Saturday, Aug. 1, through Wednesday, Aug. 5, 21 games will be available on NHL Center Ice and for streaming on NHL.TV. Local blackouts apply. Additional games after Aug. 5 will be announced if available.
• Fans can subscribe to NHL.TV for $4.99 for all access to exhibition games and qualifying rounds in the U.S. Blackout and restrictions apply. Fans can access or subscribe to NHL.TV through the flagship NHL app, official website, or on all major devices and platforms, including iOS, Android, tvOS, Roku, Xbox, PlayStation, Amazon Fire TV and tablets, and Google's Chromecast. For more information on the NHL's streaming service, visit: NHL.TV.
Beginning on Saturday, a minimum of five games will be broadcast each day, with that number bumped up to six from Monday through Wednesday. Beginning with the Rangers-Hurricanes matchup on what will be Saturday morning Los Angeles time, we're looking at hockey all day, every day. The matchup begins at 9 a.m. here on the West Coast, and we'll be treated to a steady stream of games all throughout the day, with the final game beginning at 7:30 PM Pacific. Think the first weekend of March Madness, but on ice!
Shown below is the broadcast schedule for the first five days of play –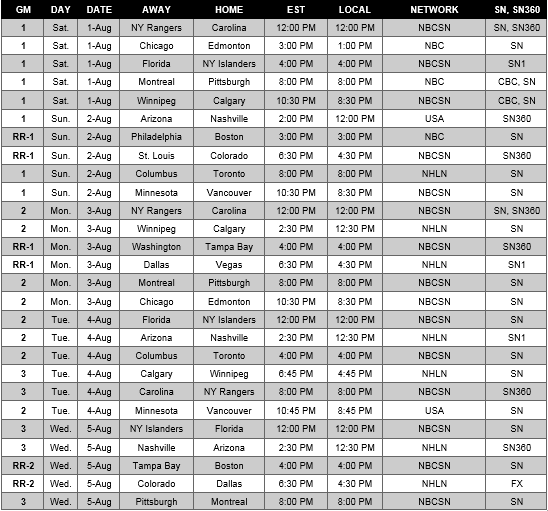 So, what can we expect while watching the broadcast?
Fans are getting a preview this week, with what is described as a watered down version of the full return to play on Saturday. Exhibition games went off beginning yesterday, but the NHL did not roll out all of the bells and whistles that are expected for the broadcasts this weekend.
As leagues around North America including the NBA, WNBA, NWSL, MLS and MLB have returned to play, following the return of several European soccer leagues, we've seen everything from pumped in crowd noise to cardboard cutouts of fans, all of which have been received with varying degrees of acceptance.
As reported by NHL.com and the LA Times among others, the NHL is aiming to cater its game presentation exclusively to those watching at home, which is nearly the entirety of its viewership in this unique, fanless situation. The league has partnered with EA Sports, creator of the NHL video game series, to use the company's library of in-game sounds to create a more realistic atmosphere surrounding the games. The NHL has also collected goal songs, goal horns and in-arena music compilations from each of the 24 participating teams, as well as fan-submitted videos to mimic some of the more original chants used in specific arenas.
There will be no cardboard cutouts of fans in the arena and no virtual fans placed into the seats using the technology that is capable of doing so. I mean, you try filling out the paperwork for insuring yourself against a cardboard cutout getting hit in the head with an errant clearing attempt. We'd never drop the puck.
There will, however, be more than 10 additional camera angles in use for each game, to give the viewers at home additional content to consume during the broadcasts. While it won't be the Stanley Cup Playoffs we're used to, the league has made the effort to do unique things in a one-of-a-kind situation.
For me, I'm torn on the "fake" crowd noise. On one hand, hearing some sort of buzzing going on during play makes me feel more like I'm watching a normal game, and less like one in an empty arena. On the other side of it though, it just doesn't do it for me when you hear that loud AWWWW from a crowd that isn't there after a narrowly missed chance. It felt strange to me watching soccer matches, hearing the crowd react in different ways, and then you look up and see banners or empty seats behind the goal.
It will also be interesting though to see how the league integrates fans watching from home. The NFL Draft and MLS Is Back Tournament, as well as English Premier League broadcasts on NBC, all took varying approaches of integrating fans watching at home into the broadcast. The MLS specifically had fans watching through a video platform shown live on the broadcast, along the sidelines and behind the net, providing a virtual fan experience.
Regardless of how it all shakes out, I'll be interested to see how the NHL approaches it. We're just four days away from the return of competitive hockey!
NOTE – Zach Dooley works for the Ontario Reign and is one of many contributors to LA Kings Insider during this time. Our organization understands the importance of LAKI to you and remain committed to evolving the platform and providing even more content once we resume usual operations.