In my nearly 45 years of covering pro hockey I remain intrigued by what goes into scouting and rating a hockey prospect. It was about nine years ago that then-Kings GM Dean Lombardi and the "Original Insider" Rich Hammond and I had an off night in Calgary. Dean invited the two of us to go to the junior game that night with the WHL's Calgary Hitmen hosting the Vancouver Giants and he wanted us to give him a scouting report of what players we liked.
Have you heard the adage about not knowing how difficult something is until you do it? I found this out that night.
When the game started, I was trying to figure out do I watch everyone on both teams OR do I focus in one two or three players on each team OR do I look at the stats and just watch the players with all the points. Bottom line…I was clueless.
I recently had a conversation with the Kings Director of Amateur Scouting Mark Yannetti, who has been a member of the Kings organization since 2006. I learned a lot from our chat and I hope you get some insights into who Mark Yannetti is, the scouting process and an evaluation of the rise of two Kings past prospects who look to be on their way to very good NHL careers.
I opened by getting some background on Mark, his history in the sport and how he got involved …enjoy Kings fans!!!
Yannetti began by talking about how he originally got into scouting.
YANNETTI: My dad (Joseph) was a high school hockey coach when I was a kid and he was the main reason I got into hockey. When I was 11 or 12 years old he then became a scout for the Winnipeg Jets and he continued as a scout until I eventually retired as a player in my mid-twenties. Of course, this is the time I transitioned to scouting myself.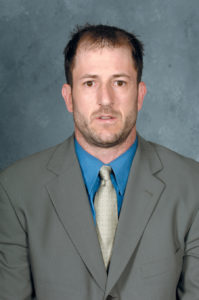 Another individual who inspired me was Paul Vincent who was a skating and skills coach and ended up in the Chicago Blackhawks and Florida Panthers organizations. My dad was the reason I got into hockey and my dad and Paul were the reasons I've made a career in hockey.
I really had no desire early on to stay in hockey when I was younger. All I wanted to do was play and when my playing days were over I saw myself teaching at some level. But my dad had me scout a game once and the report impressed him. He, in turn, passed it on to (former Winnipeg scout and GM) Mike Smith and he was impressed also and that started me on my path as a scout. Scouting wasn't something I was planning to do but I was fortunate that it did happen because today I can't imagine doing anything else."
As Kings Director of Amateur Scouting, Mark explained his responsibilities:
YANNETTI: I oversee the amateur scouting department but I also interact with the pro scouts and player development individuals and, of course, our GM Rob Blake. Our work seems to always overlap as our goal is to help our players transition from amateur to pro. I organize our amateur scouts so, ultimately, we take all the chaos — all the players we see during the season — and put them into a cohesive order based on their talent.
Most of our scouts focus on particular leagues during the season. Every scout does not see every player. My job is to listen to everybody's input. I often think of the scouts as prosecutors. They're all making a case for the best players that they have seen and rated them. They then try to convince me of their worth. My job is to then connect all the dots from all the different scouts and balance it out.
As a result, I am the one person that will see all of the players that our guys have recommended.
Are there certain things that the organization wants to look for in a player?
YANNETTI: We can start by saying that Rob Blake wants the team to play a certain way to succeed. The style the Kings want to play with and the intangibles that players can bring on and off the ice are all factors. So Rob gives us his outline as to what he wants the team to look like. We, as scouts, take that template and try to find players that fit the mold. So when a season begins we go out and look for certain things in players that will meet the teams' criteria. You must be careful, however, because you don't want to overlook the better players that may not check all your priorities.
Individually, each scout brings his own unique way of looking at a player to the table. Some scouts value skill over a player's compete level. Others value compete over skill. Still others might look for 'hockey sense' as a priority. You want everybody to watch the game the same way but you don't necessarily want them to pick out the same things. Otherwise you would need only one scout.
By having all your scouts give you varied opinions it many times opens the eyes for everyone. This can lead to a more educated debate of a players' worth.
The NHL Draft each year is comprised of seven rounds. So approximately 220 players are chosen by all the member clubs (the Kings are scheduled to have 11 picks in the 2020 Draft). So how many games does a scout need to see before formulating a confident report on a player?
YANNETTI: This is a question I've talked about many times. I guess a good number would be at least five times. Breaking it down even more, you have to consider that a scout might see a highly rated player get 28 minutes in a particular game. Another top prospect might get only 15 minutes. Did he play well or struggle in this game? Did the team play well? All of this comes into play and may determine how many more times you watch an individual.
Another thing we should mention is that most of our scouts have a 'baseline' they've developed for all the prospects because in many cases they've been watching them since they were 16 years old.
Bottom line is that five games might be an average but remember there might be cases where our guys see a player 10 times. In my experience, if you've seen a player seven to 10 times you've got him rated where he should be. The other side of seeing a player too much is that you then start to look for more flaws in his game that might skew his true value.
We've mentioned evaluated players. For a scout what is the toughest part of this process?
YANNETTI: I think it's integrating the leagues. Watching a player in an OHL game versus watching a player in the European league's or KHL can be challenging. The overall talent in all the leagues around the globe is so different. Would an 18-year-old playing in the Swedish League be as good if he were in Canadian Juniors? Then there is a player's skating and size. There are certain styles of skating that won't get better no matter what you do and sometimes scouts overestimate the ability of it to improve or underestimate the skating. To me there are certain styles of skating that get better when a player plays at a higher pace and there are certain styles that don't adjust. Trying to figure this out can be difficult.
Size is less of a stumbling block. It used to be tough for small players to excel because of the way the game was played. That has changed with the rules of the game now. That being said, I feel there isn't any area of the game that can't be improved. Regarding hockey sense maybe you don't alter or improve one's hockey sense but with giving a player better structure to his game that gives him a better feel for the game. As an example, by just eliminating a players' positioning on the ice you could probably improve his hockey sense, again this is structure to his game.
Yannetti also admitted that even within the Kings organization there are varying views on what constitutes "hockey sense".
YANNETTI: Early on in my tenure with the Kings I had a five-hour conversation with Lombardi, Mike O'Connell (consultant and former NHL GM) and a couple of others in or system about defining 'hockey sense.' After the five hours we still hadn't come to a conclusion.
For every team in every sport that utilizes an amateur draft, scouting is never an exact science. In Kings history two of their best players all-time were Dave Taylor (15th round pick in 1975) and Luc Robitaille (9th round in 1984). This past season the Kings had a somewhat revamped look on the blueline and two of the defensemen that coach Todd McLellan used in all 70 games and appear to be well on their way to solid NHL careers were Sean Walker, who was never drafted (free agent signee in 2018), and Matt Roy (who was a seventh round pick in 2015). Yannetti talked about the factors in these two becoming NHLers:
YANNETTI: First of all, again using a baseball analogy, in baseball top end prospects can play sometimes three to five years in the minor leagues before becoming good, solid major leaguers. In hockey, many of your top end prospects are turning pro at an early age, 18, 19 or 20 and playing in high level leagues. It's a situation where, at times we rush guys too soon and give up on others too soon.
In Walker's case he played as a 16 or 17-year-old in a Tier Two Ontario League, he has okay stats and he was a smaller guy. It was still a time 7-8 years ago (Walker was draft eligible in 2012) when size was still important for a defenseman. To be honest eight years ago he just wasn't good enough to be drafted. Even when he began his collegiate career at Bowling Green he wasn't standing out. Then, all of a sudden, he got stronger which was nice to see because he has always been a very good skater. Walker is a player that took advantage of the time he spent at college (four years) and in the AHL with Ontario (a year and a half). We signed him as a free agent after his first year pro. He is proof that patience can pay off. He is a guy who willed himself to be an NHL player and our development staff did a ton of work with him since he turned pro. These two facets really helped get him to the NHL.
For Matt Roy, he went undrafted the first year he was eligible in 2013. He was 20 when we selected him in the seventh round in 2015. One of our scouts, Tony Gasparini, recommended us that Matt was a kid we should keep an eye on even after he was passed on in the 2014 draft. Tony told us that Matt 'gets it' and was one of the more impressive young players he's ever had a conversation with. Clearly this was a player who had the intangibles that are sometimes difficult to sort out in a player. Tony convinced me to see him play and after I saw him I talked with him and he made such a huge impression on me. The longer we spoke the more of an impression he made on me. After this talk, I said to Tony I want to draft this kid and in 2015 we grabbed him.
The improvement Matt made in just his first year after we drafted him was so good that I said if he improved this much next season, he's got a chance…and he did. Roy also stood out at our summer development camp in 2017 and it was clearly a sign that he was on his way to becoming a true NHL prospect.