Make some room, Toronto. There's another King coming through.
Though his 19 games with the LA Kings aren't what he'll be most remembered for, Jarome Iginla joins a large contingent of Kings alums to earn the call to the Hockey Hall of Fame.
"This selection is hard to believe and makes me reflect and look back on my career," Iginla told reporters following the big announcement. "I was always just trying to make the NHL and this recognition means a lot to me and my family."
Iginla skated for five teams, including the Kings, throughout a career that spanned NHL 20 seasons and more than 1,500 games played. The bruising forward scored 30 goals in a season 12 times, as a part of more than 600 tallies in his NHL career, which makes him one of just 20 players all time to exceed the 600-goal mark.
"It's a no brainer, when you get more than 600 goals and you play the way that Jarome Iginla played," Kings President and Hockey Hall of Famer Luc Robitaille said of Iginla's induction. "He was a captain, he did everything right, the history he had with Team Canada, he's one of those guys that you've heard his name for the past seven, eight years and everyone would say he's going to be in the Hall of Fame. He was a no brainer to get into the Hall of Fame, he's that special and that how good of a career he had."
As a fellow member of the 600-goal club, Robitaille squared off against Iginla several times throughout their respective Hall of Fame careers. While his goal-scoring and offensive abilities alone made Iginla a standout performer, it was the physical element that he was also able to bring to the table that made him an even more unique player.
"What made Jarome so good was that he could skate, he could beat you 1-on-1, and then he could run you over," Robitaille said. "He had a little bit of that old-time hockey. He could fight too, like the best of them, but he could just run you over and he reminded me a lot of Cam Neely, in that they could do it all. He could make good plays, he was a special player and you had to keep you head up when you played against him."
It wasn't always that way, however, for Iginla.
If you can believe it, Iginla initially came onto the radar as an undersized player, according to current TSN Analyst, and former Director of Scouting for the Dallas Stars Craig Button.
"He was never drafted in the Western Hockey League Bantam Draft, he was too small……too small, believe it or not," Button told LAKingsInsider.com.
Button held the position at the time that the Stars drafted Iginla in 1995, and eventually traded him as the centerpiece of a deal, alongside former Kings forward Corey Millen, that brought center Joe Nieuwendyk to Texas.
The deal worked out for both sides. Nieuwendyk, a Hall of Famer in his own right (an inductee in 2011), formed a stout 1-2 punch at center with Mike Modano, and the duo helped lead Dallas to its first Stanley Cup in 1999, as he picked up the Conn Smythe Trophy in the process. In return, Calgary got the future face of its franchise in Iginla, who would spend the prime seasons of his career as the heart of the Flames.
From 1998 through 2011, a span of 13 NHL seasons, Iginla averaged just over 37 goals per season. No NHL player was within 50 goals of Iginla during that span, with just Joe Thornton recording more points than Iginla's 991. Included in that run was a terrific playoff performance in 2004, as the Flames came one game short of winning a Stanley Cup of their own.
"The thing about Jarome is that he's very unique," Button, who also worked with Iginla in Calgary as the team's General Manager, said. "He could swing the game in his favor any number of ways. He could do it scoring goals, he could do it setting up plays, he could do it with his skill, he could do it with his power, he could do it with an edge. He was always able to keep opponents off balance, because he was so good at taking you and tipping you out of your strengths and tilting it towards his strengths. Very few players are capable of doing that, and Jarome was able to do it in every significant way."
On the backstretch of his illustrious career, Iginla skated with Pittsburgh, Boston, Colorado and Los Angeles, in search of that elusive championship. Despite reaching the Conference Final with the Penguins in 2013, Iginla was unable to add a Cup to his overflowing trophy cabinet that included gold medals from the World Juniors, Olympics, World Championships and World Cup of Hockey, along with individual honors such as the Art Ross Trophy, Rocket Richard Trophy and a Ted Lindsay Award as the NHL MVP as selected by the NHLPA.
The legendary winger's time with the Kings organization wasn't the storybook ending that he probably deserved. Wearing #88 on his back, Iginla collected six goals and nine points down the stretch, as he and his teammates fell short of a playoff berth in 2017.
His final game was in an LA Kings uniform.
While the Kings were unable to give Iginla one last shot at a title, Kings forward Dustin Brown spoke about his impact on the room, and on the ice, after he was acquired from Colorado.
"He's one of those guys that everybody in the room looks up to, considering what he's done in his career," Brown said during Iginla's time with the team in 2017. "He's come in and had a really good attitude and really helped us both on and off the ice. I think he's shown a lot of fight for a guy in the situation he's coming in to. Coming from the team he was, maybe those first few games he was a little uneasy, and then he really settled in and you saw him start to play like he can."
Button believes that Iginla could use that impact in the future somewhere in management, with his strategic approach to a lot of areas serving him well.
For now, however, it's a celebration of a fantastic career that has rightfully ended up enshrined amongst the best to ever play the game. Whenever Iginla's induction occurs, it will be a celebration of a player who met and exceeded every challenge he faced on the ice.
"I compare Jarome's trajectory to climbing mountains with different plateaus, and the ultimate plateau is the Hockey Hall of Fame, and he reached that, but it was all those plateaus along the way," Button said. "Coming in as an undrafted WHL player, two Memorial Cup championships, best player in the Canadian Hockey League, best player at the World Junior Tournament, best on best, steps into the NHL and he's All-Rookie. Then, he finds his way to the next plateau which is the Olympic team, one of the best in Canada, helps that team win gold. He scored 50 goals and wins the Art Ross. 2004, epic, epic performance in the Stanley Cup Playoffs, falling one win short, scores 50 goals again. The consistency of Jarome over a period of time, and he just kept hitting those plateaus at the different peaks along the way."
The LA Kings are well represented at the Hockey Hall of Fame in Toronto. These players, broadcasters and staff members played or worked for the Kings during their Hall of Fame careers: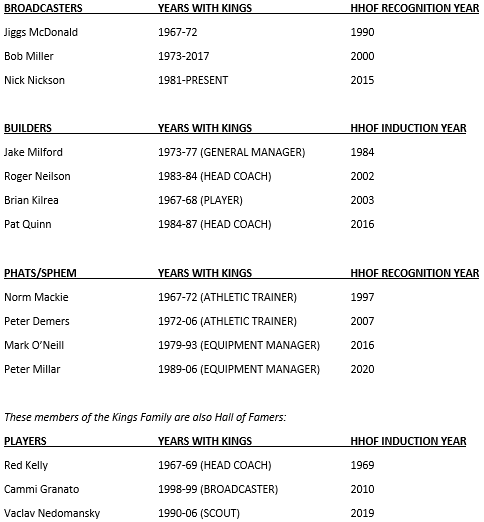 NOTE – Zach Dooley works for the Ontario Reign and is one of many contributors to LA Kings Insider during this time. Our organization understands the importance of LAKI to you and remain committed to evolving the platform and providing even more content once we resume usual operations.