He softly darts in and around the Kings training facility and, on occasion, STAPLES Center meeting with players and equipment managers from around the league.
He goes about his current job as a Warrior Pro Hockey Representative so quietly most people he encounters even at work probably don't even know his name is on the Stanley Cup.
Four times. And now he waits (like Jarome Iginla, Marian Hossa, Kevin Lowe, Doug Wilson, Kim St-Pierre and Ken Holland among others) for the highlight of his hockey career – ultimate recognition in Toronto.
Peter Millar enjoyed a 27 year career in the NHL and a professional hockey tenure as a trainer that spanned more than three decades. He is to be recognized by the Hockey Hall of Fame (HHOF) in Toronto with a plaque from the PHATS/SPHEM group (pro hockey trainers; an organization he first joined in 1979) as part of the Class of 2020.
"What a deserving honor for Peter and his family," Kings Head Equipment Manager Darren Granger said. "He has dedicated 42 years of his life to the world of professional hockey. He has done it all in our business, as a Head Equipment Manager, a Head Athletic Trainer and now as a Pro Rep for Warrior Hockey. On a personal note, we are blessed to have Peter around the Kings as much as we do. Not only is he great to work with in his current role with Warrior but he is someone we all can lean on for his NHL experience, advice and friendship."


That evening in November might change due to COVID-19.
He was to be recognized just recently at his group's Annual Conference in Florida. That will change to 2021 and Phoenix due to COVID-19.
What is being celebrated is a career that included four Stanley Cup Championships, six Stanley Cup Final events and countless NHL milestones, awards and records.
Millar spent 17 seasons (from 1989-06) with the Kings as the Equipment Manager after working the previous 11 years as the Athletic Trainer for the Edmonton Oilers (WHA/NHL).
"It was last September 11. I had finished up my scheduled visit to a Kings practice and met with Darren Granger and the Kings players currently using Warrior sticks and product. Most everyone had left and I was 'hanging out' in the hallway outside Darren's office chatting with Darren and Dana Bryson, getting ready to leave when I noticed Chris Kingsley and my son Matt coming down the hallway," Millar explained.
"When they got to where Darren, Dana and I were standing, that is when Darren informed me that since we were now all together it was a good time as any to let me know that I was to be honored as the next PHATS/SPHEM Hockey Hall of Fame inductee."
"My reaction……it caught me by surprise, I choked up and was speechless and all I could mumble was a quiet 'thank you.' Once I was able to pull myself together, I realized what a wonderful honor this was, especially being told this while at TSPC on September 11, in the dressing room with Darren, Dana and Kinger there with Matt there as well was something special."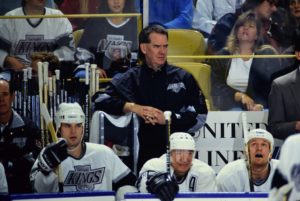 A native of Midland, Ontario – he was inducted into the inaugural Midland Sports Hall of Fame during a special ceremony in 1996 – Millar received his honors degree in physical/health education from Lauentian University in Sudbury, Ontario. After graduation in 1973, Millar attended Sheridan College in Oakville, Ontatio where he continued his education as a student-intern at the school, which had recently created a sports athletic department, and by being active with the Bramalea Blues, a Junior B team from Bramalea, Ontario.
From there Millar went to Binghamton, New York as he landed his first full-time job as a hockey trainer with the Binghamton Dusters of the North American Hockey League (the Dusters later transitioned to the American Hockey League during Millar's four-year tenure in upstate New York). In Binghamton, Millar worked with Rod Bloomfield, Cap Raeder, Ken Holland and Paul Stewart among others.
At the recommendation of Barry Fraser, then the Director of Scouting for the Oilers, Millar interviewed with and was ultimately hired by Edmonton as Head Athletic Trainer. The timing proved to be very fortunate, as upon Millar's relocation to Alberta in 1978 – first in the WHA and one year later in the NHL – the Oilers were in the early stages of creating one of hockey's true dynasties.
His first season – and the Oilers' last campaign in the WHA – saw the franchise reach the Avco Cup Final. Five years later, Edmonton advanced to the 1983 Stanley Cup Final for the first time in team history but fell to the New York Islanders dynasty in a four-game sweep. Despite the setback, Millar and the Oilers would return to the Final four times in the next five years – winning the Stanley Cup in all four appearances (1984, 1985, 1987, 1988) – while compiling a 16-5 (W-L) record.
"It was kind of a blur at the time it was all happening but I knew I was part of something special and part of something that was bigger than myself," said Millar. "Now that I am away from the game and have the opportunity to see replays of certain games or highlight moments of past games, I now have a greater understanding of just how special it all was, the people, the players, the losing moments, the winning and to have been a part of it all is very humbling."
The Oilers won six consecutive Smythe Division titles from 1981-87 years. During that time, the Oilers owned a regular season win percentage of .627, the highest among all teams over that span, and in Millar's decade plus tenure with the Oilers they sported an 89-37 NHL playoff mark. Millar worked with six future Hall of Fame players in Edmonton: Glenn Anderson, Paul Coffey, Grant Fuhr, Wayne Gretzky, Jari Kurri and Mark Messier, along with Hall of Fame General Manger/Head Coach Glen Sather. Millar also shares his name on the Stanley Cup all four times with players such as Chalie Huddy, Kevin Lowe and Randy Gregg, and Millar worked with Gretzky for parts of 16 seasons overall.
Millar also witnessed some of the great individual player moments while with the Oilers: Gretzky reached the 50-goal mark in 39 games during the 1981-82 season, en route to concluding the campaign with an NHL-record 92 tallies; Gretzky recorded an NHL-record 51-game point streak from Oct. 5, 1983 – Jan. 27, 1984; Gretzky recorded 163 assists and 215 points in 1985-86 – both NHL records; Coffey scored 48 goals in 1985-86 – an NHL record for most in a season by a defenseman; and Coffey recorded a 29-game point streak from Nov. 27, 1985 – Jan. 25, 1986 – the longest in NHL history by a defenseman.
It was also during Millar's time in Edmonton that he received a gold medal in the lone international tournament he worked, the prestigious 1984 Canada Cup Championship which featured a star-studded roster.
In 1989, Millar moved to Los Angeles after accepting a job with the Kings. It was also during this time that Millar took a different position in hockey, transitioning from athletic trainer to equipment manager.
"The biggest culture shock? The weather," quipped Millar. "But there was an adjustment period in transitioning from Edmonton to LA but the overall goal remained the same, create an environment for the players that allows them to come to the rink / dressing room and focus on practice or playing the game, removing anything that could be used as an excuse or distraction with the end game of being able to compete for and win the Stanley Cup."
"On a personal note one shock I experienced was missing the playoffs for the first time in my career and thinking after all the hard work and sacrifice we put in since the start of the season and now it was over, without the opportunity to play for the Cup seemed like a waste of time. However, it was useful as it became motivation to work on not having it happen again the next year."
In Millar's second season with the Kings, the club captured the Smythe Division title, the only division title the Kings have won in their 50-plus year history. He was also on the bench in 1993 when the Kings made their first trip to the Stanley Cup final after besting Calgary, Vancouver and, in a thrilling seven-game series, Toronto.
In Los Angeles, Millar again worked closely with Gretzky, Huddy, Kurri, Marty McSorley, Mike Krushelnyski and Kelly Buchberger after being in Edmonton with them in years prior. He also worked with four more future Hall of Famers in Rob Blake, Larry Robinson, Luc Robitaille and club General Manager Rogie Vachon who hired Millar initially. Millar also worked very closely with Kings players such as Dave Taylor and Dustin Brown, who would later captain the Kings to two Stanley Cup titles.
Millar, while with the Kings, also witnessed some of the greatest individual player moments as he did with the Oilers: Gretzky scored the 802nd regular season goal of his NHL career on March 23, 1994 to pass Gordie Howe (801) for the most in NHL history; Gretzky won the Art Ross Trophy three times as a member of the Kings (1989-90, 1990-91 and 1993-94); Robitaille scored the 500th regular-season goal of his NHL career on January 7, 1999; Robitaille scored his 551st regular-season goal with the Kings on January 19, 2006 to pass Marcel Dionne (550) for the most in franchise history; and Gretzky recorded an NHL-record 13 straight 100-point seasons from 1979-80 through 1991-92 during his time with the Oilers and Kings with Millar there 12 of those seasons.
It was also in Los Angeles in 2002 that Millar served as the Equipment Manager for his third NHL All-Star Game at the then brand new STAPLES Center in Los Angeles. Millar also represented the NHL at the 1981 All-Star Game, which was played at the Forum in Los Angeles, as he became the first former WHA trainer to work an NHL All-Star Game. Millar also worked the 1989 All-Star Game in Edmonton, and in 2017, when the All-Star Game returned to Los Angeles, Millar served as a special assistant for current Kings Equipment Manager Darren Granger.
After leaving the Kings/NHL following the 2005-06 campaign, Millar joined Warrior Hockey where he has worked ever since.
"I now work regularly with the EQM's and players from the Kings, Ducks, Coyotes, Sharks, Canucks and Golden Knights. In addition, I also stay in contact with the EQM's from the AHL teams here in the West: Ontario, San Diego, Bakersfield, San Jose, Stockton and Tucson Roadrunners. I will schedule regular team visits to meet with players and EQM's and introduce them to our Warrior line of hockey products," said Millar.
"Warrior specializes in sticks made in Mexico, so I will work with players and their Equipment Managers in helping players find the right composite stick for their style of play with the goal of helping them to perform better with the correct stick and set up. What has made this transition easier was the relationships I already had with the teams I work with Equipment Managers as most of them are still with their teams when I was with the Kings and Oilers."
Millar joins former Kings trainers Peter Demers (2007) and Mark O'Neill (2016) with recognition at the HHOF.
He currently resides in El Segundo, having lived in the area for more than 30 years. His wife Ramona is a retired Special Education teacher in the area and they have two grown children: Ashley is an Urban Farmer in Los Angeles and Matt is the Goaltending Development Coach for the Ontario Reign.
"Now that Matt is working with the Ontario Reign and the LA Kings alongside Bill Ranford, Matt is living a dream which has been and is great to watch. He spent a lot of time as young kid in the dressing room around players and staff both in Edmonton and in LA so he has a great grasp of dressing room dynamics and people, what is expected and what it will take to be successful in the business," said Peter.
"His thinking and knowledge are definitely more that of a coach, where I see the game through the eyes of an Equipment Manager / Athletic Therapist. So, it is special when I do get to go to an Ontario Reign game to watch him at work or to TSPC on my Warrior visits and we can chat over a coffee before or after practice."
"I find it interesting," he continued, "that the last professional game I worked was against the San Jose Sharks and Matt's first professional game was against the San Jose Barracuda. I thought how appropriate my leaving pro hockey with San Jose and him starting with San Jose — the Millar pro hockey torch has been passed on to him to carry and to establish his own career in pro hockey now."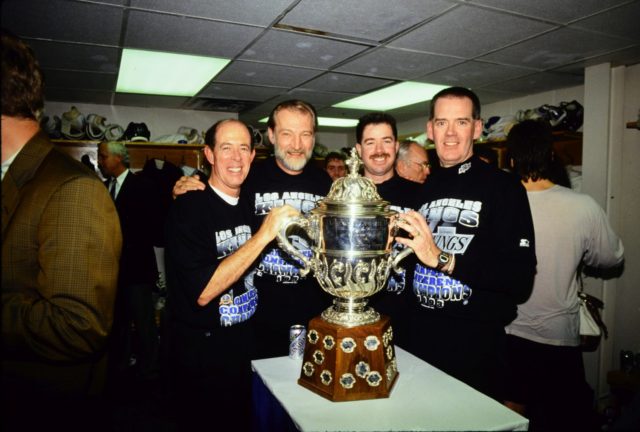 NOTE – Jeff Moeller works for the Kings and is currently one of many contributors to LA Kings Insider. Our organization understands the importance of LAKI to you and we remain committed to evolving the platform and providing exciting new content once we resume our usual operations.