INSIDERS. A fine Wednesday to you and yours. Onto the [hockey] subjects of the day, Arthur Kaliyev and Jordan Spence. Both signed their entry level contracts over the weekend, with Kings PR filling in the pertinent details. The tl;dr version: A first-team OHL All-Star, Kaliyev was his league's highest scoring right winger and is an most-outstanding-player finalist, while Spence was the QMJHL's top defenseman as an 18-year-old one year after he was named his league's top rookie. Both players are immigrants. Kaliyev was born in Tashkent, Uzbekistan before moving to Staten Island as a baby, and Spence was born in Australia and lived in Osaka, Japan before relocating to Prince Edward Island as a teenage Canadian-Australian citizen. An excellent look at his background is here, courtesy TVA Sports: L'espoir atypique des Kings (The Kings' atypical hope).
I spoke with LA Kings Amateur Scout-Ontario Chris Byrne and Amateur Scout-Quebec/Maritimes Denis Fugere Tuesday morning to get a scouting report on the two 19-year-olds. More on their 2019-20 seasons is below; first, there's always the question of where these players will play in 2020-21. For Spence, it's an easy answer. He'll head back to QMJHL-Moncton, where he's put up 15 goals and 101 points and a +46 rating in his first 128 major junior games.
Kaliyev's destination is a bit more complex. Keep in mind that because they were drafted out of major junior hockey, neither player is eligible to play permanently in a professional league outside the NHL until the conclusion of their 19-year-old club seasons. With 126 goals and 248 points in 192 OHL games, Kaliyev doesn't quite have much left to show at the OHL level, but might not yet be ready to regularly help his team amidst the NHL's day-to-day rigors. The Curious Case of Brayden Schenn was covered several weeks ago when LAKI previewed Kaliyev's signing:
That last bit is obviously the most important footnote: Kaliyev's North American options next year are to play in the OHL or NHL. He'll be in his 19-year-old season and was drafted out of a major junior league, so the AHL won't be an option. The Kings made the very rare attempt to skirt around this rule in 2010-11 when they assigned Brayden Schenn to AHL-Manchester on a conditioning assignment (Schenn did have a disclosed knee injury at the time) after his first four NHL games. Los Angeles had this "luxury" because Schenn was to head to Canada's world juniors camp in early December, allowing the forward to transfer from L.A. (four games) to AHL-Manchester (seven games) to WHL-Brandon (two games) to world juniors (seven games) all the way through January 5. Upon his return to the WHL, his rights were traded to Memorial Cup-host Saskatoon, which meant that when the dust settled on 2010-11, 39 of the 66 total games he'd played were either NHL, AHL, World Juniors, Calder Cup Playoffs, WHL Playoffs or Memorial Cup games.
As shared last month, this is not an indication that the Kings are leading this way. Rather, it's just a template the team used in the not-too-distant past. More recently, they sent Gabriel Vilardi on a rehab assignment to Ontario in 2018-19 as an under-ager out of the CHL, though that was obviously driven by health needs and not CBA roadblocks.
Well, this certainly looks like a lot of words. And too many of them – by me. Let's hear from the Kings scouts.
Chris Byrne, on how Arthur Kaliyev developed in 2019-20:
For him, he improved in some of the areas that he needed to get better at, but he's still a work in progress in some of those – strength and maturity and game maturity. He's on the correct path, but certainly not a finished product.
Byrne, on Kaliyev's underrated playmaking ability:
Very smart, deceptive player. We call it awareness – knowing what your options are before you receive a puck, or however you want to put it. But he sees multiple options, he has the patience with the puck, so those are some of the attributes. In his first year in the OHL he was more of a shooter and didn't have the confidence to hold the puck and make as many plays, and I thought last year showed the biggest differences in how good he was making plays and finding players. Obviously anyone can go watch him play and know that he's an elite shooter and has one-time shooting ability and scoring ability, but I think that's the area of his game that's really kind of come through in the last couple of years. Not to say it's better than his shooting, but it's become close to as good as his shooting.
Byrne, on what Kaliyev will have to do to put himself in a position to play professionally in 2020-21:
Like any young player, it's getting stronger to play at a higher level, and then obviously play away from the puck for him would be a key where he could be trusted on the ice and then allow him to go do what he does best. Not a whole lot different from other players, but for him, it'd be his play away from the puck, his play defensively and being strong enough and quick enough to play at that level.
Byrne, on how Kaliyev's skating is coming along:
He's improved and definitely has more room to grow, and part of that for him is you look at him and think he may be a physically mature kid, and he's not. He's pretty young physically, so that's where time is going to help him, but also the effort that he puts in at the gym and training and working at it. That'll be the part for his skating, but I think when he's fully mature, there won't be any issues skating.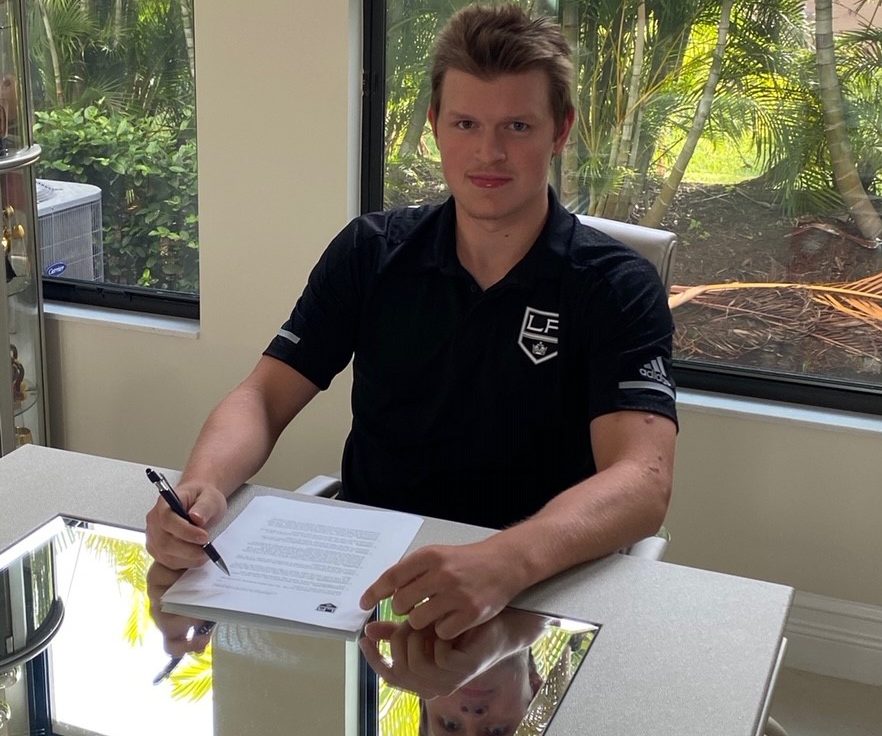 Denis Fugere, on how Jordan Spence's game feeds off his intelligence and "Hockey IQ":
The fact that he's a very intelligent kid – let's forget hockey for two seconds – he is very intelligent, and it's easy to transfer that into his hockey game. Because of that, that's why we say he has a strong IQ – the fact that he plays heads up all the time. Regardless of whether he's playing a slow or fast team, a bigger or smaller team, he has his head up all the time. And because of that, he's able to see what's going on and process and go with the right decision making in taking action. When you play with your head down, then you have issues retrieving the puck along the walls, you have issues finding the first option and making the right play. So that's why heads-up is a big thing for him. At 5'10, he needs to play that way and use his skating skills accordingly.
Fugere, on making a good first pass through his ability to keep his head up:
It is exactly his game. Because he sees things quickly, he knows where his teammates are, and it's easy for him to make that first pass quickly, and then it becomes a fast play because he gets it done quickly. That's the thing about him – he makes the play the right way, and it becomes a fast play and a fast breakout.
Fugere, on Spence's more skilled and offensively-aligned attributes:
I think his game is still improving and will still improve when he gets further down the line. The thing is he's got great passing skills. He has a good shot – not a strong shot, but his shot is good to get on the net. And then, being on the net, you never know what's going to happen. It's either a rebound, a fluke, something like that. Because of all that, he has the offensive part of his game, but most of it is from passing and finding the right play to make. I'm not saying his skills are, let's say on a scale of one-to-five that are above 3.5 or 3.75, but if they are 3.5, they are better than average at the NHL level. … And his skating is probably 3.25, 3.5. … Will he become better? Yes. Everybody can become better. But if you look at it, last year he was rookie of the year as a defenseman, this year he was the defenseman of the year, so it means that he's improving on both sides of the puck. And next year I expect him to be definitely a top-three defenseman in the league – not only points-wise, but as a defenseman.