Final Statistics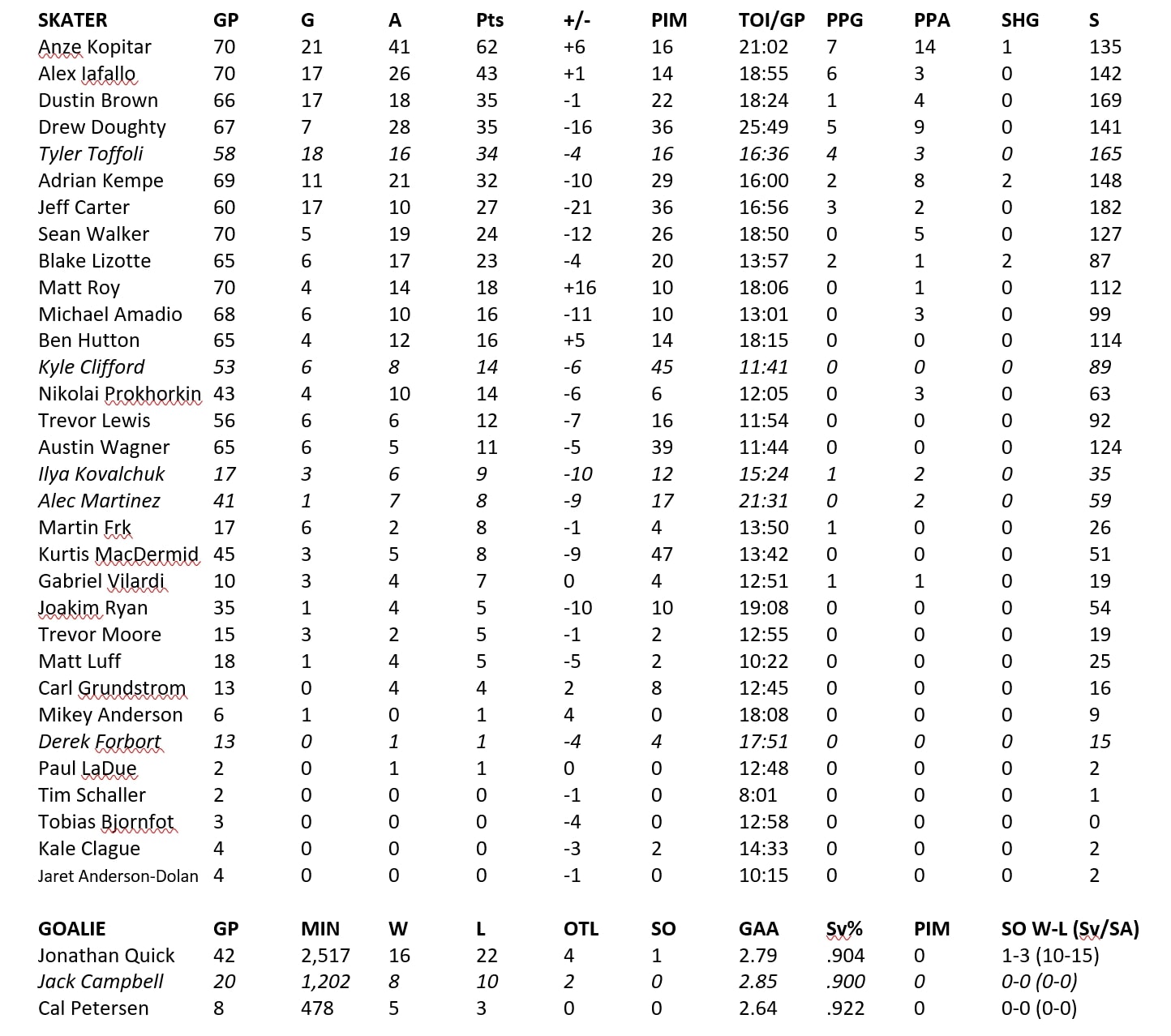 Team Rankings
Penalty Shots For – 25% (1/4)
12/14/19 @ PIT – Kopitar Miss (Tristan Jarry)
1/30/20 @ ARI – Wagner Miss (Adin Hill)
2/8/20 @ NJD – Kopitar Miss (Mackenzie Blackwood)
2/22/20 vs COL – Wagner GOAL (Pavel Francouz)
Penalty Shots Against – 50% (1/2)
10/19/19 @ CGY – Mikael Backlund GOAL (Quick)
3/9/20 vs COL – Valeri Nichushkin Miss (Quick)
Individual Statistics
-advanced stats via Natural Stat Trick
Consecutive Games Played, Active Leaders
Iafallo: 152
Kopitar: 145
Roy: 95
Walker: 71
Amadio: 57
Team Record: Doughty, 460 (October 8, 2014 – January 18, 2020)
Faceoffs, 2019-20 (min. 30)
Kopitar: 776/1407 (55.1%)
Vilardi: 49/92 (53.3%)
Carter: 382/746 (51.2%)
Lizotte: 312/622 (50.2%)
Amadio: 232/480 (48.3%)
Prokhorkin: 101-212 (47.6)
Kempe: 131/223 (41.3%)
Lewis: 45/116 (38.8%)
Shootouts
Prokhorkin: 1/2 (50.0%), 0 GDG
Kempe: 1/3 (33.3%), 1 GDG
Kopitar: 1/4 (25.0%), 0 GDG
Brown: 0/1 (00.0%), 0 GDG
Frk: 0/1 (00.0%), 0 GDG
Amadio: 0/2 (00.0%), 0 GDG
Vilardi: 0/1 (00.0%), 0 GDG
Game-Winning Goals
Carter: 7
Kopitar: 5
Iafallo: 3
Toffoli: 3
Doughty 2
Kempe: 2
Frk: 1
Hutton: 1
Brown: 1
Anderson: 1
Prokhorkin: 1
Lewis: 1
Top 5 CF%Rel*
Toffoli: +4.53
Roy: +4.29
Hutton: +4.28
Walker: +2.86
Wagner: +2.53
Bottom 5 CF%Rel*
Doughty: -4.79
Brown: -3.93
Martinez: -3.79
Ryan: -3.27
Iafallo: -2.68
Top 5 Sh%, forwards*
Kopitar: 13.95
Carter: 9.15 (t)
Brown: 9.15 (t)
Toffoli: 9.02
Iafallo: 8.25
Bottom 5 Sh%, forwards*
Lizotte: 2.90
Wagner: 4.17
Kempe: 4.30
Prokhorkin: 5.00
Lewis: 6.67
Top 5 Sh/60*
Carter: 11.1
Toffoli: 10.9
Wagner: 9.78
Brown: 8.95 (t)
Lewis: 8.95 (t)
Bottom 5 Sh/60, forwards*
Kopitar: 4.91
Lizotte: 5.61
Iafallo: 5.92
Amadio: 6.09
Kempe: 6.82
Top 5 xGF%*
Toffoli: 57.30
Roy: 56.48
Lizotte: 56.00
Clifford: 55.89
Amadio: 55.64
Bottom 5 xGF%*
MacDermid: 46.45
Brown: 46.88
Iafallo: 48.65
Doughty: 49.30
Prokhorkin: 49.88
Top 5 PDO*
Kopitar: 1.010
Brown: 1.004 (t)
Iafallo: 1.004 (t)
Roy: 0.998
Doughty: 0.993
Bottom 5 PDO*
Carter: 0.953
MacDermid: 0.955
Ryan: 0.956
Kempe: 0.961
Clifford: 0.962
Top 5 Penalties Drawn/60**
Ryan: 0.10
Hutton: 0.11
Roy: 0.16
Doughty: 0.17
Walker: 0.31
Bottom 5 Penalties Drawn/60**
Lizotte: 1.49
Wagner: 1.20
Lewis: 1.08
Clifford: 1.00
Kopitar: 0.95
Top 5 Minor Penalties/60
Roy: 0.21
Iafallo: 0.29
Martinez: 0.32
Prokhorkin: 0.37
Amadio: 0.39 (t)
Hutton: 0.39 (t)
Ryan: 0.39 (t)
Bottom 5 Minor Penalties/60
Carter: 1.24
MacDermid: 1.18
Wagner: 0.88
Lewis: 0.79
Lizotte: 0.78
Top 5 On-Ice GF/60*
Kopitar: 2.57 (t)
Roy: 2.57 (t)
Martinez: 2.52
Iafallo: 2.50
Hutton: 2.43
Bottom 5 On-Ice GF/60*
Prokhorkin: 1.11
Ryan: 1.20
Kempe: 1.39 (t)
Wagner: 1.39 (t)
Lizotte: 1.46
Top 5 On-Ice GA/60*
Wagner: 1.79
Lizotte: 1.95
Roy: 2.03
Kopitar: 2.05
Kempe: 2.13
Bottom 5 On-Ice GA/60*
Martinez: 3.19
Carter: 3.05
MacDermid: 2.93
Lewis: 2.89
Amadio: 2.85
*5×5; min. 300 minutes
**all even strength situations; no minimum
Individual Milestones
Anze Kopitar
• Surpassed Wayne Gretzky for fourth on the franchise's all-time points list on December 15 with his 919th career point.
• Led the Kings in scoring for the third consecutive season, and the 12th time in total. Kopitar has led the Kings in scoring in 12 of the last 13 seasons.
• Led the Kings in assists for the 13th consecutive season, dating back to his rookie season in 2006-07.
• Led the Kings with 21 goals. Kopitar has led the team in goals (or tied for the team lead) in each of the last three seasons and six times in his career.
• One of 17 NHL players to collect 20+ goals and 40+ assists.
Drew Doughty
• Ranked second in the NHL in Time On Ice (25:49). Doughty has ranked in the NHL's Top-3 in TOI in each of the last six seasons, including leading the league in 2017-18.
• Moved into seventh on the Kings all-time assists list with 385th career assist March 11 vs Ottawa, surpassing Butch Goring.
• Recorded his 495th career point to surpass Rob Blake and become the Kings all-time leading scorer amongst defensemen, and ninth amongst all players, on February 4.
• Reached 500 career points March 7 vs. Minnesota.
• Led all Los Angeles defensemen in goals (7), assists (28) and points (35), marking the fifth straight season he's led Kings defensemen in all three categories. Doughty has led or tied for the team lead amongst defensemen in goals and points nine times, and assists eight times, in his Kings career.
Alex Iafallo
• Set NHL career highs in goals (17), assists (26) and points (43). Iafallo increased his totals in all 3 categories in all three of his NHL seasons.
• Set new career bests with six power-play goals and nine power-play points.
• Collected his 100th career NHL point on March 7 vs. Minnesota
Jonathan Quick
• Posted team's longest shutout streak of the season (161:55) from 2/25 – 3/9.
• Unbeaten in regulation across six games from 2/15 – 3/11 (5-0-1), allowing just eight goals over the six games. Posted a .957 SV% and a 1.29 goals against average in that span.
• Eight-game losing streak (0-7-1) from 1/6 – 2/9
• Made 44 saves in defeat on 10/26 vs. Vancouver, his most in a single game since 12/17/15 vs. Montreal (45).
Matt Roy
• Ranked sixth among rookie defensemen in assists (14), tied for sixth in points (18) and tied for ninth in goals (4) and tied for fourth in plus/minus (+16).
Trevor Lewis
• Appeared in his 674th career NHL game, all with the Kings, on March 11, surpassing Mike Murphy for tenth in all-time games played in LAK history.
Jeff Carter
• Skated in his 1,000th career professional game on November 16. Carter also scored the game-winning goal in that content against Vegas.
Assorted Notes (courtesy LA Kings PR)