INSIDERS. Several notes to pass along. First, as the hockey world expressed its warmth and condolences to the Bowkus family this past week, there were a few figures and friends whose kind words didn't make it into the final story. They range from Trent Yawney, a teammate of Bowkus' in Saskatoon, to Jaroslav Modry, who coached beside him with the Junior Kings and other former Kings and junior coaches like Grant Ledyard and Bill Huard.
Todd McLellan
"Bowk was always full of energy, never had a bad day and was passionate about others having success. He always put others before himself."
Trent Yawney
"When I think of Bowk as a player first thing to come to my mind was his skill set he was very skilled player and also how tough he was in terms of being a smaller player in WHL at the time with the game being a lot different than it is now he would not back down from anyone play through anything I always admired that in Bowk."
Jaroslav Modry
"Our heart goes out to Jack's family as we hear about his passing. He was big part of our Jr. Kings hockey family. Not only a great coach, mentor and person he touched so many of us. We will miss him. RIP Jack."
Grant Ledyard
"Our prayers and thoughts go out to his family. As a former Blade myself, we and our Saskatoon community are saddened by this news."
Bill Huard
"Jack's commitment to the development of young hockey players was immeasurable."
Echoing the thoughts shared above, here's both a Kings and LAKI salute to Jack Bowkus and his impact on hockey development, and a warm embrace and deepest condolences to his family, friends and colleagues.
— It's good to see Grant Ledyard's name above. Jersey minutiae: Ledyard, the youth hockey director at the Amherst Youth Hockey Association outside of Buffalo, is one of the very select few in franchise history to have worn #4. Remarkably, nobody has worn that number other than Rob Blake ever since the Hall of Famer's 1990 debut, and only three players since the 1988-89 silver-and-black organizational refresh: Blake, Jim Fox, whose final 11 games were played in #4 after graciously ceding the number upon Larry Robinson's arrival, and Doug Crossman. Other notable fours in addition to Blake (805 games) and Ledyard (142) are Giles Marotte (271), David Hutchison (232) and Jerry Korab (200), who also played 11 games in a #5 jersey upon joining the Kings in the 1979-80 season.
— Also, the Nick Vachon quote from the Bowkus story, in its entirety:
"When we traveled, Austin actually joined our coaching staff this year around Christmas so that he could no to only work with the kids with us but also be with his dad and on the road with us, so he was a big part of it. One thing that stuck with me was a year and a half ago when he first got his cancer and then he beat it, one of the things that he said – and there were a lot of things done and he worked closely with the Tour de Pier Foundation – he did a video one time, and one of the things he said that he hasn't been able to do, he felt, was that he hadn't been able to do was teach his son, like really, really teach his son everything, and he was so happy that he had gotten through it the first time and was able to do that. I just thought that was amazing, because he was close with Austin and that was the one thing for him, he was so grateful that he beat cancer the first time that he could spend more time with him son. He felt like before that, he hadn't prepared Austin enough and he was so glad to be able to do that."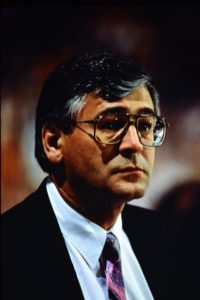 — Speaking of Jim Fox, I'll chat with him and several of his teammates to learn a little bit more about Tom Webster, who coached the Kings from 1989-92 and passed away Friday at the age of 71.
Webster's .544 points percentage ranks fifth in club history, trailing Darryl Sutter (.592), John Stevens (.561), Terry Murray (.560), and Rogie Vachon (.550). He led the team to its only divisional title in 1990-91, a year that ended on a sour note when the Kings didn't make it out of an acrimonious second round series with Edmonton in which "a dummy of [Craig] Muni hanging from a noose was paraded around the Forum and a song sheet, containing the words to an 'Ode to Muni,' were handed out" prior to Game 5, according to Steve Springer of the LA Times.
It was the second of Webster and the Kings' three consecutive playoff losses to the Oilers, and that lack of postseason success influenced the team's decision to part ways with its admired coach who took the opportunity upon his dismissal to speak of falling short in his efforts to add support and structure to the coaching fraternity. "If there is one regret I have as a coach, it's that I didn't get a coaches' association started, like I wanted to," he said, as reported by Springer. "We, as coaches, have to do something to protect ourselves. A lot of coaches don't know what they are getting themselves into. We need standardized contracts and more information on our pension plans. I still don't know what the hell I'm getting. … I want to coach again, whether it's as an assistant, in the minors or in junior hockey. It doesn't matter. I will not let my pride stand in the way of something I love to do."
And he did, serving as an assistant with Philadelphia and both Hartford and Carolina before an extended run as a Calgary scout capped by a standing ovation on the floor late in the 2014 draft, his final one in the NHL.
standing O at the Draft for Flames scout Tom Webster after playing, coaching, and mentoring for 50 years. Wow pic.twitter.com/ivpERzcpxl

— Ryan Leslie (@SNryanleslie) June 28, 2014
Webster will be familiarly recalled for punching Doug Gilmour in a fight-marred first period against Calgary in March, 1991 – one of the rare games in which the officials sent the teams back to their dressing rooms with time remaining in the first period to cool off while they sorted out penalties – as well as for throwing a stick towards referee Kerry Fraser and grazing him the following season, an action that drew a 12-game suspension.
Those who knew Webster well recalled his fierce protection and respect of his players. There was certainly an "old school" element to his approach and demeanor, one meshed with a generally higher degree of two-way responsibility than usually associated with the Smythe Division.
"It is disappointing for sure to hear this news," Dave Taylor said in a Kings release. "Tom was a good guy who came to LA at a time when he has some pretty darn good teams there with Gretz having arrived and all.
"He is what I would call a 'players-coach' and he treated the players with a lot of respect. He was well-liked amongst our group. Being an ex-player himself, I would call him more of an offensive-minded coach – he was that way himself as a player – but it was mostly how he handled guys. He respected the players and got his point across that way."
More to come on Tom Webster next week.
So sad to hear of Tommy Webster's passing. He was a great man and a coach that I was lucky to play for! Prayers and love to the family! 🙏 pic.twitter.com/3nPIQytkWH

— Coach Tony Granato (@TonyGranato) April 10, 2020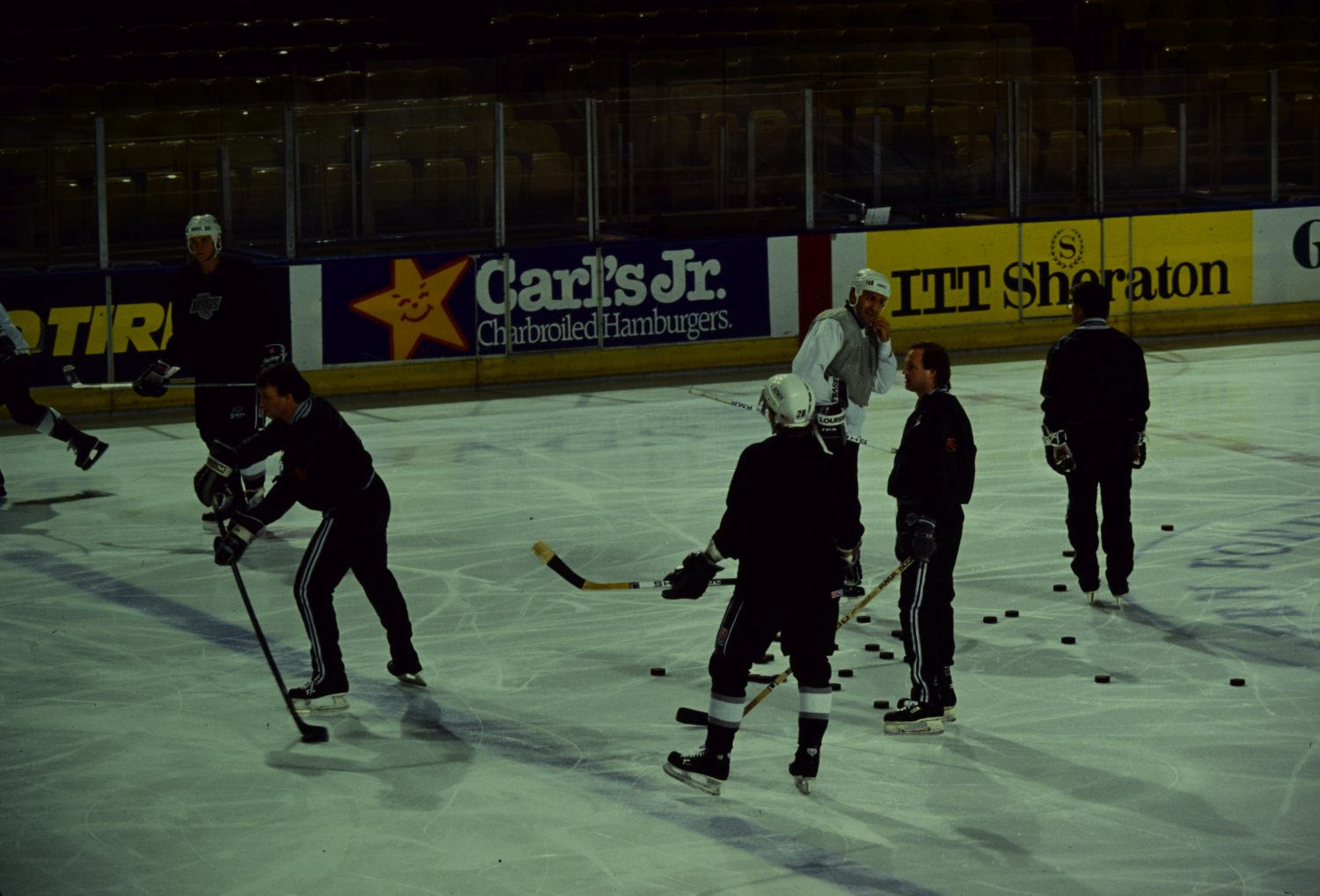 — A footnote from the LA Times' story on Webster and Gimour: "One day after he and Wayne Gretzky spent $451,000 to buy a Honus Wagner baseball card, King owner Bruce McNall, also the new owner of the Toronto Argonauts of the Canadian Football League, revealed he has made a two-year, $6-million offer to Notre Dame star Raghib (Rocket) Ismail to try to lure him away from the NFL. 'I think he's a player who would fit in with the CFL's wide-open game,' McNall said."
— And, more from Todd McLellan that didn't make it into last week's update:
Todd McLellan, on using video to evaluate the season:
Yeah, I'll try to tap into that. First of all, I went back to exhibition season, because I think it's valuable to take a look at where players were and where they've come, not only for the ones that played with us, but also comparing comments from the American League coaches moving forward, because a lot of those players down there are our future. I watched some of the clips, it's interesting to see structurally where we were, and how far we've come, which is a real positive sign. Individuals that were making mistakes on a consistent basis in certain areas have really shored their game up. I could throw names out, but it's team-wide. The group that we've had for most of the year, in any case, has adapted. They changed their way of approaching the game, their habits fit our team play a lot better. You talked about individuals and the way that they're adjusting – Drew for example, on the backend, at the beginning of the year, he was wondering about positioning and where he would be. He's such a dominant guy now, on the backend, where he controls the whole tempo or play of the game with his puck-moving skills. Up front, I thought Kopi was playing some of his best hockey throughout the year. Brownie was playing quite well, I thought, once he recovered from his pneumonia bout, in January he really began to take off. When your leaders are doing that, everybody else, they have no choice but to follow and that's exactly what we needed. Then you look at some of the mid-range guys, Kempe and Iafallo, how far they came in their seasons, and how much more of contributions they're making now than they were in call it the first six, seven, eight games of the season, so that's a real positive. Then there's the youth, Blake Lizotte, Walker and Roy on the backend, and you can go all the way to the real young players, the ones that were just entering, Vilardi and those type of guys, how quickly they're picking things up right now is rewarding. With all that said, that sounds like a pretty positive report card and we're still in 28th or whatever we might be right now. There's a lot of work to do. I think, generally, the feedback that I get from a lot of people that follow us, whether it's my parents at home, or the general fan that I run into, is that there's an excitement about finishing this year and getting on to next. I concur with that, but I'm also tempering expectations so that these players can continue to grow. We want to move the needle, as we said, we want to do it at the right pace, we want to make sure that they're challenged to reach the next level and get comfortable with it and then we'll push them again. We've got to continue the excitement, but come back prepared.
McLellan, on Gabriel Vilardi and Mikey Anderson:
Two completely different scenarios. I'll start with Mikey first, because that is a player that I'm familiar with going back a few years. I did get to see him play college hockey against my son on a regular basis, so I could see the evolution in his game, the strength, the growth in physicality, the leadership skills that he took on with Minnesota Duluth, and how it transferred over to training camp here. When he arrived, he arrived like any young rookie would be, a little intimidated, not sure what to expect or how things were going to happen. He had a pretty good training camp, but it was evident that he was going to need some time in the American League. He certainly took advantage of his time there, the coaching staff and his teammates around him did a tremendous job helping him get up and running and there's the value in spending time in the American League right there, he's a perfect example of it. He wasn't ready to play, shouldn't be rushed into the league, needs time there, honed his skills, his game, understood the systems so when he got into an NHL situation, he was comfortable for the most part. The nerves still exist, the intimidation, you get intimidated a little when you first come up, but he certainly settled in quickly. You can see that he's a cerebral player, he's very smart, uses his skillset to his strengths, doesn't play outside of the box too much, his own box, never really gets flustered. As we move forward, I think that his leadership skills are going to come out more, as he feels more and more comfortable in the locker room, and the team transitions.
Gabe Vilardi, on the other hand, basically for me, was a name. He was an individual that I hadn't met until probably December, in that range, and I didn't know much about. Obviously, I had heard and read a lot about him and his skillset in juniors – being drafted as high as he was speaks volumes for the type of player he is – but not being able to watch him, not being able to create a relationship at training camp, created a unique situation for all of us. He has come in and worked extremely hard on getting healthy, I think that's been well documented, but what doesn't get mentioned as much is the amount of time he has spent on the ice trying to get his game up to speed. Extra ice sessions, extra training sessions, just trying to work on his skillset and he was rewarded obviously with the recall. He made good on the games that he played. In both cases, they still need work. Gabe, thus summer coming up, will be his first real training summer in a few, so I think he can make real good gains, as far as his hockey engine, his ability to create separation on the ice, extend shifts out so that the last 30 seconds are as strong as the first…at the 30 second mark you're as strong there as you were at the 15 second mark and all of that's just maturation. They both need that, they're both going to be great players, there still will be peaks and valleys with them, but that's all part of the plan here, is to slowly work them in and get them up and running so that when we're ready to strike again, they are big parts of the organization.
McLellan, on the best team the Kings faced this season:
Well, that's a tough question because of the timing of it. We played St. Louis early in the season and we played them around Christmas and we haven't seen them since. I can watch highlights, I can see the type of pace teams are playing with. We played extremely well in Boston, yet I think they're one of the teams to beat. I think St. Louis would be up there. Where are some of the underdogs, Nashville was really beginning to play well, but we haven't played them in so long that it's hard to predict or anticipate where they might be. The upper echelon teams, the teams that are in those top 7-8 spots, have to be considered favorites and have the best chance at winning, but there's always a Cinderella team, and underdog team, that seems to make a run at it and we haven't played now in almost three weeks. A lot of things can change if we get up and running again. Are players in good condition, are they mentally prepared to go again, where will the passion level be, is it going to be tough to play in the middle of the summer? All of those factors, amongst many others, could influence the direction of teams and their success or failures.
McLellan, on the biggest impact on the Kings should the season not be resumed:
Well, that's a tough question to answer. If it does go away, we're looking at a very extended summer. If the regular season goes away, playoffs do exist and they have to play late into July, August and we break for another month, our training camp is going to start, and I'm just pulling a random date out, but it will probably be pushed back much later than when we would normally start, so that would create a scenario where we're done from mid-March to call it October 15 training camp. That is a huge period of time where we're not involved hockey wise. Some teams that will be playing, July, August, and then having a brief break and then heading to training camp, I think that's a unique or distinct disadvantage to our group, so I see that being a downfall. I also would have really preferred to see how our team would react to this win streak that we've had. Right now, if we don't get up and running, we could have the longest win streak in the modern history of the game, because we're at seven games now and it's been another three weeks, so if you just go by days we're doing pretty good. In any case, I would have loved to see how our group reacted to practices, to how they handle success, because we've had enough share of failure throughout the year, and they handled it quite well, but how were we going to handle success, how were we going to behave in practice, how were we going to approach games down the stretch, I think that reveals a lot about your team and we're probably not going to get that opportunity. Now, even, if we start up again, it will feel like a different season.
McLellan, on his contact with the players, coaching staff and front office:
Well, every level that you spoke of is at a different level. When it comes to office and hockey ops, almost daily, other than the weekends we've been on some kind of video conferencing, where we're discussing the team, potential scenarios, sometimes we're talking about the draft or testing or anything like that, and I'm on it. I don't participate as much in that, but I can tell you that our staff continues to work hard in preparing for what might come tomorrow. Coaching wise, we're in the same scenario, where we're talking about various scenarios, we do that via conference call or video. From a player perspective, we've had about weekly updates from Rob Blake and Luc Robitaille, where everybody gets on a conference call and they continue to discuss their updates, sharing everything with the players, the players are well aware of what's going on. Daily, every morning, our trainer, Kinger, he checks in with all of the coaching staff. He's concerned not only about the coaches, but their families, he gives us a health update, usually it's just a thumbs up through a text but he does that with all the hockey ops people and all of the players and their families. We have our team doctor that sends us, probably every two or three days, we get updates, just to make sure that we're getting the right information, whether we're watching it on TV or not. He'll talk about there's been medicines that have been spoken of, this might help, this might help, he'll give us his opinion on that and we'll follow that guidance. We feel like we're very well cared for and the communication, although it being very different than what we're used to, still remains strong.
McLellan, on using videoconferencing for his season review:
Only one other time in my career have I had to do that. It was done in Edmonton. The Humboldt bus crash occurred basically the night of our last game in Edmonton. Glen Gulutzan, who was in Calgary, and I woke up the next morning and we got on a plane and went to Saskatoon to help and that's normally the day, or the days after, where you are dealing with individual player meetings. I've had one year of experience doing it over the phone. In some sense, it was better because players had a little more time to decompress and think about things. They were speaking on their terms. They were comfortable at home rather than being an office. There are some benefits to it.
The past and present meet on @FOXSportsWest.

Tune in on April 17 for a legendary simulated Freeway Face-Off Game presented by @MercuryIns. https://t.co/xc3gwc0DfI

— LA Kings (@LAKings) April 10, 2020