The Reign are essentially on a bye week, as they don't play a midweek, or Friday game for the first time in……a while. The last Friday off for the Reign was December 13. The last Friday off where they didn't play a midweek game was October 18, the third week of the American Hockey League season.
If it feels weird, you're not alone. The Reign were off yesterday, and returned to practice this afternoon at Toyota Sports Performance Center, where they will also skate in each of the three days following today.
"We are focused on what we want to work on this week in practice, which is good," Reign Head Coach Mike Stothers said. "The fact that we've played so many games early in the year, I think it's a welcomed kind of break right now for us to just have practices and not games."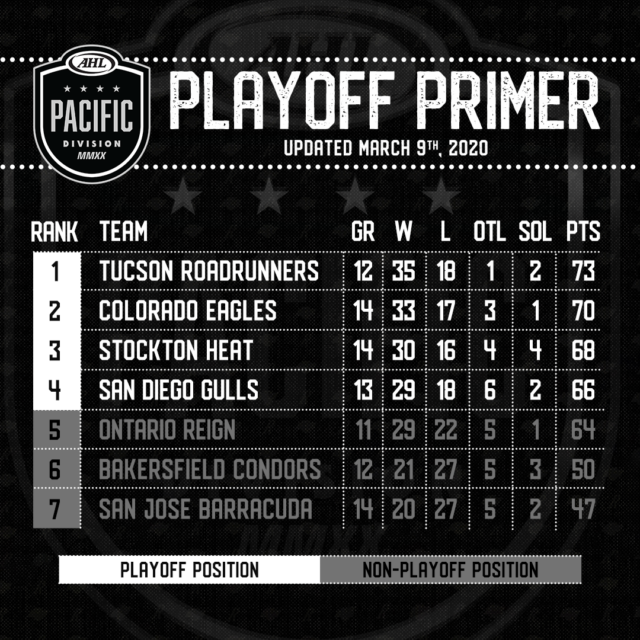 While the Reign recover and practice, the rest of the Pacific Division catches up on games played. The four teams in front of Ontario in the standings will all play at least once before the Reign play on Saturday, while two teams play twice and the San Diego Gulls play three times. The Gulls games are especially interesting – San Diego has had the ever-discussed "games in hand" over the Reign for pretty much the entirety of this stretch run. That ends this week, as the Gulls move from two games in hand to one game more, with a pair of midweek games in Tucson and a Friday Night home game against San Jose. After Ontario plays on Saturday, the So-Cal Series returns to Toyota Arena on Sunday, with the teams even on games played, though the point differential will be TBD.
Here's how the Pacific Division schedule shakes out this week, starting tonight –
Tuesday
San Diego 0 Tucson 3
Colorado 4 Texas 5
Stockton 4 San Jose 7
Wednesday
San Diego @ Tucson
Colorado vs. Texas
Friday
San Diego vs. San Jose
While the Reign are off from playing games, will they be off from watching them?
Personally, I am a standings watcher. After Ontario lost on Saturday in Colorado, the first thing we watched were the endings to the Stockton-Bakersfield, and then San Diego-San Jose tilts that had yet to finish up with the time differences.
"Yeah I do [standings watch]," Reign forward Blaine Byron said. "I think it's just good to know what the competition around you [is doing] and good to know where you stand. Especially this time of the year, everything matters, and it's reassuring to yourself to know that you can't take any game off."
Fellow winger Boko Imama agreed with Byron, that he does watch the standings, and the other divisional games at this time of the season. With the Pacific Division so closely contested, it's hard not to stay tuned to the other games around the division.
"We all know how tight it is, right?" Imama said. "You have to keep track of Colorado, well we played them last weekend, San Diego, Stockton, even Tucson. If you think about it point-wise, at this point, you never know what could happen so you pay special attention to it."
Standings watching doesn't necessarily help the Reign earn points – they will need to take care of their own business regardless of the outcomes in other arenas. That said, it's clear that the Reign players, coaches (and Insiders) are following closely.
"I try not to, but it's hard," Stothers said. "You've got to keep tabs on what's going on, but you do find yourself watching the other teams and the results. It kind of gets away from your main focus, which is control your destiny, win your games, but we're in this situation because the other teams have games in hand and you've kind of got to watch those and see which way they're going. Oddly enough, I find myself rooting for Tucson here, and I never root for Tucson for anything……so yeah, that hurts."
Sitting nine points back with 11 games to play of the Roadrunners isn't an impossible challenge, but with zero remaining head-to-head matchups, it's less likely that Ontario catches Tucson as it is the team visiting Arizona tonight, the San Diego Gulls. Stutts rooting for Tucson, there's a story for you!
Byron was plenty aware of the Gulls playing three times before the Reign next play, and said that you follow those games "a little bit". Imama added that the lack of games this week gives the team a chance to catch up with action around the division and around the league and having friends and former teammates on various teams makes it easy to watch and follow certain games.
Ontario does play Stockton four times and San Diego three times down the stretch. Those are massive games when you're trying to make up points and with 8 of their final 11 games at home, the Reign will need to take care of business on home ice.
"We play [San Diego and Stockton] at least three times, so it's those games in hand that you can make up," Byron said. "I don't think guys are too worried about that, just focusing on what we can do."
Imama pointed out that the games still to come were a focal point today, as the Reign returned to the ice. While the defeats in Colorado this weekend were disappointing, the upside of still having games to play against the teams ahead in the standings are a sign of encouragement.
"That was a focus and that's what Coach Stutts said today," Imama said. "Obviously it didn't go as planned, as we wanted in Colorado, but if we're looking ahead, we'll have the chance to get some good matchups and it's on us to make it happen. For sure we're excited."
Stothers saw the upside in having those games remaining, but also emphasized the importance. Having games against the Heat and Gulls are great, but they don't mean much if you don't win them. He pointed to the team's bouceback mentality in the past as a way to look forward to the game that will follow the disappointing weekend in Loveland.
"Yeah, but I mean you have to win, they're must wins," he said. "It's kind of still disappointing, in that even if we got a split in Colorado, it's a whole different perspective, but we didn't. We're not going to get discouraged by a weekend when we underachieved, because there's still lots to be looking forward to ahead of us. We've had stretches where we've had tough weekend, we've had stretches where we've had good weekends. Usually, we've followed up those tough weekends with some real good stretches. That's what we're concentrating on and that's what we're building on."