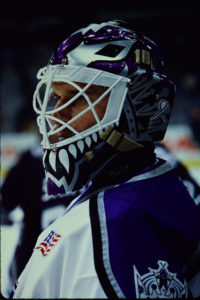 Few could make as much of an impact in 136 games as Felix Potvin did from February 20, 2001 to January 28, 2003, a span in which he went 61-52-16 with a 2.35 goals-against average and a .905 save percentage.
Those numbers don't exactly jump off the page to the same degree as his 9.24 goals-saved above average in the 23 games after joining the Kings in 2000-01 or his 10.2 goalie point share the following season. They don't paint a picture of the best Los Angeles goalie in the 30 years between Rogie Vachon and Jonathan Quick – the one who registered 17 shutouts in 154 regular season and playoff starts (11.0%), besting Jonathan Quick's 8.4% shutout rate despite playing behind a blue line that wasn't as deep or as structurally sound.
And we haven't even gotten to The Detroit Series.
The LA Kings were closer to a Stanley Cup in 2001 than many give them credit for, with Potvin's spectacular play during back-to-back 1-0 shutouts of Colorado in Games 5 and 6 in the 2001 Western Conference Semifinals setting the stage for a winner-take-all third period at the Pepsi Center after Nelson Emerson's late second period goal knotted Game 7 at two. (Peter Forsberg was dangerous on every shift in that period, helping pace the team to four goals over the final 20 minutes. Because of a serious injury that necessitated the removal of his spleen, those were the final minutes of hockey Forsberg played until the teams met again in the first round the following spring. The Avs won the Stanley Cup in his absence, getting past St. Louis in five games before edging New Jersey in seven.)
And we still haven't gotten to the Detroit series.
In Los Angeles' lone playoff series win between May, 1993 and April, 2012, Potvin stopped 95 of the final 103 Red Wings shots he faced as the Kings rebounded from a 2-0 deficit to beat the Red Wings in six games, winning a see-saw Game 6 at Staples Center in which he stopped 26 of 28. Detroit didn't score after a Darren McCarty goal 6:42 into the second. You are aware of The Adam Deadmarsh game.
"I just remember coming from playing hockey in the east with the Leafs, you come to Los Angeles, you don't know what to expect," Potvin said last Saturday. "I just remember we had blackout nights – everybody was wearing black. It was amazing, and the way we beat Detroit, making comebacks, there was all kinds of drama in that series. It was just a great atmosphere."
Potvin hadn't been back to Staples Center since his final NHL appearance on October 18, 2003, when he earned a win as Boston's starter. Speaking with LA Kings Insider, he discussed the emotions that resurfaced as he returned to a setting in which Felix the Cat figurines were very much in vogue some 19 years ago.
LA Kings Insider: In 1993, you were very young and that was a playoff series that goes down as one of the best in Kings and Leafs history. There's celebrity on both sides, one of the worst calls of time, high emotion – as someone young amidst all of that, how did you handle it, and what still resonates with you from Toronto's perspective?
Felix Potvin: Well, it was just great memories, I think. Like you said, for me, being in my first year with the Leafs, getting through that, I guess since I was a new kid I probably didn't feel the pressure or whatever was coming with it. I just remember it being great fun. I thought we had agreat team and had a great coach in Pat Burns, and like you said, every series was so packed with action. Beating Detroit and St. Louis in seven, and ending up losing to the Kings was heartbreaking, but there were still a lot of good memories.
LAKI: When you lok back at when your Kings experience started – I remember there were still Canucks colors in the pads – what did you see as that particular type of challenge? The team was quite good as well, but since Rogie Cachon, that level of goaltending hadn't been established in a Kings jersey in some 25 years.
FP: I remember being lucky because I was in Vancouver and things weren't working all that great. The trade came about a bit before the season ended, and I remember playing I think 31 games in a row. It was so much fun, and at the time I was here, we were out of the playoffs. But I remember having a great team, a great bunch of guys. We managed to pull into the playoffs and then upset the Red Wings in the first round and nearly upset the Avalanche in the second round, but it was just unbelievable.
LAKI: Did Andy Murray have among the most different approaches you'd experienced from a coach at that time in your career?
FP: Yeah, but they were al different coaches. They all had their ways, and Andy surely had a good way to do it because he brought us together and he brought us all the way to there. Yeah, I'm fortunate I came here.
"Remembering the fans, the plays, the city – it was a lot of fun"

Felix Potvin joins @CarrlynBathe to chat about his favorite hockey memories on '90s Night@LAKings | #LAKingsLive pic.twitter.com/DzH7inxKCC

— FOX Sports West (@FoxSportsWest) February 23, 2020
LAKI: Do you remain close with Eric Belanger? I know now when you come back, there's Glen Murray and Nelson Emerson and obviously Luc in the front office, but who from that team stayed close?
FP: It's hard, I live in Quebec, I coach there. But now Eric Belanger's coaching in the same league, so I see him once in a while. I talk to ian once in a while. It's just nice when you come back and you see old teammates in here and old guys that you played with.
LAKI: The first Colorado series, how does it resonate with you 19 years later? Because that Kings team was remarkably close to winning a Stanley Cup, and that was against the Avalanche in their heyday.
FP: Like I said, everything was close. If I remember correctly, we had a bunch of 1-0 games in overtime. It was what playoff hockey meant – it was just fun playing those games.
LAKI: So are the memories flooding back right now? Is this a surreal moment?
FP: Yeah, it brings you a lot of memories, especially because it's not where I spent most of my career, so it's definitely different. But it's always a lot of fun.
LAKI: Did you watch in 2012, as well? Were you following along when the Kings finally did win?
FP: Always. Always you watch old, old teams of yours. It was fun to see them being able to win the Cups. For the organization, they've been really nice to me and my family when I was here, so I was glad they could finally win the banner.