There's a new sheriff in town and his name is Wild Vill.
Last night's trade between the Los Angeles Kings and Toronto Maple Leafs created a shakedown that extended past the NHL, navigating a few freeways on its way to Ontario. With Jack Campbell moving on to the Maple Leafs, Cal Petersen was recalled to the Kings, while Matthew Villalta now takes center stage with the Reign, manning the starters cage at today's practice. While he is naturally excited for his own opportunity, Villalta was perhaps even happier for the new opportunities of his fellow goaltenders.
"Really happy for Cal," Villalta said. "I think we were really good friends, and I'm super excited for him, he's going to do great up there. As Jack goes, it's always tough to see guys go. Even though I didn't play with him, I did play the preseason game with him in Arizona and we won that one so that was a special moment with him, and I know he's going to do really well [in Toronto]."
At the moment, Villalta is the only netminder left on the Ontario roster, though that will change before the Reign kick off a back-to-back set this weekend against Bakersfield and Tucson. In the meantime, Villalta is ready and excited for the challenge ahead.
"It's a really big opportunity for me and I'm just going to try and take it game-by-game, nothing really changes," he said after today's practice. "I'm just going to try and stick to my game plan here and I know the boys have been playing really well lately, so I'm just going to try to keep up what we're doing, and we should be good."
Villalta's moment comes at a big time in the season for the Reign. Ontario is currently riding a five-game winning streak, and a seven-game point streak, with Villalta earning two of those victories, as well as an overtime loss. The Reign's current hot run has vaulted them into the fourth and final playoff position in the Pacific Division standings, three points behind the third-place Colorado Eagles and three points up on the trailing San Diego Gulls.
With Petersen, the AHL's leader in minutes played, now up with the Kings, Villalta's workload figures to see an uptick at a pivotal point in the season.
"It's obviously a huge thing, after missing playoffs last year even though I wasn't here," Villalta said. "That's the goal for this year, is to make it back to the playoffs. I feel like I've got some big shoes to fill with Cal gone, but I'm going to do my best to keep the puck out of the net and do everything I can to help the team in whatever way I can."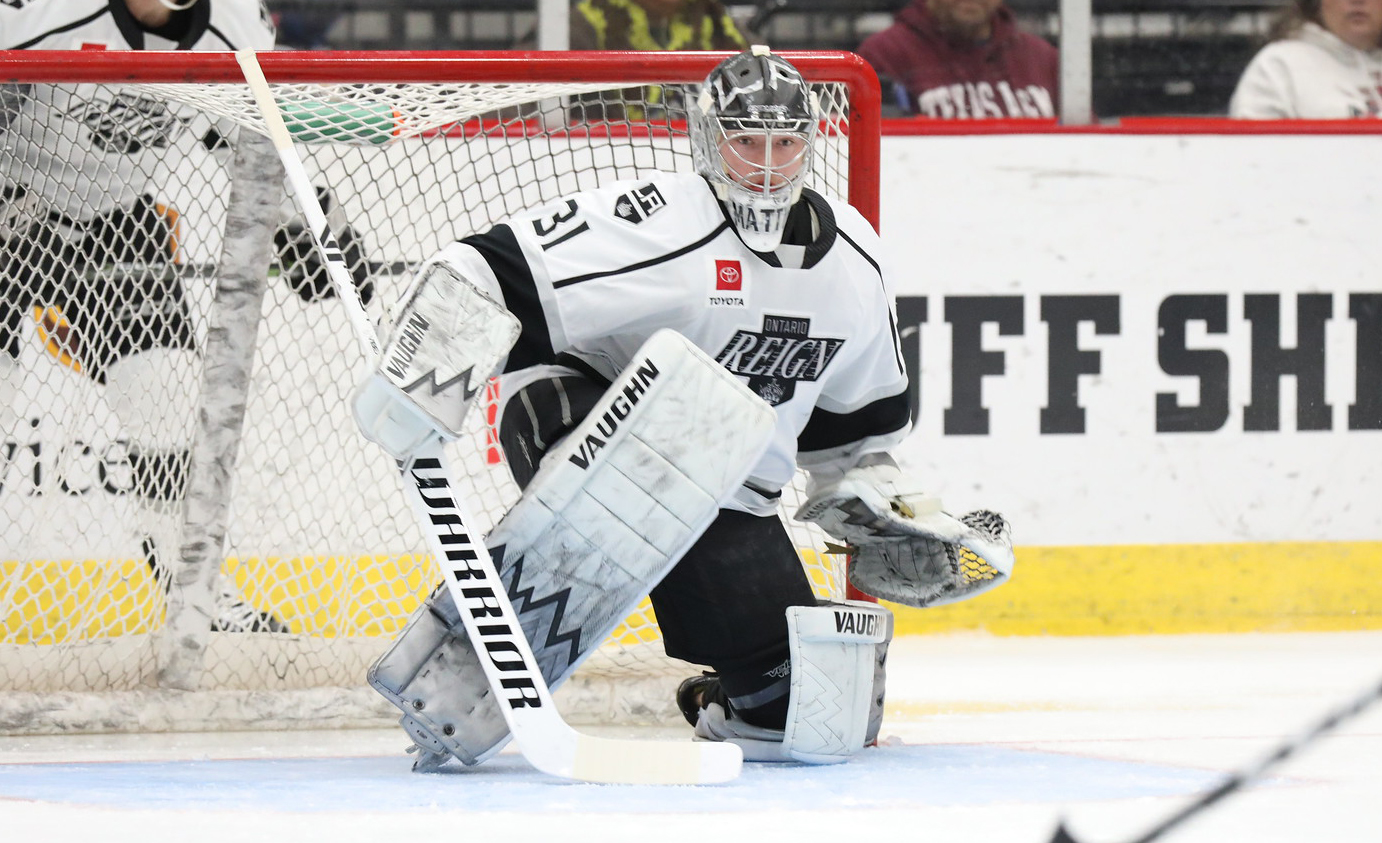 Earlier in the season, the Reign weren't as equipped to handle the loss of Petersen, and perhaps neither was Villalta.
Petersen started 17 consecutive games out of the gates, as the tandem of Villalta and goaltender Cole Kehler served as backups, each entering just one game in relief during that span. A fairly light opening quarter of the season led to Petersen being able to start every game in that timespan, which led to an important assignment to the ECHL for Villalta, where he played heavily in an eight-game stretch.
"It was a big thing for Matt, going down [to Fort Wayne], and kind of figuring out how he wanted to read plays, and how he wanted to position himself," Kings goaltending development coach Matt Millar said. "Bringing that here, and bringing the speed up a little bit, I think he's done a really good job of knowing when to just play the position, and trust his positioning, and I think he's done an excellent job also of using his natural athleticism and agility to make saves that are game-saving saves."
Upon his recall to the Reign, Villalta made his first start in Tucson on November 23, as he put together a valiant, 35-save effort in a narrow 3-2 defeat against the top team in the Pacific Division. Leading up to that debut start, however, it was pretty much just practice only for Villalta, which made practice even that much more important for the young netminder.
"It was kind of like that my first year in the Soo [in the OHL], where we had a starter and he played almost every game and was similar to this year with Cal," Villalta said. "He started off with 17 in a row and he was carrying the workload and I had to treat every practice like a game pretty much."
Since that debut start in Tucson, Villalta has gone on to make seven additional starts, and is 5-1-1 in those seven games, with a .914 save percentage and a 2.65 goals against average.
Matty V! pic.twitter.com/oX0lvNDhPI

— Ontario Reign (@ontarioreign) February 2, 2020
If you practice how you play, than it speaks wonders about Villalta's practice habits. Millar talked about the difficulties that a Mike Stothers practice brings, which helped to bring out the best in Villalta's habits.
"Matt took practice very seriously, and worked very hard on his game," Millar said. "Goalie sessions as well, video, and when the opportunity came, he just kind of went out and was on auto-pilot and just let himself play."
For Villalta, he maximized his time during practices at the AHL level, which helped him to remain sharp for when the game action finally started to come.
"I prepared for practice, did all of my warmups and everything I needed to do so when I did get into a game, it had been awhile since I played, so I just tried to do everything I could to stay ready, that's what I tried doing every day," Villalta said. "Now, I feel like I'm getting in a good groove here and I'm just going to try and keep going. The guys have helped a lot, they've been fantastic in front of me, making my job easy."
While Petersen will make his season debut in the NHL this weekend, the Reign continue to work towards a berth in the Calder Cup Playoffs, which will be won or lost through an upcoming slate of important games, without their AHL All-Star. The hope amongst the Ontario coaching staff is that the values and work ethic that Petersen brought to the rink every day rubbed off on Villalta, and Stothers feels that it has.
"You need that good mentorship, and have a guy you can trust, lean on and know that he's got his best interests at heart and Cal always wanted the best for Matty," Stothers said. I think it was good when Matty could look down at the other end of the ice, especially during practice, and see the commitment and effort that Cal put in, before practice started, during and after……I feel comfortable and confident that Cal's passed along a lot of positive traits that Matty can now build on."
As Ontario moves down the stretch, the games remain important. A slew of divisional action awaits, beginning on Friday in Bakersfield, a team just four points back of the Reign in the Pacific Division standings. Likely in net will be Villalta, who would lead a back-to-back for the first time this season if he gets the nod. As his Head Coach puts it best, it will be his opportunity to seize.
"He took advantage of the situation, he played very well," Stothers said. "We'd be a little bit more concerned if the results weren't what they were, but he's proven that he's quite capable of playing in the American Hockey League, he's capable of winning games in the American Hockey League and it's a good chance now for him to branch out and taken on an even bigger role, and be a little more assertive in his crease time."