More to come from Barclays Center, but first, Trevor Moore's immediate reaction to the trade, and Cal Petersen's thoughts upon a more open-ended recall:
Trevor Moore, on his reaction to the trade:
I mean, I was pretty shocked, I guess you never kind of see it coming, right? When I was told I was traded, obviously a little bummed, but when he said it was to LA it gets a little better. I get to go home, and be close to family, something I haven't been able to do for a long time. I'm looking forward to it.
Moore, on leaving a team in a playoff race, but gaining extra opportunity:
The Leafs are a team that's making a push right now and they've got a good core. I liked those guys there and all that, but at the same time, personally, this could be a better opportunity for me. They obviously have a lot of talent and stuff and guys who were solidified there. Maybe here, I'll get a little bit more opportunity and move up.
Moore, on how he learned of the trade:
After the game, I was just sitting there, texting my family after the game, like I usually do, and I just got called into the office.
Moore, on growing up a fan of Luc Robitaille, and later Anze Kopitar and Drew Doughty:
I think the guys you mentioned there were so important to California hockey and growing the game. Looking at when I started playing hockey in California to now, it's grown so much and I think those guys did a great job. I'm just looking to learn from those guys and keep building.
Moore, on growing up a Kings fan:
Yeah, I was a Kings fan, for sure. I'd be lying if I said this wasn't special, for sure. [Reporter: What does it mean to you to be a Los Angeles King?] It's special. It's the team that I grew up watching, we had season seats, where I got my love of the game. To put this practice jersey on here today, to be a part of this, it's surreal, it's awesome.
Moore, on the 2012 Stanley Cup:
It was very special. Obviously, you grew up a hockey fan, and a Kings fan, and for them to win the cup with those guys, it was pretty special. [Reporter: Did you get the chance to go to any of those games in 2012?] I did. I can't remember what game it was, Game 5 or something, my parents gave us the tickets and they waited outside, they're pretty amazing people. That was a memory that I'll never forget.
Moore, on his initial feelings about the trade:
I found out after the game. You're bummed when you hear you're traded, I like those guys a lot and I'm going to miss a lot of those people, but when they told me I was coming to LA, obviously it's a little sweeter. I get to be closer to my family, in a place I'm comfortable with, on a team that I grew up watching. I think it's a little bittersweet, but I'm very excited to get started.
Moore, on his speed, forechecking, backchecking and tenacity:
I think that, whether I'm putting the puck in the net or not, I'm always going to bring those things. I think that's something that can keep me important to a team. I think the speed and competitiveness are something that I try to bring every day.
Moore, on the logistics of getting to the Kings' hotel:
I had a suitcase, but I got in the car [at Madison Square Garden] so fast – they just kind of put me in there – there were a lot of media and stuff and it hadn't been announced yet. They put me in the car and I left, and I realized I didn't have my suitcase, it was still on the bus. I got there, and they sent my suitcase to the hotel, but it was someone else's suitcase. It is what it is, so I've got to go shopping.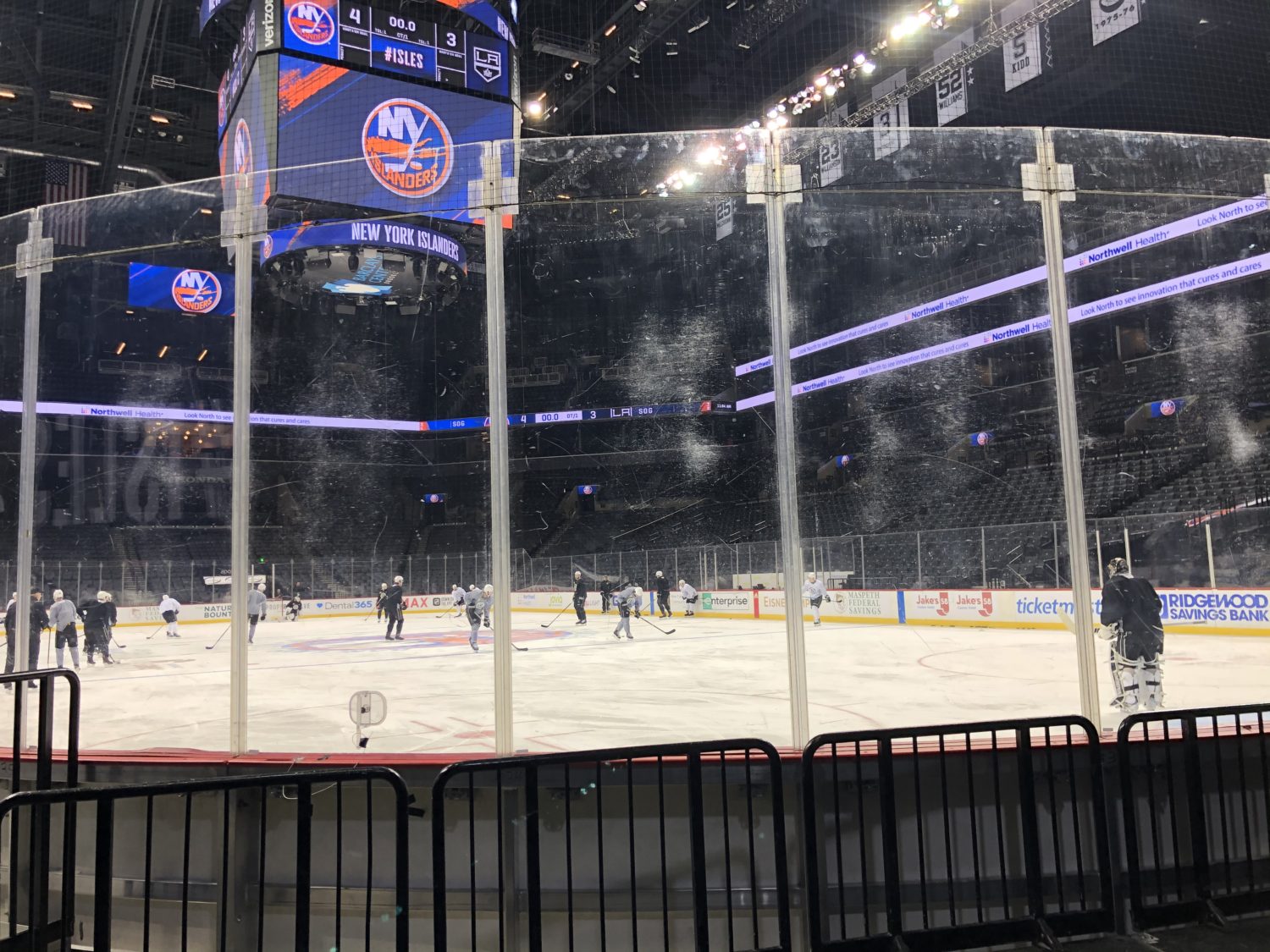 Cal Petersen, on what was going through his mind when he found out he was getting called up:
I was just at home, just got done making dinner, and I got the call from Blakey and he kind of just briefly explained the situation and told me I was going to have a flight tonight. I just got my suitcase ready, found some clean clothes and made it here.
Petersen, on his experience in Ontario this season:
That was one of the things I wanted to emphasize when I went down, is taking on a bit of a leadership role and help the team win with some young guys in the lineup. I think, just carry the same things that made me successful down here and making sure it translates. I'm pretty excited for the opportunity.
Petersen, on leaning on Jonathan Quick's experience:
Yeah, like you said, I'm excited to be his goalie partner, I'm excited to learn from him, I'm excited to compete with him. He's a great guy, and obviously a world-class goalie to watch, so it's going to be a great experience for me.
Petersen, on how the open-ended nature of this recall differs from his previous recall:
I mean, I think you kind of said it. I'm just going to come up here and take it day-by-day and not look too far ahead, or anything like that. I just wanted to come in, make it through the morning skate and get prepared for tonight's game. Once that happens, we'll see what tomorrow holds, like I said, just take it day-by-day.
Petersen, on his cross-country flight:
It was a red-eye at 11:15 to Newark. … It wasn't too bad, I got a little bit of shut eye in and then I was able to get a car here, so it worked out well.
Petersen, on being in the middle of dinner when the phone rang:
I actually just finished, so I left some plates on the counter for Luffer to help clean up. It worked out fine. [Reporter: I'm surprised Luffer actually does that] Yeah, I know. I'm usually the one who has to clean up after him, so I'm sure when I get back on Monday they'll still be there.