Several notes to share on the trade and what to expect on a game night in Brooklyn (3:30 p.m. PT LA Kings Live / FOX Sports West / FOX Sports GO / LA Kings Audio Network). We'll start with a few bullet points on the trade, tonight's lineup, and a media scrum with Rob Blake.
Notes!
–The vitals: Cal Petersen got on the ice after a red-eye deposited him in Newark in the wee hours of the morning, joining Billy Ranford and Jonathan Quick. Quick, the confirmed starter, is 6-3-2 in his career against the Islanders with a 2.09 goals-against average, a .919 save percentage and a shutout. Derek Forbort, Joakim Ryan and Trevor Moore remained on the ice for extra work with Petersen. More on those Moore and Petersen to come.
But given Moore's workload this week, and the three-in-four ahead, it didn't make sense to throw him right into the lineup, even though he only had to change Manhattan hotels after the trade.
"He played Monday, Wednesday," McLellan said. "To have him play Thursday, Saturday, Sunday, that's five games in seven nights with travel and emotion and all that type of stuff." He's primed to debut Saturday in New Jersey.
Given Los Angeles' weekend back-to-back, it wouldn't be a surprise to see Petersen make his first start of the season in that game, as well. The balance of starts will be determined more or less by performance and results, with McLellan saying that he's "never been a numbers guy" when it comes to projecting starts.
"I find you throw a number out, people are working towards it and living and expecting it, it could be higher, it could be lower. He'll play this weekend, I can tell you that right away."
More to come on those subjects.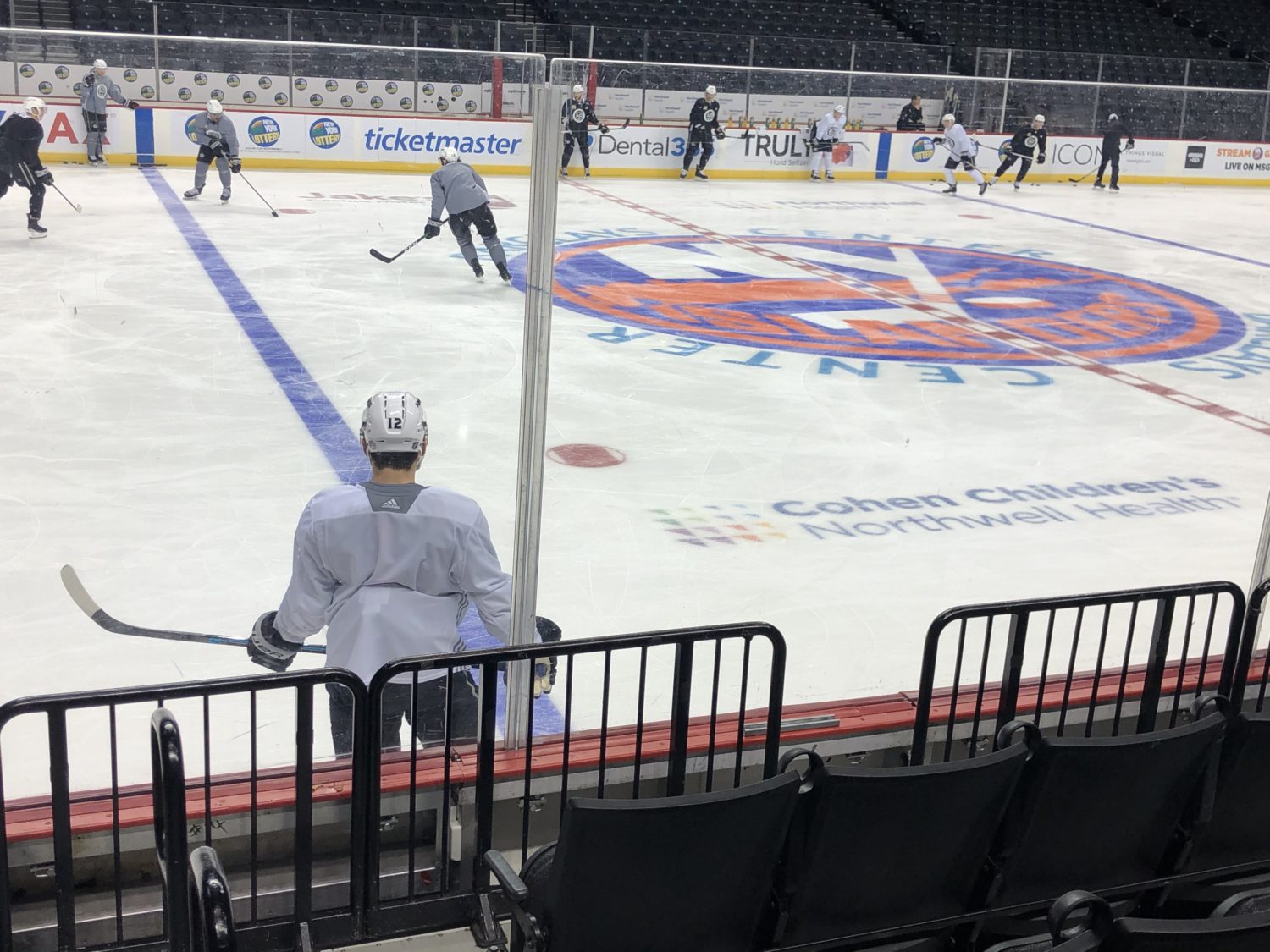 — Their vitals: Los Angeles will face Tomas Greiss, a former Pacific Division foe who's had some degree of success against them, going 4-3-0 with a 2.17 GAA, a .922 Sv% and a shutout in nine career appearances. They're expecting to use the same lineup in front of Greiss as the one that defeated Dallas 4-3 in overtime on Tuesday behind two Anthony Beauvillier goals along with markers from Derrick Brassard and Matthew Barzal. They've been batting for the points cycle recently with one regulation win, one overtime win, an overtime loss and a shootout loss in their last four games, and with 66 points and games in hand, they're in the first Wild Card spot in the Eastern Conference with room to ascend within the Metro. This season's success has largely been built on the platform of a 16-3-1 start, which has been followed by a 14-12-5 stretch that overlaps with a more recent 8-8-4 run. Their .929 5×5 Sv% ranks sixth in the league but is just 27th at .905 since December 17, per Natural Stat Trick. Los Angeles has never won at Barclays Center. They've lost four straight road games overall in the series, going 0-3-1 since a 3-2 win in Uniondale behind Nick Shore's first career goal. Aaah, the land of milk and honey and Andrej Sekera.
— And, finally, let's get back to trade coverage. Earlier today, Rob Blake explained the timing and impetus of the trade and why players like Kyle Clifford and Jack Campbell were included.
First, with Campbell, you've probably heard by now of Frederik Andersen's neck injury and their void of back-up success this season. They've been in the market for someone to perform in Andersen's stead, and Campbell has been one of the clear fits floated as a trade target.
With Clifford, this trade continues the process of Los Angeles fully investing in its rebuild, in which veteran players on expiring contracts are going to be moved for the assets Blake is focused on amassing during what's expected to be a busy trade deadline: picks and prospects.
"I don't think that's secret," he said. "I think if you look last year and you look at this year with the players that are available and the UFA market and what we have, that's our main focus. I'm not sure you'll see that again next year. I think there'll be different types of things available, but we knew that these two years we were focused on that, and there'll be tough times ahead here, yes."
If there's anything that intuition tells us, and this has been shared before in varying degrees, it's that moving Campbell essentially puts an end to the thought of them being able to move Quick, barring any abrupt change in fortune. No market has developed for the 34-year-old goaltender with three years remaining on a contract that drops in actual payment next season but retains a $5.8-million cap hit through 2022-23. Managerially, there was a need to move one of the three goaltenders by the start of the 2020-21 season when Petersen would have joined Campbell in losing his waiver-exempt status. But as much as the contractual requirements affected the decision, it's also appropriate to give Petersen additional slack in his rope.
"It's time to get him games in the NHL," Blake said. "He's done what we had expected in the American League. He was able to hold that team on a really good pace and keep them in the hunt."
"So, if we project him to be the starter in a few years, he's now going to learn from a Hall of Famer in Jonathan Quick, the competitive nature, and how he prepares every day. So, we like that balance, but we also felt he needed to get games this year to be able to play next year at a level, too."
Take heed in this next part. Los Angeles is open for business and actively taking part in conversations, and because of the glut of expiring contracts – Toffoli, Lewis, Forbort, Hutton, Ryan – we're approaching the epicenter of when they'll be expected to make a major push to reshape the roster and divorce themselves from weightier contracts — and some familiar names. That may or may not include Alec Martinez, who has one year remaining on his contract but is among the veterans to draw significant interest as the Kings transition towards younger personnel.
"Looking forward, a lot of these moves, it's not particularly set towards the deadline, it's more for what we want to get accomplished for next year," Blake said. "We know we've got to change this roster, we've got to get some youth in here, we've got to acquire as many assets at the right time as we can, but one of them was getting Cal Petersen in the NHL."
Rob Blake, on how long he discussed the trade with Toronto:
We've been in communication a little bit with Toronto the past few weeks, but not, I should say, anything different than other teams. I think coming out of the All-Star Break there was a lot of communication, so things kind of take shape over that.
Blake, on Trevor Moore:
A younger guy, he's going to have a lot of energy. Played a specific role there with Toronto. He'll add you some speed. I think a big thing in a lot of his reports is his competitive nature, the way he competes.
Blake, on valuing competitiveness:
Yeah, it does, and it's obviously tough losing some really good teammates and really good people that have helped the organization, but we have some things we have to do going forward.
Blake, on whether he addressed the team this morning:
No, no, no. Todd's really good. He's got a great handle on all that. We spoke at length this morning about it. He had some of the leaders in – he had Kopi, for sure, and talked to him and asked if something like that needed to be done. Our older guys have been around long enough, and they understand situations.
Trevor Moore, Anze Kopitar chat during the #LAKings' morning skate in Brooklyn pic.twitter.com/ImShyRg240

— Jon Rosen (@lakingsinsider) February 6, 2020