Let's start today with a comparison of two team profiles –
Team A: Team A leads the AHL in winning percentage in one-goal wins and no team in the league has more comeback wins when trailing after one period than Team A. Team A is currently riding the AHL's longest point streak and has the league's second best winning percentage when scoring first. Generally speaking, no team has been better in close games this season than Team A.
Team B: Team B has the second to worst goal differential (-40) and second to worst shots on goal differential (-5.16 per game) in the AHL. Team B has four losses this season of six goals or greater, has a pair of six-game winless in regulation streaks, and ranks inside the AHL's bottom five in both power play and penalty kill.
Both teams are currently sitting in playoff positions in the American Hockey League. Team A is the Ontario Reign. Team B is………also the Ontario Reign.
The 2019-20 season has been full of high peaks, consisting of emotional, overtime wins and thrilling comebacks. It has also had its fair share of valleys, which have felt lower than low with blowout losses, specifically four of which by six goals or more.
"I think, basically the biggest thing is guys are learning how to play at the pro level," Lance Bouma said, on the team's high peaks and low valleys. "It's tough, you know, you never want to have games like that, games where we're not ready to play and nobody's ready to play. We've got to do a better job of holding each other accountable, and making sure that we're doing the right things and build off of those positives."
The Reign are currently riding perhaps their highest high of the season to date, with five straight wins, the latter four of them on the road, and points in seven consecutive games, both season highs. As Team A's profile mentions, the seven-game point streak is the AHL's longest active streak, but keep in mind it's also Team B's longest. It's that crossover between the Team A version and the Team B version that has made the Reign a statistical anomaly in many ways, but has fastened them directly in the midst of a very exciting playoff race in the Pacific Division as we enter the month of February.

If you look at any one of these stats, individually, it's nothing out of the ordinary, every team has outliers. But when you start to compile them all together, the Reign have been a very interesting team to monitor, on many levels. You wouldn't normally peg a team with the league's second-worst goal and shot differential to be sitting in a playoff position, but you also wouldn't peg a team that is far and away the AHL's best team in close games to not be there.
Take a look at this past weekend, a pair of one-goal Reign victories. On Friday, Ontario gave up a goal 23 seconds into the game, on the road. Earlier this season, it might've taken the Reign off the rails, but on Friday, Ontario came back to tie the game in the first and eventually won 4-3.
"You know what, I mean we gave up a goal what, 23 seconds into the game and the great thing was the demeanor didn't change on the bench," Head Coach Mike Stothers said. "Maybe earlier on in the season, the shoulders slump and the heads [go] down a little bit, but it didn't even phase them, it was like 'we've got plenty of time', which we did."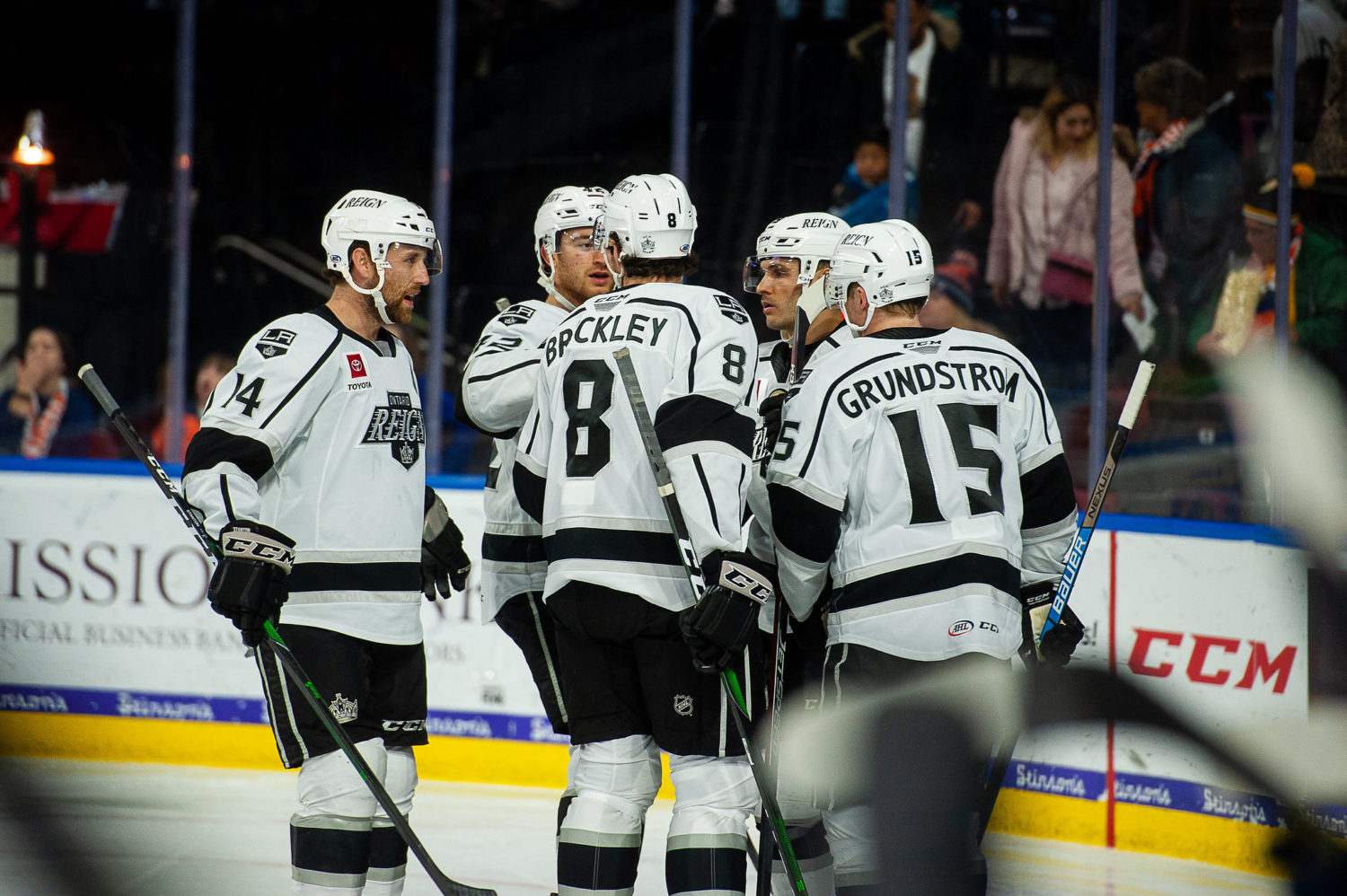 The following day in San Diego, Ontario went down 2-0 in the first period, but battled back to tie the game in regulation, before winning in overtime. There was a point this season where Ontario couldn't stop the bleeding. As Stothers put it, "if you give up five, then don't let them have six," but too often, the Reign let them have six, seven and so on. The blowout losses from earlier this season speak to that, and the team's current run of form show growth. The Reign group entered the season as a young and inexperienced group, that has continued to grow.
"It's hard to pinpoint exactly when or how it happened," Stothers said. "Again, it's not the ideal situation to be coming from behind, but I think we used to lose a little bit of our spirit maybe and we did have some long nights at the start of the year, there were some games that it was a real grind, and we brought it on ourselves. The guys seem to have a little bit better resolve right now and when things don't quite go our way, we have a better response to it."
The Reign have made their money on being a comeback team this season. No team in the AHL has more wins when trailing after 20 minutes than the Reign, and Ontario is tied for second in the league in wins when trailing after 40 minutes. No team has scored fewer goals in the first periods of games this season than Ontario (31), and at -19, no team has a worse goal differential. That, naturally, leads to the Reign ranking amongst the fewest leads through 20 minutes in the AHL this season.
Starting games from behind is not a consistent, long-term approach to success, as Stothers has said several times this season, but this group's ability to fight back, consistently is a good trait to have. It's something that Kings Head Coach Todd McLellan has said is a part of his team's DNA at the NHL level, and it's something that's a part of Stothers' group here in the AHL. If you aren't going to lead through one period, you better be able to come back, and Ontario has shown the ability to do so.
"It's a momentum game – I think you get a lot of peaks, when you get things going your way, and then whether it's a penalty, a miscommunication and they put a couple of shifts together, you can go low," defenseman Mikey Anderson said. "It's a momentum game and no matter what level you're at, or any kind of game, you're going to have peaks, you're going to have valleys, it's surviving them, taking a punch and giving a punch back."
As the Reign hit the homestretch, they have everything to play for. A season ago, the Reign sat double-digit points out of a playoff berth. As they enter the final 20+ games of the 2019-20 season, Ontario occupies the final playoff position in the Pacific Division, both by point total and winning percentage. The Reign will play the team they most closely trail in the standings, the Colorado Eagles, five more times down the stretch, and each of the two teams directly behind them, Bakersfield and San Diego, three more times. All important games, on what is shaping up to be a fun ride to the finish.
And, speaking of fun….here's the Reign having some at practice this morning!
Breakaways going up, on a Tuesday! pic.twitter.com/wXCPPnKwm9

— Ontario Reign (@ontarioreign) February 4, 2020