2:30 p.m. Posting after a little bit of a delay. I'm going to share and embed tonight's tributes and hope to provide as best I can a description of the environment at Staples Center for the first game at the arena since Kobe Bryant, his daughter Gianna and seven others tragically died in a helicopter crash in Calabasas on Sunday.
The hurt comes in waves. It's there taking in the memorials, walking back into Staples Center for the first time and reading and watching the tributes arriving from across the world. Many shared their tributes at L.A. Live, where grievers and well-wishers in purple and gold continued to fill the plaza on a Wednesday afternoon: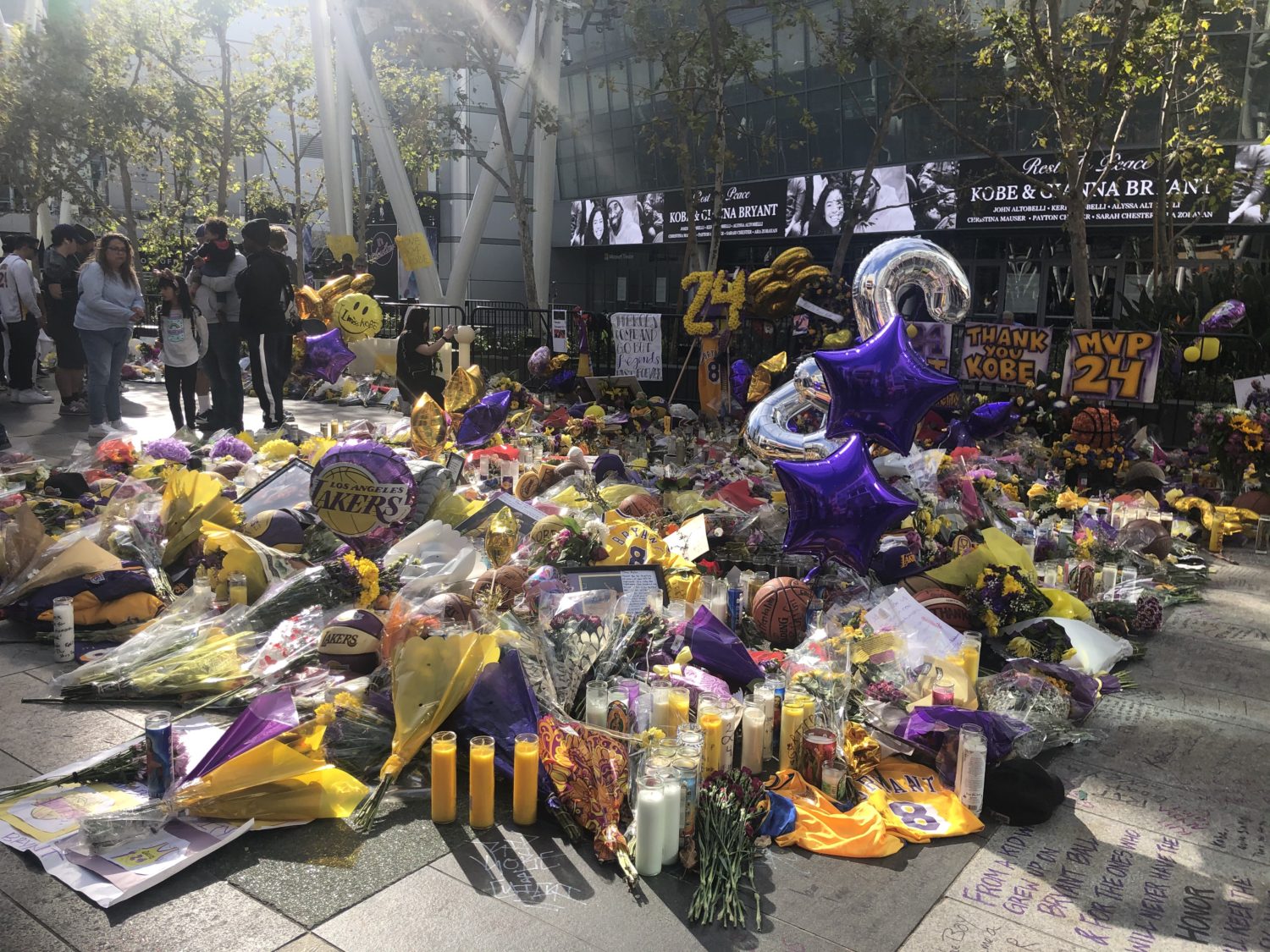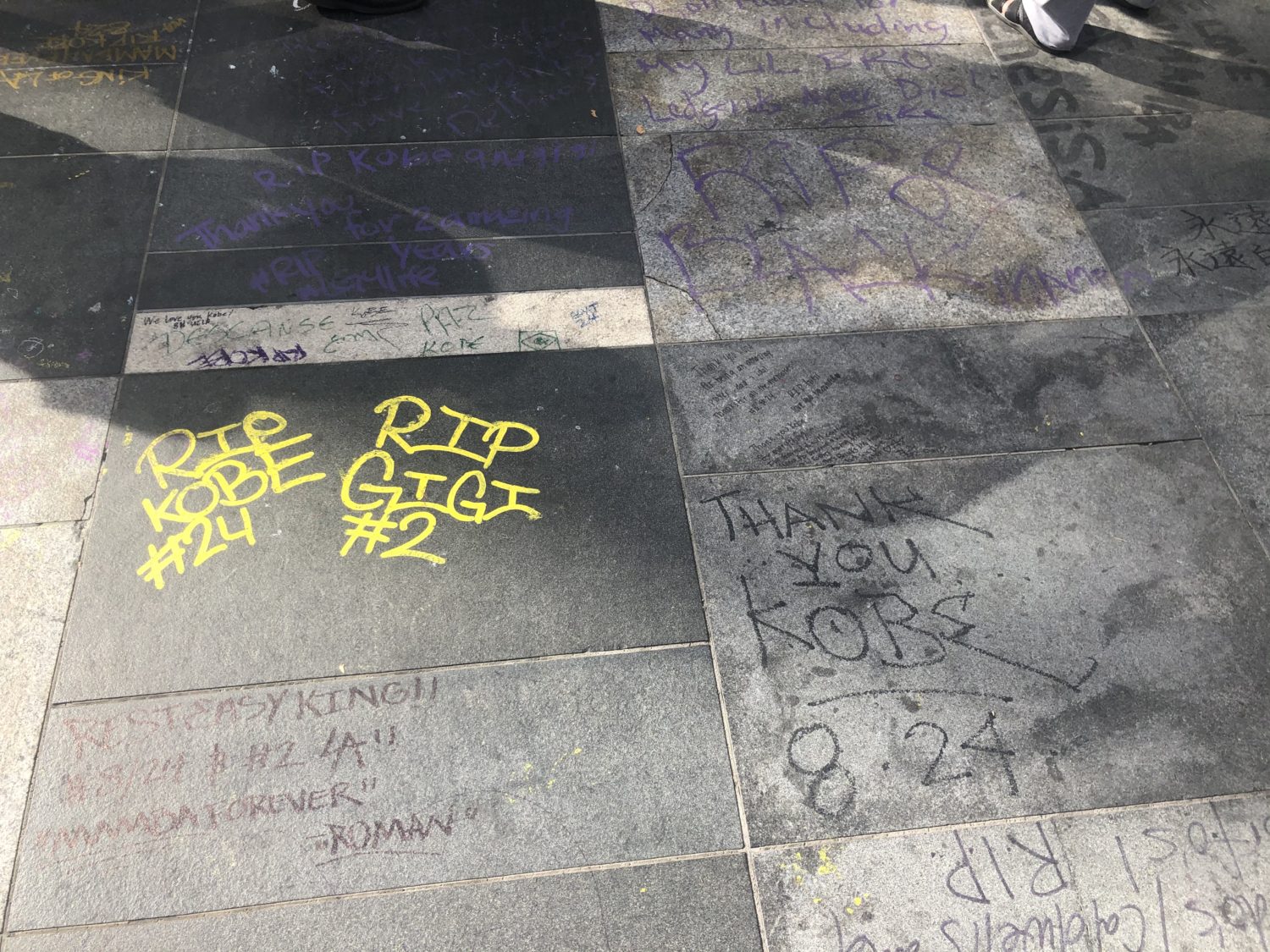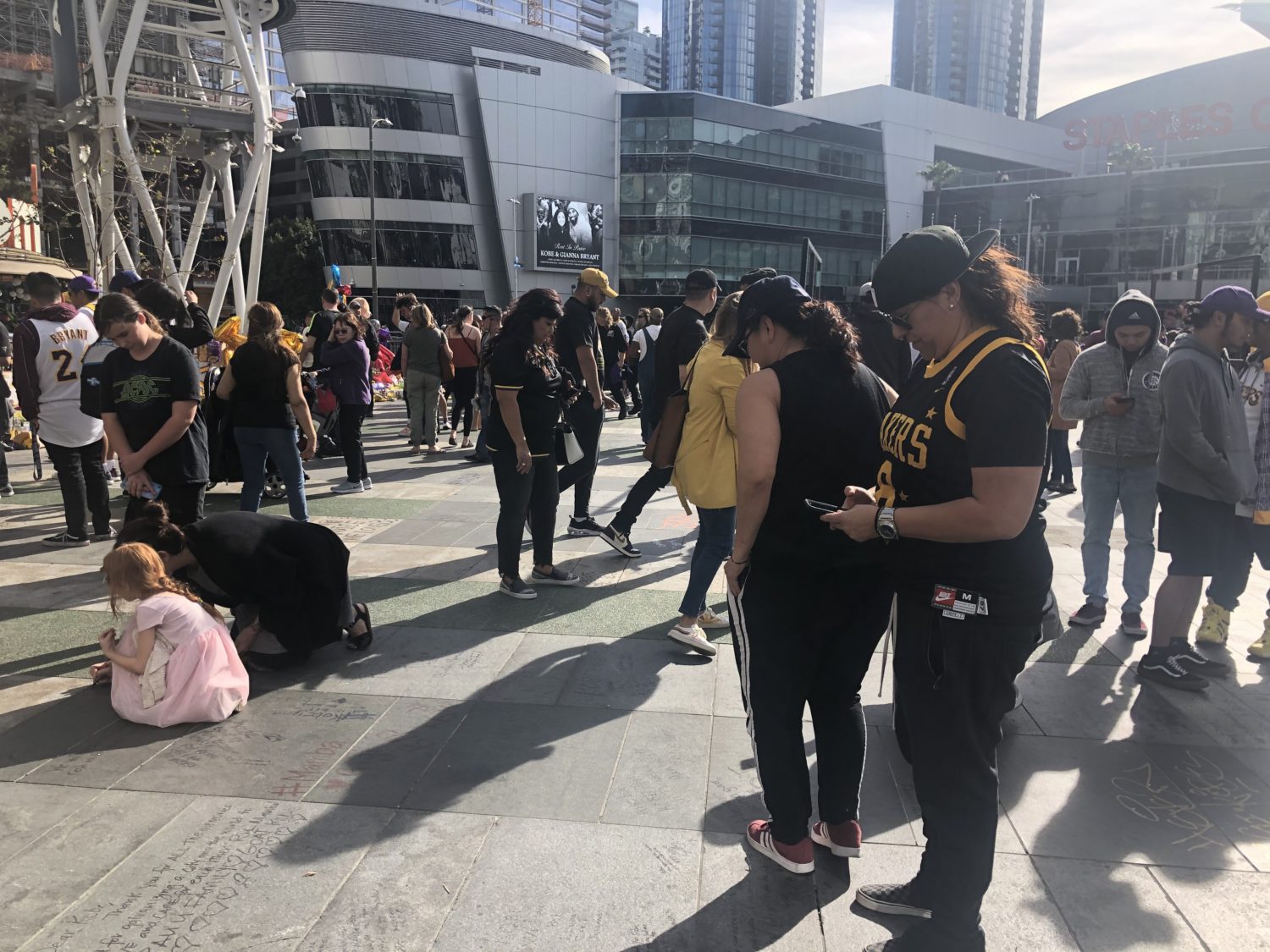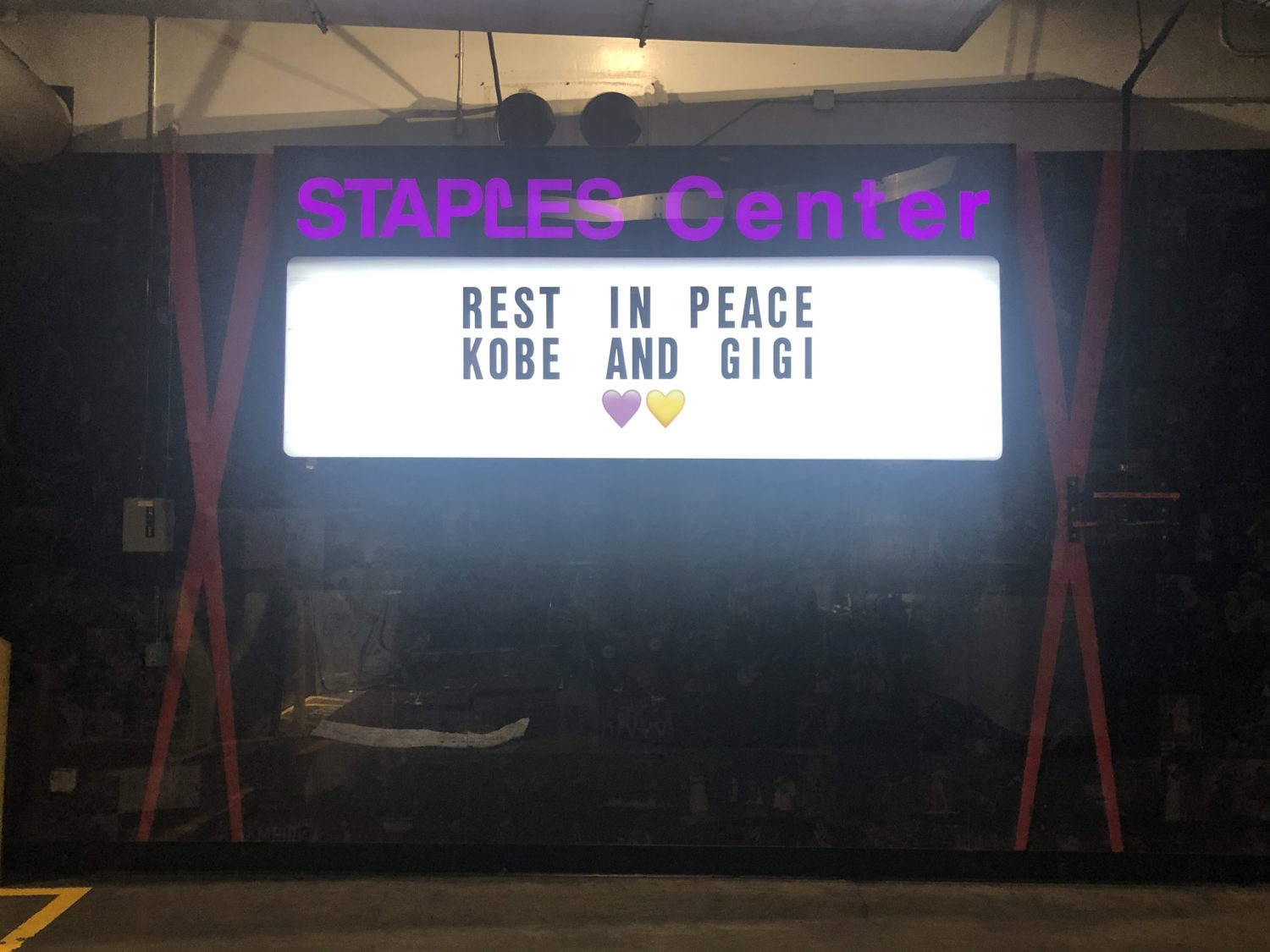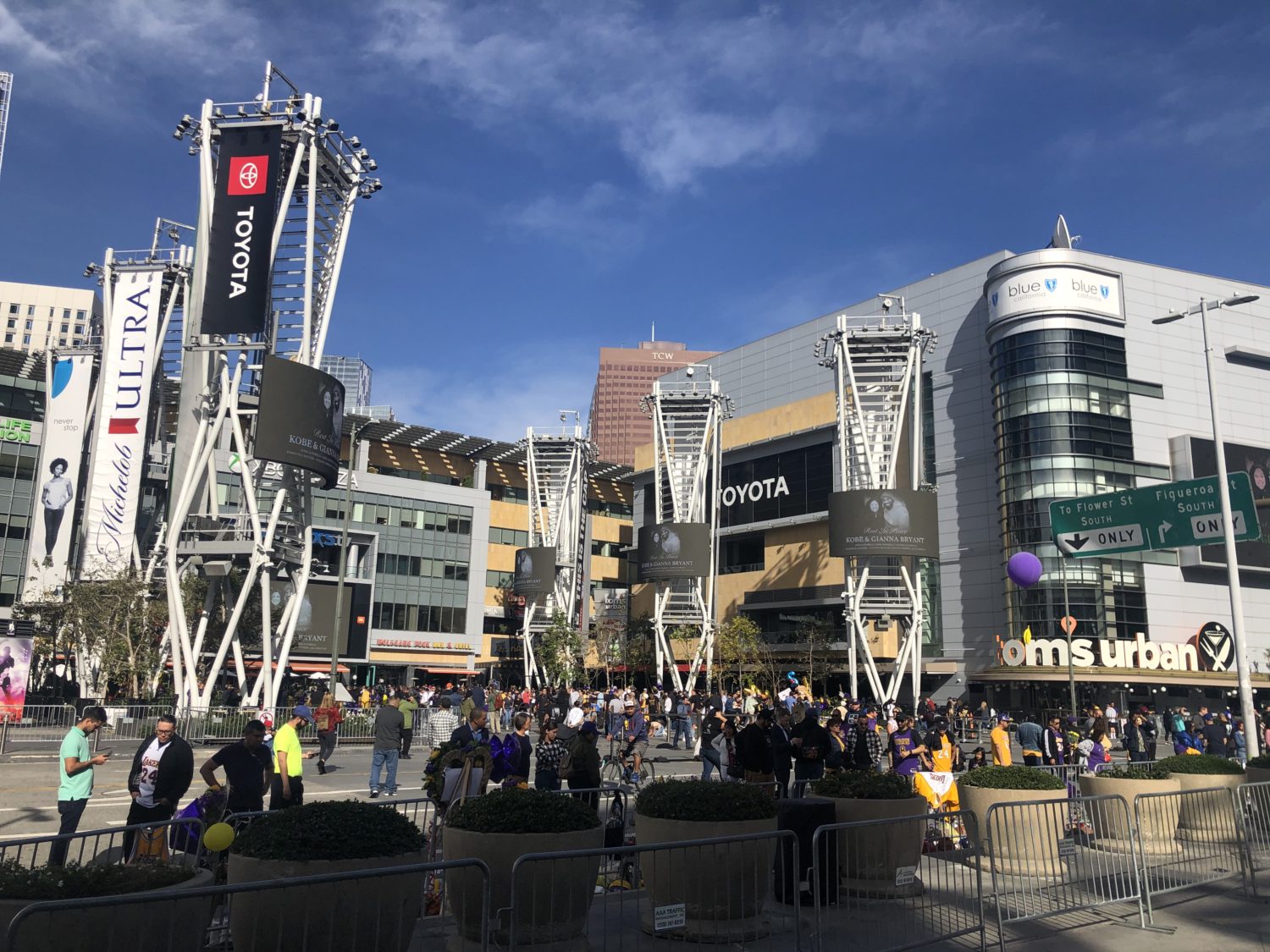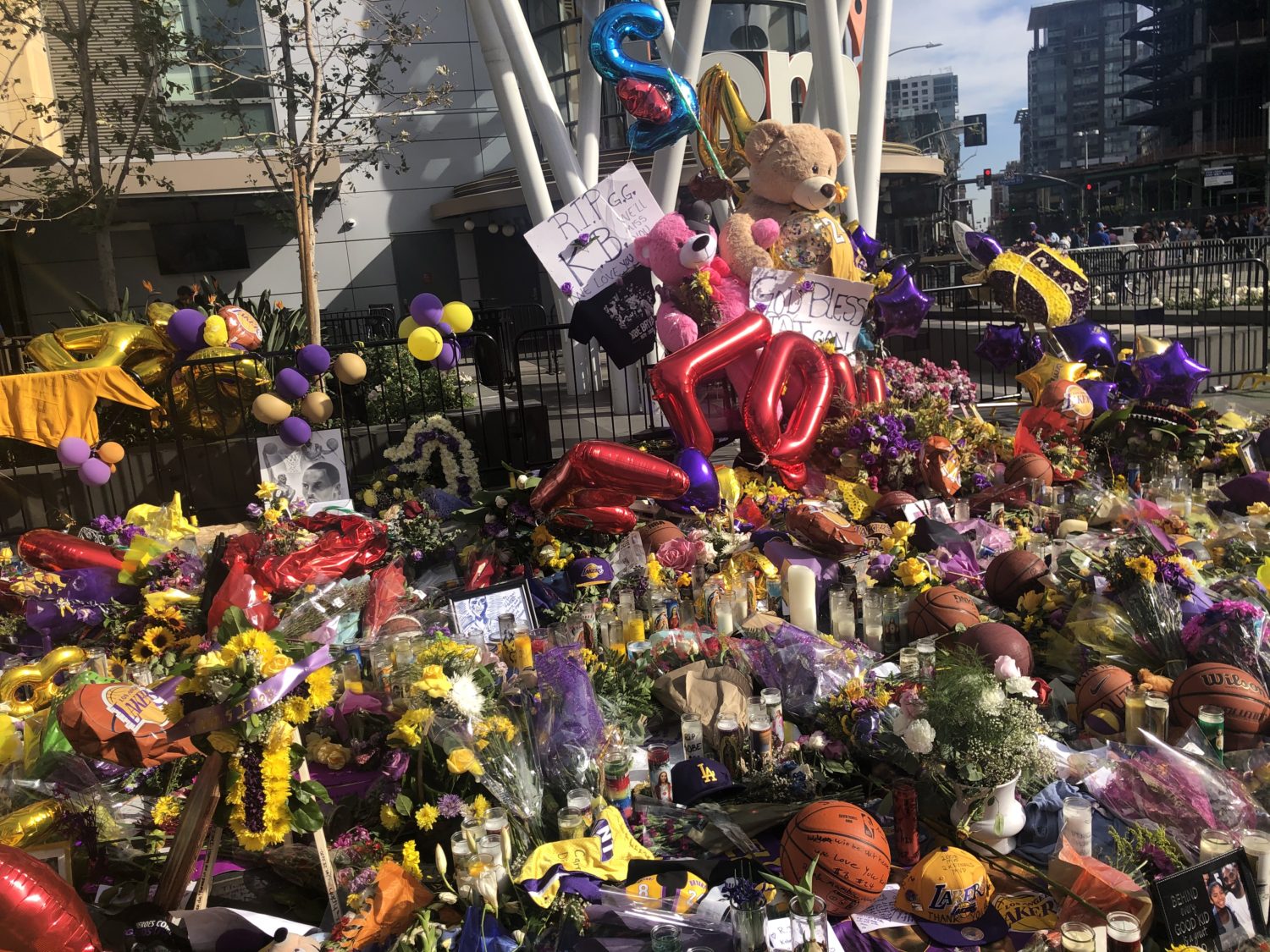 5:50 p.m.: I just spoke with LA Kings and Dodgers organist Dieter Ruehle, who served as the Lakers' organist and DJ for 15 seasons. That allowed him to travel with the Lakers to China in 2013, where he encountered an interesting seat mate on the charter to Beijing.
"Back in October of 2013, the Lakers played two games in China as part of their global games and the league asked the Lakers to bring their game entertainment staff, so I got to go on the Lakers charter flight. About a half-hour after we left LAX, flying to Beijing, I'm in the back of the plane, all the players are in the front. Kobe comes all the way to the back because I think he had an assistant there and maybe a physical trainer or physical therapist. So he came back, and I was sitting at the window. There was an empty seat, and another empty seat. He sat at that other empty seat, which was on the aisle. He asked me, 'can I sit here? So then he's talking to his people and he's getting his foot treated – lower leg, foot – and he stayed for quite a while chatting, and before you know it, it was time to eat. The flight attendand brought food over, so he asked me, 'you don't mind if I eat here, do you?' 'No!' So, he lowered his tray, I lowered mine. We're in the very back of the plane and he's a tall man, but he still squeezed in there and we ate together. I wanted to tell him what I do, and I told him, 'I'm the organist, I'm the DJ.' Back in those days it was all one person, and that was me. He goes, 'Oh, yeah! I hear you!' And I believed him – which I found out working together with him years later at his studio. I would play something that I didn't think anybody would get, and he was like, 'That takes me back. You used to do that. Anyway, back to the flight story. We just chatted. And he ended up sitting next to me for an hour and a half, two hours, and I just thought that was so cool. Just a memory that I'll always have."
Ruehle, a Burbank native who worked together with Bryant on The Punies, a kids-themed podcast that Bryant created, shared several additional Mamba Memories:
6:15 p.m.: This was from earlier. Anze Kopitar met with Jim Hill at 4:30, an interview that will be broadcast on KCBS-2 this evening. Also: Cliffy. More photos to come; the Kings were wearing #8 and #24 jerseys into the rink.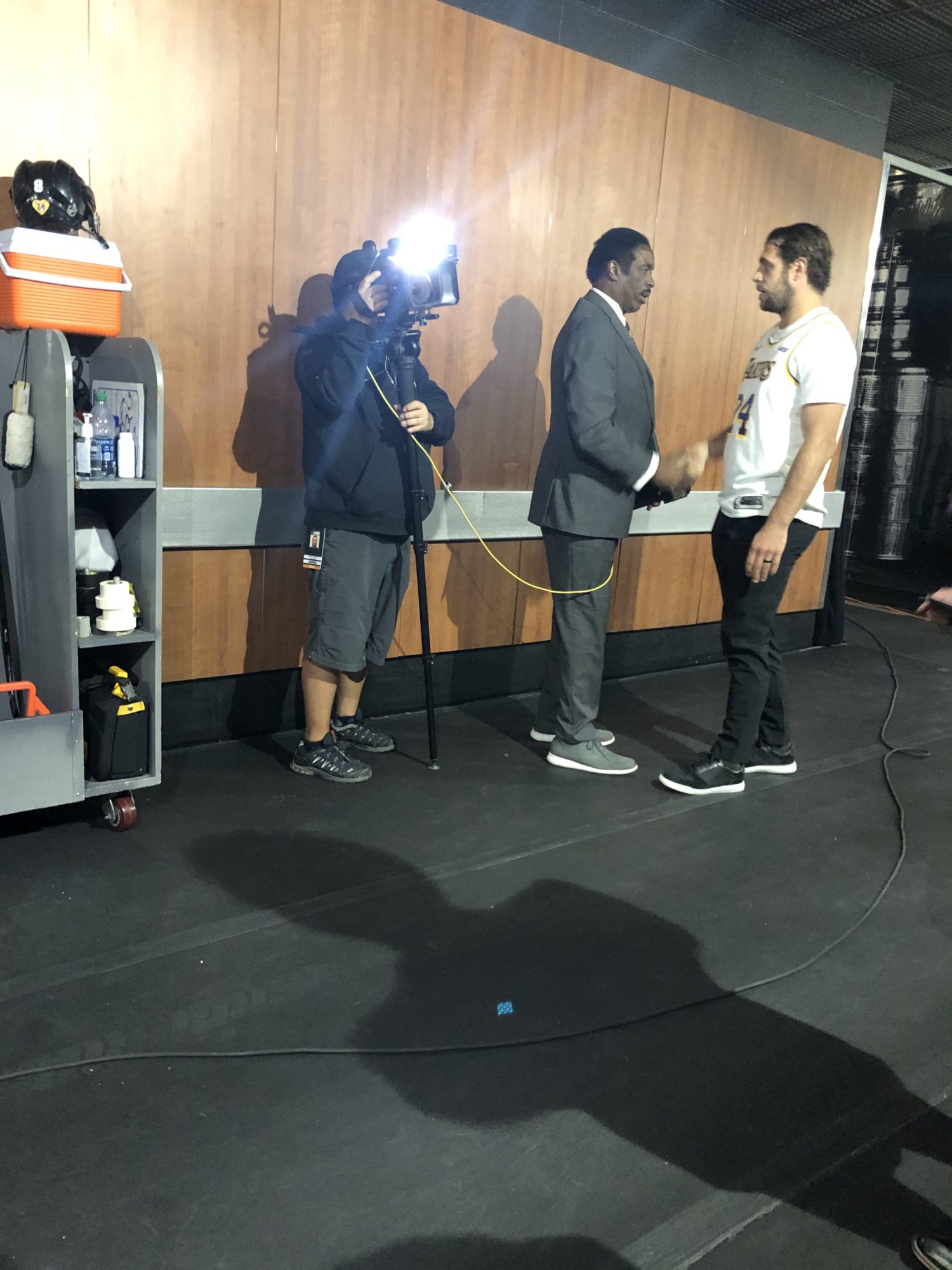 The Punies: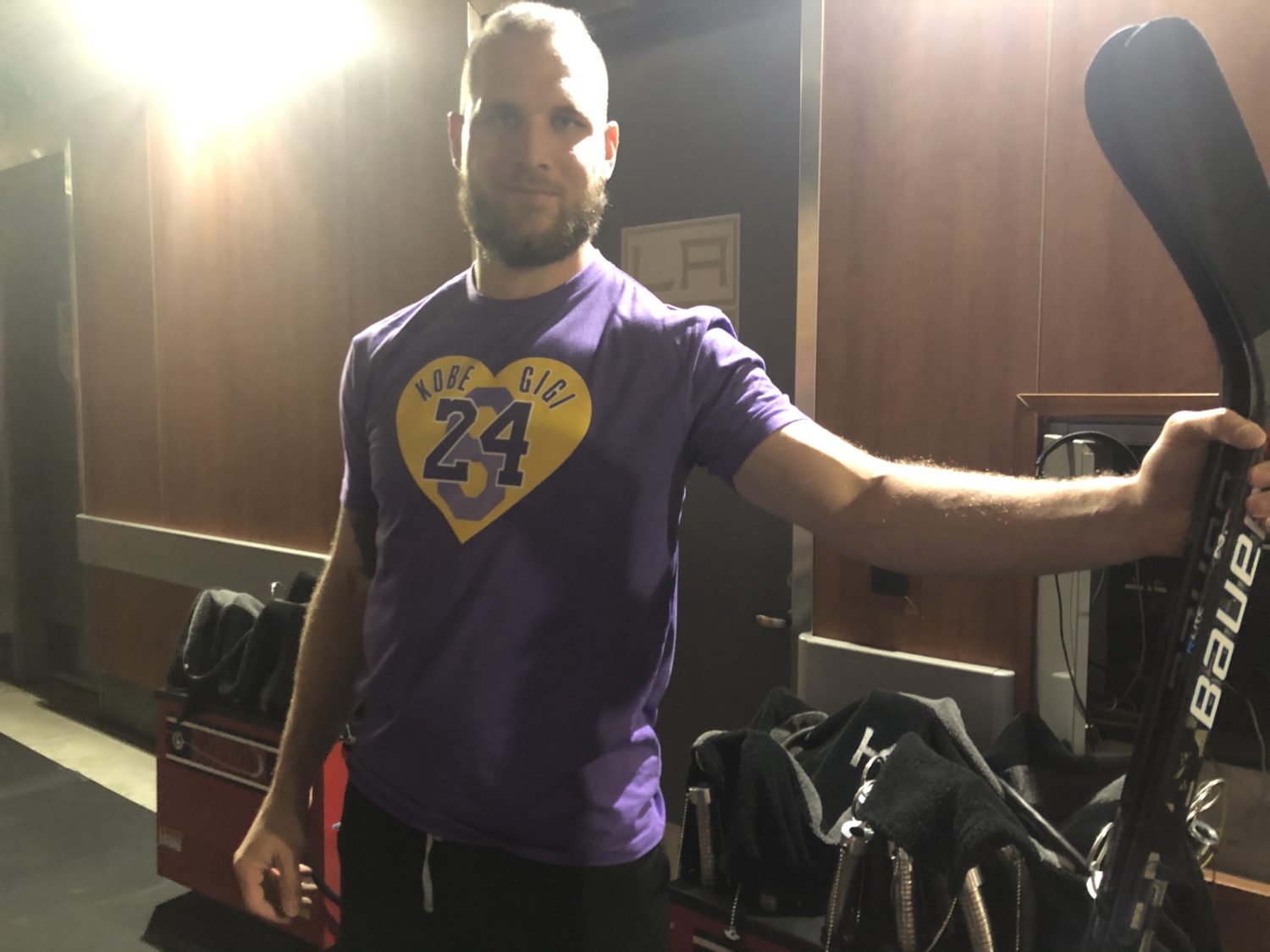 More to come shortly from Todd and the ceremony.
6:35 p.m.: For NBC's pre-game coverage, which is expected to include the ceremony, hosted by Bob Miller, click here. Warm-ups are about to begin. Line rushes, Todd notes next.
6:50 p.m.: Line projections check out.
Iafallo-Kopitar-Brown
Prokhorkin-Carter-Toffoli
Kempe-Lizotte-Wagner
Clifford-Amadio-Lewis
Ryan-Martinez
Hutton-Roy
MacDermid-Walker
Quick
6:55 p.m.: Transcribing Todd. On Doughty: "For sure [he's out] today and likely tomorrow and then we're hoping he'll be ready on Saturday."
"We're not going to swing or adjust too much based on him. He controls the game that much, but we're still going to go with what we normally do."
7:02 p.m.: More good stuff from Todd.
"During the break we knew we were going to Tampa. I remember when I came into the league it was after the Cup that they won. I think it was '04. We went and looked at the two teams, because obviously LA had won the Cup here in '14 and five or six years after Tampa's championship – '08-09 or something like that – they were in a situation like we are. And I look at the roster, they had some good players on it. But what they did from that point on is what we're trying to do, and I think there are a lot of parallels between the two teams right now. They had a young Stamkos, a very young Stamkos. They didn't have a Hedman, they didn't have a Vasilevskiy, a Kucherov, a Point, a Sergachev, those type of players. They developed them, they went and got them, they built their team. I think that's where we're at right now based on timeline, and it's pretty encouraging actually, for our group to know that we can do what they've done over the year and remain where they're at right now. They're doing everything that they can to win, too, but we've got to get to that point through good management, good coaching, good players. They've been able to do it, and that's what our template should be."
7:15 p.m.: Down in Anaheim:
24-second moment of silence here at Honda Center. Fans chant Kobe's name when the clock hits zero. pic.twitter.com/0vrssopNIQ

— Kyle Shohara (@kyleshohara) January 30, 2020
7:18 p.m.:
#LAKings starters: Quick, Hutton-Roy, Kempe-Lizotte-Wagner. Scratches: Doughty, Forbort, Luff.

The last time Doughty missed a regular season game, I was an @AnaheimDucks broadcaster. (For one game.)

Vasilevskiy goes for TBL.

— Jon Rosen (@lakingsinsider) January 30, 2020
7:20 p.m.: Bob getting us started. "The lives lost and the magnitude of this moment has been impossible to comprehend. To follow, click here. More to come, but I'm getting the Actual Game Thread up.
8:05 p.m.: Photos, via Getty:
8:55 p.m.: There's quite a bit of purple-and-gold in the stands tonight. Eric Bledsoe, wearing a black "Los Angeles"-style Kobe jersey on top of a white Dustin Brown jersey, spoke of how he's handled the past three days and what being downtown tonight means.
"It's a shock, man," he said. "When we found out, we were just in tears, heartbroken. It's not just a loss for LA, it's a loss for the world. Everybody, whether you were throwing away a bottle, throwing away a piece of paper, you were always yelling, 'Kobe!' All we can do is just doing what we're doing and keep living and be happy. Remember the good times. That's it."
It was important for him to be downtown with other Lakers and Kings fans tonight "just to see that we can still be happy and see that things are going to keep going. To be able to remember him, it means the world to be able to come down here and celebrate and remember him."
9:30 p.m.: Tonight's pre-game ceremony – and the video tribute narrated beautifully by Lakers Public Address Announcer Lawrence Tanter – is now up:
11:35 p.m.: Adding a few more quotes and photos. Elba Cortes attended the game with her family and shared this about the importance of being at Staples Center tonight:
"First of all, my brother is a season ticket holder for the Kings, so we're here pretty much every game. But tonight was special because of the tragedy that did happen on Sunday. Him and I especially grew up watching Laker games with Kobe in hand with my mother and my father, as well. They're the biggest fans of all. It was very moving to see everything, the whole ceremony that we saw. She was very moved by it. It was just special to be here with my mother, my brother, my little nephew, so another generation could be here as well.
Her aunt, also named Elba, spoke about how Bryant was a very special person to her: