INSIDERS. A fine afternoon to you from the remnants of Dallas' morning skate, where a bunch of us had the pleasure of catching up with John Stevens. More on John and several other bits in advance of tonight's game against the Stars (7:00 p.m. / NBCSN / NBC Sports App / LA Kings Audio Network).
Notes!
— The vitals: Optional skate in El Segundo. If yesterday's lines and pairings hold, we may see forward groups of Iafallo-Kopitar-Toffoli, Prokhorkin-Carter-Brown, Kempe-Lizotte-Wagner and Clifford-Amadio-Lewis with defensive pairings of Walker-Doughty, Hutton-Martinez and Forbort-Roy. Should the Kings go back to Quick, he's 17-11-3 in 31 career games against Dallas with a 2.55 goals-against average, a .909 save percentage and two shutouts.
— Their vitals: Anton Khudobin was the first goalie off the ice and therefore projected to start in goal. He's 3-1-0 with a 1.72 GAA and a .941 Sv% in five career games against Los Angeles. Via Mike Heika of DallasStars.com, the Stars aligned with a group of Benn-Seguin-Radulov, Gurianov-Hintz-Pavelski, Cogliano-Faksa-Comeau and Janmark-Dickinson-Kiviranta up front with defensive pairs of Lindell-Polak, Oleksiak-Heiskanen and Sekera-Fedun. John Klingberg (lower-body) is on injured reserve and remains out.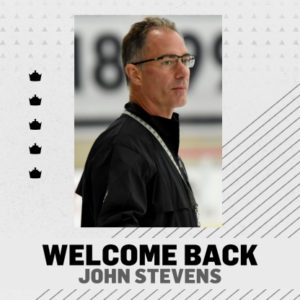 — More to come later from Stevens, who'll be recognized on the videoboard during the first television timeout of tonight's broadcast. But he was drawn to joining Dallas as an assistant through a number of influences, among them the Stars' tremendous defensive stable. Klingberg is out tonight with a lower-body injury, but 25-year-old Esa Lindell has been tremendous at both ends of the ice as well as a top penalty killer on an esteemed unit, while 20-year-old phenom Miro Heiskanen leads the club in ice time and defensive scoring. Dios mío, Miro.
Stevens didn't actually begin such concerted work with the defense until Jim Montgomery – a close friend and another influence towards the Dallas opportunity – was dismissed last month and his roles evolved in the shift under Interim Head Coach Rick Bowness. But now that one-on-one instruction has become more regular, which is a good thing for the Stars – just as it was a good thing for Drew Doughty, Alec Martinez, Jake Muzzin and other talented young defensemen during Los Angeles' ascendance some 10 years ago that Stevens compared to Dallas' current trajectory. Lindell shared that Stevens has referenced Doughty quite a bit, illustrating some finer points of how good of a player he is and how he worked with him to improve his practice habits while the defenseman was younger.
Again, more to come on Stevens later today. For a preview, I asked him what he thought about 2012 Stanley Cup champion Rob Scuderi, who'd joined Nashville's development staff prior to the draft and was named as an assistant coach yesterday under new Predators coach John Hynes.
"I think Scuds is one of those guys probably a lot like I was when I played," Stevens said. "No disrespect to him, but he had limited skill but a really good brain and detail was important to him, and I think guys like that usually do well in coaching because they've always been detail guys. He understands what it takes to win and he's been a part of some really good teams where he was a big factor because he had detail all the time. And I think those guys make great coaches. He always had good work ethic. I'd kind of lost track of him. I don't know if he's been coaching anywhere other than maybe youth level. That is a big step, but for a guy that played that long and had that much success, I know he's going to have a lot to offer because of the way he was here. He was a player, but he was often a voice of the coaches because he always carried the message that the coaches wanted you to carry because he had so much detail."
— Lindell, on how he has grown in his NHL career: "I think the confidence is the biggest thing for me. I think I can play at a high level every night, and like you said, PK is a big part of my game. I think I take big pride in playing that and being out there, killing penalties – special teams overall is a big part of the game, always. When you're out there, the more fun you're having, so I just want to play as much as they're giving me time."
— A few fun conversations on ice surfaces yesterday. When it was asked how Honda Center has been recently, Todd McLellan shared, "depends if we're fast or slow that night."
"If we win, 4-1, we don't mind the ice. If we lose 4-1, we don't like the ice."
Keep an eye out – LITERALLY – for an interesting LA Times story coming out around the bye week on ice conditions. The LA Kings and AEG have invested time, money and personnel towards improving the quality of the ice at Staples Center, a challenge in such a heavily used building in a warm-weather city. It led into interesting spin-off conversations, including one in which the Toyota Sports Performance Center ice drew praise.
"I know the ice here in our practice facility has improved right from the beginning of the year 'til now. I don't know if that's temperature. I'm sure he has a lot to do with it. But it's improved here for practice conditions."
— McLellan (b. 1967) and Stevens (b. 1966) are entrenched and respected figures within the coaching community who've competed against each other as AHL and NHL head coaches and NHL assistants. They're also hockey dads whose sons have played collegiately; Stevens' son, John even attended Edmonton's development camp in 2016 while McLellan coached the Oilers.
"We're roughly the same age. I think we played in the minors against each other and kind of came up coaching together and against each other. I don't call him six or seven times a year, but I respect what he's done. I think he's a tremendous coach, I really do. I think he's really good at what he does."
Asked about coaching camaraderie and whether there's ever a moment to get together or even "throw darts" at a coaching symposium or off-season events, McLellan articulated the relationship between a pair of similarly aged men who stood behind competing benches across Pacific Division arenas for the past decade and points beyond.
"Everybody has a beer at the draft or whatever, and you enjoy having one with him. He's a quality individual – coach and a father and a hockey guy and everything else."
— Tonight's officials are referees Chris Rooney and Jake Brenk. Linesmen are Shandor Alphonso and Tony Sericolo. Pia Toscano will sing the national anthem. Let's talk soon, Insiders. SEVEN PM.
Hockey needs more Larry David analysis pls… https://t.co/HgF42ewvoX

— James Mirtle (@mirtle) January 8, 2020