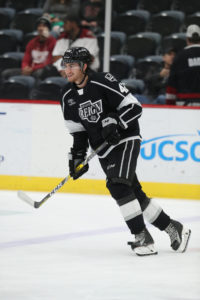 The Saturday after Thanksgiving represents the one-year anniversary of Gabe Vilardi's conditioning stint with AHL-Ontario, a process that was planned to span five games but would be monitored day-by-day.
Vilardi got into four of those five games, not the fifth. Nor did he participate in on-ice activities at Hockey Canada's camp in advance of World Juniors, or, for the second time in three years, development camp. He was in sneakers, not skates, during training camp. You're aware of Vilardi's journey, and how his back injury has limited him to only 48 regular season and playoff Ontario Hockey League games and those four games with the Reign since he was drafted 11th overall in June, 2017.
After some guarded optimism at the end of the summer, and progression from light skating to skating in full equipment to weathering some contact and finally being activated by the Reign, Vilardi is expected to return to AHL game action this weekend. He'll play Friday in Tucson but won't play Saturday in the continuation of the road back-to-back, and while the team will continue to monitor how he responds to live-game action, it didn't sound as if they'd place any quotas or hard caps on the minutes or situations he plays. I don't have any timeline beyond that.
"I don't think I'm going to put any limits on him in that game that he's going to play," Reign Head Coach Mike Stothers said. "If he feels good, and we'll talk to Gabe regularly throughout the game and see how he's doing. We'll be able to read, obviously, when his legs get a little heavy, usually you straighten up, you're a mouth breather and it's tough for you to get up and down the ice, but he's put in an awful lot of time here. We feel that we've covered all the bases and he himself feels that he's ready to play, so again, it's probably going to take some time. Myself personally, I'm not expecting him to come in and get six points or something like that, I just want him to be happy again and he appears to be."
Vilardi says he feels much better compared to where he was in 2018, but there will be obviously be episodes in which he'll have to manage his discomfort and keep a tighter account of what his body is telling him. A year older, he's more mature and willing to share when he's been affected by the more uncomfortable moments.
"Yeah, I'm doing a good job," he said. "I've got a lot of help, and that's one thing I've learned from last year – just talk more, be more open and don't be so quiet, and there are a lot of people that they're here to help me. That's just the truth to being a professional hockey player. You've got massage guys, you've got all these people that are here to help you, so you've got to take advantage of it, and that's what I've been doing so far."
It's challenging for any competitive athlete to miss such a wide swath of time, and ultimately Vilardi moved past video games to reading, walks along The Strand, and, as he shared, an online business class last year. And with the regular doctors visits and meetings with athletic trainers, he's also become fairly well versed in human anatomy.
"I could talk about the human body for days and all the stuff I've learned. It's pretty crazy – I sound like a weirdo to say this. It's pretty crazy what the mind can do, so it's been a long year for me," he said. "Like I said, I feel like a different person than I was last year."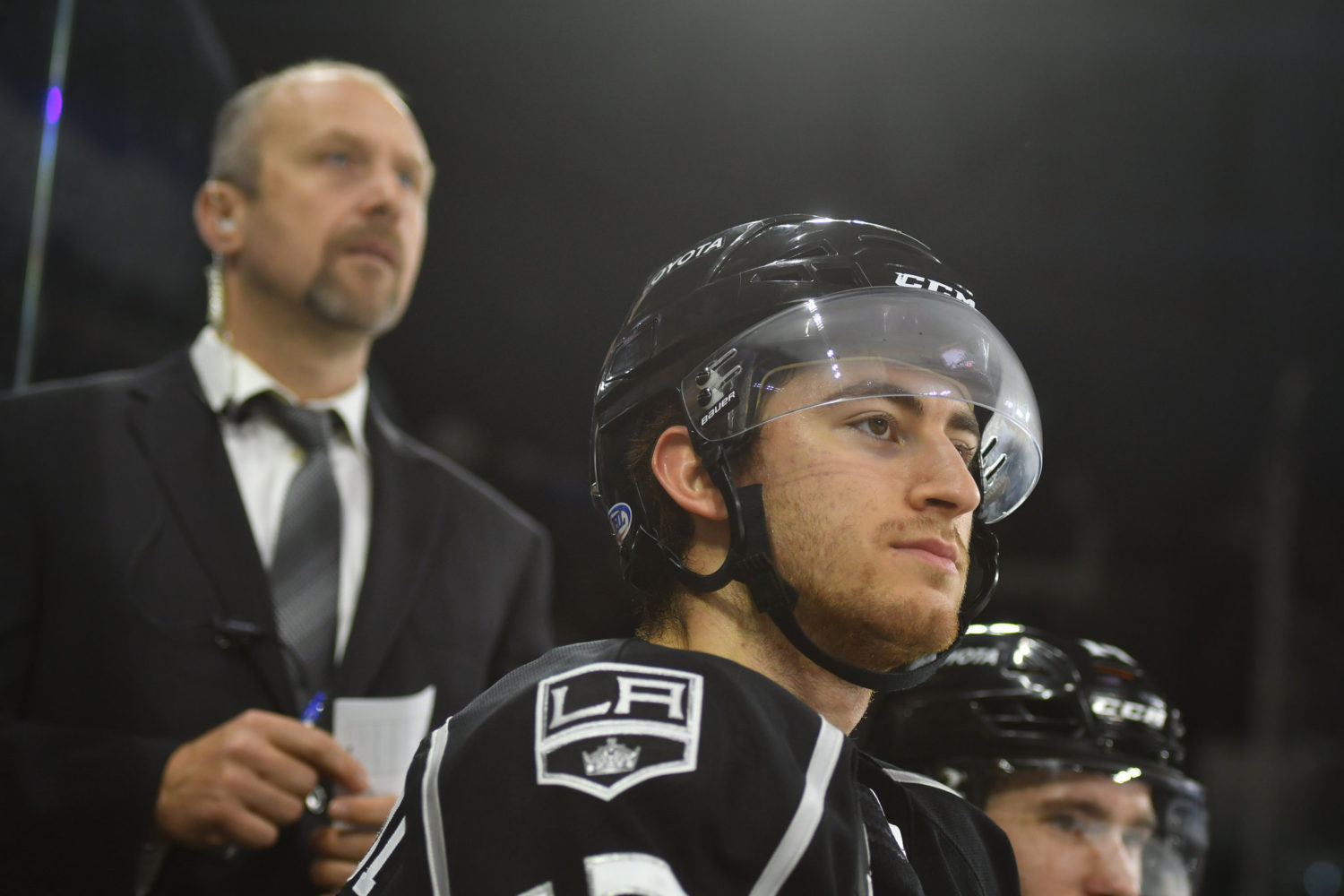 Gabe Vilardi, on progressing enough to participate in mundane activities like media scrums:
I don't know, I'm a pretty happy guy most of the time, so this stuff's fine, it is what it is.
Vilardi, on where he's at in his rehabilitation:
I'm going to play on Friday. Obviously it's going to be tough for me, but I've done a lot of work to get here thus far, so I'm pretty excited.
Vilardi, on the process over the past year:
Yeah, it's pretty crazy. I feel like a completely different person, if I'm being honest with you, than I was last year. It's been a long road, but I'm happy I'm here. I'm a hockey player, so it's been tough for me not being able to play hockey, and I'm sure you guys can imagine. I'm happy, and keep going, keep working hard here.
Vilardi, on whether he's "elated" to get back to practice:
I mean, it's happy. At the same time, you don't think about it too much. You're just trying to focus, I guess, more or less. But I've been through this before, obviously with it last year. It's definitely a relief just playing hockey again.
Vilardi, on when he started to feel "normal" again:
I mean, it's been a long process to get here. I've been skating for two months now roughly by myself and with the development guys – CJ, Stolly – and obviously starting practice and hopefully getting into the games. It's been a process, but I could've pinpoint a time where I started feeling normal or whatever.
Vilardi, on whether it was important to be in Ottawa over the summer and away from the team:
Yeah, I mean, that's one thing, I've been lucky just with being with the Kings organization. I've talked to a lot of other players that are in other organizations, and not a lot of teams do that, and they let me stay in Ottawa, close to home with other people, but like I said, it was a process, and I just did the work with the people I was working with. I trusted them, and now I'm here.
Vilardi, on whether he watched Kings or Reign games last season:
A little bit, not really, if I'm being honest. I don't really like to watch hockey as much. I like to watch video of myself just so I can learn stuff, but I like watching soccer, basketball, pretty much anything other than hockey just because we're always here. [Reporter: Raptors fan, I assume?] Yeah. I was a Raptors fan. I'm a LeBron fan, honestly. That guy is a crazy, crazy human, so I like watching him. But I like watching soccer. [Reporter: National team? Italy?] Italy. I like Inter Milan.
Vilardi, on Jarret Stoll's impact in helping him return to game action:
I think it's all with Kinger and John Meyer is there – they're the bosses – and then Stolly and CJ, they get me out there and they just kind of help me feel the puck again. Obviously, like I said, it's been a process, and the first couple skates I was dying out there. We had a bag skate on Monday, I was dogging. Like, it's tough stuff. They helped me a lot. Obviously, they spent a lot of time with me on the ice, and then in the gym there, the shooting range, just working on little things to get me back, ready to play.
Vilardi, on the new wave of prospects, and whether he's gotten to know Alec Turcotte or others:
I wasn't here yet, so I never met him. You look at the players we've got, we've got Toby, he's a young kid, he's really good. He's smart out there. He's always got his head up, that's the one thing I've noticed. He makes good plays. Obviously, it's just practice. It's tough for me to tell. I've got to see games, and once I get out there, I'm sure I'll see some other things. But, I mean, there's a lot of speed. That's the one thing I've got to work on – my speed. But I've got to just get out there. I can talk all I want, but nothing is really going to simulate it until I get out there and see how I'm feeling and how I'm reading the plays out there.
Vilardi, on what he was able to do when he wasn't skating:
Yeah, there were regular workouts, just trying to get my body – I've learned a lot of different, weird stuff, like just about my breathing. That's a big thing. Obviously, you've got to have good core strength to support your spine and whatnot. I've learned a lot of tricks to help with my pain and whatever. Really, when they say the body – everything kind of correlates. Your ankles, they have an effect on your hips, your hips have an effect on your upper back. Everything's kind of together. Your body really needs to work as a unit kind of thing, so now I spend a lot of time working on everything, and that's one thing.
Vilardi, on what he missed most about being away from hockey:
Everything, honestly. Just playing hockey. It's fun, it's what I always done. It's kind of weird. I tried doing an online course last year. It was terrible – I couldn't do it. I don't know how people do that stuff. [Reporter: What subject?] It was business. I thought, 'I'll take business, maybe that's going to help me one day.' It was terrible.
Vilardi, on how he spent his time otherwise:
Yeah, I started reading a little bit. I used to just play video games all day. I was just at the rink, and then go home and play video games. But I tried reading a bit. I mean, I'm at the beach a lot, so I just go on a walk and just chill.
Vilardi, on his emotions, and whether he's nervous:
I'm honestly pretty nervous. I don't really get nervous for games, … but I haven't played in so long, so I don't really know what to expect. I don't know if I'm going to make the play – I could sit here and talk, like I said, all day, but I can't really tell you until I get out there and see how I'm reacting how I'm moving out there.
Mike Stothers, on the process with Gabe Vilardi:
Oh, is that why we're here, we're talking about Gabe? I thought we were just talking about the Reign in general…Gabe's looked good, he's progressed well. Still don't know quite what to expect, it's all new for him in the fact that he hasn't played in [about] a year. I'm not expecting too, too much, but he looks good, he looks comfortable. The biggest part for us is he looks excited and he looks like he's ready for resuming his career, so I think that's good. You don't put too much pressure on him, we'll him to take advantage of his strengths, have him play with some players that compliment him and see where it takes us.
Stothers, on whether Vilardi's personality is coming out well:
Sometimes it takes a while for an individual, especially a young guy, for his personality to come out. He's been pretty frustrated in the last few months, so I don't think he's been overly exuberant, but as I said, when you see him now, you're seeing a player that is making eye contact, his shoulders are better, he seems confident, he seems happy and he generally seems to be enjoying himself with his teammates and being back on the ice. That's where he feels most comfortable. It's tough when things aren't going well, you're not feeling right and everybody's asking the same questions, "what's wrong, when are you getting back, how soon" and then they just want to avoid you, having a conversation all together. He looks good, and he seems like a happy kid.
Stothers, on how he's improved from his conditioning stint last season:
Well, there's a difference there's no doubt about that. I think he was probably guarded and cautious that he wasn't quite ready to play but he was going to play anyways. I don't think it had anything to do with the fact that now everybody's expecting him to be a King and he didn't think he could achieve those goals, I think he just knew in his own mind that he wasn't quite ready to be taking on what was approaching, which was playing with us and then going on to the World Juniors. It's a tough situation.
Stothers, on how an injury forces someone to take stock of themselves:
It's adversity, right? You don't know how you're going to handle it until you go through it. It's unfortunate that it's been this long for him, but he seems like he's come through it well and to a credit for him, he's put the time in and he does look refreshed, which is good, and he has a positive outlook, which is good. He's come out of it well, but again, it's a matter of getting back and playing and I think that's the most fun for these kids. I use the term "kids" but the players in general, once they start playing, they feel so much better about themselves, they're part of the team, they're part of the group. When you're injured, as much as everybody tries to bring you in and you feel like you're a part of it, you're rehabbing by yourself, the team's going on the road and you're staying behind, so it's tough to fit in. I think this will be the most fun he's probably had in a long time.