INSIDERS. A fine, fine afternoon to you from Glendale, Arizona, Maricopa County's answer to the Hanging Gardens of Babylon. The LA Kings and Arizona Coyotes meet tonight (6:00 p.m. PT / FOX Sports West / FOX Sports GO / LA Kings Audio Network) for the first of their four regular season games, with the visitors expected to line up as such:
Iafallo-Kopitar-Brown
Carter-Amadio-Toffoli
Kempe-Lizotte-Wagner
Clifford-Prokhorkin-Luff
Walker-Doughty
Hutton-Martinez
MacDermid-Roy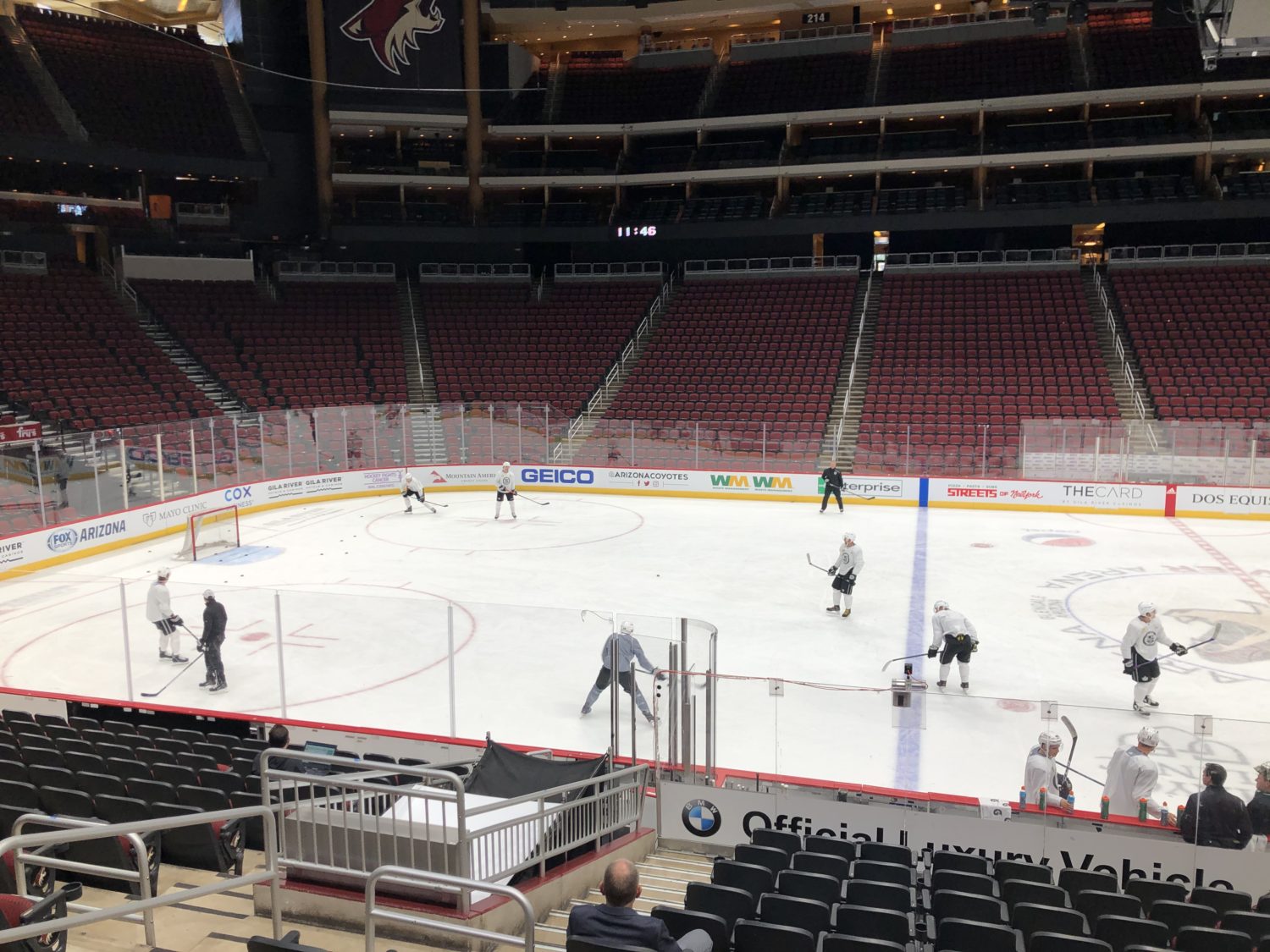 Notes!
— The vitals: Jack Campbell left the ice first and is expected to start in goal versus the Coyotes, against whom he's 2-1-1 with a 2.46 goals-against average and a .925 save percentage in four career appearances. Ilya Kovalchuk traveled and skated with the team at Gila River Arena but isn't expected to play. No other lineup changes are expected from Saturday's game.
— Their vitals: Antti Raanta, 3-0-1 in four career appearances against Los Angeles with a 1.48 GAA, a .946 Sv% and two shutouts, gets the nod. No lineup changes are expected in front of Raanta, so the 18 skaters should align Dvorak-Schmaltz-Garland, Keller-Stepan-Hinostroza, Crouse-Soderberg-Kessel and Grabner-Richardson-Fischer up front, with defensive pairings of Ekman-Larsson-Demers, Chychrun-Goligoski and Ness-Oesterle. The Coyotes are climbing in the standings and are winners of three of four – even if Saturday's shutout of Calgary was their only regulation win in their last eight. In any event, they're in second place in the Pacific, are coming off a three-goal win over a good team, and have allowed the second-fewest goals in the league. They're "stingy," according to Todd McLellan, a team that manages the game well and allows little but still is able to generate the types of "long chances" that challenged Los Angeles over the first two weeks of the season. Rick Tocchet commended his team's ability to defend the puck as he strives "to put structure in that identity."
"All the really good hockey clubs, you know, nine times out of 10 that you're getting their identity. So, we're looking for that kind of ratio. Not six or seven out of 10, we're looking for nine out of 10," he said.
— There are a pair of fondly remembered ex-Kings on the Coyotes, Darcy Kuemper and Brad Richardson. Richardson played a role in the franchise's first Stanley Cup and appeared in 36 playoff games in Los Angeles, and we spoke earlier today about Jeff Carter and the 2012 Cup. "A really special year, and that was just such a group of characters and great guys that we just meshed so well. Probably the most fun time I've had playing hockey," he said. Richardson also spoke of the similarities between those Kings teams and a young but defensively stout Coyotes team that's looking to play its first playoff games since May, 2012. "You've got to be comfortable winning those tight games. I think that's been our M.O. the last couple years, and now we're trying to build on that and take it to the next level," he said.
Their ability to keep scores low and find comfort in those types of games is due in some part to Kuemper, who wasn't going to sign with Los Angeles as a UFA and was traded to Arizona two-thirds of the way through 2017-18. Kuemper is 9-5-0 in his 14 appearances, leads the league with a 1.85 GAA and ranks second with a .937 Sv%, and commended the team's ability to build off their second half a season ago and continue to make strides in the direction they want to head. (L.A. is expected to face Antti Raanta tonight.)
Kuemper was also involved in a 12-player fracas on Saturday that included Matthew Tkachuk, who the Kings know plenty about. "Definitely the first as a pro. It was fun, and it ended up being harmless, so it's all good," he said of the exchanges, which were inflamed when he responded to Tkachuk cross-checking a prone Jason Demers by grabbing him from behind and slamming him to the ice.
"It wasn't against any individual player, it was just trying to get a guy off our defenseman and then things escalated from there," Kuemper said of the episode in which even David Rittich skated from the opposite crease to have a say in the proceedings.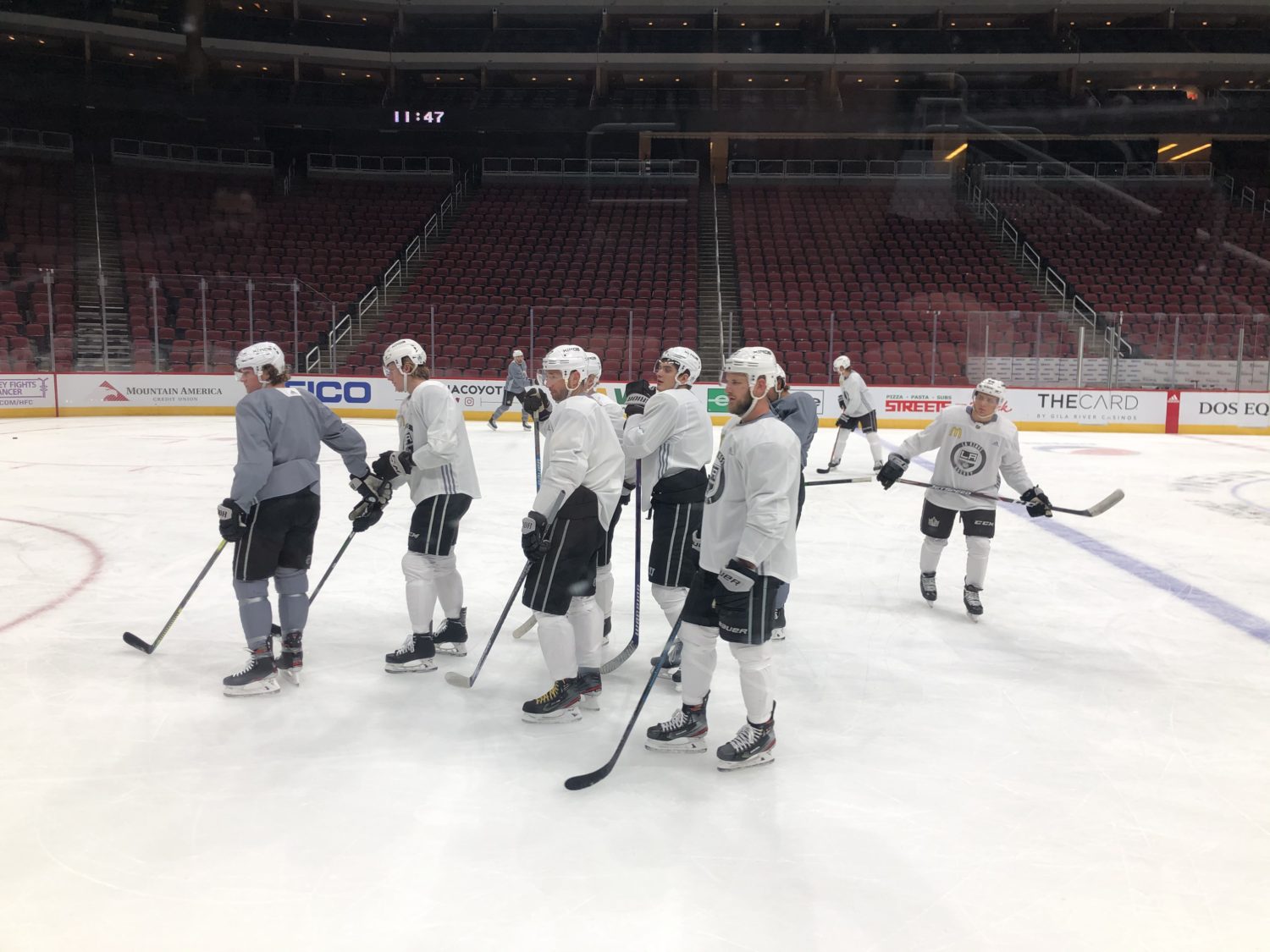 — More from Todd. Nikolai Prokhorkin, as he alluded to on Saturday, is coming to the rink realizing he's going to play. That adds confidence to his play and has allowed him to make "small, minor improvements," like holding onto the puck for an extra beat to allow a teammate to get open.
He's been encouraged by Adrian Kempe and Austin Wagner's ability to refine their play without the puck on the wing, noting some added "urgency" in Kempe's play. McLellan commended Kempe's ability to hunt down pucks and noted both forwards' improvements along the boards in the defensive zone. That's particularly important for Wagner, who still needs additional "polish" there but has started to limit the undue risk that had accompanied the reward he's capable of providing. "There's not as much 'hope' into the middle and play where it's a gamble or a risk. He's got a big body, he's got good hands and good legs, so he protects pucks well. He still creates chances on a nightly basis," McLellan said.
McLellan also praised Kempe and Tyler Toffoli for regrouping well after sitting out a game. "Those are the results you hope for when you take a player out," he said. "It's always a risky venture, but both have responded well, which tells me they're both good individuals as far as the character of them go, and they take responsibility for their game."
If there was a correlation between the wins in the 3-0-0 home stand, it was that the Kings didn't give up goals in quick bunches, didn't give up goals early, and handled adversity and the mental aspect well.
— Matt Roy has been leaving a positive mark on the coaching staff. "The term that's used in the coaches office is Steady Eddie. He's almost become predictable in the type of game that he's going to have, which is a really good sign for him," McLellan said. "He's brought a little bit of physicality or nastiness to the rink lately, and when he's engaged he seems to play better, and offensively he's getting a shot through from the point."
Roy has also been free to activate in the offensive zone – an indication that the team is playing with the puck more regularly, and, according to McLellan, benefiting from its young, right-shot defenseman's growing confidence.
"When we didn't see it early, he probably wasn't confident to go. Now it's in his DNA, he feels good about his game, he's picking good spots, using his legs, so the checklist for him is no different than anybody else. I'm sure he's a confident player right now," McLellan said. "Should be."
— The very basic shot and possession metrics indicate that Michael Amadio has meshed well with Jeff Carter and Tyler Toffoli, all of whom own very healthy shot, chance and expected goal rates in the limited time they've been on the ice together.
The Kings haven't changed their lineup around having won three straight games, so is it safe to assume Amadio is holding his own between a pair of veterans in a higher-profile spot in the lineup?
"Mods has been a really interesting player for us, because I see a tremendous amount of skill, a really good hockey brain, an understanding of what we want to do and how to do it. The consistency part is getting better, but that's still something that he's battling with," McLellan said. "I think he plays better with more minutes, yet his body has got to get used to taking those minutes on. He's doing a really good job with that line. That line's been effective, and we'd like to see it continue, and he's a big part of it."
Those minutes have been up – Amadio had logged at least 16 minutes in three straight before Sunday's 13:35 – but along with raised minutes are raised expectations and competition. Amadio has one goal and one assist in the past month and will look to offer the production to best state his case for a lineup spot where the Kings don't have a great deal of depth.
"I think Mods is a really good player," Toffoli said. "He does a really good job of making the little plays, and some say he's not that great of a skater, but at the center position, you keep your speed and your momentum, and he does a really good job with his timing – and that's when he's playing really well, when his timing is really good. Like I said, he makes those little plays and plays to himself that create space for him."
Tyler Toffoli, on his role without the puck in the 1-3-1:
For me, I feel like I'm more backed off in the neutral zone. As you can tell, I'm at the red line. I think for me it's not that big of a difference, but for the D, on the other side, I think that's a big difference for them – when they have to kind of stand up there, they're used to kind of backing off. It took a little time, but after training camp but for myself, I felt pretty fine with it all.
Toffoli, on how he and Carter have meshed with Amadio in the offensive zone:
All three of us can make those plays. When Carts is taking the puck wide, it creates space for us, as well. I feel like it's been working pretty well and we've scored some goals here and just have to keep going.
Michael Amadio, on any defined roles along his line, or whether it's based more on position:
In the D-zone, Carts is a center as well, but whoever's the first forward low is going to be the center for the D-zone shifts, so the biggest thing for us is just communicating and talking and letting [each other] know where [we] are on the ice.
— Holiday ice dates! More information is here, but at a quick glance, here are your locations:
Westfield Topanga – 6100 Topanga Canyon Blvd. Woodland Hills, 91367
Opens Dates: November 15th – January 12th
Westfield Valencia Town Center – 24201 West, Valencia Blvd, Valencia, 91355
Open Dates: November 21st- January 12th
L.A. LIVE – 800 W. Olympic Blvd., Los Angeles, 90015
Open Dates: November 30th – January 12th
Each location will host a "kick off" to the holiday season, featuring appearances by Bailey, the LA Kings Ice Crew, LA Kings alumn and the such. These kick-off opening events are:
Holiday Ice Westfield Topanga – November 15th
Holiday Ice Westfield Valencia – November 22nd
L.A. LIVE – November 30th
— Tonight's officials are referees Chris Schlenker and Graham Skilliter and linesmen Ryan Galloway and Trent Knorr. Thanks for reading, Insiders. Let's talk soon.