LA Kings. Vegas Golden Knights. Saturday. Un Mil Para Jefe. 1:00 p.m. Hockey Night In LA, matinee style. FOX Sports West, FOX Sports GO, LA Kings Audio Network. A few quick notes on a Friday evening:
— A flow-type drill that incorporated five-person units early in the practice did not depict any changes, though that's mostly anecdotal and not necessarily indicative of the following game's lineup. Wait for the song.
— Jonathan Quick doesn't get on the ice with the team every single morning. He did today, though for optional skates – today's was mandatory – he's been more inclined to get his work in off-ice. "There are teams in the league right now that don't even bring the players to the rink in the morning, they just meet at the arena in the evening," Todd McLellan said.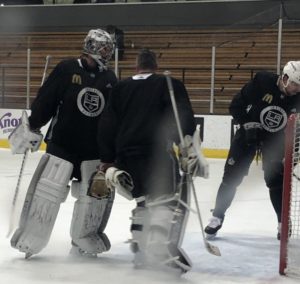 Quick didn't take the ice for either morning skate this week, which meant Goaltending Coach Bill Ranford donned the pads both mornings and El Segundo has soldiered through an ice bag shortage.
Ranford does occasionally fill in and his equipment always travels to games, home and road. If, say, lightning strikes Gila River Arena twice on Monday (you know if this were to happen it would be in Glendale) and both Quick and Jack Campbell are injured or somehow become incapacitated, he might need to at least head down to the bench. "I think with the way the league rules are structured now, I think the only way is if maybe two guys got hurt, because it's kind of a league-mandate now. But if three goalies go down, it's a situation where I may have to put the pads on."
Such unexpected developments would be the inverse of the 1990 Oilers game in which both he and Pokey Reddick were injured and former NHL goalie and Hockey Night in Canada broadcaster John Garrett expeditiously ventured downstairs, signed a contract and sat with the team in a track suit as an emergency back-up while Ranford gutted it out. (I'm told he later had to give the track suit back.)
"I think that's kind of how it went down. I twisted my ankle really bad, high ankle sprain, Pokey went in, Pokey got concussed," Ranford said. "I had to go back in and basically just stand there, and then I think it was between the second and the third, that's when John came down out of the broadcast booth to maybe have to go in, but they cleared Pokey and he finished out the third."
No such training room drama has existed among this season's Jonathan Quick and Jack Campbell consortium. Last year, almost. This year, they're just both looking to get their games in order alongside the team as six-men units. Recently, that's been improving, and Quick's probably even been a little bit better than his .917 November save percentage, itself a vast improvement from a disastrous October.
"When things didn't go the way we wanted in the start of the season, the bounces weren't going his way and he started I think just thinking too much, and we just got back to the basics," Ranford said. "Rely on your structure, rely on your habits. It was bound to turn. He's been really good the last five or six starts, and even there was where he gave up three-in-four but was really good. It's starting to turn that corner a little bit, but we can't let our foot off the gas."
— Carts 1K! We all spoke with Jeff Carter this morning and I also connected with Mike Richards to get a sense of his friend and former teammate's enjoyment of the game and how his drive and work ethic were instilled. Carter is an honest player, and it was his devotion to the sport that resonated with those he shared dressing rooms with. "I mean, I knew how he was in Philly," Richards said. "He works hard, he loves hockey. He is extremely passionate about hockey. He watches hockey nightly. Even when we lived together in LA, there was a lot of hockey on TV, so he obviously had a lot of passion for it."
McLellan has praised Carter for his demeanor amidst a challenging situation for the team, saying that he was "concerned about that coming in after hearing a little bit about last year" and the challenges he and the team faced. He also referenced Carter as "snakebit" and someone who could have "double-digit" goals with better luck that's demonstrating strong comprehension of what he's trying to put in place.
"To get to a thousand, you've done something exceptionally well," McLellan said. "You've been a great player, you've changed with the times, you've been able to stay relatively healthy, you've been a great attitude towards the team and the game, and not everybody gets there. But the ones that do deserve to be recognized."
More to come before a special Saturday afternoon.
— An interesting articulation of power play philosophy, and what types of "set plays" the team runs, via McLellan: "There are some concepts we put into play. Every team has a couple go-to things. We do – we name them, we call them, but if you play towards a set play in any part of our game, the odds of it happening are very, very slim. You could never put the opposition in the right spots, the sticks, the fatigue, the timing. So, you have general thoughts of what you're working towards, and you try to play towards that. But set plays, not so much. Faceoffs, yes, but other than that, no."
— Speaking of set plays, was that Drew Doughty long-distance shot off the glass in overtime one of them? "Nope," McLellan said.
There was then an interesting discussion on overtime success, which has largely been maintained by Los Angeles under four different coaches. Darryl Sutter referenced a "checklist" that those he sent onto the ice in overtime were to adhere to but declined to provide specifics.
"You have to have a good engine to play in overtime because you're getting up and down and up and down. If you're stuck in one gear or you run out of gas quickly, that can be a lot of trouble," McLellan said.
"Overtime, you get to know your players and you figure out who you trust in that situation. You better be able to skate, you better have a fairly good engine that can keep you on the ice longer than normal, you better be able to win a faceoff, you better be able to protect the puck and manage it without giving it up. And a lot of our guys on the team could do that. But you go with your gut, and you hope for the best."
The length of overtime shifts is an output of players able to sustain exceptionally good motors. Alex Ovechkin is the league's leader with a 3:39 OT shift earlier this season, while John Carlson, Dmitry Orlov and Nicklas Backstrom weren't far behind, according to Japers Rink.
"My old team, there's a couple guys that had like 30 points yesterday," McLellan said. "They seem to stay out quite long and they're pretty good at it."
Golden Knights lines at Friday's practice

Pacioretty-Karlsson-Smith
Marchessault-Eakin-Stone
Glass-Stastny-Tuch and Pirri
Carrier-Roy-Reaves and Nosek#VegasBorn

— David Schoen 📰🗞🏒 (@DavidSchoenLVRJ) November 15, 2019
Cody Eakin had left Vegas' loss to Chicago early but was a full participant at practice Friday, per David Schoen of the R-J. The Golden Knights are otherwise healthy but have lost four straight (0-3-1) and will open up a back-to-back that continues at T-Mobile Arena Sunday versus Calgary.