Good morning, Montreal, and good morning, Insiders.
Our team charters a train at least once a year. This has been on the Ottawa-Montreal (or vice versa) route or in travel between either Newark or Philadelphia and Washington. It's enjoyable! It's comfortable, it's relaxed, there's wine. We're still working, but it's not a load-up-the-plane-and-get-to-the-next-stop-quickly hustle. I fondly recall Bob Miller holding court, telling stories about traveling from Iowa City to Pasadena by train for the 1959 Rose Bowl – and how classmates drew the ire of the chaperones by clandestinely sneaking a few bottles of alcohol onboard.
Last night's commute to Montreal wasn't exactly that… for the players. There was traffic on the line that delayed the arrival at our hotel by about 30 minutes. But for the media and TV staff?
Foxy, Fausty, and Choppy teaching us all how to moon walk to Billie Jean. The midnight train to Montreal has come off the rails. pic.twitter.com/uuzdLwrVNa

— Patrick O'Neal (@Patrick_ONeal) November 8, 2019
Whereas the players were seated in a typically comfortable Via Rail car, the FOX Sports West crew, broadcasters and LAKI hopped back to a Budd-built Skylight Dome Park Car constructed in 1954 and integrated into VIA service in 1978. I have spoken in the past of one day becoming the Ambri-Piotta Insider and riding around on Cool Trains for a living – trains like France's TGV, Germany's ICE or Austria's Railjet. The fast ones.
But this was such a majestic, old, spacious train car unlike anything we'd traveled on before. There was wonderful camaraderie, but there were also quiet spots to transcribe, write and archive. There was a moonlit observation car. I rolled my eyes a bit when the Calgary Flames dressed up, prohibition style, for an Eastern Seaboard Amtrak charter, but this throwback car was so in line with that. I was charmed.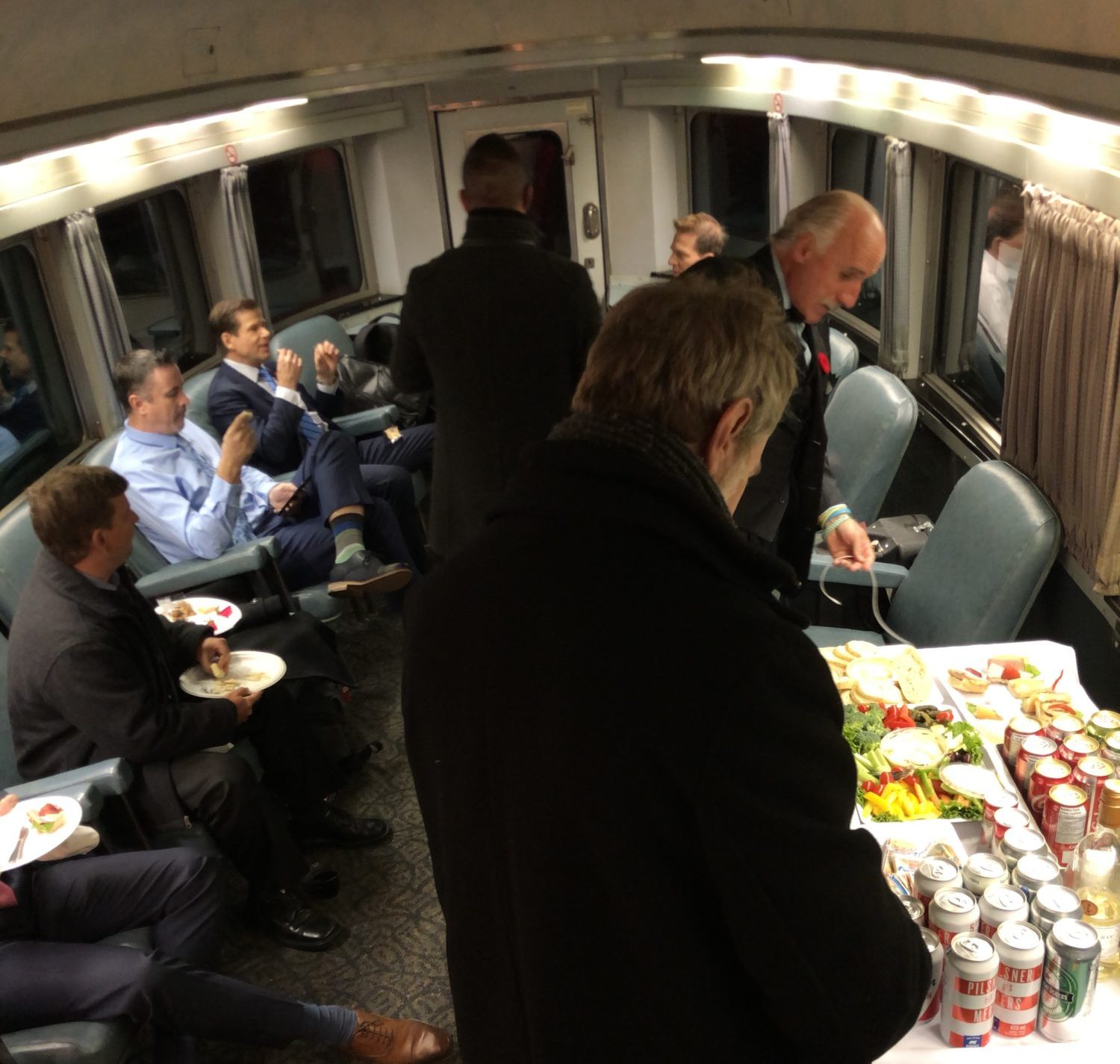 Its a scheduled day off in Montreal. WUWTK will follow. Thanks as always for following along, Insiders.