INSIDERS. A fine afternoon to you from the mean streets of Kanata. The LA Kings held an optional skate at Canadian Tire Center in advance of the first of two games this season versus the Ottawa Senators (7:05 p.m. / FOX Sports West / FOX Sports GO / LA Kings Audio Network), against whom they are projected to line up as such:
Toffoli-Kopitar-Carter
Kovalchuk-Lizotte-Wagner
Iafallo-Kempe-Brown
Clifford-Amadio- Lewis
Martinez-Doughty
Hutton-Walker
MacDermid-Roy
Notes!
— The vitals: Jack Campbell was the first goaltender off the ice and will draw his second career start against Ottawa. The first did not go well. Two days after his dazzling shutout at Montreal last October, Campbell and Los Angeles got rocked, 5-1, and he allowed four goals on 11 shots. He'll have another kick at the can today, as will a Kings team that lost both games in last year's series by a 9-2 aggregate.
The Kings use a breadth of criteria and the expertise of goaltending coach Bill Ranford when scheduling starts for their goalies. "Who's comfortable in certain buildings, what type of team are they? Special teams – where's the power play triggered from? What type of saves will be required?" Todd McLellan said. "We can go on and on, but we want both goaltenders playing in our organization, we want them both up and running and playing to their best abilities, and we're slowly getting there."
Joakim Ryan, Nikolai Prokhorkin and Carl Grundstrom remained on the ice for some extra work with Jonathan Quick. McLellan confirmed Wagner will enter for Grundstrom and that Tyler Toffoli will join the Kopitar-Carter combination, but there may be some additional tinkering below them.
"Grunny has played well when he's been here," McLellan said. "We're going to give another player an opportunity to get his going in Wagner. Grunny, to stay here has to continue to do what he does. He's not coming out for any negative reason. It wasn't that he played poorly or anything. We've just got to get another player into the lineup. With the stage we're at with our team right now, we're giving some older players a chance to play and try to find their game and mixing the young players in. As the year goes on, that could quite easily change."
The message remains the same to Wagner – reduce the scoring chances against, clean up the defensive zone coverage. It sounds like the coaching staff and management really like his tools to become a good NHL player, but to make the most of them, he'll have to solidify his game in his own end.
— Their vitals: Anders Nilsson will start in goal. The former Islander, Oiler, Blue, Sabre and Canuck is 2-1-0 in four career games against Los Angeles with a 2.25 goals-against average, a .932 save percentage, and one badass picture LAKI took of him in China: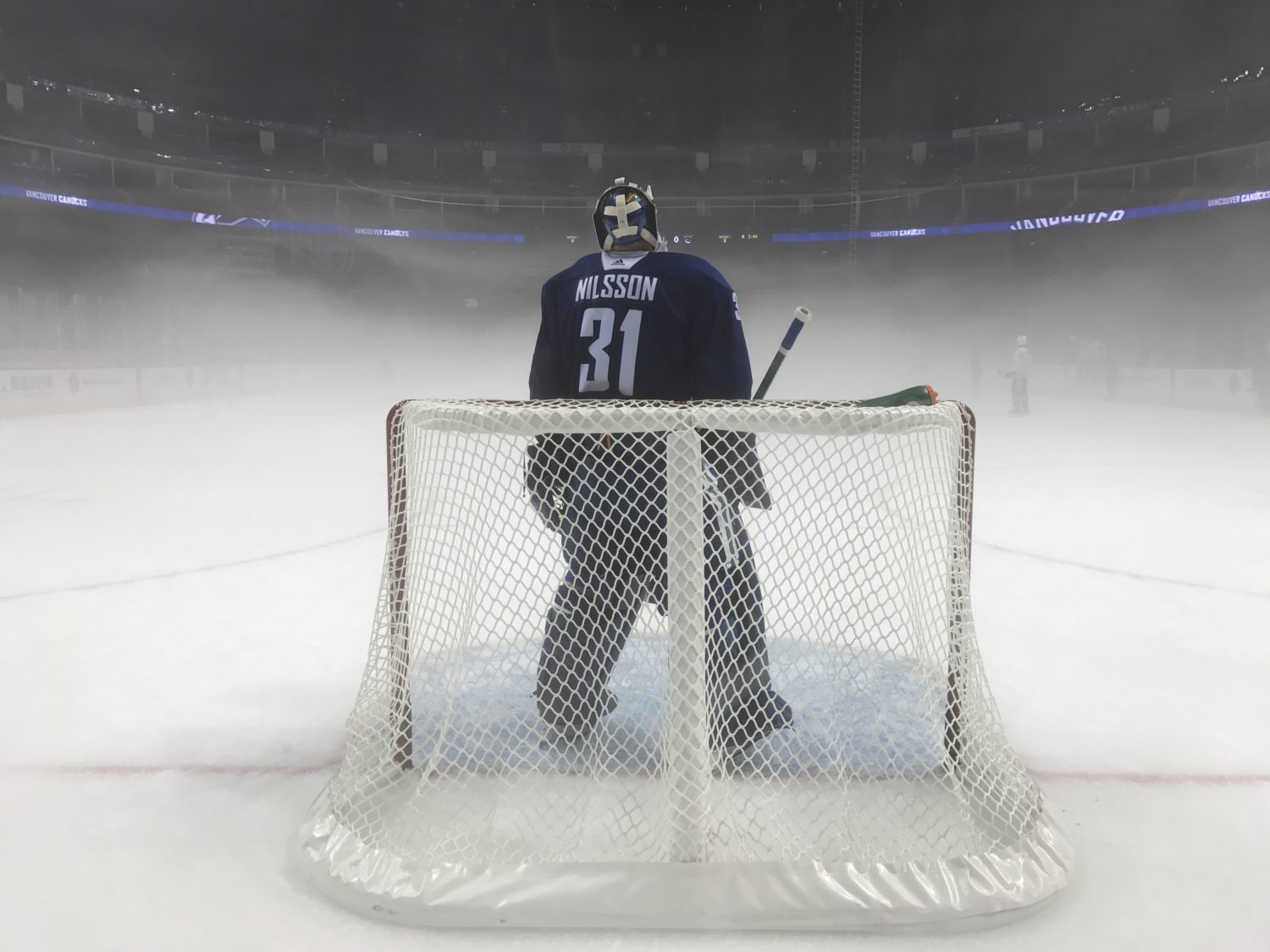 Via Hailey Salvian of The Athletic, expect Ottawa to line up with forward groups of Tkachuk-Tierney-Duclair, Paul-Pageau-Brown, Namestnikov-Anisimov-Ennis and Chlapik-Beaudin-Davidsson with defensive pairings of Zaitsev-Brannstrom, Hainsey-Borowiecki and DeMelo-Goloubef. Jonathan Davidsson, selected by Columbus in the sixth round in 2017 and acquired in the Matt Duchene trade, will make his NHL debut. He was a few years ahead of Toby Bjornfot with Djurgarden's youth teams, but the two did play together during spurts of the 2018-19 season and in the playoffs. They got to know each other while Davidsson, who commended his ex-teammate's "awesome puckhandling skills," recovered from an injury.
What to expect from the Sens? "Probably a lot like what I expect from our team," McLellan said. "A competitive game, well-prepared, ready to play. We know there'll be mistakes with our group. I'm sure they know there'll be some with their group, but each night is a new experience for both groups, and we're trying to find our way to improve."
— Sean Walker and Chris Tierney are close friends, as you've probably gathered from the audio file shared earlier this morning that's now collecting dust. The two played together "all throughout minor hockey," according to Tierney, whose scouting report on his minor hockey teammate caught the ears of a nearby former adversary seated beside him.
"Actually, he used to shut down Connor Brown on our team pretty good, so hopefully that's not the case tonight. It was back in the York—Simcoe, Toronto Marlie (Marlboros) days," Tierney directed partly at his teammate. "Sean's a great skater, he's always been a good skater. He's a smaller guy through minor hockey, but he's grown a bit. He's still not the biggest guy, but he uses his legs to his advantage and makes up for it in that way, and he has a physical game, too. I haven't watched too many games of his games, but back in the day he was known actually for a smaller guy stepping up and throwing a big check through the middle. I'm definitely going to make my head up out there because I know he can stand up and he can blow guys up. Smooth skater, good decision-making, really good first pass with the puck, good offensive mind, so glad to see him doing well."
— Lots to come on tonight's broadcast. We'll have a Rosen Report focusing on amateur and pro scouting split into pre-game and second intermission segments. Patrick, Carrlyn and I are looking forward to sharing several recent reviews on guys like Alex Turcotte ("injects himself into the game in every facet"), Cole Hults ("always good against Wisconsin") and David Hrenak ("outstanding" keeping St. Cloud in games against Northeastern, but not as good the following week against Princeton), as well as Turcotte's Badger teammate Dylan Holloway ("physically more developed" than other first-year players, but adjusting to the college pace), a freshman projected to go high in the 2020 draft.
We'll also cover some European scouting later on in the broadcast. The Karjala and Deutschland Tournaments are underway as part of the Euro Hockey Tour, and a lot of executives are keying in on Jesse Puljujarvi in Helsinki. But there are also national junior team competitions taking place in Helsinki and beyond during the current international break, and we'll address a number of national team scouting and development topics before World Junior Championship reporting heats up.
— Tonight's officials are referees Jon McIsaac and Francois StLaurent and linesmen Kyle Flemington and Brian Mach. Thanks for reading, Insiders. Let's talk soon.