INSIDERS. A fine Tuesday afternoon to you from downtown Toronto, where the LA Kings held an optional skate at 11:30 a.m. in advance of tonight's game against the Maple Leafs (4:30 p.m. PT / FOX Sports West / FOX Sports GO / LA Kings Audio Network). Todd McLellan said that the lineup "will likely stay the same," which indicates this group:
Grundstrom-Kopitar-Carter
Kovalchuk-Lizotte-Toffoli
Iafallo-Kempe-Brown
Clifford-Amadio-Lewis
Martinez-Doughty
Hutton-Walker
MacDermid-Roy
Notes!
— There wasn't a confirmation on the goaltender. We're assuming it's Quick, who didn't skate, rather than Campbell, who did and remained on for some extra work with Joakim Ryan, Austin Wagner and Nikolai Prokhorkin. Quick is 5-3-1 in nine career games against the Leafs with a 2.51 goals-against average and a .916 save percentage. Campbell drew the road start against Toronto last season, Peter Budaj the home start. Quick's last appearance in the series was the home win on November 2, 2017 in which he stopped one of two Auston Matthews penalty shots.
— Their vitals: Frederik Andersen, among the Eastern Conference's most notable practitioners of regicide, gets the nod. Freddie is 7-1-2 in 11 career games versus Los Angeles with a 2.32 GAA and a .927 Sv%. John Tavares will return from a broken finger that sidelined him for seven games, while Jake Muzzin will return from a one-game personal absence that followed a charley horse that also kept him out for a game. Zach Hyman (IR/knee surgery) is close but not quite ready to be activated. Expect an alignment of Petan-Tavares-Marner, Johnsson-Matthews-Nylander, Mikheyev-Kerfoot-Kapanen and Moore-Shore-Gauthier up front and defensive pairings of Rielly-Ceci, Muzzin-Barrie and Dermott-Holl. Stick taps to the friendly and approachable Tyson Barrie, who was highly responsible for knocking my Silvertips out of the 2010 WHL playoffs and tonight will play in his 500th NHL game.
"I think we've had really good spurts and then some periods where we have to do a better job of preparation in the room, and I think that comes from leadership, so that's on me, and I have to do a better job of that," Jake Muzzin said of what has and hasn't been working for the 7-5-3 Leafs. "But good things – like I said, we've had some really good periods where we're doing everything right and then we just step away for a little bit. So, consistency throughout the period and throughout the game I think is big for us right now."
— More Doughty-Muzzin content to come. They're close friends, former defensive partners, smack-talkers on the golf course. Off the golf course. At an airport. Pretty much wherever Doughty is standing, he can be considered a smack talker at that particular topographic juncture. But their friendship is genuine, and Muzzin admitted to some pretty complex emotions. And when asked what he'd learned from Doughty, he shifted his eyes slyly, answering, "well, there's a lot of things," revealing the fun and personal Jake Muzzin that was such an important part of Los Angeles' glue for so long.
"No, a lot of good things," he said, snapping back into the answer at hand. "His attitude towards playing, he's a competitor every night, he wants to win every night. He's emotional – good and bad – but it helps to play with emotion. I think it brings the best out in players and in people. But he also likes to have fun, and he learned that. As a young guy coming up, I was obviously nervous, but to watch him go about having fun on the ice and enjoying it, it helped me a lot when I was younger."
More to come on Muzzin, now nine months removed from the Kings, now some eight months away from unrestricted free agency, but still… only an above average golfer.
"Known him basically since I was like nine years old, so we go way back," Doughty said. "But I just miss hanging out with him, golfing with him, beating him in golf. I miss his family and obviously miss him in the room and on the ice and everything. He was my partner for a few years and we had great chemistry and stuff like that, but it'll be fun to play against him tonight."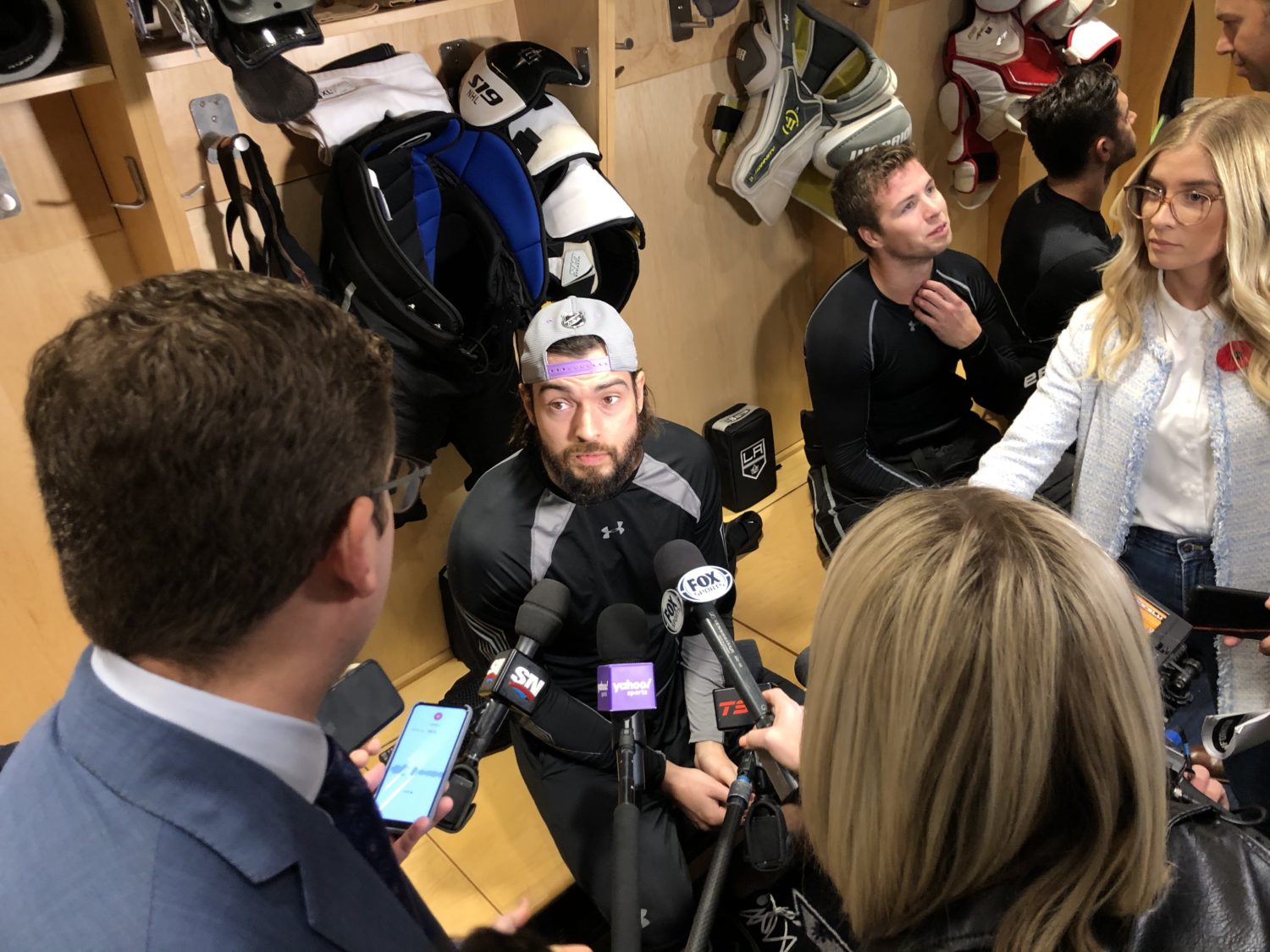 — John Tavares, on Drew Doughty: "I mean, he's one of the elite defensemen in our game. Obviously, a tremendous resume. Has had a lot of success throughout his career, plays in all situations and always raises his level of play, so he's always a great challenge, and a guy you look forward to going up against."
— Today's game also marks 2018 Calder Cup champion Carl Grundstrom's return to Toronto. Grundstrom acknowledged that if he has the opportunity to, he may throw an extra facewash in the way of close friend Andreas Johnsson or Dima Timashov, though the latter isn't expected to get in tonight.
Grundstrom handled the trade well, though it was abrupt. "Just a quick phone call," he said of Kyle Dubas' notification and well-wishing, and then he was property of the LA Kings. By going to the rink and playing and keeping his mind busy, he didn't outwardly seem to be overly burdened by what obviously is a major life challenge for an athlete. "I just tried to play my game. I didn't think too much about it. Just tried to get here, have fun, play hockey," he said.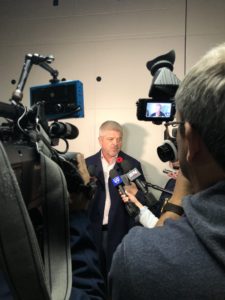 He scored in his first game with Los Angeles and as of today is essentially too good for the AHL, a point he proved during a four-game, five-goal, seven-point, bowling-ball spell last week that provided not only the impetus for a recall, but also his position to the left of Anze Kopitar. "Grunny's been good for us," McLellan said. "Grunny was a player that I appreciate more that I've been around him again. The same type of guy – not the greatest practice player, but when the game starts, they call him 'The Tank' for a reason. He's a bit of a bully on the ice, and we need that type of player."
"The Tank" has one assist in two games since his recall, breaching 16 minutes in both games.
"Carl's a great player, man,' Doughty said. "He plays hard, and that's how the Kings have always been built – the guys that have played hard that are going to finish their checks. He's really good around the net. Got a great shot. We're really happy to have him. He's going to be a great player for us, and I think he's been playing with Kopi for the last few games on a very dominant line. We're expecting really big things out of him going on in the future here."
— There's been lots of Doughty talk, Muzzin talk, and it's always been fun to check in with Kyle Clifford and Tyler Toffoli in Toronto. There are also several players excited for their first NHL homecoming, like Sean Walker, or their second, like Michael Amadio.
A native of Keswick, an hour north of Toronto, Walker recalls going to games with his dad, though he never attended or caught games at Maple Leaf Gardens. Born in November, 1994, he was but a mere thought when the Kings and Maple Leafs met in one of the greatest series in modern hockey history 17 months prior and identified with the generation that followed. "Mats Sundin was always my favorite, that's for sure," he said.
His arrival will cause his grandmother Beverly, a Maple Leafs season ticket holder, to root against her hometown club for a day. Meanwhile, Sault Ste. Marie native Michael Amadio will be supported by his family and cousins in his second career game at Scotiabank Arena – though his father was an Islanders fan, and he grew up a Colorado fan like his brother.
— Todd McLellan was asked about coaching a team at a very early time in their evolutionary period. He answered by sharing that he's overall liked the club's effort and willingness to work. "I've bitched a little bit about some of the effort in their games, but they're asking for that. They want that. They put it out there that they want to be held accountable. We're not going to disappoint them as a staff, we want to do that. But for myself and my staff, we've enjoyed our time here. We think that we're making strides. We want to get better every night, and sometimes that's not always with a win, but certainly if we can sneak a few of those in, it certainly would be rewarding."
— Some fun photos above and below. Kings fans and brothers Bryan and Bradley Williams have joined us in Toronto as part of the Mercury Insurance Hall of Fame with a Hall of Famer promotion. That includes traveling on the team charter, rooms at the team hotel and a private tour at the Hockey Hall of Fame with Bob Miller. It was great chatting with Bryan and Bradley, as well as Bob, who apparently surprised some Kings fans over at the Hall and was leading a segment of the tour when the group walked near his call of Wayne Gretzky surpassing Gordie Howe's points record within the Howe-Gretzky Exhibition.
— Tonight's officials are referees Garret Rank and Kevin Pollock and linesmen Tyson Baker and Brad Kovachik. More Doughty-Muzzin chats to come. Let's talk soon, Insiders.