Good morning, Chicago, and good morning, Insiders.
A stick tap to those in silver-black-and-white we saw at our St. Paul hotel yesterday – those who made the drive across the Upper Midwest or took flights from points beyond to see the Kings lose important moments of the game and get flattened in the third period. More about that in WUWTK.
I've covered only three L.A. wins in 12 games at (Chief) Xcel since joining the traveling beat. The wins have been sparse enough that I'm able to remember exactly when and how they were won. There was the 2013-14 season-opener, which they won in a shootout; a pre-Thanksgiving game the following year in which they chased Darcy Kuemper with four first period goals; and the 4-3 overtime win two seasons ago that carried more drama and excitement than your typical Kings-Wild affair.
This is not about Minnesota. To hell with Notre Dame Minnesota, Bo Schembechler would say, almost. This is about attending, covering or broadcasting Bad Games.
Last night's game, though not particularly appealing on the eyes, doesn't fall in the Others Receiving Votes category of Bad Games. Several games last year would be up for consideration. But what was the absolute worst sporting event you've ever attended? Broadcasting a 10-0 loss to your chief rival isn't fun. Earlier this year, my wife – a Badger alum – and I traveled to Madison to watch Wisconsin jump ahead to a 35-0 and win a rather comfortable boat race. I've seen the Wolverines lose 31-0 at Notre Dame, get run off the field by USC in a pair of Rose Bowls and sat through a driving rain in a 34-9 home loss to Brad Banks, Dallas Clark and Iowa. Those Fandom Endurance games (as coined by MGoBlog) often rely on inclement weather, which don't always add definition to games in Southern California.
But the game that I'm willing to put above all other games has both Chicago and Kings tie-ins. It was this: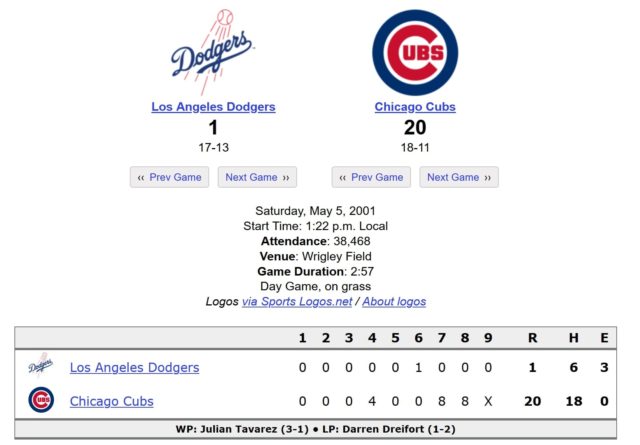 It stands as the most lopsided loss in the 62-year history of the Los Angeles Dodgers, and to add insult to injury, Sammy Sosa and Todd Hundley hit homeruns. It came on the day directly between back-to-back Felix Potvin playoff shutouts in which Luc Robitaille and Glen Murray provided the only offense the team would need. (A fun side story – we were pulled over by Michigan State Patrol on I-94 just west of Kalamazoo the day before; I recall making sure my black-and-purple Kings jersey faced the back windshield while driving through Michigan in California plates during the aftermath of the 2001 Detroit series. We were speeding but encountered a very friendly MSP officer who asked me how I enjoyed Michigan. "I love to see the seasons change, which is different from fire-flood-earthquake-riot seasons we have in Los Angeles," I replied, getting out of the ticket with a chuckle and a warning.)
Back to the topic on hand. Is it better to watch your team lose big or agonizingly close?
Talk amongst yourselves while I write WUWTK. There's no morning skate today on the second half of a back-to-back. The Kings will face Robin Lehner but not Brent Seabrook, who will be spelled by Dennis Gilbert — whose alma mater lost in a blowout last night.
Thanks for reading, Insiders. Let's talk soon.