INSIDERS. So much to go over in advance of tonight's game at Minnesota (5:00 p.m. PT / FOX Sports West / FOX Sports GO / LA Kings Audio Network), beginning with the LA Kings' projected lineup:
Iafallo-Kopitar-Brown
Carter-Lizotte-Toffoli
Kovalchuk-Kempe-Lewis
Clifford-Amadio-Wagner
Hutton-Doughty
Martinez-Walker
MacDermid-Roy
Quick
Notes!
— The vitals: Today was an optional skate and no line rushes were held. Nikolai Prokhorkin and Joakim Ryan remained on the ice for extra work with Jack Campbell and are not projected to play. Jonathan Quick left the ice first and is 13-7-5 in his career against Minnesota with a 2.53 goals-against average and a .901 save percentage. Anze Kopitar, among a handful of people on the traveling contingent to recently come down with a cold, is feeling better. "I think you guys gave it to me, and I gave it to him, right?" Todd McLellan joked.
McLellan has liked the team's recent progress since they lost their "will" in the ugly loss at Vancouver three games into the season. They haven't been affected by any deflation since and are playing the quicker and more aggressive game he hoped to instill, though the special teams obviously need improvement with a power play that ranks 27th and a penalty kill clocking in at 29th. It's part of a counterbalance of the team's pristine shot-based metrics. "We've got some paint on the canvas, but it doesn't look like anything yet," McLellan said of the first 10 games. "Let's put it that way."
— Their vitals: Devan Dubnyk (upper-body) isn't ready to play, so Alex Stalock will get the nod in net and Kaapo Kahkonen will again back him up. Stalock, who played for McLellan in San Jose and started Game 6 of the 2014 series, is 1-2-1 in five career games against Los Angeles with a 2.67 goals-against average and a .902 save percentage. McLellan also caught up with another former player – Mikko Koivu, who played under him for the AHL's Houston Aeros. "He's their captain. He's got a calmness to him. He'll have his team ready," McLellan said of the 36-year-old, 983-game veteran.
The Wild are in last place in the Western Conference with six points through 10 games but are traditionally a difficult team to beat at Xcel Energy Center, where they're 2-1-0 this season and shut Edmonton out 3-0 in their last home game. "They're a team that's been poked by the bear a little bit," McLellan said. "I think they're not overly enthused with the way they've started, so you've got a team that's not comfortable and that's not easy to play against. This building's always been a tough one. I think they still defend very well. Their special teams seem to be clicking here at home. I think they're at 40%. Not a big sample size. Those are areas that we need work on, so of course that's going to be a challenge for our group."
Minnesota's challenges have come on the road, where they're 1-6-0 and coming off a 4-0 loss at Nashville. Because their home/road poles have been evident in their statistics, what are the inherent qualities when things are going well, and what needs to be cleaned up when they're not? "I think when things aren't going well, we're getting frustrated because we can't score, you know what I mean?" Bruce Boudreau said. "We can take the Nashville game, for example, where the first period we played extremely well and didn't give them any scoring chances, and then you get behind the eight-ball and your shoulders are slumping and you go, 'man, what do you have to do here?' When things are going well, we're playing with the lead and we're playing with confidence."
The Wild, which swept last year's season series, have points in 25 of the 33 all-time games between these teams in St. Paul. Greg Pateryn (IR / bilateral core muscle surgery), Kevin Fiala (IR / lower-body) and Jordan Greenway (illness) won't play, though Joel Eriksson Ek (lower-body) was activated from injured reserve today and will play tonight, per Boudreau. They're expected to line up with forward groups of Zucker-Staal-Zuccarello, Parise-Eriksson Ek-Kunin, Foligno-Koivu-Hartman and Donato-Rask-Mayhew with defensive pairings of Suter-Spurgeon, Brodin-Dumba and Soucty-Hunt. Defenseman Brad Hunt leads the team in goals with four.
— There's a lot more to come, especially from Lindstrom, Minn. Native Blake Lizotte, who played in this arena in high school and college but will play his first professional game at Xcel Energy Center in front of an entire cheering section. He estimates that his mom purchased 50-to-60 tickets for close family, and that another 200 supporters will make the drive down from Chisago Lakes.
Even though yesterday was far from his first time on this ice, the practice – which he ended by leading the team in stretches from the center of the circle – still resonated with him. "Kind of a 'hit-me' moment. 'You made it here.'"
Scandinavian roots run deep in Minnesota, and Lizotte is third-generation Finnish-American. More to come on the background on his name and his family, and why this game means so much to him.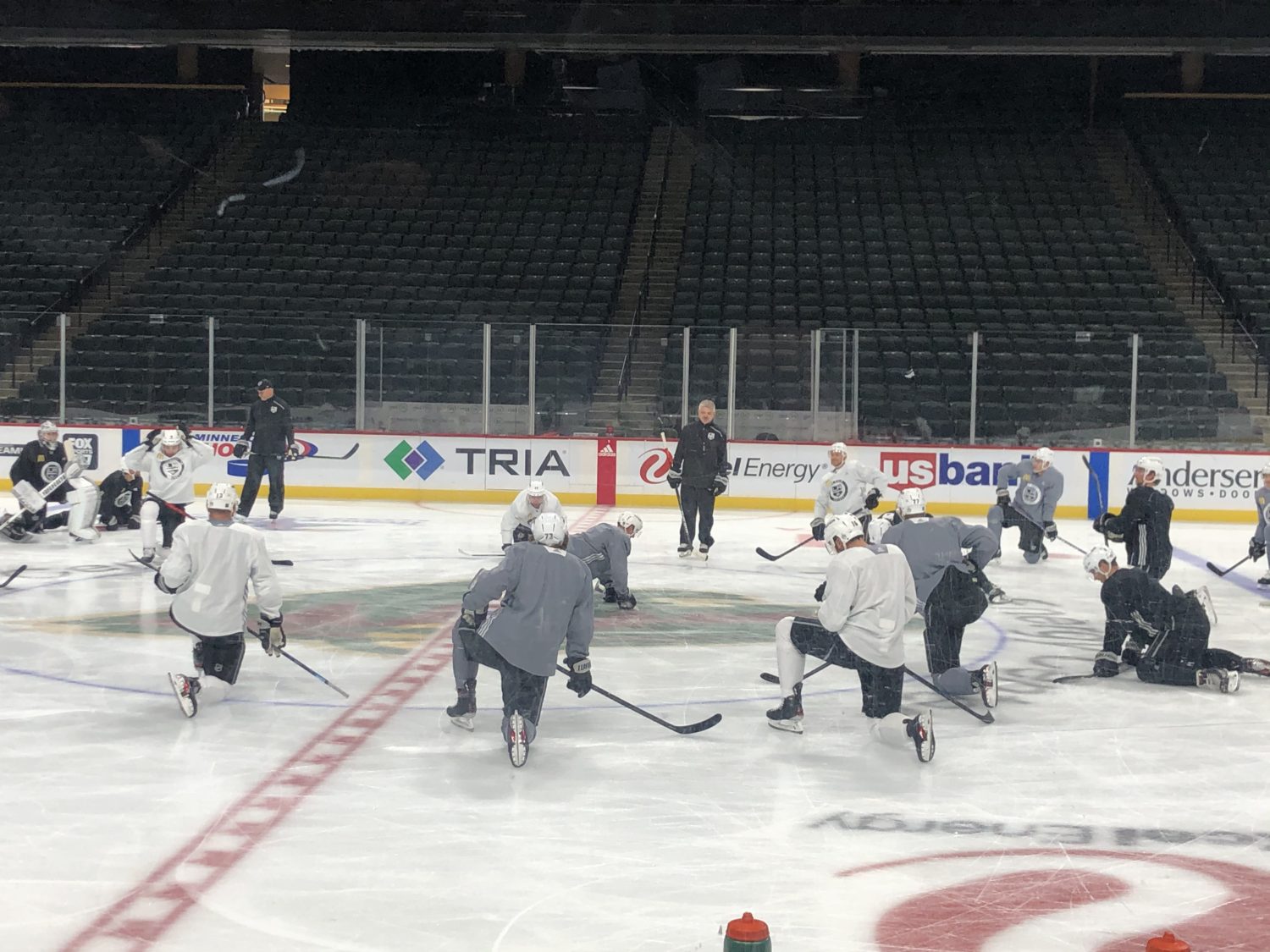 — I'll also have a lot more on Austin Wagner, whose offensive role is diversifying beyond his trademark bursts of speed. Wagner was the extra skater during 6-on-5 play late in the St. Louis game because of his ability to log scoring chances for, particularly over the second half of that game, and also because he has good size and battling ability around the net. "I don't think I'm going to be a guy that's running the half-wall with an empty net, I think I'm going to be a guy trying to find that rebound or going and getting it and giving it back to them," he said.
— Tonight's officials are referees Kendrick Nicholson and Kelly Sutherland and linesmen David Brisebois and Ryan Daisy. Let's talk soon, Insiders.
Tomorrow @Jabs_13 is back in Minnesota for a fundraising event at the Kings-Wild game, benefitting the @BEL13VEJabby13 Foundation. How to get involved: https://t.co/Krxx9GwrNZ

— Alex Faust (@alex_faust) October 25, 2019