Thanks for the patience after an off-day and two extended practices and media scrums, Insiders. The LA Kings practiced on the carved up Scotiabank Saddledome ice following the Flames' skate and showed a similar alignment to the one used Saturday, though with Carl Grundstrom appearing to replace Calgary native Austin Wagner on Blake Lizotte's line. There didn't appear to be changes to the defensive pairings, though we should know a bit more at Tuesday's morning skate. More to come from Looch.
Notes!
— Drew Doughty, Matthew Tkachuk. Matthew Tkachuk, Drew Doughty. Their reciprocal distaste, as it was shared with Bill Peters, is well documented. "Good, we don't have to talk about it," Calgary's coach said, smirking.
But this is Game 2, storylines are yet to harden, both players practiced on the same ice, and this is a Canadian market, after all, so the potential for some Doughty-Tkachuk discussion is probably greater now than when the Kings visit next on December 7.
Also, a light breath of new life was blown into the personal rivalry by Tkachuk, who was asked about Doughty on HNIC's After Hours following Calgary's 3-0 win over Vancouver two nights ago. He didn't say anything salacious. Questioned about the negative things Doughty has said of him in the past, he responded that "it goes right in one ear and out the other. I'm really looking forward to Tuesday's game." Upon the idea that he could offer more respect to a two-time Stanley Cup champion and Norris Trophy winner, he responded, "I show Gio respect – he's a Norris Trophy winner." They're short and sweet lines in the sense that they don't go overboard or stir the pot too aggressively but do offer a slight wink towards the upcoming rivalry game.
Both players largely downplayed their feud on Tuesday.
Said Doughty: "I have individual rivalries with someone on every team."
Said Tkachuk: "I don't think there's necessarily a personal rivalry between anybody in the league."
Of course, Doughty got one slight lick in, which was a fitting bookend to Tkachuk's reserved but sly comment about the respect he has for Mark Giordano, Norris Trophy winner. "I think we both know who the better player is, so if he wants to complement me first, then I'll give him one back," Doughty said. But that quote – like Tkachuk's on Hockey Night and many in the rivalry – was spurred by questioning and wasn't necessarily unsolicited, rogue trash-talking.
It seemed that most observers on Monday thought it to be good for a pair of personalities to come out amidst many of the staid traditions in hockey. More personalities, more feuds, more media spats between a pair of players referred to by Todd McLellan as "two really competitive players," right?
"It's great that our league has stars like that – and I consider both of them superstars – that compete like that on a nightly basis," McLellan continued. "Why come to the rink and just watch a blah night when you can get two really talented players playing as hardest they can against each other. I know Billy would probably love to have Doughty on his team, and of course we'd like to have Tkachuk on our team, and usually that's a signal that both players are appreciated around the league and in each other's locker room."
The love-fest began earlier when Peters spoke of his Doughty affinity during his own scrum.
"Doughty is a good man. I'll tell you a World Cup Story," he said. "We were at World Cup 2016 in Toronto, and we were doing a forecheck drill and the coaches and the D had to be there and the forwards just forechecked against the D, right? So, Doughts was in my end, I was on the wall with Claude Julien and Doughts was over there, and he goes, 'what do I do, what do I do?' I go, 'if I give it to you, just turn it over.' I said, 'it's a forecheck drill. We're just here for the forwards, right? We get the drill off.' He goes, 'turn it over? I can do that like a champion.' He goes, 'I was doing that so much one time with Sutts, he played me as a forward.' That's my Drew Doughty story. You can talk to Doughts about Chucky, Chucky about Doughts. Good man. We won the World Cup, too. He was a really good player there."
"Doughts is a good player. Good player. Last game we played 'em, I don't remember anything happening. I don't know. But it's a new year, they've got a new coach, they're going to be organized, they're going to play hard. Proud, proud group of men in that room, and we're trying to get some traction. We're a .500 team."
Whether or not one appreciates the Doughty-Tkachuk thing or is sick of it, they have to appreciate its longevity, which in addition to (now) 42-year-old Jarome Iginla will soon claim 18-year-old Toby Bjornfot as a primary actor.
What'll happen if Bjornfot is on the ice and an elbows-up scrum turns nasty?
"Stick up for Dewey," he said.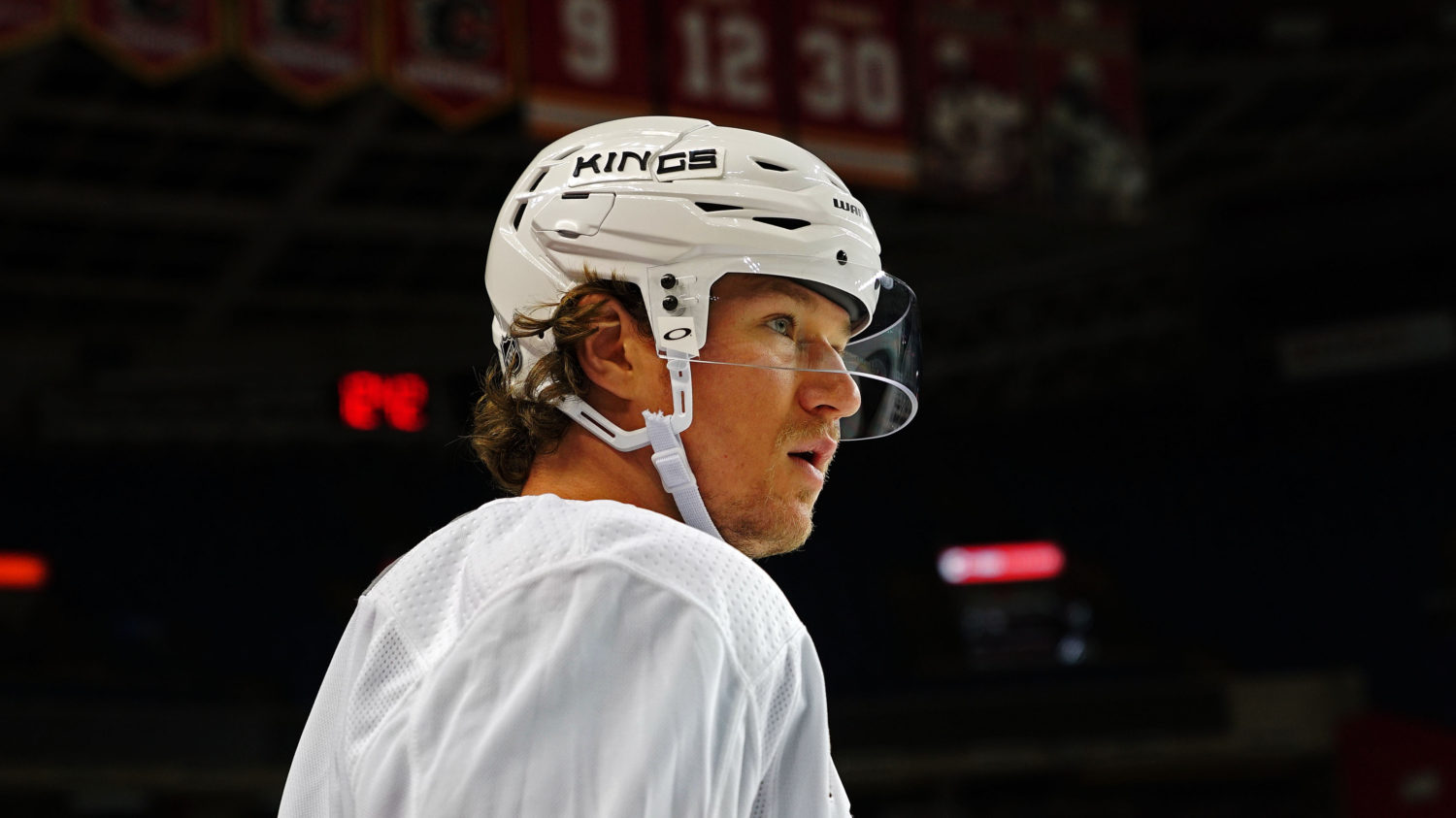 — Onto more grounded and less SEO-optimized topics. DEFENSIVE PAIRINGS. Sean Walker logged 20 minutes for the first time in his career Saturday and looked good doing so, particularly when he was, well, facilitating a breakout by issuing a pass to Blake Lizotte between his legs from his own goal line. Lizotte then issued a banked, three-zone angled pass off the side boards that hit Austin Wagner in stride for what may have been the fastest three-zone transition and controlled entry in Kings history.
"I felt both guys coming, and Blake was talking really well," Walker said about the breakout. "I knew he was wide open, so it might've seemed like a risky play, and as long as I got it past the first guy, he was going to have all the time in the world, so it worked out well."
Walker also made an aggressive play to stand up an Edmonton forward in the neutral zone to cleanly separate a body from the puck in the second period as part of an effective first official night with his defensive partner.
"Arguably I thought they were our best pair, so that can kind of sum up what I thought of Walks' night and how he played with Hutts," McLellan said. "There wasn't a lot of risk with our game, they snuffed out a lot of plays defensively, and then they were able to move the puck up the ice. What you're looking at is probably more of the modern defensemen – guys that have some pace in their game that can move pucks and still defend, and those two together did that."
Though the team showed some good creativity and playmaking ability in the transition game and offensive zone play, the pace is what they're vying to instill. "You're getting used to it, and obviously a game comes around and it feels about the same," Walker said. Over the 14:25 of five-on-five time they spent on the ice together, the Kings outscored the Oilers 1-0, outshot them 8-3 and out-chanced them, 6-3, per Natural Stat Trick.
"I feel we can both skate. Walks is a good skater, Hutton said. "At the same time, I feel if we break out easy, we're going to be able to jump up in the rush and help contribute offensively. There were a few times we were jumping up, and a few times actually, Walks on the far side just missed the puck on the breakout like that. I feel if we get that going, we'll be great."
Hutton showed good patience in advancing the puck up the left side of his defensive zone before hitting an open Dustin Brown with a stretch pass. The goal Kopitar scored moments later was borne out of the speed with which the puck was brought up-ice.
"I wouldn't say there was any more 'freedom' than there was before, but [Todd is] really stressing quick-up, be fast with the puck, and that's what the game is today, so everybody's just trying to be as fast as they can and get the puck moving, and I think that's been echoed throughout," Walker said.
McLellan shared on Saturday that the team had finally reached its first "test" of the season, and on Monday gave his reflection after spending a few days editing papers and grading exams.
"Well, there's a lot of different facets to the test, and some we did really well. We were really pleased with certain areas of the game that we had worked on and we saw some execution, and they're certainly not an easy team to play against with that speed up front. Then there were other areas that we have worked on, and it wasn't really polished. There are things we need to fix, but we're not going to be able to do it in two or seven or 10 days. It's going to take this team some time, and we know where we are on the evolution line, and we've got to take the time to move that – I keep using the 'train forward' analogy."