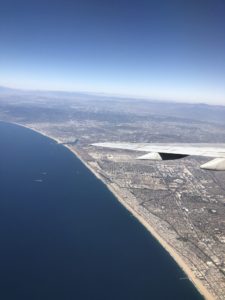 INSIDERS. On the eve of their 53rd season, the LA Kings boarded an afternoon charter flight and were finally able to feel like they were a part of a party already three days old.
The team also arrived (un)fashionably late to 1998-99, the only previous season the team began the year in Edmonton. They won that opener – Luc Robitaille assisted on a Yanic Perrault goal and vice versa in a 2-1 win – but were 8-20-3 two months later and missed the playoffs in their final season at The Forum. Enough of that!
The Kings got a lot of power play and special teams work in on Friday, one day after they remained off the ice in meetings and workouts. There was a good tempo to the power play detail, transition work leading into more in-zone 5-on-4 situations, followed by the slightly more irregular 4-on-3 and 5-on-3 situations. As Todd McLellan had hinted at earlier in the week, the penalty killers were a touch more aggressive and hands-on, as they say, and not holding their sticks upside down, as would those who worked on Los Angeles' penalty kill under previous coaches. Of course, there's no right way or wrong way here. (Darryl Sutter and John Stevens could run a PK, let me tell you.) But it's a needed transition for a kill that got too passive during an uncharacteristically poor 2018-19, and Trent Yawney has obviously had tremendous success as an architect of Anaheim's kill, which has been very good this decade.
Though the practice ended with some quick conditioning laps, there was still a fun, soft-touch competition that preceded it. A puck bag was left at center ice, and it was up to the players to flip a puck into it after skating towards it from the corners. If they were unable to do so, they passed the loose puck back to the next teammate in a corner, and it was their turn to try. Adrian Kempe flipped the puck into the bag, but did so by lifting it into the air and then tapping it down into the bag with his stick. Were those two touches legal? The major controversy did not die down on the ice.
"Yeah, he was cheating," McLellan said. "Somebody was cheating – I'm not sure who it was. But if you're not cheating, you're not trying, as they say." You can watch the video as an Instagram story on my account.)
It was a fun little punctuation of a pretty significant body of work that began with the start of training camp (or, in the cases of Blake Lizotte and Toby Bjornfot, rookie camp). It was also the second time in a week that McLellan referenced the importance of finding the right times to have a loose moment. "They were having a little bit of fun, there was nothing wrong with that. As long as they work, they can have fun," he said.
"You still have to have a fun element to a team. If you're working, and you're giving everything you have, there's a way to find fun in it, and the best way is to win."
— Time to get serious! You know who I hardly had a chance to speak to in the preseason? Kyle Clifford. This hasn't been out of choice, but rather out of coincidence due to the schedule and the comings and goings of various groups and the use of ancillary dressing rooms during training camp. It's a crime in over two dozen California jurisdictions to go this long without catching up to Clifford, a regular ambassador with the staff, the media, team personnel, other teammates.
So, is this a new, more serious Clifford impacted by the decay around him last season? Nah. Doesn't seem like it. Really, as soon as I started to ask about any evolution in his leadership from one year to the next, I thought it was a silly question. There's added inherent and unquantifiable value in Clifford because he's so regular, because that approach doesn't change.
"I think with our group, everybody can take a look at themselves and ask them what they can do better," he said. "That's the only way you can improve, is to be honest with yourself, and there are definitely things I can improve on to help the team win."
The areas of his game needing any great deal of maintenance are scarce. He was a rare bright spot in an otherwise drab picture a season ago, finishing with career-highs in goals, assists, points and relative Corsi-for. He did this without any appreciable change in ice time, but rather with an inward focus of himself and his game and what he'd need to do to be successful in a league that continued to get faster. He didn't give the sense that he was overly concerned with any of last year's residual flotsam.
"Come in with a good mindset," he said. "Like I said, be honest with yourself, know what you can improve on, know what you're good at. If everybody approaches the game that way, you're going to have a pretty damn good team."
As a 607-game veteran (and father of three), he's certainly qualified to offer advice (to new father Drew Doughty).
"I think he's all right. He's got a good wife like me, so it makes it a lot easier," Clifford said of his longtime teammate and new dad. "But he'll be good. He's like a little kid himself."
— Onward to the Oilers. The season hasn't begun cheerfully in Edmonton, as seasons are wont to do. They defeated Vancouver 3-2 in their opener but lost right-shot defenseman Adam Larsson to a broken bone in his leg when he blocked a Quinn Hughes shot. It's a months-long injury for a young blue line that was counting on the veteran who turns 27 in November to absorb tough minutes and handle the role of a rugged shutdown defender. Instead, the Kings will likely see either Ethan Bear or Joel Persson in his place.
Via Mark Spector of Sportsnet on Thursday:
In a paper transaction, the Oilers demoted Ethan Bear and called up Evan Bouchard from AHL Bakersfield. The move was made to put more salary on Edmonton's cap, a strategical move coupled with placing Larsson's $4.167 salary on Long Term Injured Reserve.

In a perfect world, defenceman Joel Persson (shoulder injury) will be ready to play Saturday when Los Angeles comes to town, and Bouchard will not leave Bakersfield. If Persson can't go, Bouchard will come up only until the Swede is ready, then return to the AHL to resume his apprenticeship.
William Lagesson was recalled from the Condors this afternoon, so it doesn't look like we'll see Bouchard, the 10th overall pick in 2018 who made his NHL debut as an 18-year-old a year ago and posted three goals and eight points in eight playoff games for AHL-Bakersfield last spring.
What does Adam Larsson mean to the Edmonton Oilers? Well, he's a top pairing defenceman who played two periods on a broken leg, so….

— Rob Tychkowski (@Rob_Tychkowski) October 4, 2019
Checking Edmonton's roster, Connor McDavid and Leon Draisaitl remain on the team – they played on the same line together in the opener – so it's probably the entire Kings team, and not the Oilers defense, that faces the stiffer challenge. The two combined for eight points in the teams' last meeting, an 8-4 Edmonton win at Rogers Place in late March.
McLellan was also asked about McDavid, a "great human being" that he'll face for the first time since he and the Oilers parted ways last fall.
"He's as good a person as there is in the National Hockey League," he said. "He understands who he is and what he represents, the games as a whole and the league, his teammates and team in Edmonton. He would be similar to a Sidney Crosby where they get it. They've been prodigies for many years now, and for as good of a player he is, I can tell you he's a better person, so that tells a lot about who he is as an individual."
— More from McLellan! Does he break the season up into compacted, five-game segments? 10-game segments? Homestands and road trips? Jewish holidays? While this isn't a question Kings fans might be yelling from their rooftops, it's still good to know how a coach offers both a short-term and long-term outlook to get the most out of their team.
"We're going to get off and running here first, and once we get going, we'll do reviews on a regular basis. I can't tell you they'll be 'five' or 'ten' games," he said. "Once we get home from this road trip, we'll have three games in the bank – three games on the road where we don't always get what we want line change-wise or match-up-wise, and we'll have a good indication of who's capable of producing, who isn't, and we'll start to formulate that type of question or answer as we go forward."
Essentially, while the segments will be divided into natural breaks that allow some time to refresh and take stock, it's still an ongoing, nonstop evaluative process.
"We've always got the hood of the car open, for an analogy," McLellan said. "We're always trying to fix something, and it doesn't just happen every five games. It could be power play, it could be penalty kill at game three instead of game five. Why wait? But there are some natural reviews. I'll ask for information based on our last five games, based on our last seven games. I can tell you one thing I've learnt now that I've been a coach is that you can always work numbers for or against a situation. Power play is 0-for-10, but it was 5-for-5 before that, I can make that look like it's 0-for 10 or I can make it look like it's 5-for-15 however I use the numbers, and that can be dangerous. Media tends to do that, coaches tend to do it, players can use that as well, but numbers can be manipulated quickly to create a case or defend a case."
— McLellan has shared that the success of this season will be determined by growth, but has he actually put a ton of thought towards how many points it will take to qualify for the playoffs in the west? "Nope, I haven't," he said. "I think it's pretty much a given that it's well over 80, sometimes near 90, and everybody knows that. But what we're talking about is something that's going to finally finish in April. We haven't even played our first game yet. Our goal is to be in the playoffs, our goal is to win the Stanley Cup, no different than anybody else. But we've got to figure who we are and what we have first, and then we have to evaluate realistically based on that, not in the fantasy world."
— In the shootout, McLellan's decisions will be influenced by "a little bit of everything."
"We have information, and we compile it now on the players' shootout records in the league and what they've done recently, what they've done throughout their careers, and that would come into play. Who's having a good night, who's having a bad night, perhaps who's beat that goaltender, who's hot in a certain arena. Sometimes it's gut, but there's some science that goes into it, as well."
Los Angeles was 3-4 in shootouts in 2018-19 and is 67-67 all-time. Of current roster players, Tyler Toffoli was 1/1 last season, Ilya Kovalchuk was 4/5, Anze Kopitar was 3/7, Adrian Kempe was 1/5, Dustin Brown was 0/4 and Alex Iafallo was 0/3. Jonathan Quick (2-3) stopped 13-of-19 shots, while Jack Campbell (0-1) stopped 3-of-4.