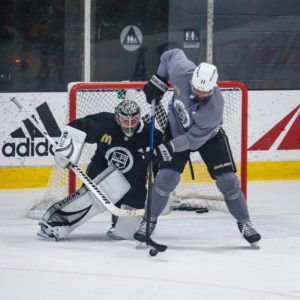 INSIDERS. The LA Kings took the TSPC ice for their first practice as a sleek, 23-man squad and didn't show any changes from the lines and pairings used Friday in Vegas. The Kings have three straight practice days to prepare for their season opener in Edmonton, which is then followed by an additional two practice days before the Calgary game. It's not the worst thing in the world that a team operating under a new coach and new systems has only one game through the first six official days of the new season.
I'd asked Todd McLellan about the plans for structuring practice this week and whether the team would hold any sort of "scrimmage" that could provide game-like situations similar to those held at the start of training camp. "To me, we scrimmaged today, but we just controlled every situation and we were able to get them tired, we were able to get them into situations where structurally they needed to react to certain things. They needed to think about coverages when they were tired and execute. The only thing that we didn't get to that I wanted to today was maybe a little bit more power play work, but the ice was so destroyed that all we were going to end up was frustrated and not getting any better," he said.
Some soft (and early) eyes – stick taps to Player X and Neil for making it to today's skate – caught some special teams detail before the team took the ice for practice.
Notes!
— Congratulations to new father Drew Doughty. Mom and baby girl are doing well. The most important news of the day.
— In case you missed it, Mike Richards joined Paul Bissonnette and Ryan Whitney on the latest Spittin' Chiclets, an early contender for best 40 minutes of a podcast in the 2019-20 season. There are some wonderful stories – in Los Angeles, Philadelphia and internationally – such as his recollection of Drew Doughty arriving shortly before meetings began in advance of the men's hockey gold medal game in 2010.
The mention of Richards made Doughty smile – perhaps it was because of his recollection of a recently unearthed story, and perhaps it was because he heard the name of a teammate he hadn't seen in some time.
"I don't keep in touch with him as much as I would like to," Doughty said of Richards. "He was one of my best buddies on the team when he was here. We'd hang out, and like he talked about the Olympics [on Spittin' Chiclets], me and him were running around together all the time. I wish I talked to him more – maybe a couple times a year, maybe more than that. He's got a fiancé I think he said on [the podcast] yesterday. He's in Toronto a little bit, so once I'm back home we'll probably meet up in Toronto and go to a Jays game or whatever it may be. I wish I talked to him more than I did, but him being in Kenora, and I'm here, it's kind of hard."
— More from Doughty, who was back alongside 18-year-old defenseman Tobias Bjornfot at practice. Expect them to line up alongside each other during the national anthems in Edmonton this Saturday.
"I'm not trying to give him too, too much," Doughty said. "Just trying to keep him positive and remind him of all the little things. If things go wrong on the ice, tell him what we should've done better or what I thought we should've done better. If things go right, remind him of why they went right and what they did well."
It's too early to get a firm sense on what the plan will be for Bjornfot – again, and this is important, he'd lose a year from his ELC and reach free agency one year earlier should he play in more than nine games – and whether he'll return to Djurgardens in the first month of the season. Teams aren't inclined to answer that question as it could affect the play of the parties involved, so for Toby, it's still that day-by-day, practice-by-practice approach and review.
Unless, of course, you ask Doughty, who was practically choosing the carpeting and drapes for Bjornfot's condo. "I've actually been noticing his wristshot's pretty sneaky. I told him on the bench today you're going to be getting a lot of goals this year because I'm going to be feeding you all the time. I've noticed he has a sneaky shot. I also chirped him because his one-timer's not as good as his wristshot. I mean, my one-timers sucked when I was 18, too, so he's got a lot of time to improve it."
There didn't seem to be many preseason low points. More than his activations or ability to draw a Jonathan Marchessault penalty by driving the net in Vegas, he's been poised, calm and stoic. "He's just laid back. Like, it doesn't seem like his heart's beating sometimes. He's laid back, making the right plays. He makes it look pretty easy, too," Doughty said before sharing an evaluation of Bjornfot's more skills that might not be as easily visible from upstairs.
"He skates well, he's got his head up all the time. He's good laterally. He's way better than me laterally. His moves on the blue line are pretty special. He's got good vision. He's not afraid to throw sauce pass over a couple sticks. He's not afraid to go under a stick to make a pass, which a lot of young guys would be scared to do. He's just playing freely and having fun, and I think he's enjoying playing with me, too."
"He's literally dangling guys at the blue line. No 18-year-olds do that. Maybe that Dahlin guy was doing it a bit last year, but no other D was doing that. He's special, and we're really happy to have him."
— I'd been meaning to post this several days ago, but like everything else at this time of the year, it was pushed back for more deadline-specific content. But McLellan was happy with how Jeff Carter has looked, as he shared when asked about standouts beyond the young'uns.
"For me, Carts has had a really good training camp, and I watched some games and I heard a little bit last year about how it was just a tough year for him – coming off the injury, didn't really get rolling – that type of stuff," he said Friday. "For me, he's been pretty impressive in the way he picks things up," he said. "He's got a little bit of a spark to him right now. I hope that carries into the season and he gets feeling really good about himself and plays."
It's part of a larger discussion of Carter, who is expected to see time at both center and wing this season, similar to previous McLellan teams that relied on a number of versatile forwards capable of playing both positions. In this case, Carter is moving around while also learning a new system and syntax, and there are changes to be made – especially without the puck. "Once you have the puck, you play hockey. Right now, a lot of thinking because you're trying to break old habits. They're not 'bad' old habits, just we don't play the same way anymore," Carter said.
He acknowledged that the wings will play a little bit farther off the wall, and from observing practices, centers won't be coming down as low into the zone to receive a breakout pass. This should quicken the team's transition and provide additional options for the puck carrier. "If he's the first guy down low, he's going to play center and I'm going to take wing, so we've been talking about that," said Adrian Kempe, who is expected to open the year between Carter and Ilya Kovalchuk. "To have two of us that are really good skaters I think is pretty good on the line and we can help each other out well and get pucks back easily." Such layering should create a deeper cushion against defenses that will have to respect their speed.
While pure skating has always been one of Carter's strongest assets, he's also turning 35 in January and is coming off a 76-game, 13-goal season. But he showed after returning from his lacerated ankle two years ago that keen intuition and positioning is vastly important as well, and even though he wasn't regularly flinging pucks past goaltenders off high-speed rushes, still scored 13 goals in his final 21 games that season by getting to hard areas and using the simple instincts of a player who has always been a goal scorer.
"Hell, he has it in his toolkit. It's been there before," McLellan said. "He's scored ugly, he's scored pretty, he's scored [off a] shot, he's scored off his ass, he's scored a number of different ways, so it's in the toolkit. He's experienced everything you're going to experience. It's a matter of pulling the tools out and using them again, and thus far I think he's done that."
At practice on Saturday, he strode through the neutral zone and angled his stick to redirect a net-bound puck past the goaltender for a goal that elicited a larger celebration around him than the typical practice goal. It was a goal associated with Dustin Brown, perhaps, but was another reminder that goal scorers score goals in many different ways.
"I think coming back from an injury of that severity you need people to pull you along, too. The team wasn't pulling anybody along, and so he kind of got stuck. The train wasn't moving very fast, and he got stuck in that," McLellan said. "I'm talking about how fast they play, but if the team had a positivity around it and it was motoring along – wins, and every now and again, lose – I think he would've been better because you've got to pull that injury through, where last year that didn't get happen. He kind of got stuck with the team, and it's hard to recover that way. Hopefully this year everything's fresh, and it doesn't mean we're going to fly through the league by any means. We know we'll have some tough nights, but he's starting with everybody now, and let's move the train forward together."
Jeff Carter, on the challenges and breakthroughs in training camp:
I think the forecheck at the start of camp was not a 'concern,' but it was just guys getting back to old habits. Myself, I was playing center, I remember the first preseason game, I was over the centerman, the D skates up the wall, I jump him at the red line. The puck goes to the middle, and the guy rips it. … That's our old system, because you already have that D back. I don't know that there's really one part of the system. We all started from Page 1. We all had to learn it, but it's come together.
Carter, on whether the wingers will move off the wall on breakouts:
Depends on the play, but clean breakout, come off the wall. More options, other D doesn't have to just come down the wall. Better options, opens up the ice a bit, makes it harder on D.
Carter, on playing aggressively:
It's aggressive, the forecheck, the neutral zone and stuff like that. But on the other side, if they have complete control of the puck and they're staring in our eyes, it's 'all right, let's get into our system here,' and if you take away all their options, you're getting the puck back. But everybody has to be on the same page, or else you're screwed.
Photos, courtesy Jon Bradley (follow Jon on Instagram here):