Box Score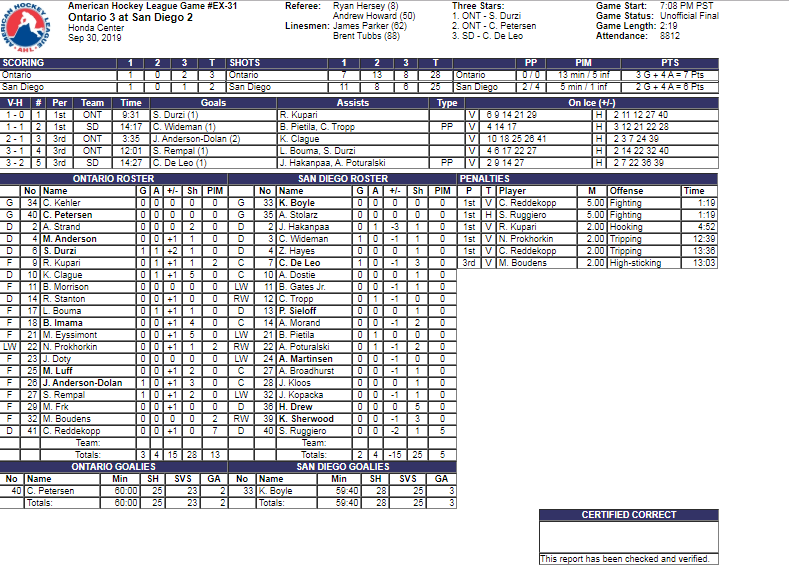 Post-Game Quotes –
Jaret Anderson-Dolan

Boko Imama on creating chances tonight and playing in the offensive zone
I think, playing physical is the main part of my game but when I have some open ice, I need to make stuff happen too. Sometimes, my physicality creates space for my teammates, I like to make space for them too by making plays.
On his line with Luff and Anderson-Dolan and if they clicked
Yeah, for sure. It eases it up for me. Let's say I go in the corner, I finish my hit, I know those guys want to have the puck so they're quick to support and I think it created a lot of offensive zone time.
On the Reign's forecheck tonight
We had a lot of time, practicing the new systems, the new forecheck and I think tonight, the result was there.
On if this season is a fresh start for him
For sure. Every season is a fresh start. Going down to Manchester, it put an even bigger chip on my shoulder and now I'm ready to play here, to stay here and to be effective here.
Mike Stothers on the Reign forecheck and creating turnovers in the offensive zone
Once we got on the hunt, we were pretty good and we actually spent a lot of time in their end. [The forecheck] created chances for us, it did exactly what it was supposed to do. The first period, you'd have to give the territorial edge to them and then in the second, I thought it was the reverse and it all started with getting pucks in deep and getting on it. I think the result was we might have worn them down a bit.
On Imama's play and his line with Luff and Anderson-Dolan
We were talking about it as a coaching staff, that might've been the best game that we've seen Boko play. He was a big part of being that disruptive force on the forecheck. He's kind of built to be the F1, get in there and separate men from the puck and he did a good job and he was a good fit on that line. You know what, good on Boko, he's worked hard.
On Cal Petersen's play as the last line of defense when things broke down leading to odd-man rushes
As good as I thought everybody was, Cal was the difference, he played that well for us. He comes up with the saves when he needs to. There's always going to be some breakdowns during a hockey game, no matter how well you think you're playing, and he is that last line of defense. With a young defensive core in front of him, it gives them a little bit of confidence to know that "hey, I might've messed up but Cal's there to bail me out". I thought he was terrific tonight.