One thing is for certain with regards to the leadership core of the Ontario Reign – Brett Sutter will wear the "C".
"It's a no brainer with Sutts, he's the best captain in the league, so that's easy," Reign Head Coach Mike Stothers said.
Beyond that, however, is up in the air.
Both of last season's assistant captains, Matt Moulson and Sam Herr, have moved on during the offseason. Two other members of the Reign's six-man leadership group from last season, Matt Roy and Kurtis MacDermid, are still up in the NHL with the Kings, leaving just Sutter and goaltender Cal Petersen remaining from that leadership group on the current Reign roster.
"One thing that we're fortunate enough to not have to worry about, we've got one of the best captains that's ever been a captain in the game of hockey," Stothers said. "Now, we've got to find that supporting cast, whether it be Cal Petersen, last year he was a big part of our leadership group."
Petersen's case is an interesting one, because of the position he plays. The AHL rulebook (Section 2, Rule 6 specifically!) states that "no goalkeeper shall be permitted to act as Captain or Alternate Captain."
"He doesn't wear a letter, because he's a goaltender, but he fits the bill in that regard," Stothers said, though he added that "probably if I could put a letter on Cal I would."
Petersen's case is especially interesting, because he wore the "C" on his sweater during his final season of collegiate hockey at Notre Dame.
"It was a huge honor, first of all," Petersen said of wearing the "C" at Notre Dame. "It was just kind of something that came up, I was asked if I was comfortable being in that position. I think the biggest thing when you have a goalie in that position is that you can't be the one that's always helping out with captain stuff on the ice. I think it takes a collective group for that to work out and luckily it did for me. Like I said, it was a huge honor and I think it's more so carrying yourself the right way and knowing that people are looking up to you and following your lead."
Stothers mentioned Petersen multiple times as someone who, as long as he is with Ontario, will be a big part of the leadership team, regardless of whether or not he has a letter on his jersey. Petersen, in turn, said that he sees a big opportunity for himself to grow as a leader and lend some of his experience in the same way that others did for him as a rookie, one positive of being in the AHL with the Reign.
Petersen pointed out the obvious logistical issues with a goaltender wearing a letter, in that it isn't practical to perform some of the duties that go along with the honor, such as talking to officials during the game. While that part of the gig isn't practical, he still feels like goaltenders can have a huge presence in the dressing room, and pointed to his NHL counterpart, Jonathan Quick, as a prime example.
"If goalies were allowed to do it, I'm sure he would have a letter as well," Petersen said of Quick.
The now third-year netminder also added that the goaltender position, in general, has an "aura" to it that serves to provide natural leadership. Although the position isn't always the most vocal, it comes with the territory to provide a leadership element in one way or another.
"I think just, based on the position, you're on the ice at all times and I think there's a natural leadership position that comes with being the last line of defense," Petersen said. "I think it's more so just trying to be the hardest working guy on the ice and helping guys out when you get the chance, just being there for everybody."
So, if not Petersen, then who?
Two veteran names come to mind first in defenseman Ryan Stanton and forward Lance Bouma, who is currently in camp with the Reign on a PTO.
Stanton will look to provide the same veteran presence to a young Reign blueline as he did a season ago with the Pacific Division champion Bakersfield Condors. With what could figure to be a very young backend, consisting of first and second year defensemen, outside of Stanton, his presence could be crucial in guiding that unit.
"He did a real nice job with a young defense core in Bakersfield, about being a steady and reliable, calming influence on those guys, so big expectations from him," Stothers said of the veteran blueliner.
While Bouma is still fighting for a roster spot, having signed a PTO at the start of camp, his presence would do similar things with the forwards. Outside of Sutter, only Martin Frk has more than two seasons of AHL/NHL experience under their belt. Bouma plays a hard-working, gritty style with the skill to match and, if he returns to form after a serious knee injury last season in Switzerland, could be a huge add for the Reign up front.
Stothers mentioned Bouma twice as a possibility for someone who could wear a letter… "he's got some great experience that might be a guy who could be counted on", but also noted that he's still on a PTO so that's something that still needs to be sorted out.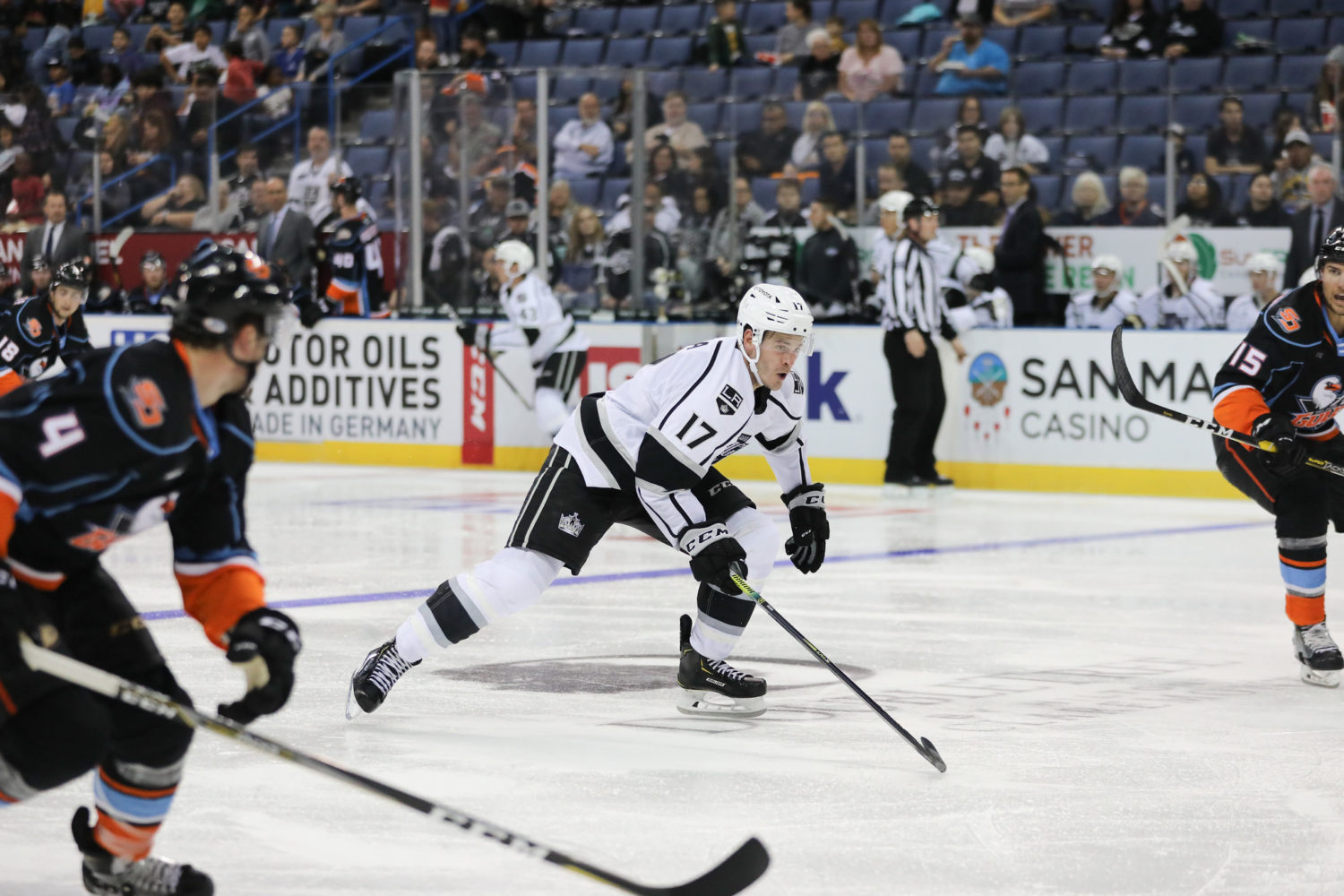 Stothers also indicated that he intends to keep that group of six, or so, as a leadership core, which extends past those that wear letters and alluded that Sutter is someone who is involved in the conversations of helping to select that group, to an extent.
"We have conversations, but at the end of the day, it shows through to the coaches who those guys are that are willing to take that role and take that next step in their development," Sutter said. "If he asks me for my input, I'll give it to him, but I think the coaches have a pretty good read on personalities and who those guys are in the room."
The Reign bench boss appreciates Sutter's point of view, especially that he will always give an honest evaluation of what he thinks.
"Sutts is a big part of it, I have a great relationship with him," Stothers said. "I feel comfortable saying 'what do you think, is he a good fit or am I reading things wrong'. He's like Darryl, he's as honest as they come, so you're not going to get sugarcoated there."
As far as who else might make up that final group of six, veteran players like Frk, or perhaps one of the two on waivers today, Mario Kempe or Paul LaDue, bring experience if they wind up assigned to Ontario. Additionally, a player now in his second or third season could take the next step in his development and take on more of a leadership role, as Petersen and defenseman Matt Roy did last season.
"I think all of them have taken a step, to be honest with you," Sutter said. "You watch them in their preparation, their every-day routines. They're getting to the rink earlier, they're working harder while they're here, they're more prepared. I think all of those second and third year guys have taken a step. In years past, I thought Royzie in his second year, he took a big step and he was a really good leader for us, and you see where that took him. I think other guys are probably following in that same footprint."
Stothers left the door open on his end that one of those players could step into that role, and singled out forward Mikey Eyssimont as a player that made it clear he put in the necessary work over the summer to build off of his rookie season.
"I'm not saying that Eyssimont is going to be an assistant captain, but man, he put some time in this summer," Stothers said. "He came back and wanted to improve on that first year and for me, that tells me things about him and about his character."
However it shakes out, Stothers doesn't anticipate it dragging out longer than Friday's regular-season opener, though he did indicate that he could implement a letter rotation until things clear themselves up a bit. One thing, however, is clear about the process as Stothers ended with his trademark wit.
"By no means will it be as big as naming the captain in Toronto!"