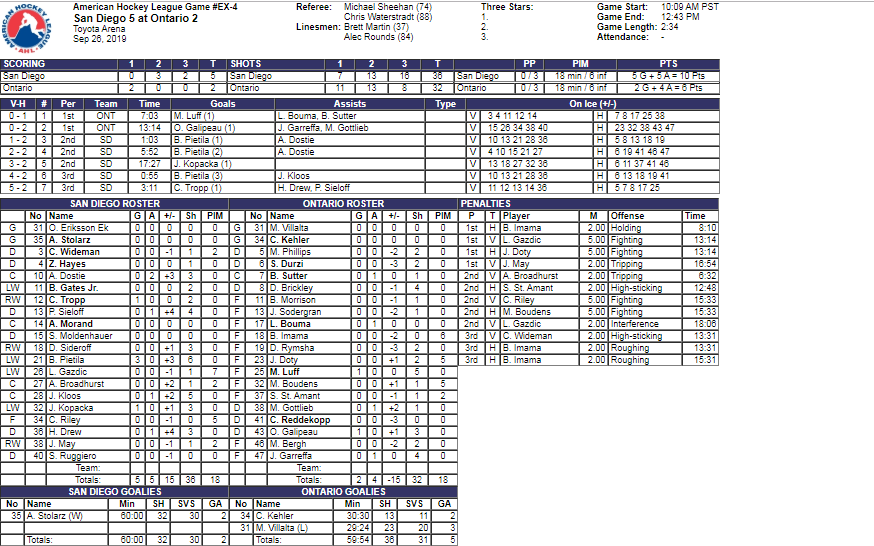 Post-Game Quotes
Markus Phillips on what differed from the first period to the latter two
Yeah, we got a little away from the gameplan there, but overall I thought the structure was there, just a couple of mental errors that cost us a few goals.
On how Stutts held it together on the bench in the school-day game
It was good….it was pretty loud in there at some points, especially when the Fortnite dances were going. Overall, it was good, it was a good first game, first game action for a lot of the guys. [Reporter: Was it Fortnite that got you dancing, or the Spongebob theme?] No, it was the Fortnite that's for sure, and I was singing along to the Frozen song too.
On playing the early-morning game
Obviously it's good, it's getting into a routine, getting the know the facility and whatnot. You look at the fan support today, just for a 10 AM exhibition game, it was pretty awesome.
On his adjustments from the juniors game to the pro game, so far
Overall, I think because I can skate, the pace wasn't a factor. Just getting used to boxing out the bigger, stronger guys and whatnot. Overall, I thought it was a good adjustment for me and the pace is only going to go up from here.
Mike Stothers on whether he looks forward to the school day game or if he dreads it
I never dread when we're playing, I think it's fun. 10 o'clock is right in my wheelhouse, I'm an early riser, so I think that's good. The kids are here, they're loud, they're excited so I think that's a positive for them. It seems like we've been having training camp now for an eternity and now we have some kind of semblance of what we're going to have and get a chance for these kids to play, some of them have't played any exhibition games at all and it's been a long time. The end result, yeah you like to win, but more importantly we just want to see these guys play. I think it was good for them and I think it was good for them to see this facility. The comments from the kids were "my god this place is amazing" and it is. When you look at it, I think we've got the best place in the American Hockey League. It's great for them, they're wide-eyed, they're probably nervous and I thought it was great.
On putting together today's roster, balancing rest for guys who played more in NHL preseason versus guys who need a look in Reign camp
Well, we brought 4-5 guys in who I knew nothing about, so we really wanted to see them in game action. Then, you're right, you look at it and Remp played a game and Mikey played a game or two and we don't necessarily need to see them, plus they're returning players. Basically for Sutter, I just asked him which game he preferred to play and I felt it was important, and he agreed, that the captain representing the team should play the home game. Bouma, a veteran guy, we've got to make a decision on, so it was nice to see him. Basically, you just fill in the fill in the pieces with the rest of them. Claguer's played some games so he didn't need to play today. It was good. It was good to see Markus get some game action, good to see Durzi again and get them a little taste of the rivalry with San Diego, which I think will be exciting once again, it never disappoints.