Everyone's had a first day at a new job.
You're gung-ho to get started, but it can still be intimidating to go into a new work environment where most people already know each other and you're the new guy in town.
The same can be said for a first-year professional hockey player on an AHL team. The returners are already well intertwined and you're just trying not to rub anyone the wrong way at first. There's certainly a level of that first day of school feeling there.
"Last year, you come in and you don't know anybody and you're nervous every day for the first little bit of the season, so it's nice to have that done already," now second-year forward Sheldon Rempal said.
Most rookies come to the Reign from either the collegiate or juniors ranks, where not only are you familiar with your surroundings, but you're also playing strictly with your peers. Moving into the professional ranks, when veteran players can dominate not only on the ice, but in the locker room as well, and the culture changes quickly.
"You're not used to the older guys really, because juniors is just [ages] 16-20," defenseman Austin Strand said. "Here we had Budaj, Moulson, Sutts last year. Older guys, you're not used to it but year two comes around, you kind of know what to expect and you know some of those guys also. Everyone's on the same mission, which is good and everyone just loves to be with the boys. You get to understand that and relax a little."
It can take a bit of time for younger players to adjust. Most have come from a situation where they're one of, if not the best player on the ice on their respective team.
"They graduated from junior or they've come out of college and they probably think they're going to take the world by storm and they realize almost immediately that the American Hockey League is a hard, hard league to play in and there's a lot of good hockey players there," Reign Head Coach Mike Stothers said.
Stothers added that it's unusual for a rookie to come in right away and dominate, especially a defenseman, who he says "take a little bit longer to develop, mature and get their feet comfortably underneath them."
The Reign have a large base of second-year players, including Rempal and Strand, many of whom made impressions as rookies, some in spurts and some more consistently. It was, however, for all a big step up for younger players graduating to the AHL ranks.
Rempal was perhaps the Reign's most dangerous scoring threat in the first half of last season, being named as the AHL's Rookie of the Month in November and as an AHL All-Star, but saw a drop off in the second half of the season.
Strand and a fellow second-year blueliner, Kale Clague, saw steady progression throughout the season, starting perhaps slower than expected but playing their best hockey down the stretch. The Reign had eight rookies a season ago – a group that also included Daniel Brickley (who played NHL games last season), Chaz Reddekopp, Brad Morrison, Drake Rymsha that saw extensive time with the team, as well as Carl Grundstrom, who joined midseason.
The training for these players begins in the summer and for many, while they think they may be putting in the necessary work, they don't really know what is required to adequately train for the professional level. This is something that gets surfaced pretty quickly during training camp.
"They come to their first NHL training camp and a lot of times they underwhelm because of nerves and expectations," Stothers said. "Quite frankly, they're under the impression that they're working hard in the summer, but they have no idea what it's like to train and compete against pros, so you can see they've got some catching up to do, whether it's speed or strength."
Strand noted that he reverted his training style back to more of what he did the summer before his overage junior season, where he felt things blew up, in a good way, for him as a player.
"I was doing more two-a-days and going a lot harder," he noted. "I think it's a pretty big year."
For Rempal, he spoke candidly during last season's exit interviews about hitting the "college wall."
Rempal was one of the AHL's most dynamic rookie scorers in the first half of the season, but saw his pace and production cool down the stretch. One of the big focuses over the summer for the Clarkson product was to cater his training style around staying consistent over a full 68 (or 82) game season.
"When I went back, that was the main focus with my trainer," Rempal said. "We sat down and just talked about some things that we can work on throughout the summer and as well through the season. I think nutrition's going to be huge for me this year."
The success of the 2019-20 Reign, which is minus several veteran players from last season, would be bolstered by the ability of second-year players to take the step from rookie to veteran. With these second-year players currently taking up a large chunk of spots on the Ontario roster, the opportunity is there and Clague believes he's in a much better position now than he was a season ago.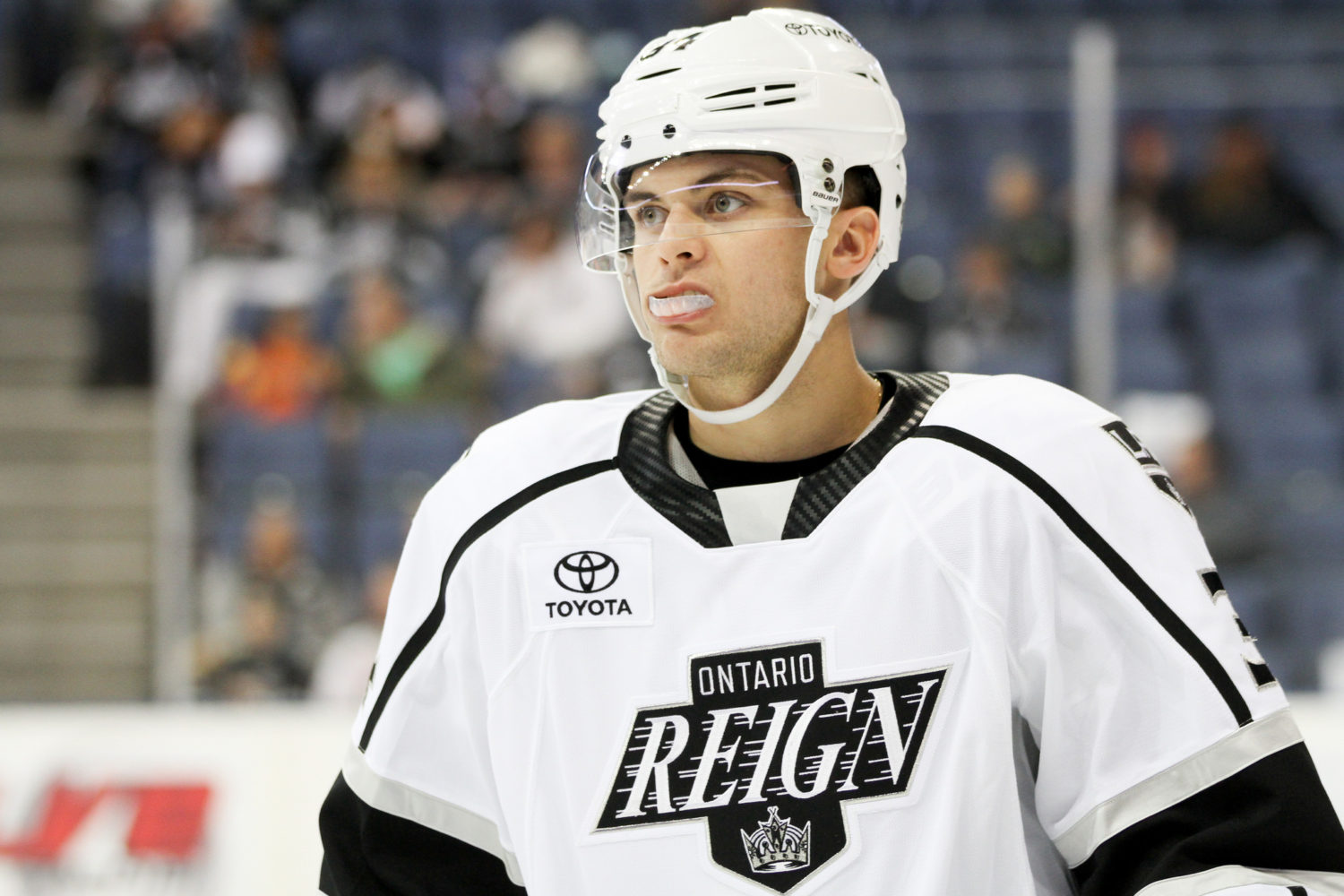 "I think I'm much better," the blueliner said of where he's at now as opposed to camp last season. "I think if you were to watch a couple of my games from last year, at the start of the season, you'd see some scenarios where I wasn't really getting first to pucks and I wasn't breaking them out. I think, over the [NHL preseason], I think it's only going to get better from here."
Clague feels that he's done a better job of getting to pucks first in his own end, getting his feet up ice and making strong outlet passes, characteristics of a puck-moving defenseman. While Clague focused more on his on-ice development, it's as much about evolving as a professional as it is about skills alone.
"Becoming a professional" is an ambiguous phrase. It gets thrown around a lot, but is there really a definition? For Eyssimont, he looked towards those that have already gone through what he did for inspiration.
"Yeah, that group we had last year was, I think, really big for me, helping me to get better last year," the St. Cloud State product said during rookie camp. "I don't think the year would have been the same without guys like Brett Sutter, Jamie Devane, Matt Moulson, Sam Herr. "It's definitely helping, coming into camp, what I learned from them last year."
Strand echoed Eyssimont's sentiments and pointed to veteran players from last season as people to look at for experience.
"Learning from the guys last year, pretty big time," Strand said. "Seeing [Kurtis MacDermid] and some of those older guys like Sutts, how hard he works every day and learning from the intensity I think was one of the biggest things I needed to pick up on."
Stothers and the Reign coaching staff are expecting growth from their second-year pros in all aspects of the game. Not only will this collection of players be expected to make jumps on the ice, but also as more of a presence in the locker room, to pass along the lessons that they learned as rookies to the incoming class.
"We're trying to be a patient group and we'll get them acclimated, but those guys that are returning, certainly we're expecting some big improvements," Stothers said. "Now, we're expecting them to also be the leaders for the guys that are in the positions that they were in last year and help them along."