Mike Amadio on taking his style of play from the AHL and translating it to the NHL
I think so. I think it's just playing my game out there. I had two great linemates to play with tonight, that made it a little bit easier for me. Going forward, it's good for my confidence to be able to play like that.
On the role of confidence in his game
I think it's a pretty big thing. You don't want to get too down on yourself when you're not doing so well, you don't want to get too high when you're doing well. You just try to find that balance and just try to bring the same game every night.
On both goals coming off a snapshot, and utilizing more of a shoot-first mentality
I think I've always been a pass first kind of player, so I'm trying to, when I get my looks, shoot the puck.
On if the systems are starting to come a little bit easier
I think so, yeah. A lot of the guys are getting used to it now, we're getting pretty good at it. There's still some minor tweaks we can be better at, but I thought we were pretty good tonight.
On the power play's performance, and his comfort level on the half-wall on the PP
I thought we could have had better execution at times, but I thought our power play was good. I'm pretty comfortable on that flank and it was a nice seam pass from Juice there and Carts had a nice screen in front, which made it easy for me.
Todd McLellan on what he's adjusted on the power-play and what he saw from that unit
We've only adjusted a few little things. We've tried to work on it with units in practice right now, find familiarity. A lot of it's terminology, a little bit of it's positioning. Quite frankly, just getting the guys to shoot the puck has been an issue and tonight they started to shoot a little bit more. I thought we had some good retrievals. It's still a work in progress, we've got a long way to go.
On what other systems the team has worked on and how he's felt the team has adapted
We've been working on a full game and there's still a lot to do. The players are picking up some concepts. You can still spot mistakes when there's indecision, we give up the odd-man one which we shouldn't be giving up, but we've still got to adjust. Forecheck, neutral-zone play, beginning to bring in faceoff structure, that type of stuff. We've got a lot of work to do and a few days to do it in.
On he and the team shaking off some rust from preseason Game 1 to now
I think it's starting to come. The last thing I see right now is the game management part. We're making some summer hockey mistakes at certain critical parts in the game and we can fix that quickly. We won't give up as much and we'll be a harder team to play against as the game goes on.
On if he liked what he saw in Amadio's game, including his two snapshot goals
I did. It was the first time for me to see Mads play, he went on the road, I wasn't on that trip. I thought he had a big impact on the game. He looks like he's a very intelligent player, he understands the game, the flow of it. As you mentioned, he used his shot to his credit. [Reporter: He was a very productive player in the AHL with Ontario, do you see a guy who has taken some strides to be able to do that in the NHL?] Again, I don't know his past real well. I obviously know numbers, but I haven't seen his evolution or his development, but from what I've seen here I think he's obviously an NHL player. I think he has the ability to produce. We're going to push him to do that and if he keeps applying himself the way he has to this point in camp I'm sure he'll have a good year.
On if he was happy with the way his team responded to a challenging travel day
I was. It is a tough day. We're eight or nine days into camp and our first day off is tomorrow. We skated this morning and traveled, there's some tired fellas on the team right now. For them to come out and put an honest effort in, find a way to win it's important for our team.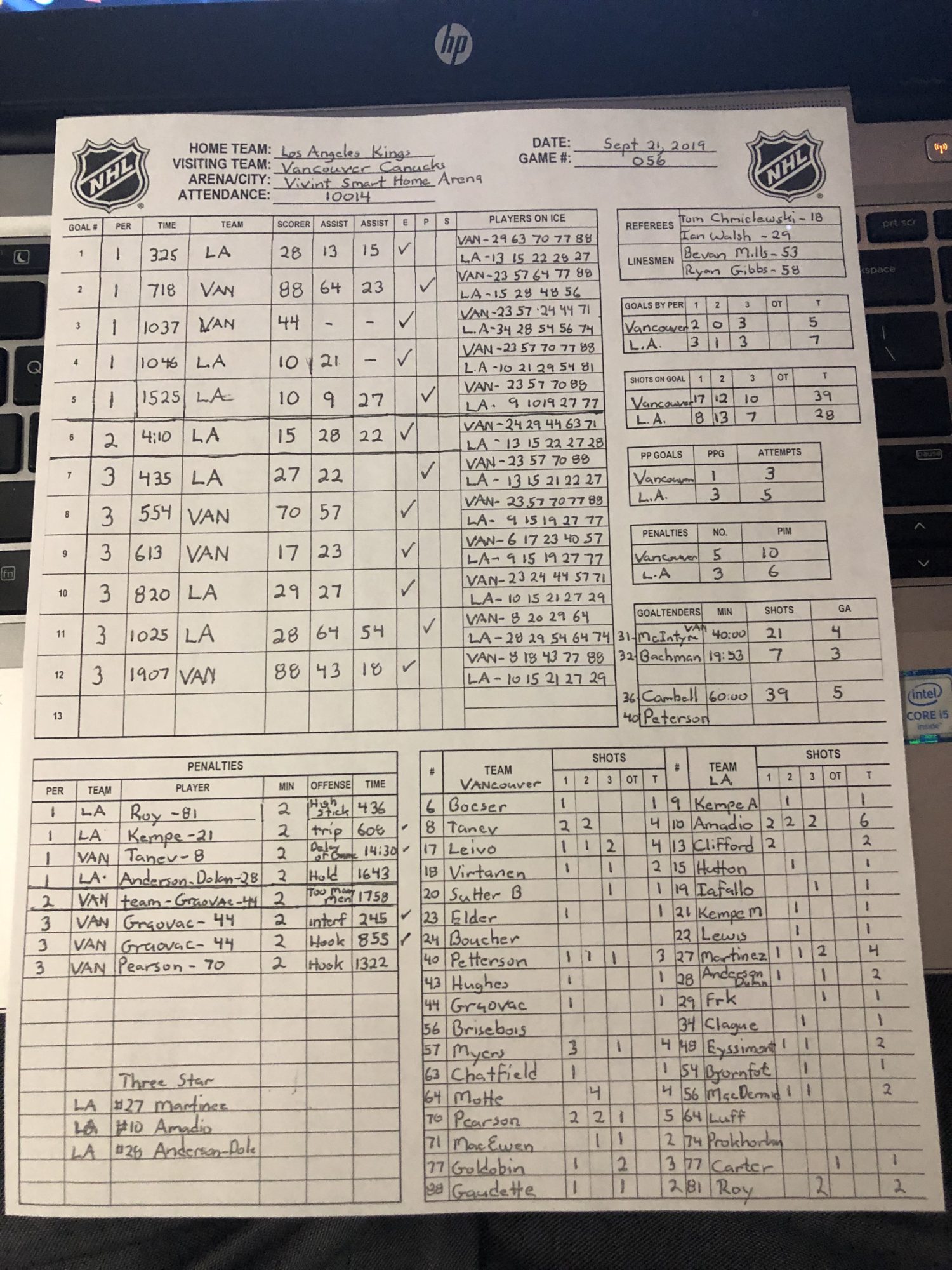 A handwritten boxscore! In 2019!