INSIDERS. A fine Monday evening to you and yours. Notes from the fourth day of training camp:
— The practice groups have remained constant minus some shuffling on the periphery, but they won't be indicators of tomorrow's game groups. Todd McLellan said after today's sessions that the two groups will be mixed and matched and that he'd remain at home with Marco Sturm as Trent Yawney and Mike Stothers head to Glendale. "We'll split up the rest of the staff so everybody gets a fair viewing by both NHL and American League staffs," said McLellan, who said that the plan will be to split goaltenders in the two games. Jonathan Quick, Jack Campbell, Cal Petersen and Matt Villalta have been the four goalies assigned to the two main camp groups, though Cole Kehler has also rotated in as needed.
There was ample teaching once again, and after structural breakouts and continual systems implementation, the ice was cut, and the players returned to run special teams detail. It's the first split squad game in advance of early cuts, so power play units were simply grouped by line and pairing.
Robyn Regehr has seen a ton of power play time so far this preseason, but will that continue in October? My blog:

— Jon Rosen (@lakingsinsider) September 23, 2014
Nick and Darryl will handle the play by play in at Staples Center, which can be heard on the LA Kings Audio Network. Likewise, Bob Heethuis and Paul Bisonnette will broadcast the Gila River Arena game, which can be streamed from Southern California on Arizona's I Heart Radio station.
— There was an interesting exchange between McLellan and Patrick O'Neal, who was asked whether McLellan will rely on more familiar groupings – Kopitar/Brown, Carter/Toffoli, Clifford/Lewis – when he ultimately looks to build the line's he'll take into the regular season.
"The familiarity is comfort right now for the players, and I look at a couple Stanley Cups every time I walk in here, and those players were familiar with each other, they played with each other," McLellan answered. "But that was a long time ago. Familiarity hasn't necessarily produced winning results. But, right now throughout training camp we're going to try to put concepts in place. I think I'd like them together. If they perform well, they'll stay together. If they don't, we'll find new combinations until we get enough to be pleased."
I'm not expecting cuts until after Tuesday's split-squad games. There will be an additional round in advance of Ontario opening camp next Monday, which will leave a final group of players battling to be named to the opening night roster, which is due October 1.
"The actual final roster spots where we sit down and we start talking to players about their lifelines, how much lifeline they've used up, how much they have left, will happen later on," McLellan said.
Keep in mind that the Kings will have the second waiver claim between when the wire opens on September 20 through October 31.
A handy guide of important dates, courtesy of Cap Friendly: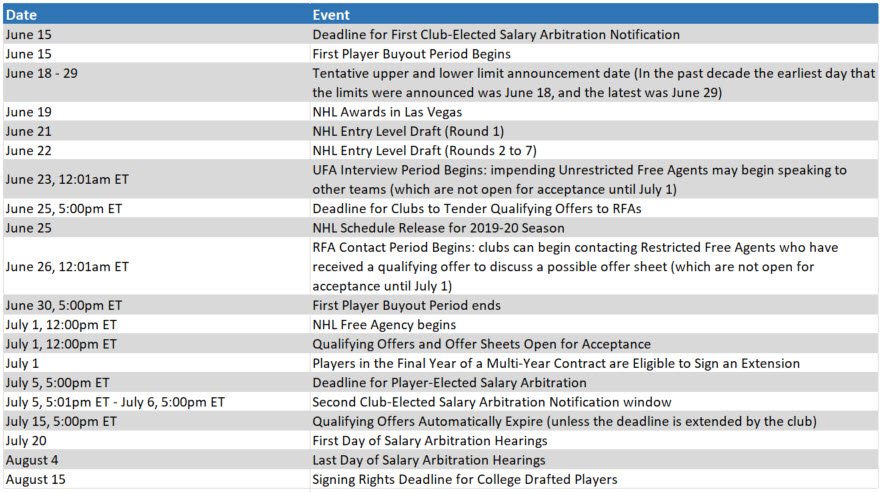 — I'm excited to get to know Nikolai Prokhorkin, who hasn't been seen around these parts since leaving Los Angeles for Manchester (and then Manchester for Moscow) in the fall of 2012.
We didn't have a ton of time to speak today, and the center who turns 26 on Tuesday is fluent in English, but not quite yet at the Hey Let's Ask You Rapid Fire Questions stage. But he did update us with the pronunciation of his name.
Pronunciation of Prokhorkin is closer to pro-HORR-kin than pro-KORR-kin. Like the Hebrew "ch."

— Jon Rosen (@lakingsinsider) September 16, 2019
Ilya Kovalchuk was Prokhorkin's teammate at SKA for three years and a teammate of his at the PyeongChang Games, where they both scored twice in a 4-0 dismantling of the United States. While Prokhorkin played a role on OAR's third line in that tournament and demonstrated a good firmness and willingness to work that perhaps signaled a skill set that could apply well to the NHL, he's also coming off a season in which he and New Jersey's Nikita Gusev were the only two players under 27 who averaged better than a point a game.
"Actually, I think his skill is very underrated. He sees the ice really well," Kovalchuk said. "Sometimes he's a little inconsistent, but I think he worked really hard this summer, and he looks way, way better – in better shape than he used to, so it's good."
Along with Gusev, and Vladislav Gavrikov, who was 22 when he won gold as a top-pairing defender and will join a talented Columbus defense this year, Prokhorkin is part of an intriguing crop of emerging Russian players to make the North American jump.
"He's a really top talent, obviously," Kovalchuk said. "It's the reason why he signed here, and I think he's showed that he can play at this level. To me, he looks really good during the camp, so hopefully he'll do well in the exhibition and have a chance to play in the regular game."
Todd McLellan, on Nikolai Prokhorkin vying to earn an NHL role:
Well, they all want to do that. It doesn't matter what league you come from. We've got kids that just turned 18 that are trying to do that. Prokhorkin is in that situation where he's competing against them. The edge that he has is that he's been here before. He was that young player that came in and was maybe overwhelmed at times. Went to the minors, ended up going home and worked on his game. Pretty evident he had really good years over there and has grown as a player, and we hope now that the language barrier, the maturity factor all come in to play on the positive side so that he can compete for a job, and thus far, I think he's done a pretty admirable job. Anything that he's confused about or not sure, he's asking questions, wants to see more video, and I can only assume that probably didn't happen the first time through because he didn't have the courage to ask for that. But as you get a little older, you're willing to do that more.
McLellan, on how he familiarized himself with Prokhorkin, and whether he relied on video:
Actually, not much. He was one of those guys that I didn't want to know a lot about him. I wanted to find out once he got here and formulate my own opinion. I was aware of his background, I knew where he played, I knew the type of year that he had. But since then, our opinion of him has been formed over the last four days and those days were important. But the big days coming up now are the games and what we get out of playing against the opposition.
— McLellan's impression on Matt Luff seemed to be in concert with Luff's own self-evaluation and focus. He commended the young winger's ability to position himself well to shoot and generate good velocity and accuracy, "but there's more to the game than just firing away, and I think he can use his size and his pace to create time and space for other players. Again, he'll be in that same boat where not only is he battling and fighting to get a roster spot, but to be on the fourth line isn't something that anybody should be happy with. They should want to be on that third or second line and I think he has the skill and talent to do it, but we've got to wait for it to come out now in the games."
— Joakim Ryan called himself a "two-way, puck-moving defenseman," and as someone who previously skated alongside Brent Burns, he appears set to line up for some minutes to the left of Drew Doughty.
"I like to get back quick and breakout of the zone efficiently and jump up into the rush when the opportunity presents itself. I like to use my feet, my skating and having a good stick to my advantage," he said. The 5-foot-11, 185-pound Garden Stater hails from Rumson, New Jersey, which isn't too far of a drive down the Garden State Parkway from New York and is situated at the north end of the Jersey Shore, much farther north than the Ventnor and Sea Isle homes of Justin Williams and John Stevens.
Before he was selected in the seventh round in 2012, he played four seasons at Cornell, and anyone who's experienced the atmosphere at Lynah Rink probably understand his "no-brainer" decision.
"I always wanted to go to college, I never even really considered the OHL or anything like that," he said. "I went on a few visits to Cornell before committing there and I just fell in love with the place. The atmosphere at the home games there is second to none, I just loved my time there."
It's not easy to balance school and athletics at an Ivy League school, and Ryan acknowledged the difficulties many students face as freshmen.
"Obviously if you're going to be a biology major, it's going to be super tough. I was just a communications major, just tried to take the easiest classes I could and get that degree," he said, sharing a laugh with several reporters.
The last Cornell grad to play for L.A. was Ben Scrivens, who enrolled in the university's renowned School of Hotel Administration.
"Actually, I wanted to go into that school, but when I was applying, I applied there and the coach – I was playing in the USHL at the time – he said I would have to go on campus to do an in-person interview. So, he was like, 'just switch to communications, it will be a lot easier to get in, and then once you're in, you can try to transfer if you want.' I took a couple classes in the hotel school, it didn't go too well for me, so I just stayed with communications."
We'll continue to speak with Ryan as camp progresses, but obviously there's the one question to get out of the way – is it strange to go from San Jose, an arch-rival, to Doughty's potential defensive partner?
"I mean, obviously San Jose and LA have had a rivalry, back when they were playing each other in the playoffs all the time," he said. "… It was just the best opportunity for me. It's a business. When I was deciding this summer, it wasn't like 'oh I'm not going to go to LA because they're a rival of the Sharks,' I didn't look at it as that. I'm really happy I'm here, I think I made the right decision and I love it down here."
PARTNER
A play in one act

INT. LA DRESSING ROOM – POST SKATE

ALEC, 32, sits in his gitch at a stall beside his D-partner, MATT, 24. JON, 38, rogue and handsome, enters with a notebook and recorder intending to ask Alec questions about the CBA — and MATT'S mysterious pseudonym. pic.twitter.com/nVT10lO2Z7

— Jon Rosen (@lakingsinsider) September 16, 2019
Photos, courtesy of Jon Bradley (follow Jon on Instagram here):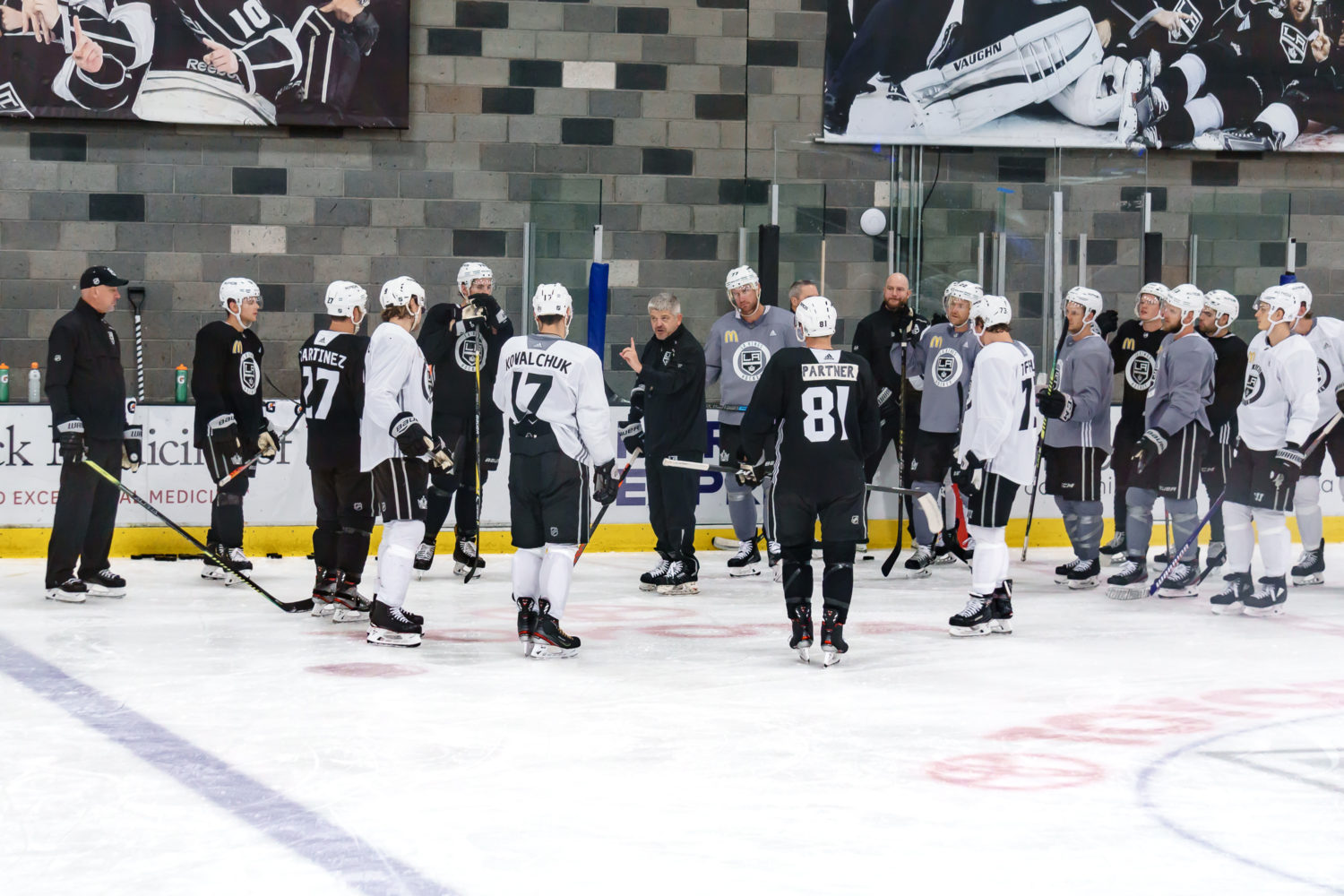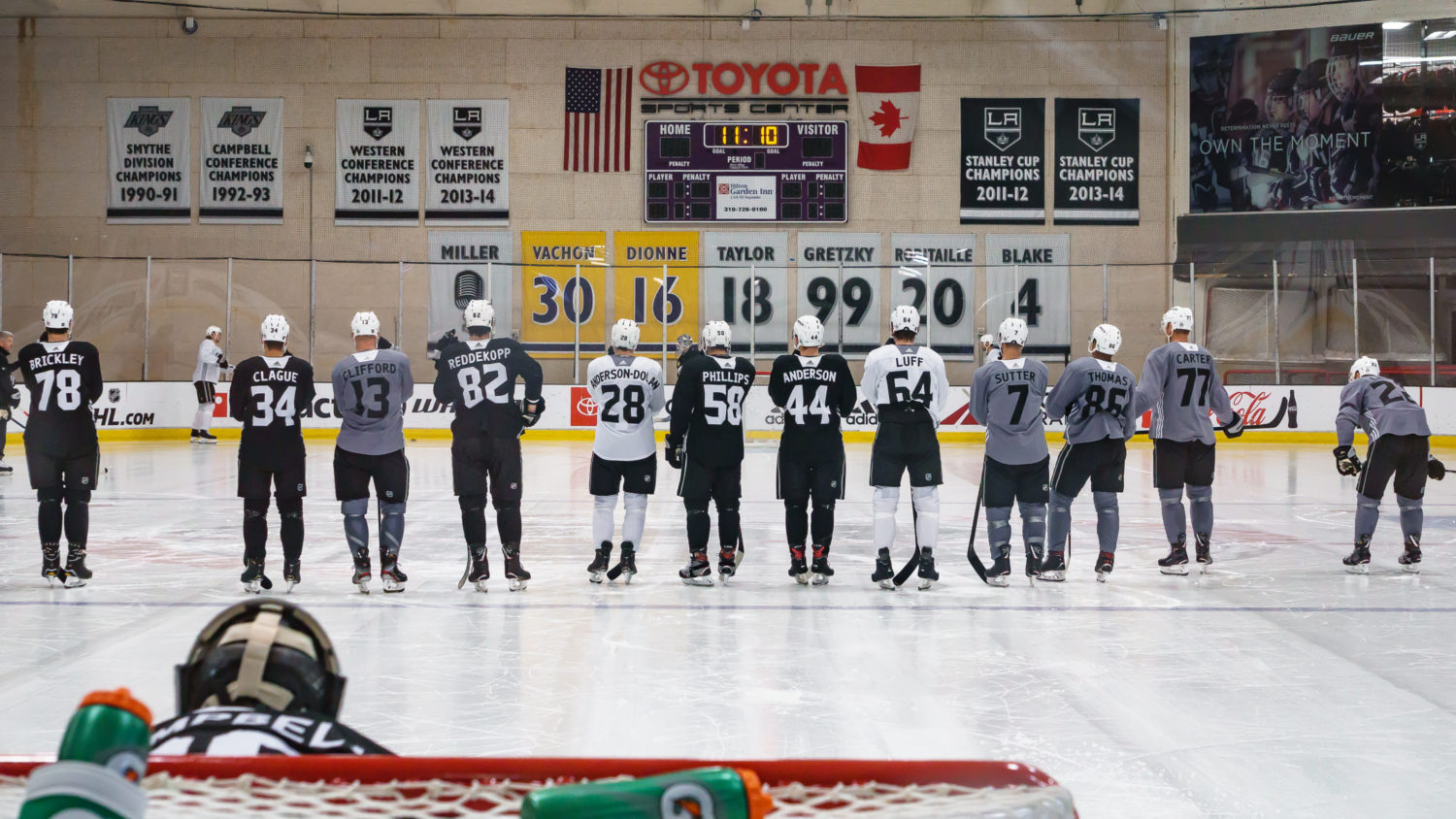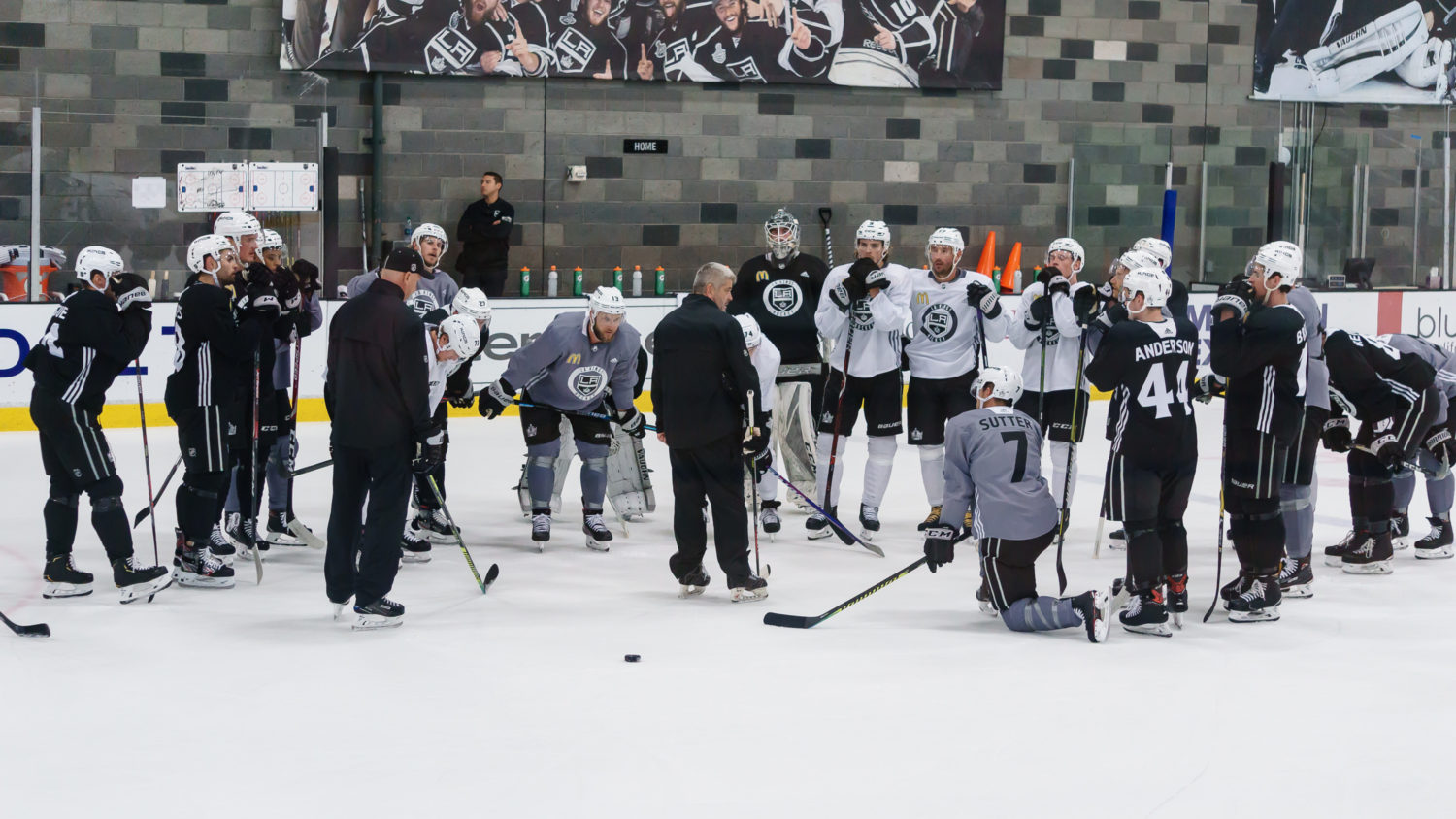 — Alex (@Tomxhanks) September 16, 2019