Todd McLellan, on scrimmages coming so early into training camp:
Well, the scrimmages came second for one group. We had a day that was loaded with structure, and then one group had their opportunity to apply it in the game. The second group, because of the way the day is set up, got their structure second. But we covered all the bases. We got to establish some parameters for what practice was going to be like, the players learned and understood how I would behave on the ice, what my mannerisms were, I got to begin to discover how they were going to carry themselves. I thought we had some pace and structure, we implemented some pace in practice and we implemented some structure, and then we got to scrimmage. For me, the scrimmaging was the most difficult. I don't know how you watch two teams play, so you kind of pick a few guys and you watch 'em perform and then you begin to evaluate from there.
McLellan, on what success will look like this season:
Growth. And that comes from players that have been here for 15, 16 years, all the way down to the guys that have been here for 15 or 16 hours. Everyone has to improve in every facet of the game. I think I've said this before. Old dogs have to learn new tricks, and the new dogs have to be prepared and open to absorb and be professional. Day one, we had that. It's going to take some time. The mistakes that were made today were great teaching moments. I think that's a great way to stop practice – to teach positioning and thought process behind why we're doing it. I thought we got a lot out of it.
McLellan, on whether he envisions a Ryan-Doughty defensive pairing with Derek Forbort injured:
You know what? For me, it's day one and tomorrow it could be completely different. We just need a starting point. Those two haven't played obviously together, but they have NHL experience. You look at lefties and righties, you look at the confidence level in both of them, they feel like they belong here, they're not overanxious with a new coach or anything like that. We thought we would put them together and see what we'd get. I'm sure we'll go a little while longer, and then maybe they find new partners until we find what we're looking for.
McLellan, on whether he had to reinforce standards, or whether he assumes the players understand:
No, we didn't assume anything. What I did was take the group back to the days when they were winning Stanley Cups, and what was acceptable and unacceptable was elite at that time. There were no shortcuts, their practices were good, they were firm at the rink, and that got away on the group. And sometimes that can happen. So, I just reminded them that they have it in them, most of 'em, and that we were going to get it back. Three goals that we have for camp, as I mentioned earlier, one was to establish what was acceptable and unacceptable. I think we did that on day one. The second one was to put some structure into place so they would rely and be predictable on the ice when it comes teammate-to-teammate, and then the third one was learning how we were going to behave and how they were going to behave in certain situations. Ten hours into training camp, I think we've done that in day one. We can't let it slip tomorrow, we have to get better. [Reporter: When you say you took them back to the Cup years, what did you actually do?] Just a verbal, 'hey, it's been in here before.' And then you're not speaking to everybody because the majority of the group wasn't here. But the ones that were here, they had that. I was on the other side. I saw it day-in and day-out. They just wore you down because they did it hard, they did it right, they believed in it. It's there, we've just got to draw it out of them again.
McLellan, on whether there's "too much talent in that group to have the season they had last year":
I don't think I can answer that question. I didn't live that season with them here. There is talent there, there's a ton of skill. If you're playing in the National Hockey League, you have talent. Every team has it. But I can't answer for what went right or wrong last year. I can listen, I can view a little bit. Quite frankly, I'd like to just put that behind us and move on now. Enough of it already. It was refreshing today. It was exciting for me to be back out there and I hope it was for the players, too.
McLellan, on Ilya Kovalchuk's role:
I think Kovy was very good today. I watched him during the fitness testing, he did everything he needed to do there. Today he had a little sparkle on his eye, I thought, on the ice. He wanted to try things. I saw
Him smiling, I saw him working, I saw him trying to absorb the structure we were putting in place. Pretty much a passing grade on my behalf for today, but that's one day and we've got to keep moving forward. He's no different than the rest of the group.
McLellan, on how he'd "analyze" the goaltending depth:
Pretty early in camp. My analyzing that would be past performance, and I think Quickie speaks for itself. He wasn't happy with his performance last year. Again, we keep going back to that. Yet Soupy was a refreshing discovery for the team last year, so if they can both get up and running, that'll allow Cal a little bit of time to develop and continue to develop. And then there's a good string of goaltenders behind 'em. If you can create competition in your organization, you're doing something right.
McLellan, on whether it was an "odd feeling" to be wearing Kings colors:
I think when you've been in the league for a lot of years, you realize you're probably not going to stay with one team forever as much as you'd like that. I always think of players, you kind of come into the league in diapers and that's the team you belong to, and all of a sudden you bounce around, you're from team-to-team. You do get an attachment, and when you go to a new team, it's different. It feels a little;e bit different. But once the skates came on and the whistle went in the mouth and the structure and practice came out, it was no different than anywhere else.
McLellan, on what he'll look for from less experienced players in training camp:
I think that they need – and I told them this – everybody should have a target. They should know who they're competing against, they should know everything they can about that individual, and they should go out to beat them. If it's a young guy looking for a center ice position, then figure out who you've got to beat and go from there. Our job is to catch them doing it right and catch them doing it wrong. You'd prefer it the first more than the second, but when they do it wrong, it gives us a chance to teach. I'm looking for energy, I'm looking for players that can comprehend concepts that we're putting in place, and players, sometimes their body language tells you whether they're ready or not. They show us they're confident. Sometimes it takes some growth.
McLellan, on younger players who stood out in the rookie tournament:
Each of the games was really a different monster. The first one was a little overwhelming, I thought, for our guys. They had a ton of experience, and it showed. The second one went maybe went our way in that situation. The third was a little bit different. So each night presented a different set of circumstances. There were individuals that had really good full three games, there were others that had two or three. Lizotte, Jaret Anderson-Dolan, Mikey Anderson, he came out as the camp went on. That's playing against their peers. Now they're against the big bouys, and we'll wait and see what happens there.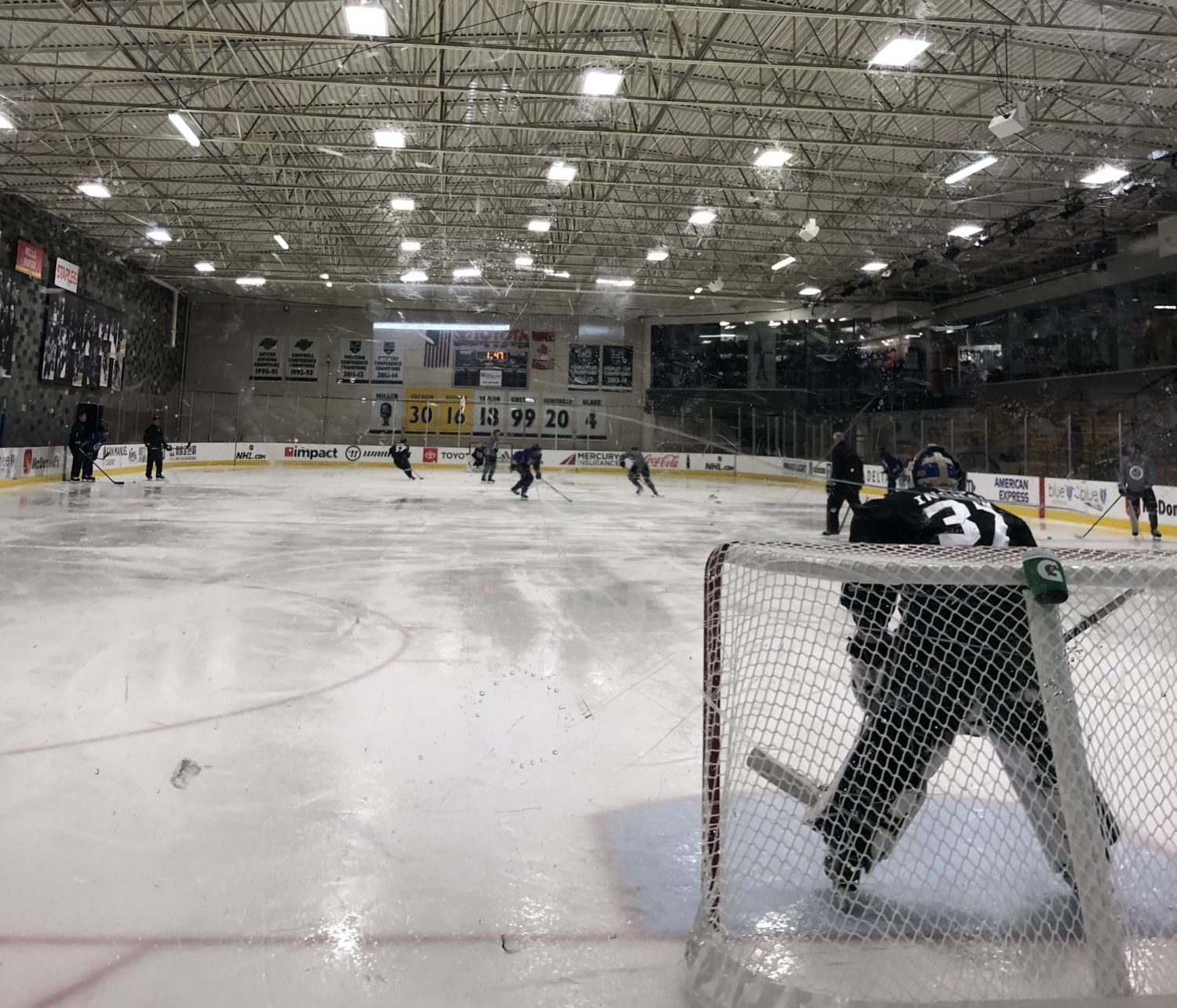 –Two quotes on structure saved for a following story