INSIDERS. Your red hot rookie camp notebook starts with today's alignment:
White: Kaliyev-Kupari-Fagemo
Gray: Sodergran-Anderson-Dolan-Thomas
Red: Eyssimont-Lizotte-Yantsis
Purple: Gareffa-Rymsha-Dudas
Yellow: Bergh-Morrison
So, if you are a betting man – "GO ON," my inner voice tells me – you might want to place a wager on Joey Gareffa entering the lineup for Mason Bergh up front for tomorrow's rookie game against San Jose (1:00 p.m. / LAKings.com / LA Kings Insider). Lukáš Pařík will start in goal versus the Sharks.
— Speaking of Pařík, he made his North American debut at the Everett tournament over Labor Day Weekend, marking his first two exhibition contests in a Spokane Chiefs jersey.
Pařík has been wearing a Spokane goalie helmet at training camp this week, but it's just a temporary bucket as his current design is airbrushed and delivered. While he's moved in with his billet family and is excited to get the season started in Eastern Washington – "The guys there are so nice – I've never met nicer guys on any team," he said of his first impression of a North American junior dressing room – it is still September, and routines are still in flux.
Among the challenges in transition is the game speed at this level. "It's so much faster than it is in Europe. It's so fast," said Pařík, a third round pick this past June. "That's probably the biggest difference between European and U.S. hockey."
He was up for the challenge with the Czech Republic's U-18 team, with whom he ranked third at the World U-18 Championship with a .924 save percentage in 221 minutes. That tournament against other top draft prospects provided a bridge towards development camp and rookie camp.
"I'm so happy to be here because the guys are more experienced than most of the guys in the WHL, because these guys were drafted or playing or trying out in the AHL," Pařík said. "I can get to that faster hockey, so I think it's a great experience to be here."
I'll have a touch more on this at Tuesday's game, but the team has been happy with Pařík's ability to combine his 6-foot-4, 185-pound frame with his athleticism. Based on conversations with the team, his personality has come through in his style of play and he reads the game well as an agile goaltender with good size. There's a bit of a hybrid style of play – one that relies on both his size and positioning to make big saves, but also his ability to break out of his technique to make and improvise when necessary. He's confident and isn't easily rattled.
He'll look to continue to refine these attributes so he can unleash a popular post-game win celebrations, which could include a sidekick this season in fellow Chiefs goalie Campbell Arnold.
"After every winning match, I do some celebrations," Pařík said. "I don't care if I'm a goalie – we have some celebrations right now with Arnie, the second goalie in Spokane – and I'm always celebrating in different ways."
— Among those to show well on Sunday was Sean Durzi, who now has appeared in two (rookie) games in a Kings uniform since joining the organization in the Jake Muzzin trade last February.
The team is encouraged by Durzi's creativity and support and his ability to process information and incorporate it into his game. He's a creative player readily willing to activate in the offensive zone, which he did on Sunday before issuing several dangerous passes into the slot.
"That's the most dangerous area on the ice for both teams, and everything that we're doing throughout the games is a lot of the stuff that we're learning and we're trying to apply, and there are a lot of systematic things that you try to do now and kind of prepare for main camp, and we've done a better job of it, especially in yesterday's game. Attacking the net, getting open in those areas, and it's only going to look better as the time goes on."
While Durzi's skating is fine, he's among the players capable of playing with a raised tempo – an important distinction from pure speed.
"The pace of the game is not so much how fast your legs are going, it's how fast you can move pucks and how fast you can think the game, and I think a lot of guys in here think the game really well, and it's just thinking the game together at this point, and as camp goes on and the more we play together, it's just going to create more chemistry and allow us to play a lot faster," he said.
"Yesterday I think we were a lot more organized in the way we were communicating, and I thought we did a good job of using each other and getting more pucks to the net. At the end of the day, we knew that's the case. It's a new group of guys together, and the more we play, the better we'll be."
— Prior to reporting for rookie camp, 2019 second round pick Samuel Fagemo got into a pair of Champions Hockey League games as his Frölunda Indians looked to spark a fast start to a season in which they'll defend their CHL and SHL titles.
They did just that – for the first 62 seconds, at least. Fagemo's goal against EBEL-Graz 1:02 into the 2019-20 season gave the Indians a 2-0 lead at home, though the 99ers responded with a 6-5 shootout win in their CHL debut. Frölunda also dropped a home contest to Mountfield HK in their next outing but responded with a pair of road wins to bring their CHL record to 2-1-1.
"We got two losses there, but a win [after that], so that was nice. It wasn't too fun to lose two games in a row, but [stuff] happens sometimes," he said.
Dwight King actually got Graz onto the board midway through the first period in the teams' opener and added another goal in their group stage return to Frölunda one week later. He has four goals in as many CHL group stage games. "Big guy, a strong man that worked hard every shift," Fagemo recalled of the two-time L.A. champion. "He was a good player."
That Fagemo has already had some live game tempo in his blood has transferred into rookie camp, where he was among the forwards over the first two games to draw praise, particularly for his work ethic and ability to dart from Point A to Point B. He's a shifty player with a good motor.
— I'm putting together a feature on Blake Lizotte, another player who has shown off a good work ethic through the first two games. I asked him about the important fundamentals to reinforce in his first practice or game after moving up a level, and while the 21-year-old with a late birthday entered into the final game of the 2018-19 season, this is his first training camp in advance of his first professional season.
"I think just making the right plays and getting comfortable with making the easier play [is important]," he said. "A lot of times you kind of get over-complicated, especially come summer hockey, getting rid of those bad habits, trying to get rid of those as fast as possible is key. Doing the little things right – regardless of whether it's a breakout pass or just getting the puck out of the zone is really important in the preseason."
Lizotte (three assists) pivoted Los Angeles' most effective line in the 6-1 win over Colorado on Tuesday, generating chemistry with Mikey Eyssimont (two goals) and Jonathan Yantsis (one goal). Two players finished with more than three shots on goal in a game the Kings out-shot the Avalanche 38-37: Austin Strand, who had four minor penalties, led all skaters with seven shots, while Johan Sodergran finished with five.
Photos, courtesy of Foster Snell/NHLI: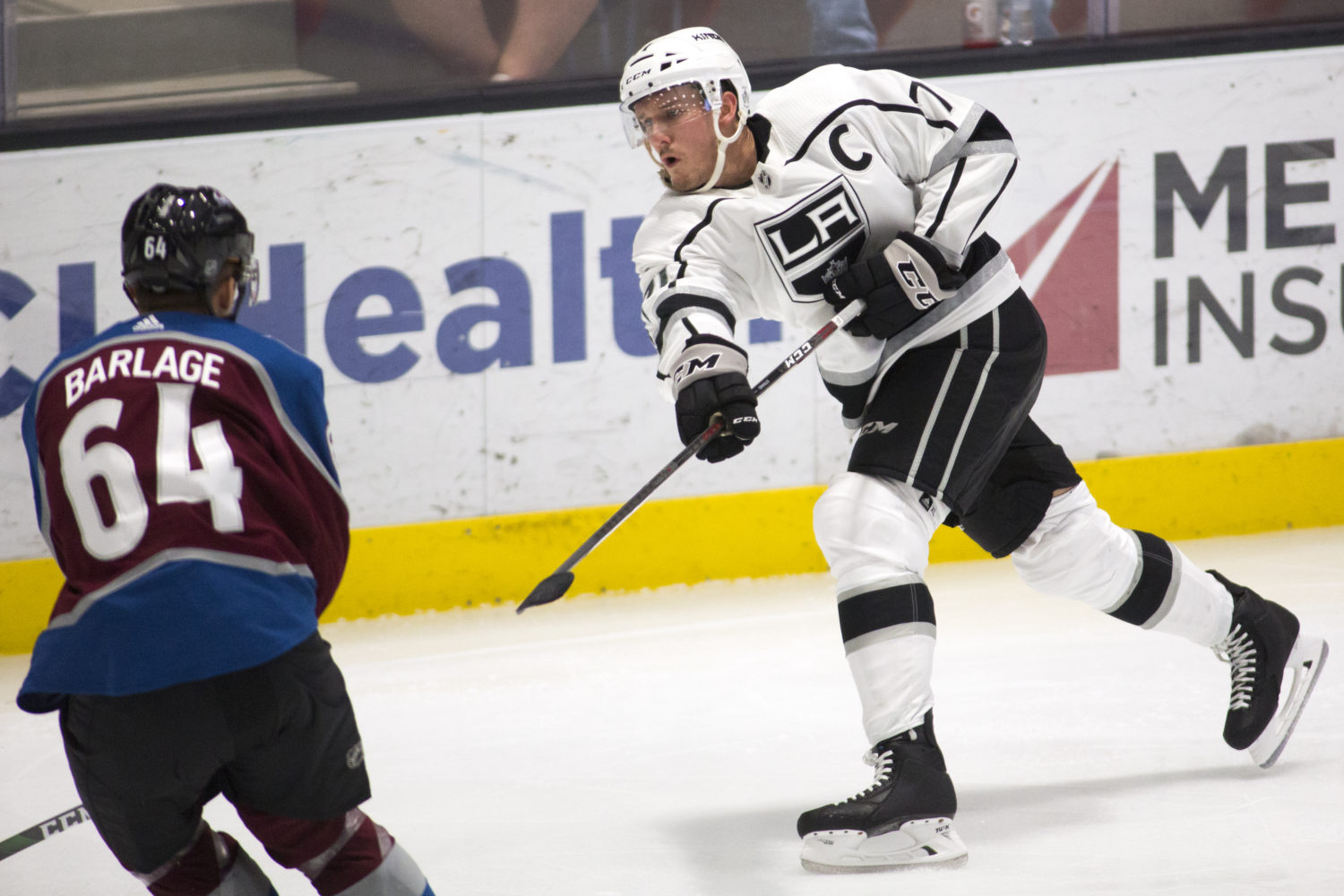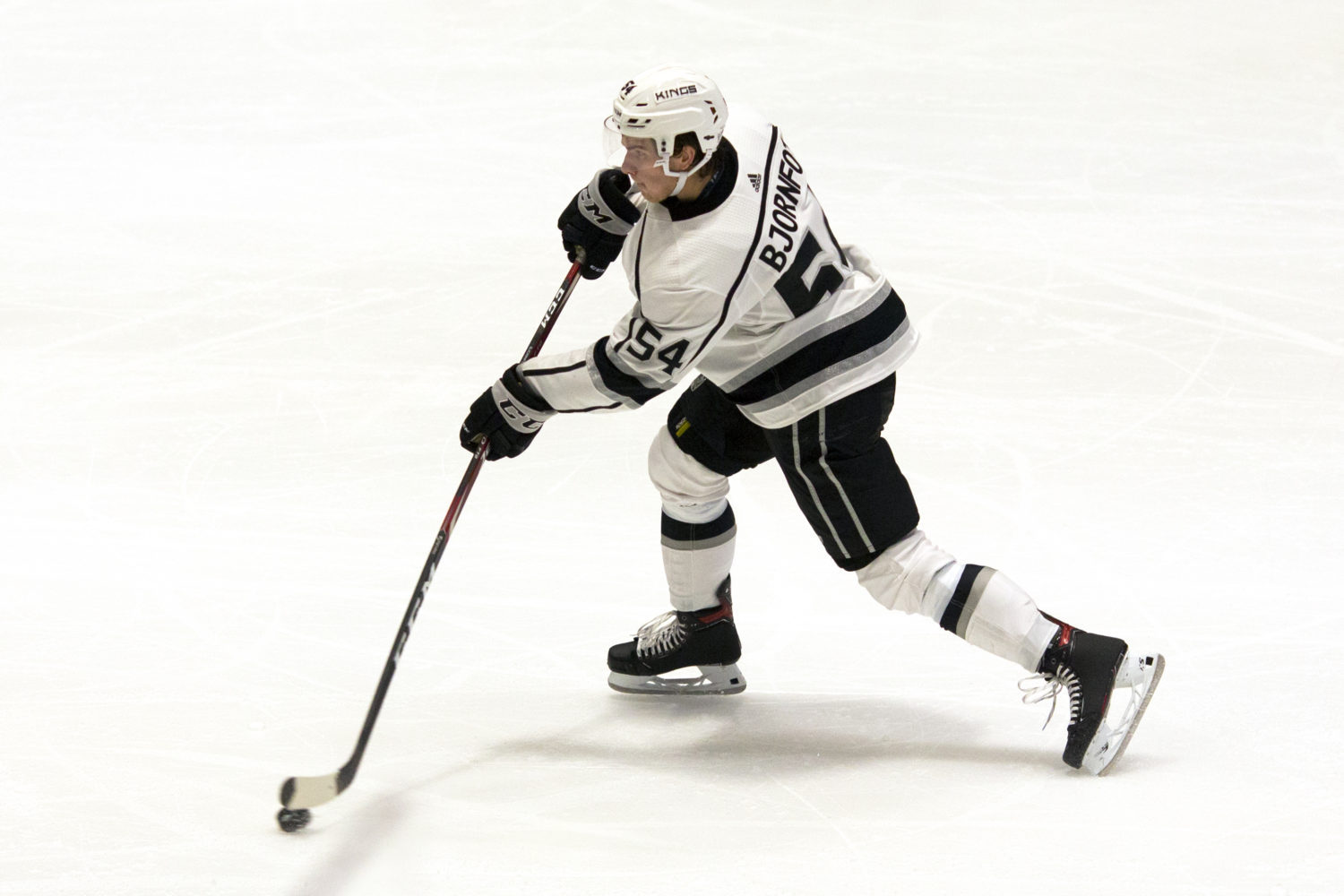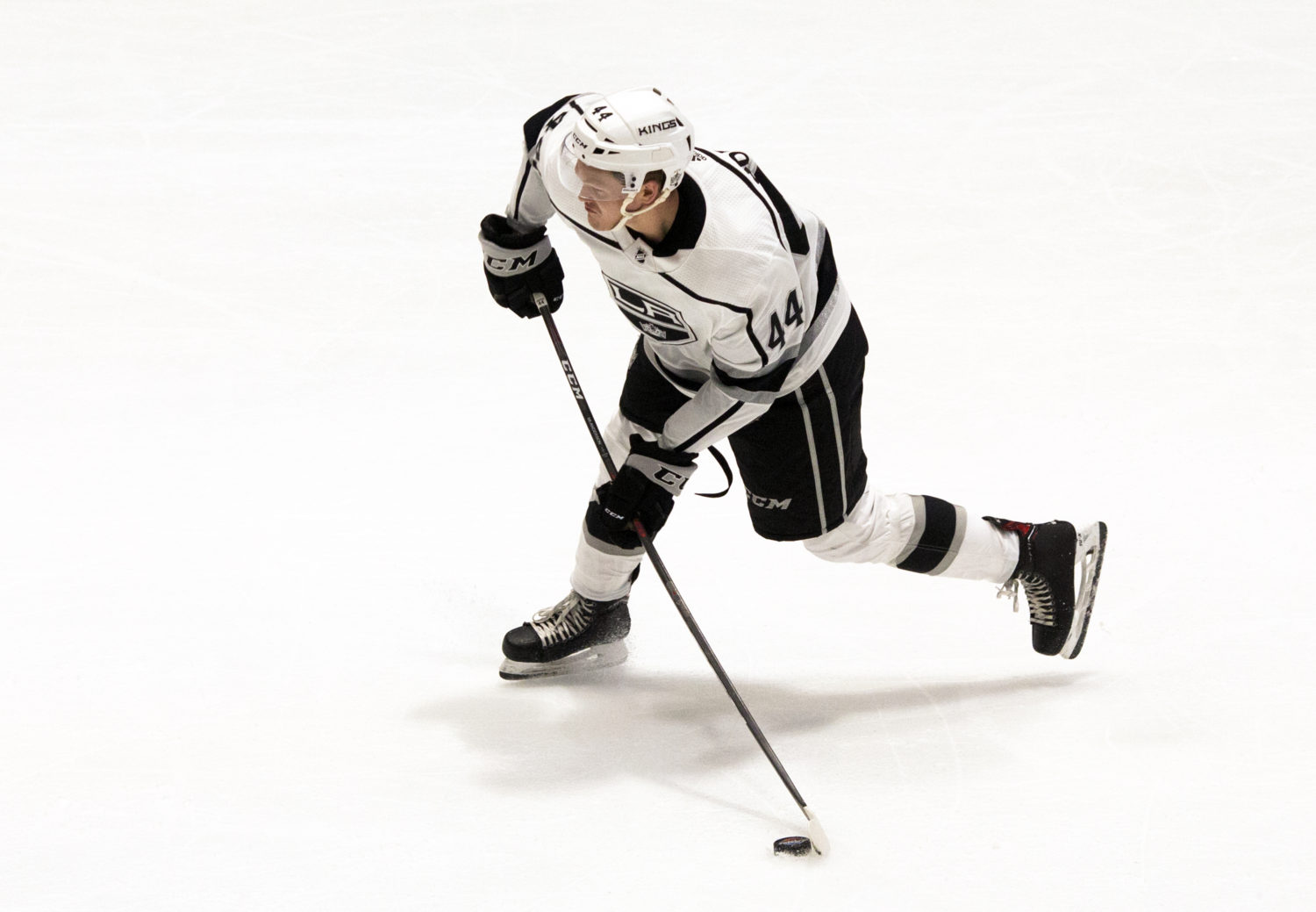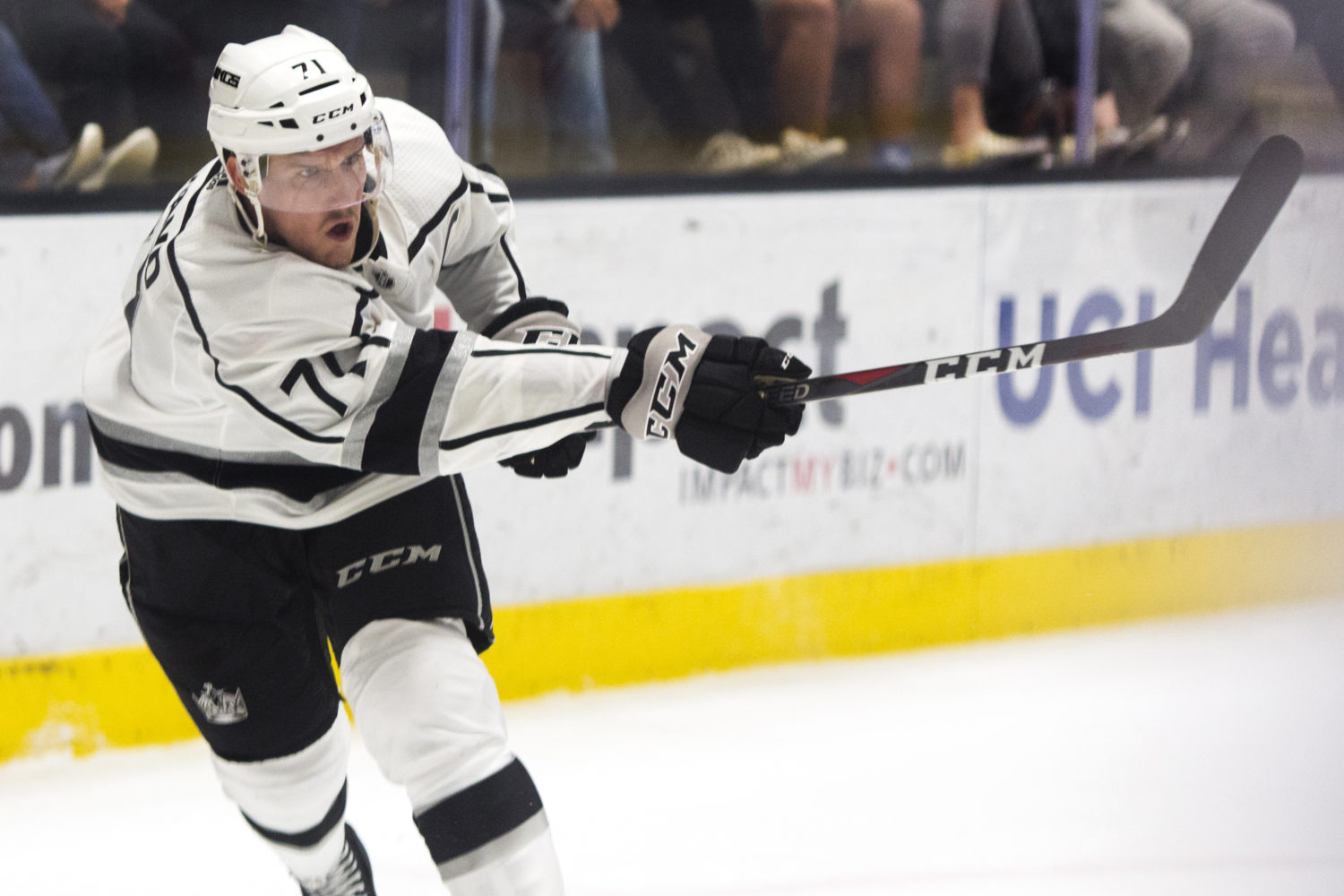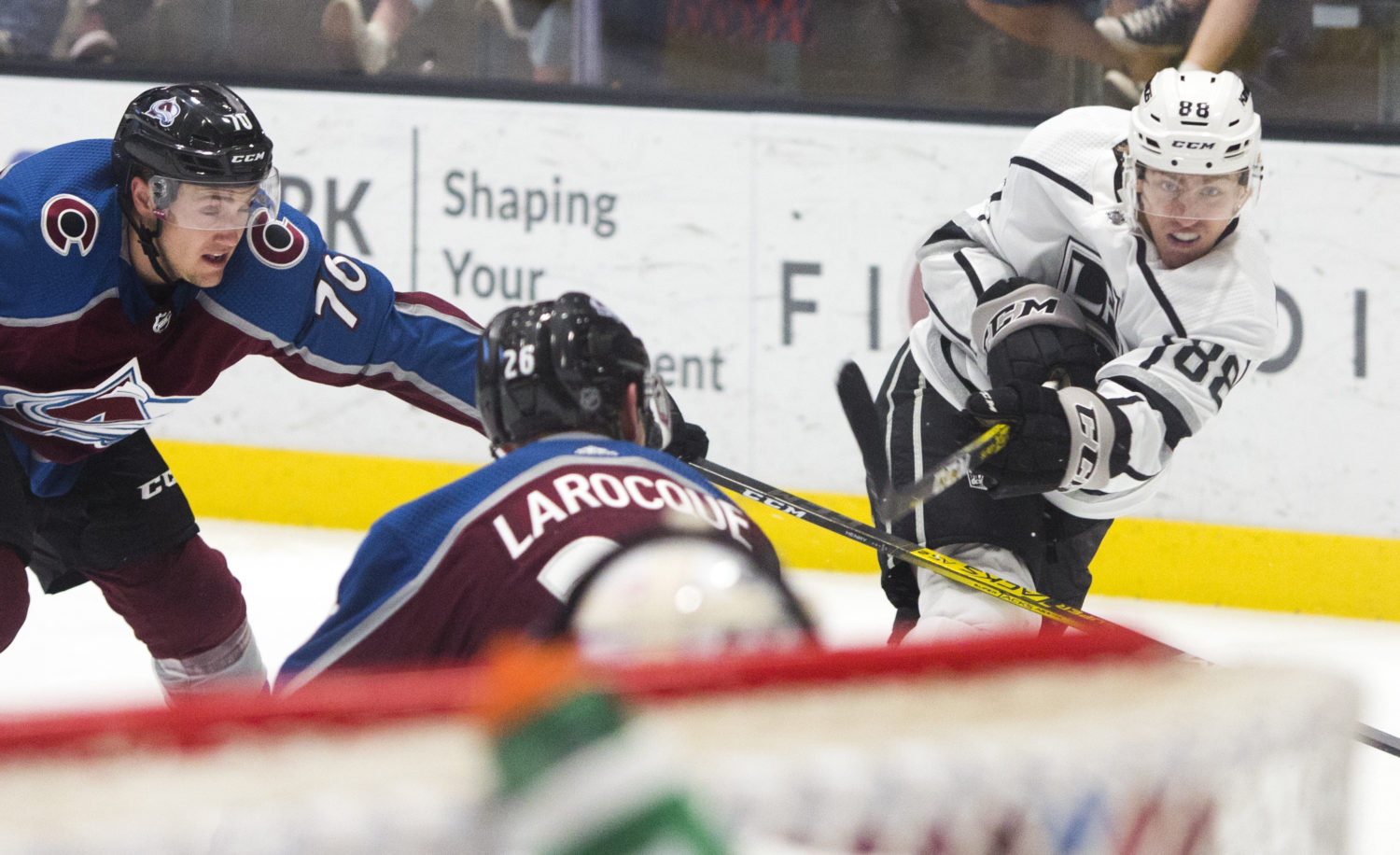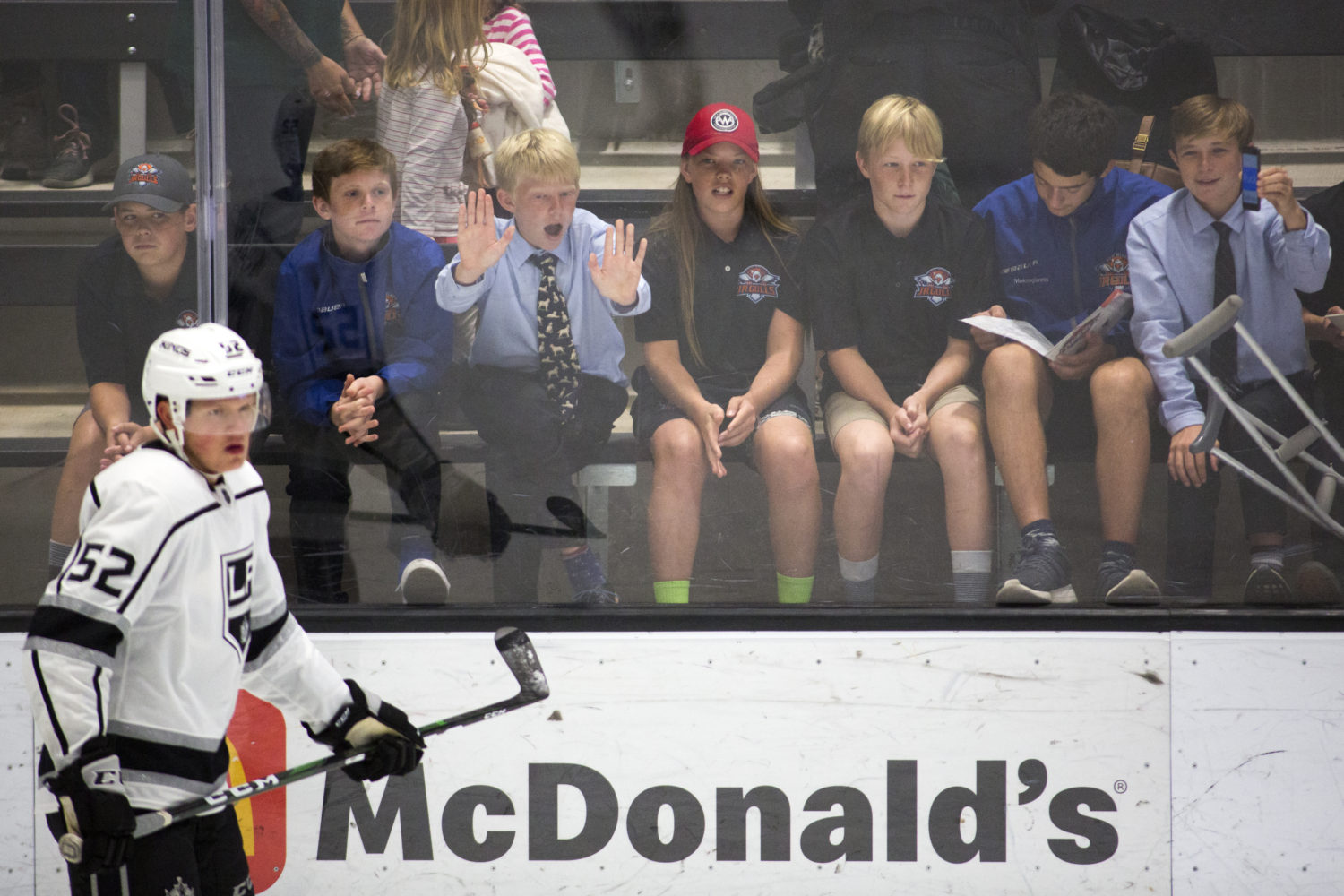 BONUS! Several photos, courtesy of Kings fan Tim Yuen: