As part of tonight's State of the Franchise event in downtown Los Angeles, the LA Kings, in conjunction with adidas, unveiled their new LA Kings '90s Era Heritage adidas adizero Authentic NHL Jersey.
The new LA Kings '90s Era Heritage Jersey features the same look and primary logo the Kings debuted in 1988 and wore for 10 seasons – 1988-89 through 1997-98.
The jersey will be worn twice this year: Saturday, February 22, when the Kings host the Colorado Avalanche as part of '90s Night; and Saturday, March 21, when the Kings host the Vancouver Canucks as part of '80s Night.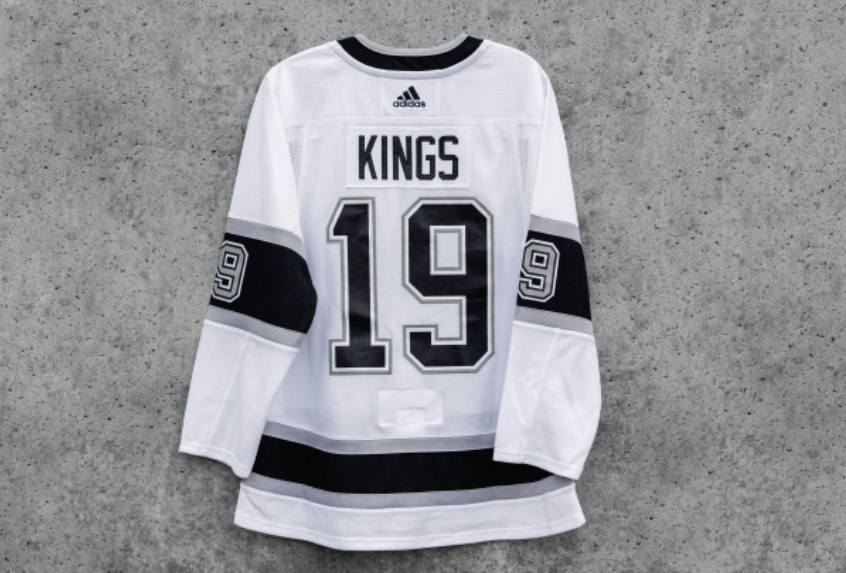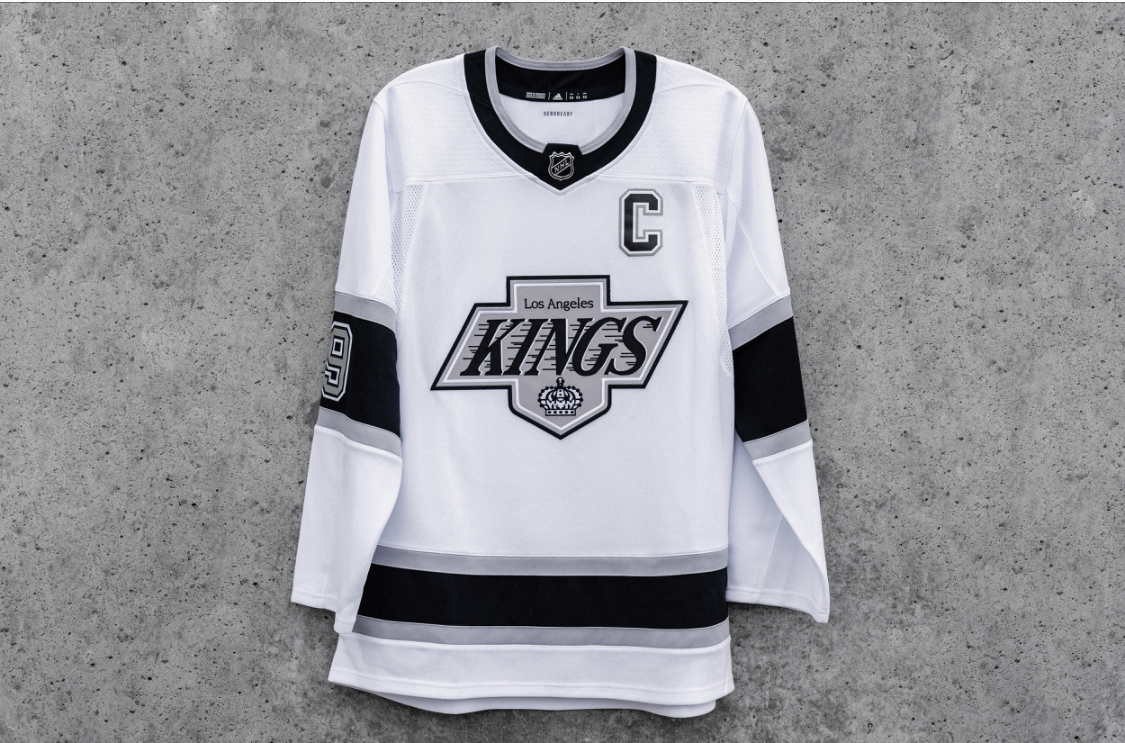 **More photos to come shortly**
Tonight's unveil at The Novo at L.A. LIVE featured Luc Robitaille and Mark Hardy each wearing the jersey with several youth hockey players on stage in front of surprised Kings season ticket members. Both Hardy and Robitaille played in the sweater together during the 1993 Stanley Cup Final.
The jersey will first be available on Thursday, February 20, beginning at 9 a.m. at Team LA during a five-day exclusive pre-sale window, and then available online at adidas.com and NHLShop.com. All LA Kings '90s Era Heritage Jersey details are available at LAKings.com/Heritage.
"We all loved wearing the jersey as players and I personally love seeing it in the community to this day," said Robitaille. "Most importantly our fans love it and we were thrilled to show it tonight, to surprise our most loyal fans, and the immediate reaction in the room was tremendous."
Said Kings Chief Operating Officer Kelly Cheeseman. "It's one of the most impactful and iconic eras in hockey history. Starting with Wayne Gretzky we are so identified by that brand and we are bringing it back for these special nights by the demand of our fans."
The jersey represents the first time in 12 years the Kings have produced product relating to their heritage. The logo was famously unveiled on August 9, 1988 when the Kings held a news conference in Los Angeles to announce the acquisition of Wayne Gretzky from the Edmonton Oilers. The lettering and numbering for the LA Kings '90s Era Heritage Jersey features the lettering and numbering used from 1992-93 through 1997-98.
The LA Kings '90s Era Heritage Jersey is a permanent addition to the Kings jersey line-up that now features four different team jerseys, including the LA Kings Silver adidas adizero Authentic NHL Jersey which was revealed last November. A fifth LA Kings adidas adizero Authentic NHL Jersey, which will not be a permanent addition to the line-up, will be unveiled by the NHL and the Kings soon as part of the 2020 NHL Stadium Series game on February 15, 2020 at Falcon Stadium in Colorado Springs, Colorado when the Kings face the host Avalanche.
The Kings this season are also revamping the club's Legends Night Series going forward. This year the Kings are pleased to help welcome two Hockey Legends to STAPLES Center: Felix "The Cat" Potvin, as the Kings celebrate his NHL career including his time with the Kings, and also – in this the 40th Anniversary of the Miracle on Ice game at the 1980 Winter Olympics – the Kings will welcome to Los Angeles the captain of that gold medal-winning, history-making team, Mike Eruzione.
The following Heritage Facts relate to Kings players during the 10-year time period from 1988-97:
Games Played (Skaters):
Wayne Gretzky – 539
Luc Robitaille – 538
Marty McSorley – 472
Rob Blake – 469
Tony Granato – 380
Dave Taylor – 359
Jari Kurri – 331
Mike Donnelly – 307
Tim Watters – 303
Darryl Sydor – 288
Goals:
Luc Robitaille – 310
Wayne Gretzky – 246
Tony Granato – 148
Tomas Sandstrom – 117
Jari Kurri – 108
Bernie Nicholls – 97
Rob Blake – 91
Mike Donnelly – 87
Dave Taylor – 84
John Tonelli – 76
Assists:
Wayne Gretzky – 672
Luc Robitaille – 338
Rob Blake – 197
Jari Kurri – 185
Marty McSorley – 163
Tony Granato – 157
Tomas Sandstrom – 137
Steve Duchesne – 133
Bernie Nicholls – 128
Dave Taylor – 124
Points:
Wayne Gretzky – 918
Luc Robitaille – 648
Tony Granato – 305
Jari Kurri – 293
Rob Blake – 288
Tomas Sandstrom – 254
Marty McSorley – 234
Bernie Nicholls – 225
Dave Taylor – 208
Steve Duchesne – 199
Penalty Minutes:
Marty McSorley – 1846
Jay Miller – 865
Tony Granato – 821
Rob Blake – 742
Warren Rychel – 655
Matt Johnson – 550
Tim Watters – 529
Luc Robitaille – 518
Sean O'Donnell – 499
Dave Taylor – 464
Games Played (Goalies):
Kelly Hrudey – 360
Stephane Fiset – 104
Byron Dafoe – 87
Daniel Berthiaume – 56
Robb Stauber – 56
Glenn Healy – 48
Jamie Storr – 32
Mario Gosselin – 26
Mark Fitzpatrick – 17
Grant Fuhr – 14
Rick Knickle – 14
Wins:
Kelly Hrudey – 145
Stephanie Fiset – 39
Daniel Berthiaume – 27
Byron Dafoe – 27
Glenn Healy – 25
Robb Stauber – 19
Jamie Storr – 15
Mario Gosselin – 7
Rick Knickle – 7
Mark Fitzpatrick – 6
LA Kings Season Ticket Memberships for the 2019-20 season are on sale now with three membership levels: Full Season, Half Season, and Quarter Season. Deposits are also being accepted for Groups of 15 or more and Private Event Suite rentals, and deposit holders will receive exclusive pre-sale windows before the general public. Individual tickets for the 2019-20 season will be on sale to the general public on August 1 with Season Ticket Member and eNews subscriber pre-sales in advance of this date. Select Mini-Plans and Ticket Packs will also go on sale prior to the public on sale of August 1. Call 1.888.KINGS.LA or visit LAKings.com for more information.