16 days from now, we will have a hockey game in Southern California!
The Kings, alongside the other five teams participating in the 2019 Rookie Faceoff, released their tournament rosters today, which takes place from September 7 – 10 in Irvine, hosted by the Anaheim Ducks. The Colorado Avalanche, Vegas Golden Knights, San Jose Sharks and Arizona Coyotes will also participate in the event, alongside the Kings and Ducks.
The full Kings roster for the event is listed below –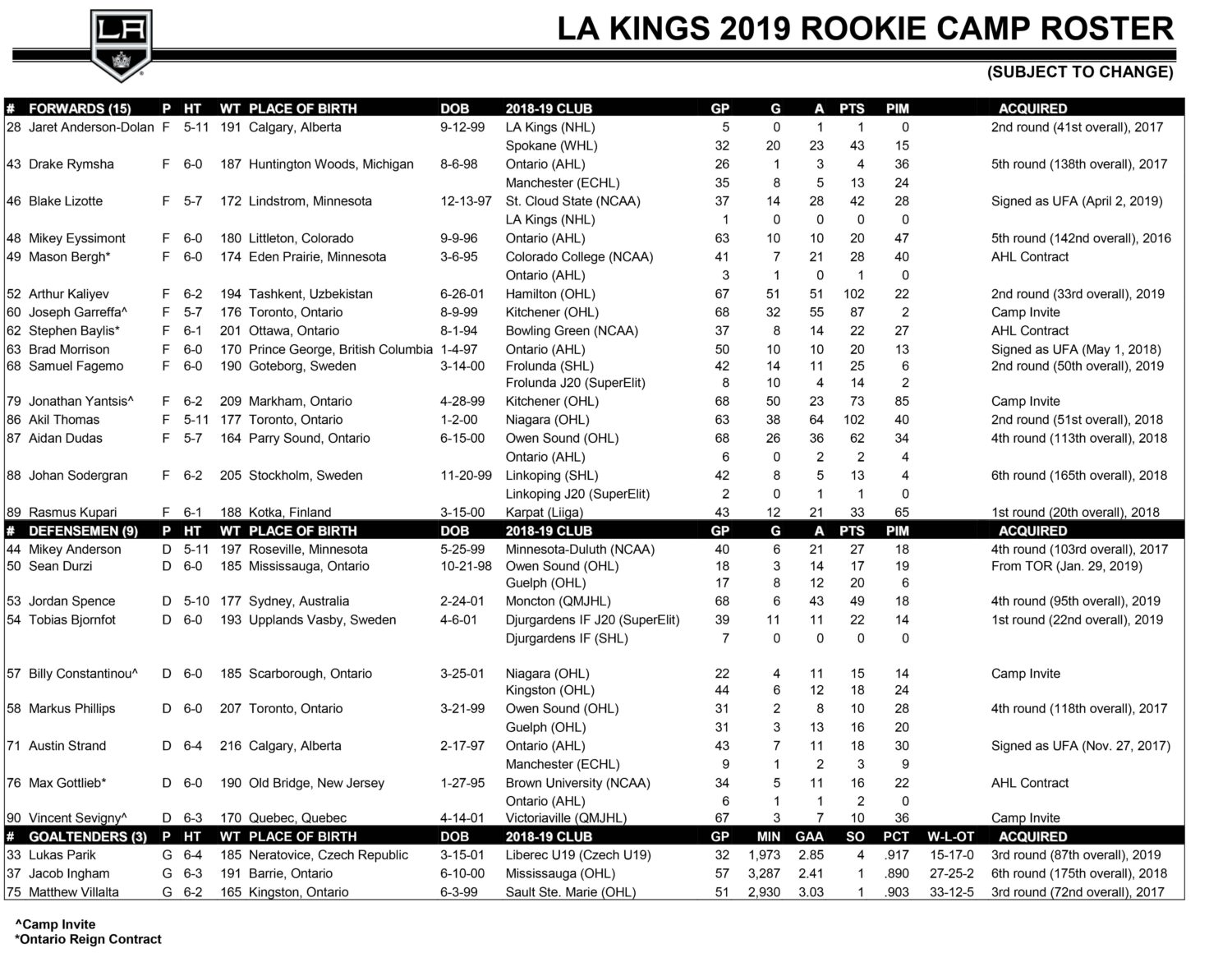 The Kings roster features two players in Jaret Anderson-Dolan and Blake Lizotte who skated in the NHL last season and eight – Austin Strand, Max Gottlieb, Mikey Eyssimont, Aidan Dudas, Mason Bergh, Brad Morrison, Drake Rymsha and Anderson-Dolan – who have skated professionally in the AHL with Ontario.
Four players were full-time professionals last season, while several more figure to transition to the North American professional game on a full-time basis during the 2019-20 season.
Players like Kale Clague, Sheldon Rempal and Daniel Brickley have graduated from the rookie tournament roster and will not be a part of this season's group as second-year professionals. In total, eight skaters (Anderson-Dolan, Strand, Eyssimont, Morrison, Dudas, Rymsha, Akil Thomas and Markus Phillips) and two goaltenders (Jacob Ingham and Matthew Villalta) return for this season's edition of the Rookie Faceoff. As in the past, expect the Ontario coaching staff, led by Head Coach Mike Stothers, and training/support staff to lead the team behind the bench during the tournament.
Rosters for the other five teams can be found below –
Anaheim – Arizona – Colorado – San Jose – Vegas
Results at a tournament like this one mean next to nothing in the grand scheme of things but nonetheless, the Kings will look to improve on last season's 0-3 showing in Vegas, where they were outscored by a 19-7 margin across the three games. As Stothers put it last September –
"You don't get anything when you're 0-3 in a rookie tournament and you don't get anything when you're 3-0," Stothers said following the game. "[Results] matter not to me. Our guys got a chance to play in some games, their first taste of pro hockey so to speak. If we were 3-0 I wouldn't be walking out of here with my chest out, thinking we're the greatest thing going. We were 0-3 and I don't think we're the worst thing going. It's all about perception and we keep it all in perspective."
The Kings suffered lopsided defeats to Anaheim (8-3) and Vegas (7-2), sandwiched around a narrow loss against Arizona (4-2). Anderson-Dolan (2-1-3) and Eyssimont (0-3-3) led the team in scoring last season with three points apiece from three games played.
The Kings will play three games in four days during the tournament, beginning on Saturday, 9/7 against Anaheim at 5 PM. The Kings will also play Colorado on Sunday, 9/8 at 1 PM and San Jose on Tuesday, 9/10 at 1 PM. A full tournament schedule is listed below –

Full details for the 2019 LA Kings Rookie Camp, including practice schedule, will be released at a later date.
Photos From the 2018 Rookie Faceoff in Las Vegas