Happy Trails, Matt Moulson – The veteran winger signed a one-year, AHL contract with the Hershey Bears yesterday afternoon, ending his tenure with the Ontario Reign.
Moulson was one of the most successful players in Reign franchise history, with his 28 goals and 62 points setting single-season franchise records during the 2018-19 season. Across his season plus with Ontario, Moulson amassed 108 points (46-62-108) from 117 games played, good for a tie for third with Jonny Brodzinski in all-time franchise scoring. Dating back to time spent with Manchester, however, Moulson is the all-time leading AHL scorer between the two franchises combined. The veteran winger also tallied 160 points (74-86-160) from 188 games played with the AHL-Monarchs, ranking eighth all-time in Manchester history and good for a whopping 268 points in 305 AHL games in the Los Angeles organization. Not a bad track record!
Filthyyyyyyyyyy hands from Matt Moulson to put us back on top! pic.twitter.com/Ny8CvgHMOU

— Ontario Reign (@ontarioreign) February 7, 2019
Moulson combined with Mike Amadio and Matt Luff to form one of the AHL's most formidable trios. Though the group was only together at sporadic points during last season, the combination brought out the best in all three players and provided the Reign with a legitimate scoring threat every time out. When the three were all in the lineup together, the Reign's winning percentage jumped by nearly 90 percentage points.
"They're two great players," Moulson said of playing on that trio during the season. "I played most of the year with Mads last year and he's one of the smartest players I've seen play the game of hockey, so it's pretty easy to play with him. Luffer, he just keeps stepping up his game and improving from where he was last year. I thought our line even played better last night than we did tonight, but it was a lot of fun to play with those two."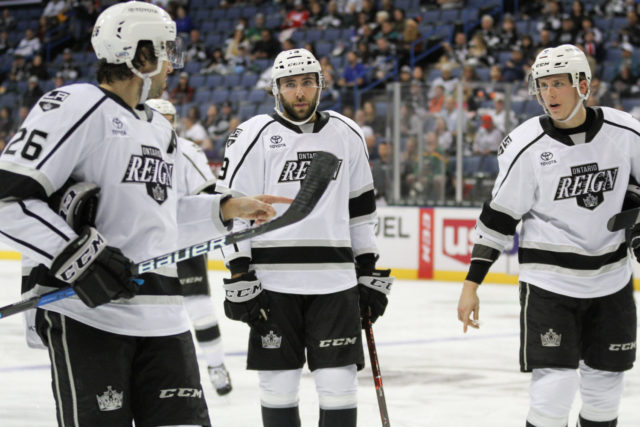 The veteran of 650 NHL games was more than just a scoring presence, however. Moulson wore an "A" this past season on the Reign and was a positive influence on the Reign's younger players throughout the season. Moulson took in Luff as a tenant, a relationship that both spoke positively of throughout the season. Moulson would also frequently have younger teammates over to his house to spend time with his family and make them feel more comfortable as pros. Many of the younger Reign players spoke positively about Moulson's impact in the locker room.
Reign Head Coach Mike Stothers made it clear following the season that he would love to have had Moulson back for another season in Ontario, though it wasn't in the cards.
"I've made it known that I want Mouly to come back, hopefully we don't have any more announcements of some of my favorite players retiring, because that's hard on the emotions," Stothers said in April. "I hope Mouly comes back and I certainly want him back, I've made it known to the Kings organization that I think he's a great vet and if you're trying to develop some young players, you need quality guys like him around. I think he wants to, so hopefully him and Sutts will be [back], I hope."
The Athletic's Lisa Dillman reported, however, that Moulson's preference was to return east, which he does with Hershey. Moulson could re-unite with former Reign teammate Philippe Maillet, who signed an entry-level contract with Hershey's NHL affiliate, the Washington Capitals.
With the Bears, Moulson will have a chance to reach the 1,000 game mark as a pro. The North York, ONT native has appeared in 955 regular-season games between the NHL and AHL and you root for a player like Moulson – who was great to work with this past season – to reach that mark. Moulson played in his 900th professional game in November against Grand Rapids.