The LA Kings signed 2019 second round draft pick Samuel Fagemo to a three-year, entry-level contract, the club announced Thursday. Fagemo, who has one season remaining on his current contract with Frölunda HC of the Swedish Hockey League, is expected to make the jump to North America in 2020-21, hockey operations confirmed.
Chosen 50th overall at last month's NHL Draft one year after going unselected and attending Arizona's camp on a tryout, Fagemo experienced a breakthrough as an 18-year-old with the SHL and CHL champions, posting 14 goals and 25 points in 42 games before adding six more goals in 16 playoff games, where he won the Le Mat Trophy alongside fellow L.A. prospect and noted Tottenham Hotspur fan Jacob Moverare, pictured below.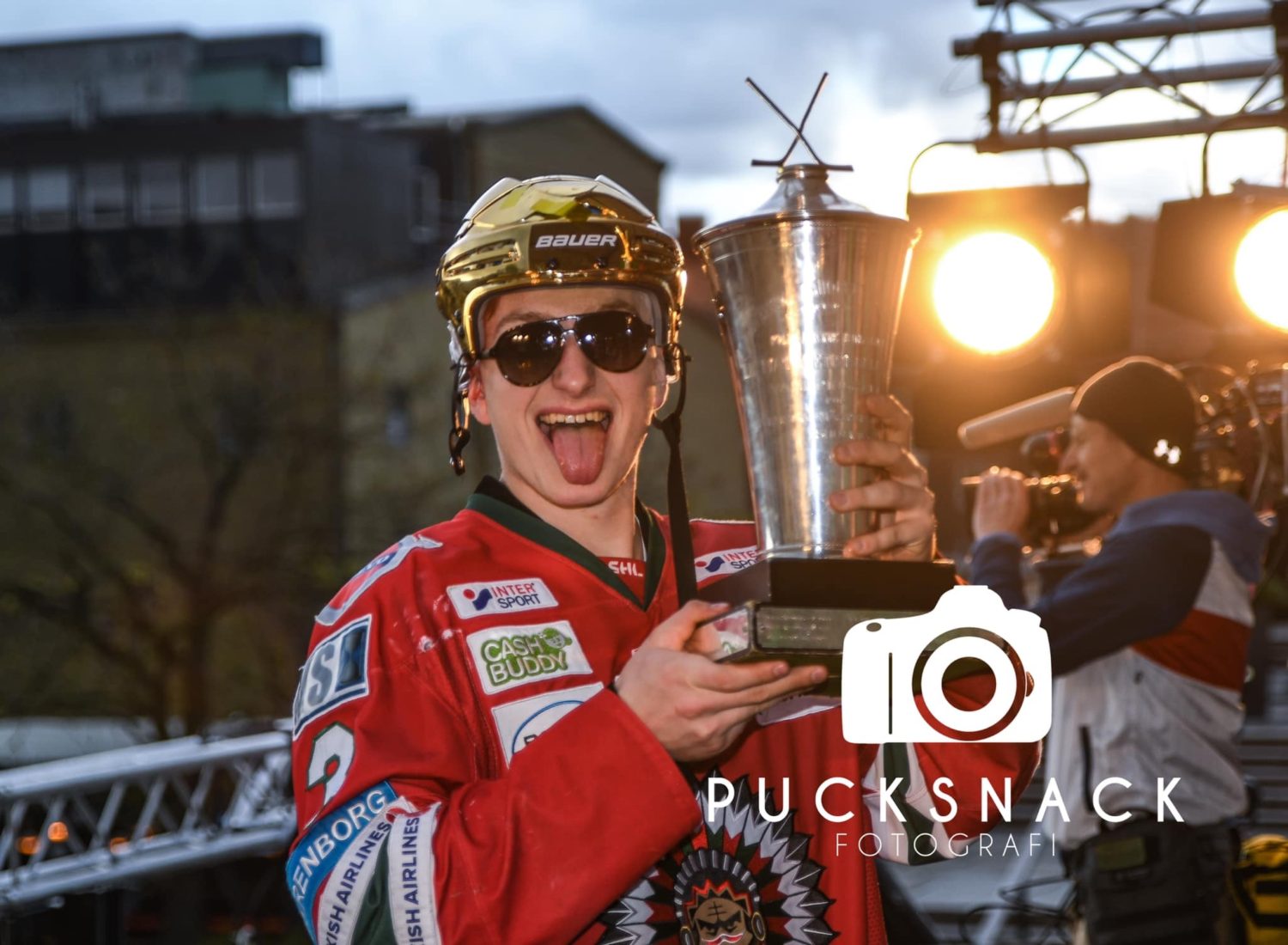 Fagemo has shown that he's got a good mix of skill and tenacity, and over the past year has demonstrated some creativity in his hands to go along with more direct and effective routes. From the Kings' Head European Scout, on June 24:
Christian Ruuttu, on Samuel Fagemo:
Samuel was our guy in the seventh round last year. We wanted him in the seventh round, but we didn't have a seventh round pick. He went back [after not getting drafted], I talked to him early in the year, and I said, 'how did you feel about not getting drafted?' He was shocked, he was really disappointed, and I think he said 'I had my head down over one day and then I started to work really hard.' He got his chance with the Frolunda team early in the year, and he took the chance and he ran with it, and he turned out to be one of the key players in the Championship Hockey League that Frolunda won, and also in the SHL. He's full of energy and he's fearless, and he scores goals. [Reporter: He seems charismatic, too. Just chatting with him, he's a very engaging young man.] Yeah, I watched him coming down the stairs and he was fist-pumping. That's how he plays. [Reporter: Did you end up telling him, 'hey, we would've taken you if we had the seventh?] I think I did when I met him early this season, because I know he was so frustrated. 'Just keep working, good things happen to good people.' … I think he went back to work. He flew to Phoenix camp right away, the development camp right away the next day, and that was the key – that he noticed 'these guys aren't much better than me, or they're on the same level,' and he changed his game a little bit. He's not making the big turns and more stops and starts in his game than he has to be.
He showed off good hands with a memorable development camp assist when he remained cool under pressure against three defenders and maintained control of a puck for an extra beat near the attacking blue line before snapping it towards the net and placing it in a prime spot for Rasmus Kupari to deflect it into the back of the net. He's also known for a willingness to drive to the net, as many observers shared.
By now, if you're reading a story on July 11 about a 19-year-old who won't play in Southern California for another year, you're probably also well read on his draft day profile and the evaluations shared within. There's some promise in his ability to play in a productive, top-six role, and at the draft used Filip Forsberg as a player he tries to model his game after. "He likes to shoot the puck and take the puck to the net," Fagemo said in Vancouver. "Ovechkin too. He shoots the puck every time and takes the puck to the net as soon as possible and wants to score and help the team to win. I want to do that too."
This was a great selection by the Kings. Fagemo was one of the most improved skaters in SWE this yr; his 14 gls were most by a U19 player in the SHL since Daniel Sedin (21 in '99). https://t.co/rcXtiOxB40

— Mike Morreale (@mikemorrealeNHL) July 11, 2019
I hope you're all ready for some klubmusik:
Shortly after the draft, Director of Amateur Scouting Mark Yannetti dug in to the nuances of "compete" while answering a question about "culture," referring to the high-compete forward as "pace-based and speed-based, which for me is the better 'compete.'"
It evolved into a typically entertaining Yannetti interview in which he described the nuances of Fagemo's battle element.
"You get the puck back quick. I'm starting to go into the 'compete' side where 'pursuit, pressure' rather than 'hard-nosed,' 'physical.' When Mike [Futa] and I did [the draft], Mike's more 'physical-compete' and I'm more 'speed-compete' when we were together and we'd balance each other out. Now, there's no one to keep me in check, so we can do it our way. I'm just kidding."
This is why the importance of "compete" was shown on these here pages in the lead-up to the draft. There have been changes to the type of player the Kings may favor over another type of player, but a player's work ethic and tenacity remains the ultimate prerequisite.
The Kings, who traded the 64th and 126th overall picks to the Canadiens to jump up to 50th and nab Fagemo, had targeted him on the night between the first and second rounds of the draft. "When we were getting into the draft here, we were looking at who was coming off the board, and that was a guy who we had targeted [on day two], yes," Blake said before sharing how the trade came to be. "It was set a little bit before the draft today, and then as some guys came off, we revisited it with Montreal."
A right-handed Gothenburg native, Fagemo led all rookies with six goals and tied for the rookie lead with 10 points in the SHL playoffs. He recorded an assist and a plus-three rating in five games during Sweden's fifth-place World Junior Champsionship performance and will again be eligible for this year's tournament in the Czech Republic. His father, Linus, represented Sweden at the 1997 tournament, while his brother, William, of the aptly named HK Kings youth program (per Elite Prospects), is a goaltender who turns 15 next month.
Fagemo becomes the 10th player of 23 drafted by Rob Blake and the first player of the 2019 draft class to sign an entry-level contract. As a 19-year-old, he's eligible for an entry-level slide, which would grant him restricted free agency in the distant 2023 off-season. Until then, he'll carry a $925,000 cap hit once he matriculates in North America.
— Lead photo via Kevin Light/Getty Images