After yesterday's news regarding the team's home opener, the 2019-20 Ontario Reign schedule is here in full! The Reign's 2019-20 schedule consists of 68 regular-season games, 34 in Ontario and 34 away games spread out against seven different opponents.
As announced yesterday, the Reign will begin their fifth season as a member of the AHL on home ice, the first time they have ever opened an AHL season in Ontario. The Reign will both begin and end the season at home against the San Jose Barracuda, with their regular-season finale coming on Saturday, April 11.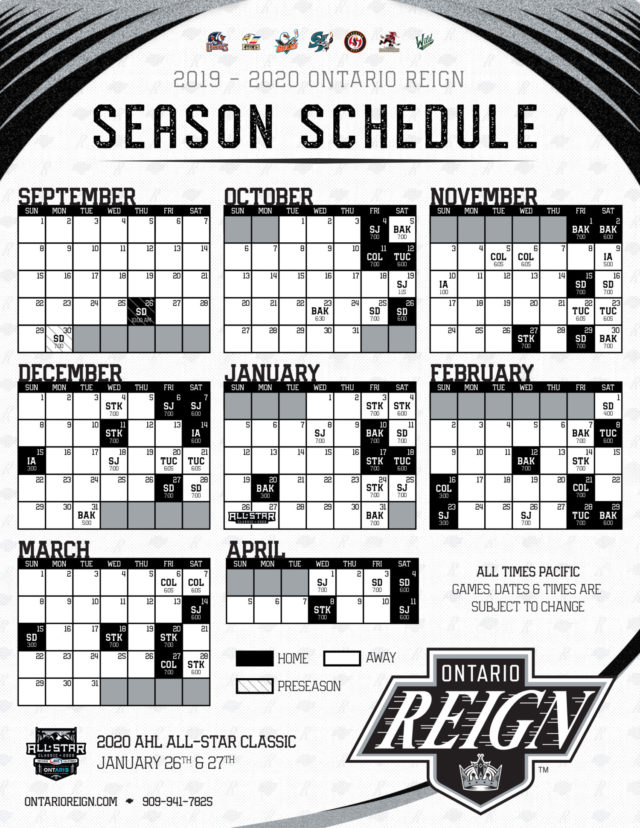 The Days Inn
– As per usual, the schedule is weekend heavy, with 28 of the 34 home games taking place on either a Friday, Saturday or Sunday, with two more taking place on a weekday holiday.
– The home schedule breaks down to 13 Friday games, 11 Saturday games and four Sunday games, all taking place at Toyota Arena in Ontario. The Reign are also home on Martin Luther King Day (1/20) and the Wednesday before Thanksgiving (11/27), as well as four additional Wednesday evening games.
– Away from home, Ontario's schedule breaks down as follows: 14 Saturdays, 10 Fridays, seven Wednesdays, two Tuesdays and one Sunday.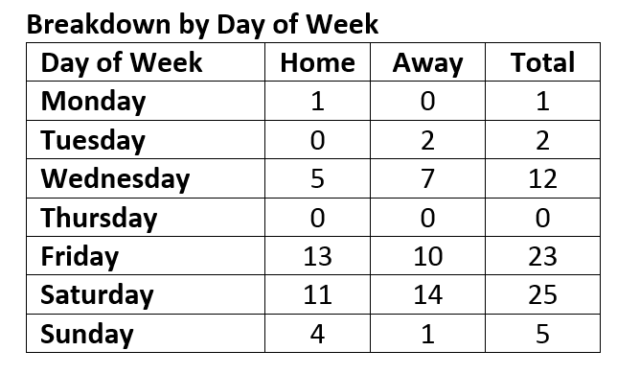 The Enemy of My Enemy….
– The Reign's schedule is significantly more compact than last season and features just seven opponents as opposed to 11 last season. Gone from this season's slate are Grand Rapids, Milwaukee, San Antonio and Texas and added is…..well no one. AHL guru Patrick Williams has a good breakdown as to why an AHL schedule either does or doesn't feature opponent diversity. From what I've gathered, Ontario likely falls into category 2, in that it takes two to tango on setting up games outside of the division, which other teams are not always willing to accommodate.
– What it amounts to is additional divisional games against San Jose (8 to 12), Stockton (10 to 12) and Bakersfield (10 to 12), while maintaining the same breakdown with San Diego (12), Tucson (8), Colorado (8) and Iowa (4). The Reign will play 48 of 68 inside California and 64 of 68 inside the Pacific Division. The Wild are the only non-Pacific Division foe on the Ontario schedule, with a back-to-back set in each market.
– The first So-Cal Series matchup in the regular season comes at the end of October, with a home-and-home set on October 25 and 26, beginning on Friday in San Diego. The Reign and Gulls will play three home-and-homes this season, also including November 15 and 16, as well as December 27 and 28.
– The Reign will play 27 of their first 46 games away from Toyota Arena, before finishing with 15 of 22 on home ice to conclude the season. The Reign play just four road games between February 7 and March 27 and seven road games after February 7 in total. Four of the five longer trips (Iowa, Colorado, Tucson x2) are loaded up in the 2018 portion of the schedule.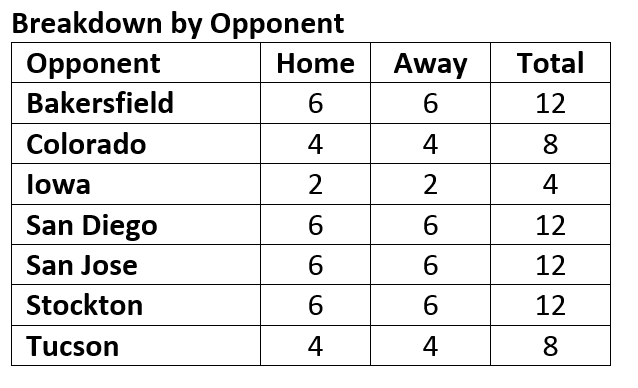 Flavor Of The Month
– The busiest month at Toyota Arena will be February, with the Reign home a season-high seven times during that month. Ontario also has six home games in December.
– The busiest month for the Reign overall will be November, with five contests at home and eight away for a total of 13 games. Ontario will also play 12 games in December, with six apiece home and away.
– The Reign have a pair of five-game homestands, the first running from December 6 through December 15 and the second from March 14 through March 27.
– The longest road trips of the season are also five games, occurring twice – December 28 through January 8 and January 24 through February 7, with the latter sandwiched around the 2020 AHL All-Star Classic presented by Ontario International Airport.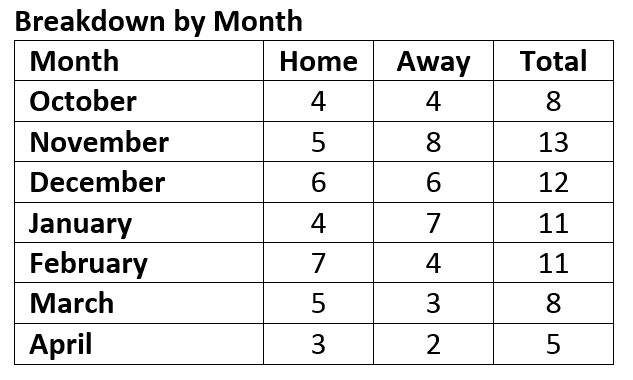 Back-To-Backs
– Last season, the Reign set a franchise record with 21 back-to-backs and followed that up with……even more in 2019-20. Ontario will play 24 back-to-back sets throughout the season, though they did dodge any of the dreaded three-in-threes, typically contested by teams in the Eastern Conference.
– Over the past three seasons, Ontario has played between 19 and 21 back-to-back sets with 19 in 2017-18 and 20 in both 2016-17 and 2015-16.
– Though three-in-threes aren't ideal, Ontario was actually pretty successful in theirs last season, going 2-1 in three games against San Jose and Iowa. This season marks the second time in five seasons that Ontario will not play a three-in-three set (2017-18).
Other Fun Facts
– All Wednesday and Friday evening home games this season will begin at 7:00 p.m., while all Saturday home games start at 6:00 p.m. Sunday and Monday home games will begin at 3:00 p.m.
– The Reign play a rare Saturday afternoon matinee in San Jose on Saturday, October 19, which appears to be a part of an AHL-NHL doubleheader. NHL San Jose will host the Buffalo Sabres that night at 7:30 PM.
– The Reign will not be home on New Year's Eve for the first time as an AHL franchise, though they do hit the road to take on Bakersfield in a 5 PM start time. The earlier start time is appreciated for those in search of hope……hope of not taking in the New Year in a box truck home from Bakersfield.
– Could Ontario Reign Opening Night feature the return of Jonny Brodzinski? While I'd imagine he's probably slotted more towards the NHL than the AHL, Brodzinski's one-year, two-way deal with the Sharks could possibly leave him AHL bound, assuming he clears waivers.
– Leap Day! The Ontario Reign will play their first ever AHL game on February 29, hosting Bakersfield at Toyota Arena. The Reign have only been an AHL franchise for one Leap Day, though it fell on a Monday when no games were played around the league.
– The Reign also released their preseason schedule, which remains a home-and-home set against the San Diego Gulls. "Cool School" returns to Ontario on Thursday, September 26 with a 10 AM faceoff at Toyota Arena, followed by the annual Anaheim game, which takes place on Monday, September 30 at 7 PM at Honda Center, home of the Anaheim Ducks.
– If you don't know by now, the Reign are also hosting the 2020 AHL All-Star Classic presented by Ontario International Airport on January 26 and 27. The event includes the Skills Competition on January 26 and the All-Star Challenge on January 27. CLICK HERE for more information on that event.
CLICK HERE to view the schedule in list form
CLICK HERE to download the Reign schedule to your favorite device
CLICK HERE for a downloadable / printable version of the schedule