CHL IMPORT DRAFT | 2019 third rounder Lukas Parik is a Chief, and invitee Nino Kinder an… Ice. He is an ice.
Parik was "drafted" by Spokane in the CHL import draft, which is part-draft, part-pre-arranged-distribution-of-talent across major junior hockey. This is not necessarily a linear, top-to-bottom, best-to-worst draft. Many European players are already playing professionally and may not be as incentivized to play for a stipend in North America. Relationships and between European and North American agents, NHL teams and major junior teams come into play in arranging some of these agreements.
Anyway, Parik goes to Spokane, and that's an good destination. They'll lose Jaret Anderson-Dolan to the pros but have what's a better-than-coinflip shot at keeping defenseman Ty Smith, a gifted skater who was drafted 17th overall by New Jersey last year and played for Canada as an 18-year-old at world juniors. If he ends up making the jump to the Devils, there's a bit more of a questionable blue line on the team, which could be compounded by the loss of Toronto draft pick Filip Kral, uncertain to return as a "two-spotter" who'd occupy both a designated import spot and a 20-year-old spot. (CHL teams, with rare exceptions, are permitted three overage spots and two import spots on their roster.) If Smith and/or Kral return, the Chiefs, a Western Conference finalist in 2018-19, could again be a top Western Conference team. If both are lost, Parik will see a few more pucks. As always, the balance hangs in several players eligible to play in either the AHL or WHL this coming season. More coming from Parik this afternoon.
Nino Kinder, a 6-foot, 163-pound forward and Hertha Berlin supporter, will have the opportunity to play for the Winnipeg Ice in major junior's return to "Chicago of the North," a nickname I've definitely never heard before. He's an Eisbaren product and Berlin native who posted 17 goals and 41 points in 33 games with their U-20 team around five scoreless outings with their senior club.
LA Kings Insider: What's the message to you from the development staff and what's their focus both at this camp and this coming year for you to work on?
Cole Hults: This year it's just 'be a pro.' Just kind of handle yourself like that on and off the ice with what you eat, how you treat your body. And that conference call at the end of the year, that was really good with Rob Blake and a couple other guys from the development staff, and the first thing Rob said was 'be a pro this year' and learn how to do that before I hopefully get my opportunity next year. I think that was the most important thing I took from him, and when I head to the rink, I think this year I'm going to try and stress this is a good year to come in and be a leader. I know I'll be a junior this year and I know you've got a couple of big guys coming in, but this year I think I can do something special, so I'm excited to go back as well.
LAKI: Were you close to signing? Is that something that you kicked around a little bit?
CH: I don't know. Maybe, I don't know, it was kind of up in the air. I had a conversation with my advisor and obviously I want a deal, but I wasn't forcing it or anything, and whatever they say I'm going to follow. Obviously, they've got a path for me and I'm just going to follow it and control what I can control and go from there.
LAKI: Penn State is a team that throws so many pucks As a defenseman, how is that type of system, what's your role in that as a defenseman?
CH: It makes it easy for us I think. We're playing simply off instinct, right? Our forwards are so good. They're all such fast guys, so we know exactly how we play and we know exactly what we need to do, so for us, we don't even have to think from the back-end standpoint, which makes it really easy for us and is why we're having a lot of success. I think we've got a simple back end. We're not too flashy and we let our forwards kind of do the offensive, but we throw pucks from the point and we're not too fancy from up there, too. So, it makes it really easy on us I'd say.
LA Kings Insider: What is your leadership style? Everything that we see is just great energy, moving your feet, great hustle, but there's nuance to leadership and a lot we don't see. How would you describe your own style?
Mikey Anderson: I just try to off the ice be a good guy all the time if I can. Try to be respectful around the rink, in the weight room working as hard as I can. Trying to make the most out of every rep. Try and lead by example that way. And then within the teammates and in the locker room, if something needs to be said, I try and speak my mind on what I think could change the mood or tone in the room, but the main thing I try to do is just lead by example. Show up every day ready to work, not having a bad day, and just trying to take it minute by minute and shift by shift.
LAKI: Did you speak up in the room before going into medal games or prior to the national championships against Notre Dame or UMass?
MA: Yeah, I mean I think in those situations there's not a lot to be said. But being able to, I think this year, being able to go to World Juniors, when you go through it the first year you're kind of the quieter guy, kind of trying to get the feel of how things work and then being able to have gone through it once, you go back this year and you know what to expect and you know the nerves that come with it, so being able to say something can sometimes settle the nerves for some of the new guys. So, I mean, you've kind of just got to read the room to the best of your ability and get it in the right place for everyone to have success.
LAKI: Are you just pinching yourself the way you've put yourself in this situation to find so much success so early?
MA: You dream about it as a kid for sure, but going through it first year with my brother it was pretty surreal to be in the situation we were and just have the opportunity to play. And then, being able to win it was something you would never think of and then coming back into this year, it's the goal. It's tough to repeat, but being able to stay strong throughout the year and do it again was unbelievable. Something you can obviously dream about, but you never think will become a reality.
LAKI: There are several openings on this blue line, depending on what we see in free agency and elsewhere. Is your goal to make the LA Kings this year? Do you even make those types of proclamations or goals?
MA: Like you said, there's a lot of opportunity or a lot of compete here. We've got a lot of really skilled defensemen, so I think coming into camp that's going to be everyone's goal is to try and be on the opening night roster, which is good. It's going to be a healthy compete level all throughout camp, all throughout the summer to come in ready to go. But at the end of the day, it's the management's decision, so I know on behalf of everyone, we're all going to put ourselves in the best spot we can to crack the lineup, but at the end of the day whatever they think will be best for the team and the development, we'll go with.
LAKI: When did you add the ability to join the rush? When did that become part of your game?
MA: I think just the past couple years. Coming out of junior, I felt I had the offensive abilities. I didn't have the greatest offensive numbers within my junior years, but going into college I played a little less minutes than I had been at the junior level, so I felt like I had a little bit more energy to be able to join the play. As that went on, you grow confidence with it and you kind of pick and choose and you figure out where the right spots are to jump, so I think the last year especially I really found big improvements in my offensive side and feeling comfortable making more plays.
THAT LOOKS FAMILIAR | Nice choice in mask by camp invite Derek Mullahy, who played New England prep hockey with Dexter last year and will spend a year in the USHL before joining the Harvard Crimson.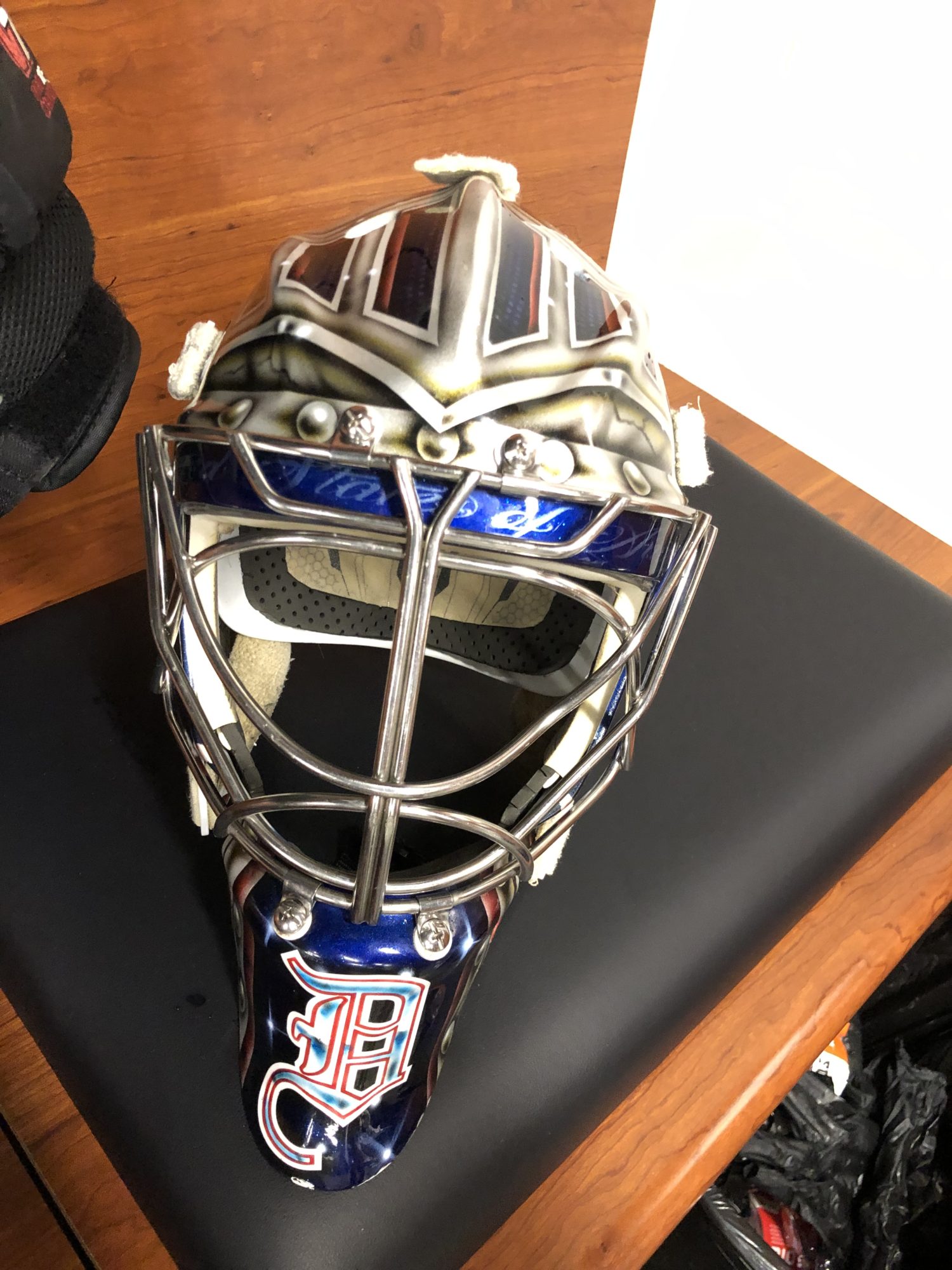 –Lead photo via Juan Ocampo/LA Kings