And on the seventh day, SCHEDULOR rested.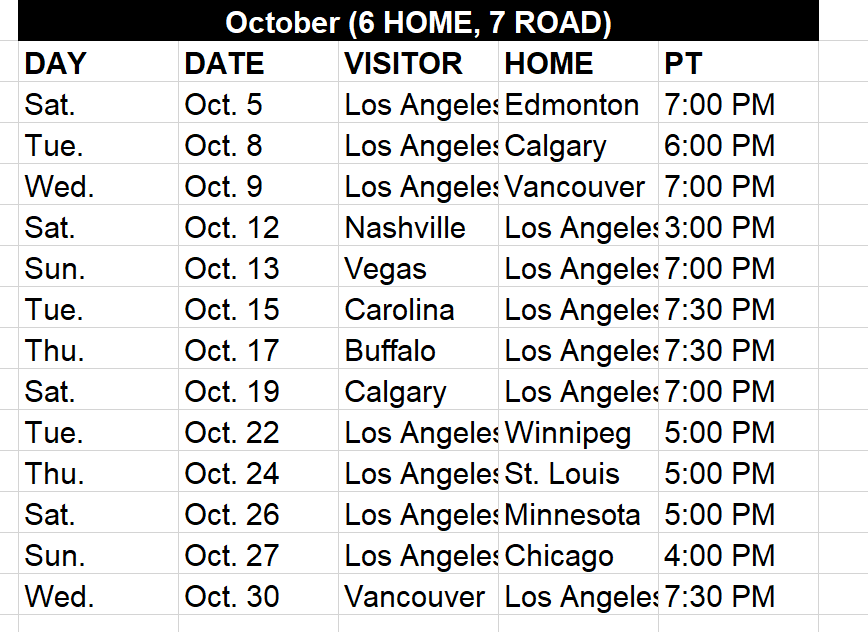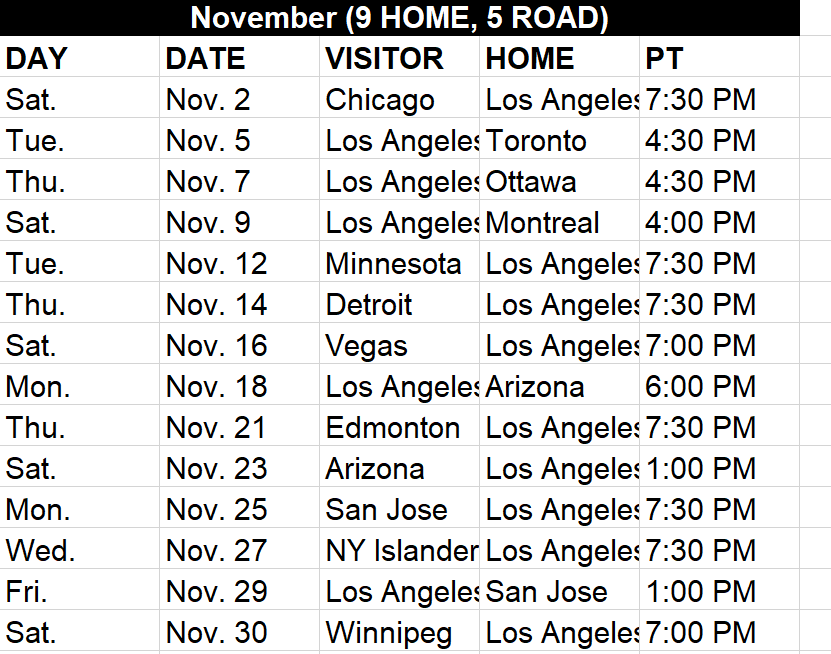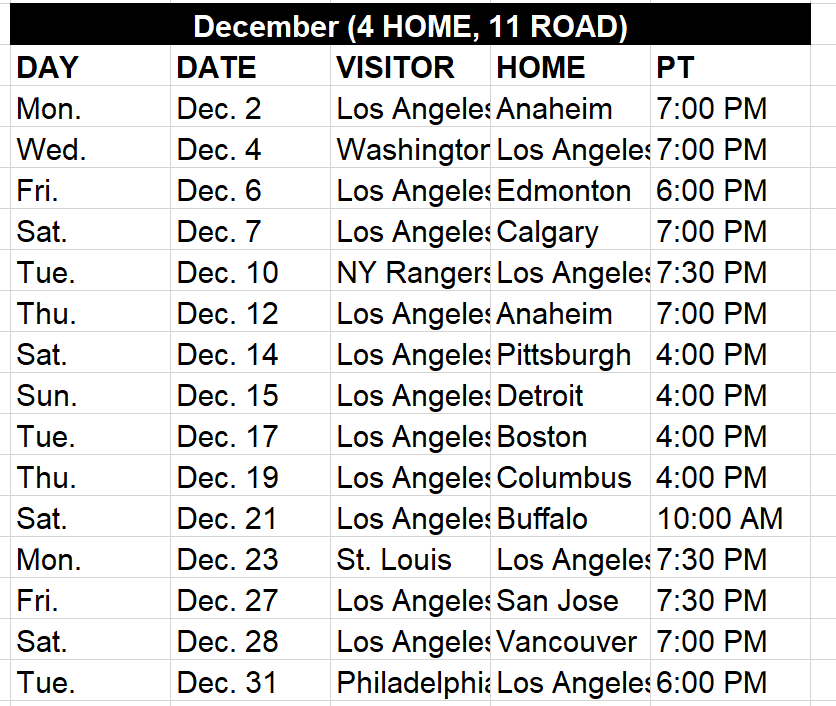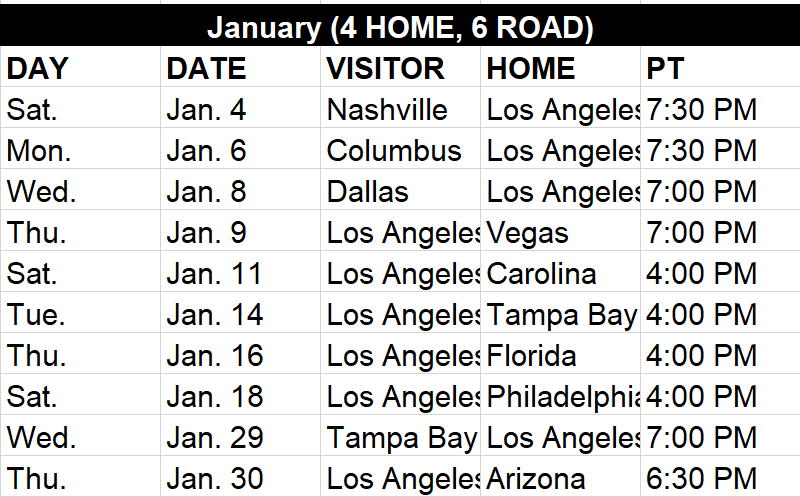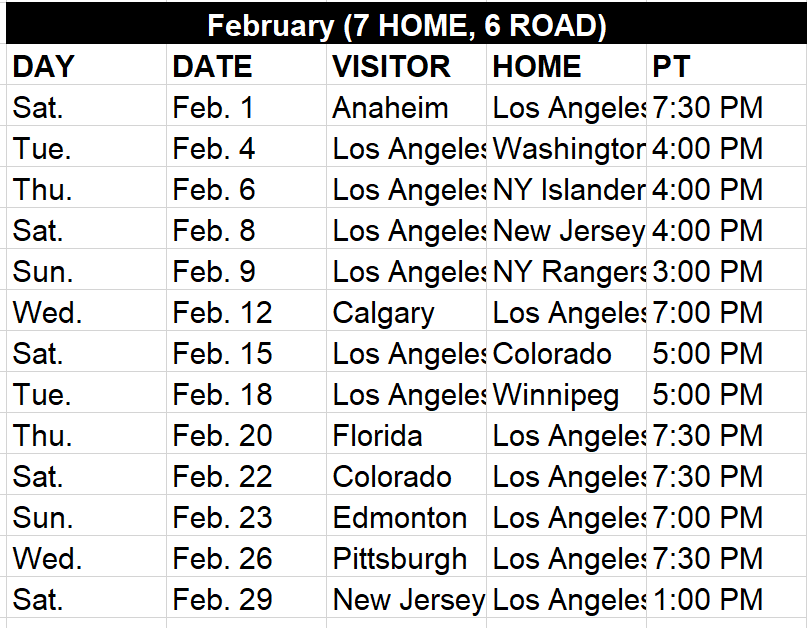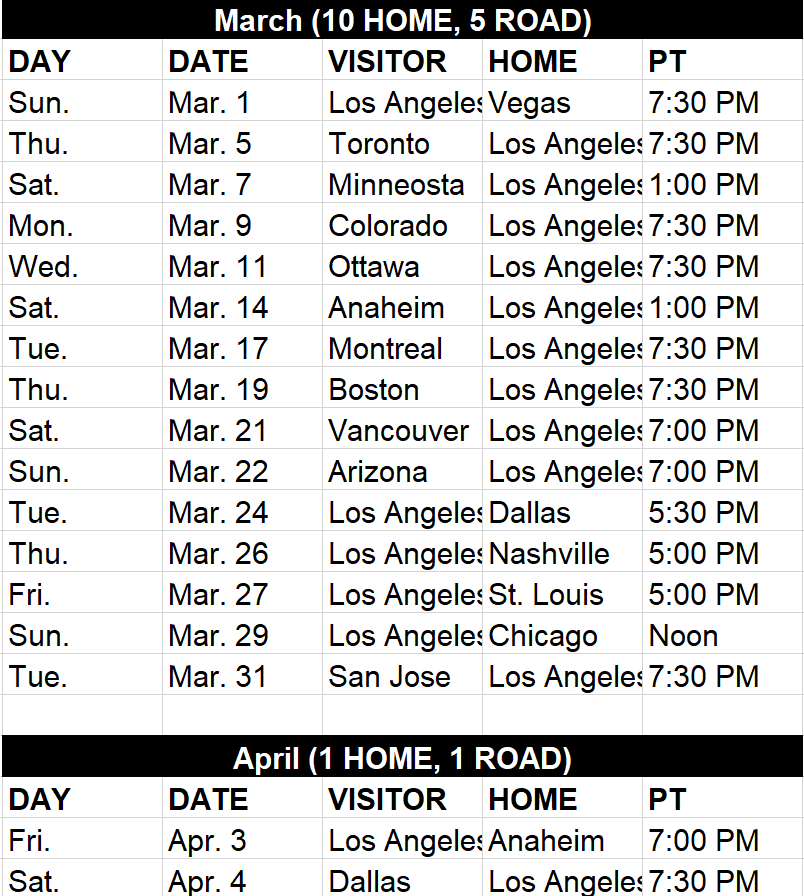 Bullet points!
— Most importantly, the schedule matrix. Sadly, this is a boring matrix, like The Matrix Revolutions, and not thrilling and thought-provoking, like The Matrix. And, similar to The Matrix Revolutions, it also leads to disappointment: we have to travel to Winnipeg twice this year.
Of substance, you may recall that since Vegas was added to the Pacific Division, Los Angeles plays six teams in its division four times and one team five times. This year, that extra game is against Anaheim, and it's on the road. No bigs! That takes a flight away from the team, and it also means the Kings will face four Central Division teams at home twice, and three Central Division teams at home once. Last year, the extra game was at home against the Golden Knights.
We'll just get it out of the way: Los Angeles visits St. Louis, Winnipeg and Chicago twice, while Colorado, Minnesota, Nashville and Dallas will each visit Staples Center twice.
— Back-to-backs. Lots of 'em! 15, to be exact: October 8-9: at Calgary/at Vancouver; October 12-13: vs Nashville/vs Vegas; October 26-27: at Minnesota/at Chicago; November 29-30: at San Jose/vs Winnipeg; December 6-7: at Edmonton/at Calgary; December 14-15: at Pittsburgh/at Detroit; December 27-28: at San Jose/Vancouver; January 8-9: vs Dallas/at Vegas; January 29-30: vs Tampa Bay/at Arizona; February 8-9: at New Jersey/at New York Rangers; February 22-23: vs Colorado/vs Edmonton; February 29-March 1: vs New Jersey/at Vegas; March 21-22: vs Vancouver/vs Arizona; March 26-27: at Nashville/at St. Louis; April 3-4: at Anaheim/vs Dallas
Back-to-backs by season under the current divisional alignment:
2019-20: 15
2018-19: 12
2017-18: 14
2016-17: 16
2015-16: 13
2014-15: 9
2013-14: 14
— Worthy of its own bullet point! The LA Kings are 2-2-1 (W-L-T) all-time on Leap Year Day. They've played on February 29 in 1967-68, 1975-76, 1991-92, 1999-00 and 2003-04.
— Matinees: Fewer than last year's 11.
Saturday, October 12 vs Nashville: 3:00 p.m. PT
Saturday, November 23 vs Arizona: 1:00 p.m. PT
Friday, November 29 at San Jose: 1:00 p.m. PT
Saturday, December 21 at Buffalo: 10:00 a.m. PT
Saturday, February 29 vs New Jersey: 1:00 p.m. PT
Saturday, March 7 vs Minnesota: 1:00 p.m. PT
Saturday, March 14 vs Anaheim: 1:00 p.m. PT
Sunday, March 29 at Chicago: 12:00 p.m. PT
Note that there are also 7:00 p.m. starts to accommodate Hockey Night in Canada broadcasts, as well as some on Wednesdays that are related to games that will potentially be nationally broadcasted. Also, Sunday home games have been moved to 7:00.
The national and local broadcast schedules will come out at a later date. The national schedule is usually released in the first half of August; the local schedule is usually released in the first half of September.
— [Extremely Dave Joseph voice] THE ANAHEIM DUCKS ARE IN TOWN…
[Extremely LAKI poster voice] YOU USED THAT DUMB JOKE THE LAST TWO YEARS…
The Ducks visit on Saturday, February 1 and Saturday, March 14. The Kings visit Centre d'Honda on Thursday, December 12, Monday, February 2 and Friday, April 3. So, you're telling me we're going to have to commute to Anaheim three times during rush hour? SCHEDULOR, what have you done?!
— This is an unbalanced schedule. Los Angeles will play 25 of its first 60 at Staples Center and then 16 of its final 22. They're home for 15 of 16 games between February 20 and March 22 and will stay in the Pacific Time Zone for the lone road game by traveling to Vegas.
— Again, a long, late-January break. The Kings play on January 18 and not again until January 29 as part of the combined bye week and subsequent All-Star break. All-Star Weekend will be held January 24-26 in St. Louis. Also, the defending champion Blues (!) make their lone Staples Center trip on Monday, December 23, while Los Angeles' lone visit to Long Island on February 6 will be held at Barclays Center.
— Stadium Series! The Kings and Colorado Avalanche will face off at Falcon Stadium at the United States Air Force Academy at 6:00 p.m. Mountain Time on February 15, 2020. They'll then head to Winnipeg to conclude the two-game trip on February 18.
— Barring any schedule changes, the Kings will have faced the Golden Knights six times on the road since the expansion club's 2017-18 entrance, and all six will be on the second half of back-to-backs. Los Angeles plays at T-Mobile Arena on January 9 and Sunday March 1; the March 1 follows a Staples Center matinee the day prior, so you'll be able to have a Saturday night in Vegas without missing a game, if you so choose.
— Speaking of that matinee, first overall picks Jack Hughes, and Nico Hischier, Taylor Hall and- you know what? If I'm getting into the Devils games on the schedule, it's time to wrap this up. (They visit at 1:00 p.m. on February 29.)
— As always, times are subject to change.