Good morning, Insiders. A camp roster is below. New numbers!
33: Lukas Parik
39: Alex Turcotte
44: Mikey Anderson
47: Andre Lee
50: Sean Durzi
52: Arthur Kaliyev
53: Jordan Spence
54: Tobias Bjornfot
67: Braden Doyle
68: Samuel Fagemo
70: Kim Nouiainen
Note Mikey Anderson changed from 79 to 44.
Goalies Lukas Parik, Derek Mullahy and Jacob Ingham took the ice first and were warmed up by Tyler Toffoli, Kyle Clifford, Daniel Brickley and Alec Martinez. A team I assume to be TEAM BLACK just took the ice under Mike O'Connell and members of the development staff. Alex Turcotte is a member of this team, as is Mikey Anderson. Stay tuned for the team rosters and notes and factoids.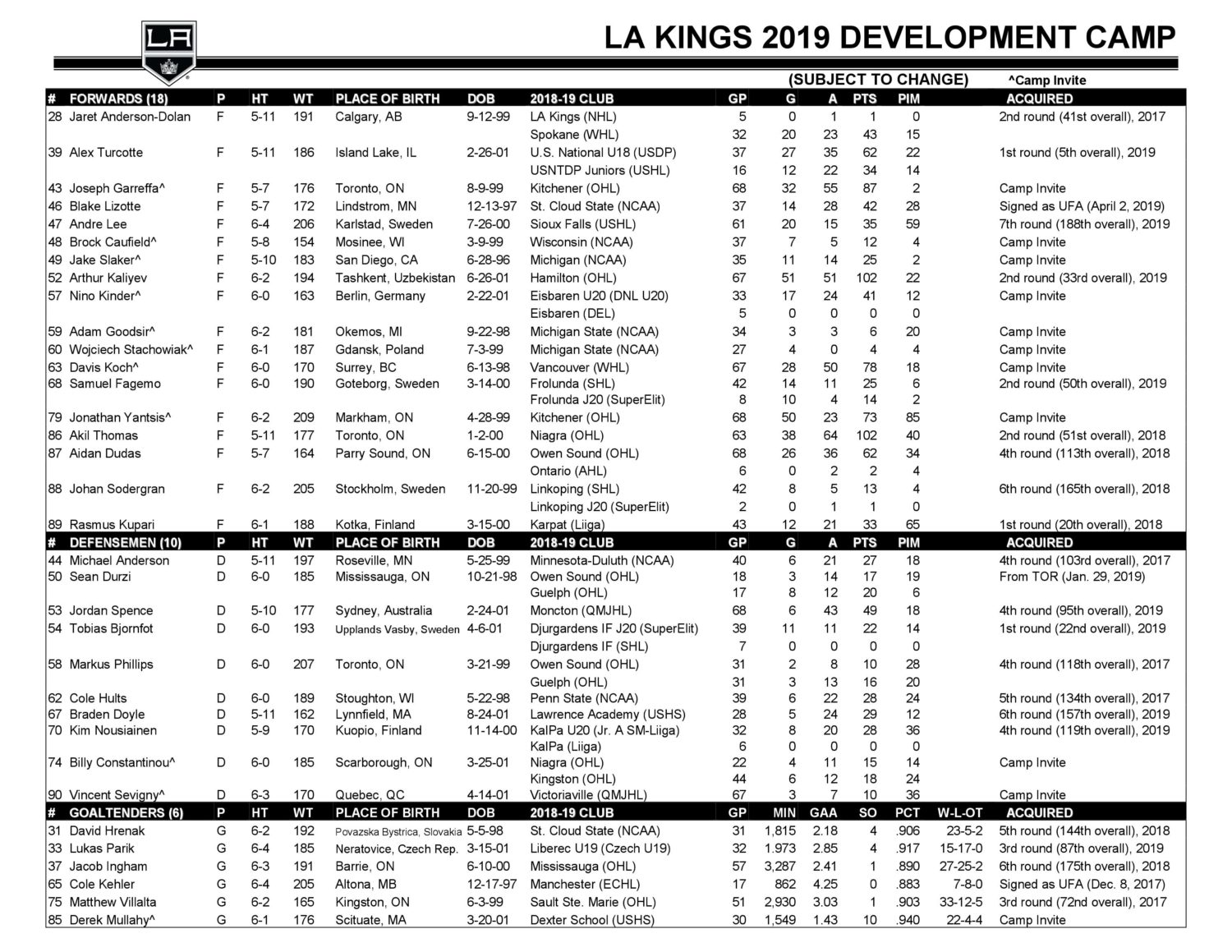 Tuesday, June 25
9:15 a.m. – Team Black Practice at TSC
10:45 a.m. – Black vs. White Scrimmage
11:45 a.m. – Team White Practice at TSC
12:30 p.m. – Players and Staff Media availability
Wednesday, June 26
9:15 a.m. – Team White Practice at TSC
10:45 a.m. – Black vs. White Scrimmage
11:45 a.m. – Team Black Practice at TSC
12:30 p.m. – Players and Staff Media availability
Thursday, June 27
9:15 a.m. – Team Black Practice at TSC
11:45 a.m. – Team White Practice at TSC
12:30 p.m. – Players and Staff Media availability
6 p.m. – SoCalGas In The Pipeline Scrimmage* (Media availability following scrimmage)
Friday, June 28
8:30 a.m. – Black vs. White Scrimmage (Media availability following scrimmage)