The LA Kings selected U.S. National Team Development Program center Alex Turcotte with the fifth overall pick on Friday at Rogers Arena, claiming a player that hadn't been expected to fall beyond the fourth selection. With the third pick, Chicago selected WHL-Saskatoon center Kirby Dach, and at four, Colorado chose WHL-Vancouver defenseman Bowen Byram.
In Turcotte, the son of former Canadien, Jet and Capital Alfie Turcotte, Los Angeles claims a skilled and hard-nosed two-way center whose approach, ability and skill set have drawn comparisons to Jonathan Toews.
"I think I'm going to fit in really well," Turcotte said. "I think I have a lot of grit, but I'm also really fast and skilled and I think that's what the Kings need. They need a lot of speed and skill and I'm also not afraid to get in the dirty areas so I think I'll fit in very well. I mean, it's going to be a lot of fun. "
Because Turcotte has committed to play for Tony Granato at the University of Wisconsin, he'll be eligible to attend development camp but won't be able to attend training camp absent of an NHL contract (at which point he'd forego his NCAA eligibility). But he should suit up for an offensively gifted Badgers team that's also expected to field a lineup including 2018 New York Rangers first round pick, sophomore K'Andre Miller, and 2019 Montreal first rounder, freshman Cole Caufield. Wisconsin also has a good character core beyond its dynamic incoming freshman class.
"I think as of now that's what I'm planning on doing," he said. "I don't think it could hurt me. I think it's only going to help. I'm really excited by the coaching staff there, Tony Granato — I think that's going to be a great spot and they're going to get me ready for the NHL."
First Round, 5th overall: Alex Turcotte
Position: Center
Shoots: Left
DOB: 2/26/01
Height: 5'11
Weight: 180
Hometown: Island Lake, IL
Twitter: @Turcotte__71
NHL Central Scouting final ranking: 4 (North American skaters)
NHL Central Scouting midterm ranking: 5
Sportsnet's final ranking (Sam Cosentino): 4
Sportsnet's mock draft (Sam Cosentino): 6
TSN's final ranking (Bob McKenzie): 4
TSN's final ranking (Craig Button): 10
ESPN's final ranking (Chris Peters): 3
Stats (USHL-USNTDP): 37 GP, 27-35=62 (incl. 7 GP, 4-5=9 at U-18 WC)
Corey Pronman's final ranking: 3
(Subscribe to The Athletic here)
Turcotte had a tough season, missing time due to injury and contracting mononucleosis late in the season. When healthy, though, he was awesome and a dominant center at the USHL level. He's a well-rounded prospect without any clear weakness in his game and a lot of high-end elements. He's a great skater with a clean stride and can barrel down the wing with speed. Turcotte's speed is good, not overwhelming, but he's got a fantastic first step and a great overall pace to his game. He combines that pace with very good hands and vision, showing how versatile a threat he can be. He can make creative plays off the flank and sees his options well. It's not just his speed and skill that stand out, but his compete level is elite. Turcotte is the kind of forward who can dangle around defensemen, blow by them or drive his way through them. He gets to the net, consistently and without fear. He battles for pucks as hard as anyone and typically wins them, even at 5-foot-11. He's not the biggest center, but that is really the only criticism I can find of his game. Turcotte has been a top prospect for many years and this season he showed exactly why he's been so touted.
USNTDP U18 coach John Wroblewski on Turcotte: "Sandpaper and silk. He's the perfect blend of speed, skill and power. He's kind of a Brad Marchand type who plays center. He's got that 1-on-1 ability, he's got a great shot in tight, unbelievable vision and he plays with an edge. His game is predicated on him driving the puck to the net and putting the opposition on their heels. His bravery combined with his speed makes him the player that he is."
McKeen's final ranking: 7
(Subscribe to McKeen's here)
We already mentioned his hands, but let's dwell on them a bit more. He is an immensely talented puck mover and specializes in creating dangerous zone entries that lead to quick strike scoring chances. He is just as liable to cut through multiple layers of a defense as he is to creatively dish off to a linemate in a better position. Sometimes he will skate into the slot himself, and other times he will cycle behind the net and create a scoring chance from there.
Turcotte would not be able to turn those skills into so many points were it not also for his high-end hockey IQ and motor. He shows advanced game awareness in all three zones and can be utilized in all manner of game situations, including key defensive zone shifts and penalty kills. He reads plays like a pro and anticipated far more than he reacts.
A great example of his quick, soft hands, working in tandem with his anticipation came in a seemingly simple goal he scored against Russia in the round-robin portion of this year's WU18 tournament. As a two-on-one rush approached the cross, Turcotte's linemate passed across the slot, through a Russian defenders legs, such that Turcotte would barely have been able to see the puck moving laterally. No matter, he received the pass cleanly and redirected it past the netminder in one quick motion.
Speaking of goals, Turcotte would not have so many to his name were he not a gifted shooter, too, showing a special propensity for scoring from the rush. His wrist shot combines high-end velocity, placement and a quick release, that should continue to allow him to light the lamp at the next few levels. Despite not being very large or physical, he likes to park himself in front of the net once the offensive zone has been established.
Turcotte, on his reaction to getting drafted by the Kings:
I'm super excited and it hasn't even hit me yet. It's so surreal. I just can't wait to get started with the Kings. It's a dream come true.
Turcotte, on whether he knew the Kings would pick him:
No, I definitely knew they were interested in me, but I never knew for sure, so I was definitely happy.
Turcotte, on imagining what the draft scenario would be:
You definitely think of different things, but I was just trying to stay laid back. You're going to get nervous, that's normal, but I was just more anxious and excited and you kind of don't really control who they pick and you just try to be yourself. You just want to go to a team that wants to.
Turcotte, on what words were exchanged onstage:
I thanked them so much for believing in me and picking me and I can't wait to get started and I'm extremely excited to be a King.
Turcotte, on joining a team with a reputation of having responsible centers:
Yeah, guys like Kopitar and Towes and Bergeron, those are the type of players that are very important, and I tried to take things from those guys and use them in my game. I think players like that help win championships and I definitely looked up to guys like that. Kopitar, he's one of the best players in the world and it's just so cool that I get to be in the same organization as him and I can't wait to get started.
Turcotte, on how his time in the USHL prepared him up until now:
I mean our team we had so much offensive talent. So many good players on our team and I think going against those guys every day in practice was always a challenge and it made me a way better hockey player. Without those guys, I definitely don't think I'd be as good of a player as I am today. I credit a lot to them and everyone who helped.
Turcotte, on how familiar he is with Los Angeles:
Well, my uncle actually lives down there and coaches in the LA Junior Kings association, so I've been down there the last three summers and I kind of have a feel for it and it's definitely a great place to live and it's pretty cool.
Turcotte, on whether he surfs:
No, not yet. But I guess I'll have to learn, right? My uncle can teach me.
Turcotte, on the "sandpaper" element to his game:
I think it just shows that I'm not afraid to go to the dirty areas. I'm not going to go out there and try to run someone over, but I think just knowing that I'll go to the dirty areas to make a play, that's really important.
Turcotte, on his uncle's name and what he's seen of LA:
Jeff Turcotte. I remember Manhattan Beach. That's the area I've been to. It's a beautiful area and it's pretty cool.
Turcotte, on Tony Granato:
I think he's made me feel really comfortable since day one, since I was fifteen years old. I know he's really going to help prepare me with our other freshman in our class. I think we're going to have a really exciting team and we have a lot of high expectations and we're expecting a lot out of ourselves, but I think we're going to have a great year and we're going to have a lot of fun.
Turcotte, on whether he's heard from Granato yet:
No, I've seen him a lot around here, but I'm sure I'll see him. I can't wait to see him. It's definitely going to be pretty cool and he's definitely going to tell me a lot about LA.
Turcotte, on his dad's reaction to him getting drafted:
He's just really happy for me and proud and I think that's the best part is that he's so important for me and he taught me so much on and off the ice. Without him, I wouldn't really be here and to have him there is unbelievable. He's always been my biggest fan, so I think with him, this is really important for us and just such a cool moment.
Turcotte, on how many people are at the draft:
I don't really know, just parents, grandparents, uncles, friends. Nothing too crazy, but definitely not a small crowd.
Turcotte, on who in his family had the best reaction to him getting drafted:
I would say my grandpa or my dad. Like I said, they're just so happy. I mean they've been a big part of my hockey life on and off the ice so I think they were ecstatic.
Turcotte, on how he sees himself helping the Kings improve upon last season:
Obviously the Kings didn't have the best year and all of them are pretty disappointed with their season and I think I can help just by bringing that speed and skill, and I think that's going to be really helpful for the team and I'm just going to do anything I can to help the team win.
Turcotte, on impressions he was left with after meeting with Los Angeles at the combine:
I knew they really liked me and that I felt really comfortable with them. I knew that if I was there and was there pick i felt really good about my chances and I would be really happy with that situation and it's how it played out. I couldn't be any happier. It's a dream come true and it's just unreal. I can't believe it happened.
"Let's put him as a mixture between Jonathan Toews & Brayden Point."

I asked Alex Tanguay on @NHLNetwork for his scouting report of #LAKings #NHLDraft pick, Alex @Turcotte__71. pic.twitter.com/oSCixYGRDX

— Stephen Nelson (@StephenNelson) June 22, 2019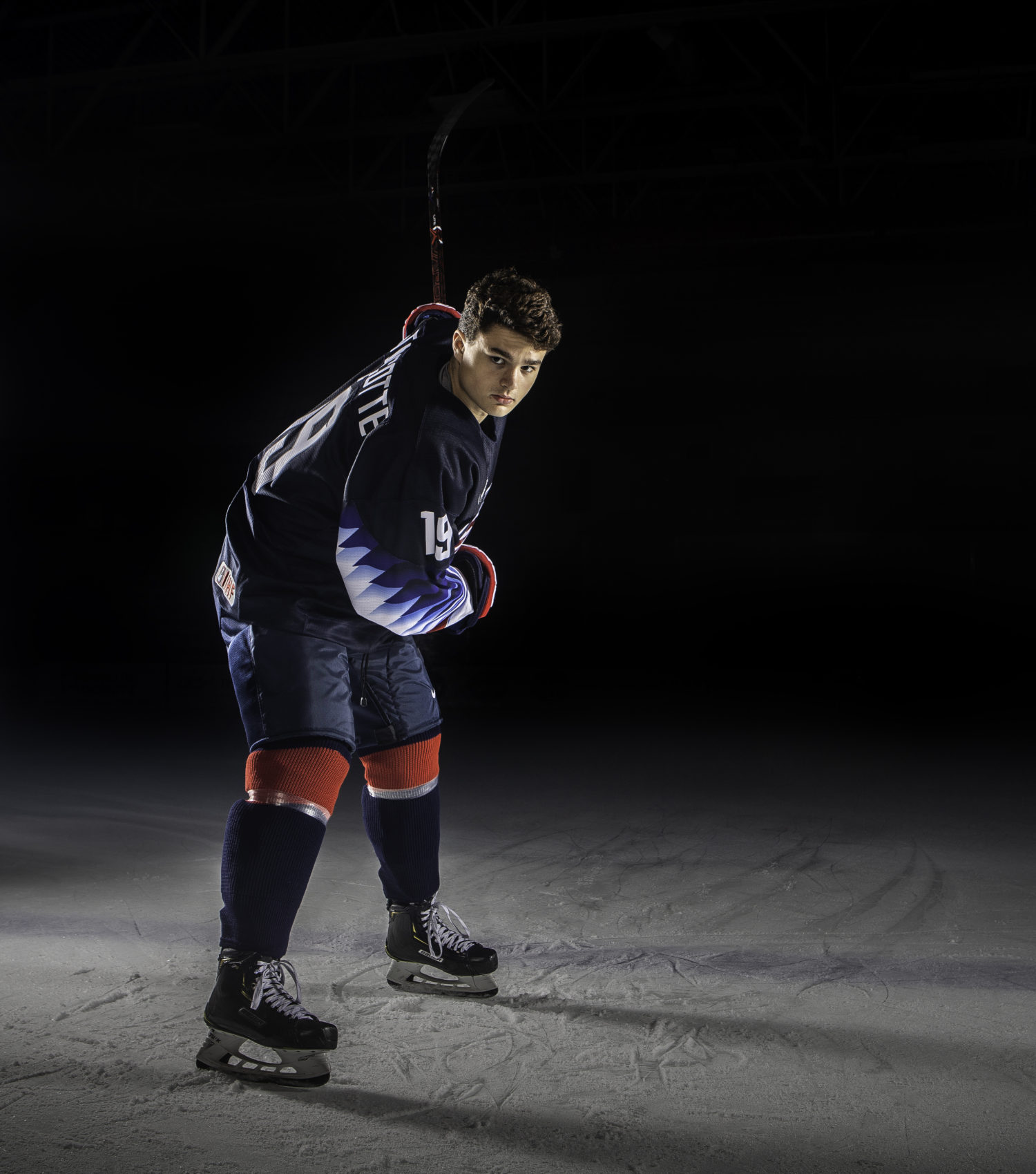 — Lead photo via Andre Ringuette/NHLI