Insiders. A fine Wednesday to you and yours. Notes:
— Happy trails, Corey Perry. A first-ballot Freeway Faceoff Hall of Famer, Perry was bought out by Anaheim and will become an unrestricted free agent on July 1. One of 29 members of the Triple Gold Club – welcome to the club, Jay Bouwmeester – Perry's Olympic gold, World Championship gold and Stanley Cup place him in rare company, as does his 2011 Hart Trophy. Over 73 career games against Los Angeles, the 34-year-old amassed 24 goals and 47 points as a Duck.
Let's not wax too poetic about Corey Perry. But with 988 career games played, the decision to end his Anaheim tenure 12 games before a major milestone must have been excruciating for GM Bob Murray.
"This is one of the most difficult decisions I've had to make in my 44 years in the NHL," Murray said in a statement. "Corey gave everything to this franchise for 14 years, never giving an inch to his competitors. While his scoring touch is undeniable, his will to win became his greatest attribute."
Bob Murray reiterated how difficult a decision it was to buy out Perry but he said they had to "open a door" for other players. A trade was explored but nothing materialized; Murray wasn't interested in taking back money.

— Curtis Zupke (@curtiszupke) June 19, 2019
Who was the last player whose gamesmanship and antics drove Kings fans into such fits? Theo Fleury? I remember Craig Muni nearly starting a riot at the Forum in 1991. Help me out here.
— Meanwhile, Kings. Executive Vice President, Hockey Operations and Legal Affairs Jeff Solomon is busy these days communicating with restricted free agents, and that includes Brendan Leipsic. The two sides have spoken recently, and asked whether the team intends to sign Leipsic, General Manager Rob Blake responded, "If we can, yeah." Leipsic indicated he'd like to return near the end of the 2018-19 season, sharing, "I've been in a lot of places, but I love it here in L.A."
Leipsic netted five goals and 18 points in 45 games as a King and has 13 goals and 48 points in 126 NHL games. RFAs must be tendered qualifying offers by 2:00 p.m. Tuesday for teams to retain their rights. Without a qualifying offer, the player becomes an unrestricted free agent.
Michael Amadio, Adrian Kempe, Matt Roy, Cal Petersen, Alex Lintuniemi, Daniel Brickley, Sheldon Rempal, Nikita Scherbak, Matheson Iacopelli and Pavel Jenys are RFAs, though Scherbak is signing with KHL-Omsk and Iacopelli and Jenys aren't expected to be qualified. Lintuniemi, selected in the second round in 2014, is another player whose qualification is not certain.
— The salary cap appears to be staying flat (and may stay flat):
Of course, NHL teams were provided the potential cap range at the board of governors meeting in December. The board meets again today in Vegas and there's a GMs meeting tomorrow in Vancouver, so it's not being kept secret.

Front offices are bracing for a cap under $82M.

— Chris Johnston (@reporterchris) June 19, 2019
It's murky how this will affect the Kings, who intend to spend below the cap in 2019-20. I'd heard L.A. would like to stay somewhere around that $77-79-million or $78-80-million range. (I guess that would make it "$77-to-80-million.") They don't envision themselves as contenders and know it's going to take some time for The Plan or what-have-you to return them to where they want to be, and Rob Blake said potentially "eight-to-ten young players" will play for the team this season. "Young players" aren't expensive.
So, teams that spend to the cap are facing a crunch, which theoretically should enhance parity in a parity-rich league. (CapFriendly's league-wide cap space chart is here, and whoa, Vegas.) On one hand, perhaps that nudges the Kings towards the middle; on the other, perhaps it's not in their best interests to finish in the middle of the pack. Perhaps it is. There should be some really interesting movement around the league this week.
— Development camp, ho! Via the LA Kings:
The LA Kings will host the team's annual Development Camp at Toyota Sports Center next week. On-ice workouts are scheduled to begin on Tuesday, June 25, and conclude on Friday, June 28. The format has changed, and rather than break the prospects up into groups of forwards, defensemen and goalies, they'll be assigned to either Team Black or Team White. The SoCalGas In The Pipeline Scrimmage takes place at 6:00 p.m. on Thursday, June 27. Season Ticket Members will receive (or have received) an email to RSVP to secure their free tickets in advance. Remaining seats are also free and will be available on a first-come, first-served basis.
Development Camp Schedule and Media Availability (Subject to change – all times approximate)
Tuesday, June 25
9:15 a.m. – Team Black Practice
10:45 a.m. – Black vs. White Scrimmage
11:45 a.m. – Team White Practice
Wednesday, June 26
9:15 a.m. – Team White Practice
10:45 a.m. – Black vs. White Scrimmage
11:45 a.m. – Team Black Practice
Thursday, June 27
9:15 a.m. – Team Black Practice
11:45 a.m. – Team White Practice
6 p.m. – SoCalGas In The Pipeline Scrimmage*
Friday, June 28
8:30 a.m. – Black vs. White Scrimmage
The Development Camp roster – which will be released once finalized – will include players in the Kings system, players who have been drafted (including many from this week's 2019 NHL Draft) but not signed by the Kings, and other non-roster camp invites.
The first on-ice session for the Kings 2019 NHL Training Camp is September 12 at Toyota Sports Center in El Segundo.
Rob Blake, on the RFAs:
Solly's on all of them. We'll get to work on all of those. There are our RFA's and we've got eight or ten new pros, not including those RFA's, so that's why it's a busy summer. We're introducing all these new pros to our organization. We want to get these restricted free agents signed. We've got [to get] the coaching staff in order here and get that in order in Ontario also.
Blake, on whether Blake Lizotte could push for a spot this season:
We saw the roster near the end of the year and it's going to be very similar to that and then like I said, we've got these new pros, but these guys are young. They take time and I'm not going to rush it and force them to the NHL. The only three that have never played in the American League are Doughty, Kopitar and I think Clifford maybe didn't play early, he's just gone down at a certain time for conditioning.
Blake, on young players who could help on defense:
Clague had a real good season last year and I think Mike Stothers has done a really good job with him. Unfortunately, he broke his foot at the end of the year. He would've been coming up to play games. That part of it for sure, Matty Roy came up and never came out of a game after that, Sean Walker, with his aspects. Those are the internal things that are going to help this team.
–Presented without context: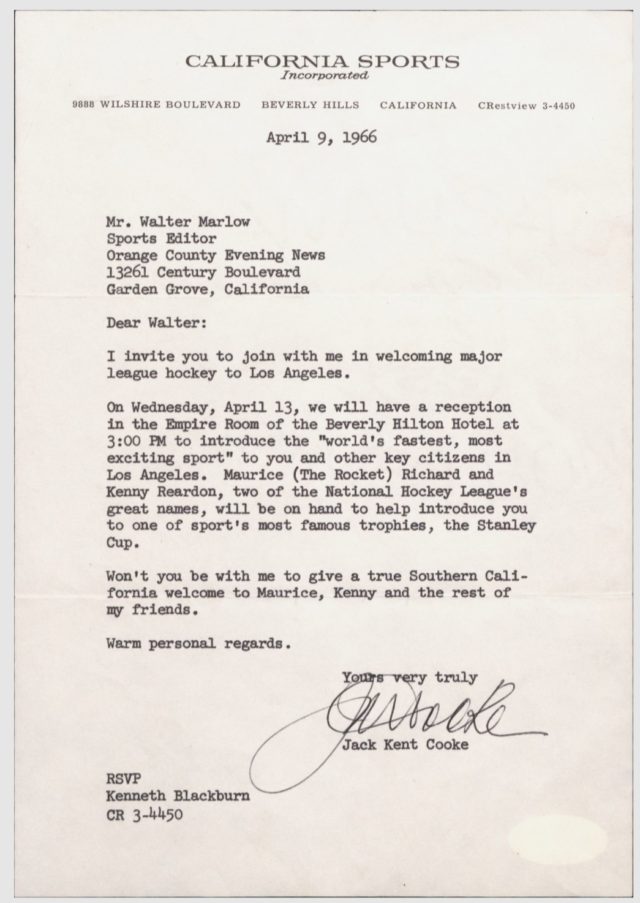 –Lead photo via Sean M. Haffey/Getty Images