STEVENS STARRED | This seems to be a great fit. From yesterday:
It's been speculated for some time now, but John Stevens will be joining the DAL coaching staff. Played with Jim Montgomery at AHL Philadelphia and coached his son at USHL Dubuque.

— Elliotte Friedman (@FriedgeHNIC) June 11, 2019
First off, no great surprise here. Those on the inside in Dallas, not necessarily off of top-secret information, but guided more by the understanding of the two coaches' approaches and longtime relationship, had foreseen this link-up. Stevens and Montgomery won the Calder Cup together as players with the Philadelphia Phantoms in 1998 before Stevens was encouraged to join the coaching ranks and guided Montgomery as an assistant for two additional seasons. From 2011-13, the junior John Stevens played under Montgomery at USHL-Dubuque, where they won the 2013 Clark Cup.
"He was a real winner as a player and he's been a real winner as a coach, and you can see it when you play with him. He's real confident in his vision in the way the game's played," Stevens said of Montgomery during a Los Angeles stop-over in October.
While their relationship provides a feel-good story, this is wonderful news for a young crop of Dallas defensemen that will gain a great deal from Stevens' guidance. Miro Heiskanen already seems to be in the Drew Doughty trajectory as an elite young talent, and along with players like John Klingberg, Esa Lindell and Julius Honka, Stevens' presence should be a boon for their all-around games, just as it was for a collection of 20-something defensemen in Los Angeles. This is important for a team like Dallas that needs to reap the rewards of its expensive franchise cornerstones up front and took strides towards doing so in Montgomery's first year.
SCHER-BAK HOME? | Via Andrew Zadarnowski, Nikita Scherbak is heading to Omsk to play for Bob Hartley. (There's a particular impression of Bob Hartley crafted by a Kings figure that I'd love to share here, but you'll have to ask for it in person. You must also bring your work boot.)
Omsk, separated by Scherbak's hometown of Moscow by some 1,400 miles of the Eurasian Steppe, was most recently a Gagarin Cup finalist/underdog after an _unfortunate_ season in which their 12-year-old, Roman Abramovich-funded home was condemned and ticketed for demolition. There's something fishy going on in Omsk! Anyway, Avangard played their games in a Moscow suburb well on the other side of the Ural Mountains, and based on their preseason schedule, it appears they'll do so again until Omsk Arena is reconstructed.
Left with few options weeks before the season, Avangard settled on a 6,000-seat arena in Balashikha, a monochrome industrial city some 2,200 km (1,365 miles) away near Moscow that made headlines last year – for the stench of its landfill.

The surprise move uprooted players and staff and upset the local fan base in Omsk, a city of 1.17 million. It also raised doubt about the team's ability to draw a crowd so far from home.

"We're facing a tough situation and we have the choice whether to look for excuses or look for solutions," said head coach Bob Hartley, a Canadian who led the Colorado Avalanche of North America's National Hockey League (NHL) to their second Stanley Cup title in 2001.

Avangard said in July that it had encountered "unforeseen difficulties" during renovations at the 10,000-seat Omsk Arena, which was inaugurated in 2007. The team has not revealed the extent and the nature of the damage but hinted the decision to move was linked to safety.
This would be some story if it were to occur in North America! Sorry, Ducks, but the Honda Center has to be closed permanently, and you're now going to play your season in Nashville. I know, its difficult, but these are the rules. Also to win the Cup you'll have to play a seven-game series split between Bridgestone Arena and the Vanderbilt rink.
The impetus for this wormhole was provided by Omsk Insider Slava Malamud, who has also shared wonderfully intricate detail on style choices and authenticity in HBO's Chernobyl miniseries.
Today in actual Russian headlines: In Omsk Region, Policemen Called Police to Break Up a Fight Between Other Policemen.

— Slava Malamud (@SlavaMalamud) October 23, 2016
Kris Versteeg, who was a part of Calgary's broadcast team when we visited late in the season, played 11 games for Omsk last year.
Scherbak, who had one goal in eight games with Los Angeles and 11 points (4-7=11) in 23 games with Ontario, was eligible to become a restricted free agent, though Los Angeles wasn't expected to qualify him. Selected 26th overall in 2014, he heads to Russia as one of four first round picks from that draft who are yet to reach 50 games played in the NHL. The others are Michael Dal Colle (fifth overall; 32 GP) and John Quenneville (30th overall; 33 GP), as well as Connor Bleakley, who was selected 23rd overall by Colorado, didn't sign with the Avalanche, and was then selected in the fifth round by St. Louis two years later. He's the lone 2014 first rounder yet to play an NHL game.
The Canadiens drafted Scherbak and were also interested in Adrian Kempe, whose 187 games played to date are surpassed by only four players drafted after his 29th slot: Brandon Montour (55th/ANA/189 GP), Brayden Point (79th/TBL/229 GP), Viktor Arvidsson (112th/NSH/278) and Kevin Labanc (171st/SJS/214).
Meanwhile, there are no firm updates yet on Brendan Leipsic, the restricted free agent whose qualification is closest to a 50/50 probability. Correspondence earlier this morning shared that "no decision has been made on Leipsic on that front." The deadline to qualify RFAs is 2:00 p.m. PT on Tuesday, June 25.
IMOO-VING ON | After speaking with Dusty Imoo this morning, man, there's a great opportunity ahead to help grow the sport in China. Apart from serving as Kunlun Red Star's goalie coach, he'll also work with 2020 Chinese Olympic goaltending hopefuls, who'll travel to Vancouver to work with him outside of the KHL season. This is part of an incomprehensible undertaking by the Chinese government in advance of the Beijing Games to build and sustain a winter sports infrastructure that didn't really exist before, which includes potentially 200 new rinks across the country – primarily in Beijing and Northeastern China, where hockey and winter sports are traditionally more popular. One report shared the number of rinks in Beijing has grown from six to 30 over the past six years as the country, per Fortune.com, strives to expand its sports industry five-fold by 2025.
China finished in fifth place in the six-team Division II World Championship tournament in April with a minus-seven goal differential against Serbia, Croatia, Australia, Spain and Belgium. Their men's team is ranked 32nd in the world, so any success will be measured over time by the degree to which the game takes root in and around the Beijing region and beyond rather than their upcoming Olympic results. One goalie Imoo will work with is Sun Zehao, signed to an ATO by Vancouver when the Kings and Canucks crossed the Pacific two Septembers ago in what was part goodwill/publicity stunt, and partly out of the desire to not bring three goalies to China. Zehao got into two KHL games with Kunlun and one with their VHL minor league club in 2018-19 and has also appeared in the China League and the Asian League. He sported a solid .921 save percentage at D-II Worlds.
But Imoo will spend most of the season in Beijing, where he'll look to boost Red Star's fortunes in goal. They've missed the playoffs in each of the last two years after qualifying in their 2016-17 expansion season. Barry Brust got into nine games last season with Kunlun, which also employed Michael Latta, Drew Shore and Wojtek Wolski in addition to Veli-Matti Savinainen, who in 2013 hoped to avoid homesickness upon signing with KHL-Khanty-Mansiysk and paid for a pair of friends to spend the season with him and keep him company in Western Siberia.
This is a tough loss for the Kings, no doubt, given Imoo's influence on Peter Budaj, Jack Campbell and the younger goalies down Los Angeles' chain. (Speaking of that chain, click here for a draft-related thread that includes some Spencer Knight content.) But just as they were able to weather the loss of Kim Dillabaugh, who was hired as Philadelphia's Goaltending Coach in 2015, they should have a good pool to sort through, as noted by the Goalie Whisperer Whisperer.
A thought on the Kings: lot of really smart, exciting coaches that are up-and-coming in the goaltending world, so there are some really interesting options to replace Imoo. But while his departure (reported by @reallisa) is a great step for him, it's a blow to LAK nonetheless.

— Catherine Silverman (@catmsilverman) June 10, 2019
L.A. AREA EMMYS | The Kings and FOX Sports West are up for a bunch of them, again! 13, to be exact:
Sports Special
"Before the Bigs: Patrick Beverly" – Prime Ticket
"Clippers Insider" – Prime Ticket
Sports Series – Programming (Live Broadcast)
"Clippers Live" – Prime Ticket
"Ducks Live" – Prime Ticket
"L.A. Kings Live" – FOX Sports West
Live Sports Coverage
Anaheim Ducks vs. Los Angeles Kings – Prime Ticket
Los Angeles Angels at Seattle Mariners – FOX Sports West
Los Angeles Kings vs. Minnesota Wild – FOX Sports West
Sports Feature
Black & White – Growing the Game (L.A. Kings Weekly) – FOX Sports West in partnership with the L.A. Kings
-Trevor Rabone, Producer; Phillip Radke, Producer; Ryan Todd, Editor; Christopher Wohlers, Camera
Sports Tease
Shohei Ohtani Comic Book Open Tease – FOX Sports West
-Tony Stefanelli, Editor/Producer
Short Promo – Sports
Clippers vs. Warriors – Prime Ticket
-James Freeman, Editor; Ian Lavallee, Producer; Andrea MacPhee, Producer; Jeff Shearin, Camera
It's LA It's the Kings – FOX Sports West in partnership with the L.A. Kings
Ohtani Returns – FOX Sports West
-James Freeman, Editor; Ian Lavallee, Producer; Jessica Musmanno, Producer; Jeff Shearin, Camera
The Kings/Wild game up for an Emmy was the early season "Enough" game that addressed gun violence in the aftermath of the Thousand Oaks mass shooting. It's up against a Kings-Ducks game by the Anaheim crew on Prime Ticket, an Angels-Mariners game on FOX Sports West, a Dodgers Rockies game on Spectrum SportsNet LA and a Lakers-Blazers game on Spectrum Sportsnet.
This also represents our third LA Kings Live Emmy nomination in the last four years. We're up against the Clippers Live and Ducks Live shows shared above, ensuring excellent FSW/PT coverage in that category. The Black and White feature is up against Black & Gold Takes Over Blue Heaven on Earth (KMEX/LA Football Club), Friday Night Lights: The Dorsey and Crenshaw Rivalry (KCET.ORG), Kirk Gibson Ceremonial First Pitch (Spectrum SportsNet LA/LA Dodgers), La Zona Rams: Brandin Cooks (KMEX/LA Rams) and One Last Shot: Andre Ingram (Spectrum SportsNet/LA Lakers).
In Short Promo – Sports, the It's LA. It's the Kings promotion is nominated alongside Clippers vs Warriors (Prime Ticket), Jim Hill and Friends (CBS2/KCAL9), Los Angeles Lakers Launch Spot (Spectrum SportsNet) and Ohtani Returns (FOX Sports West).
The winners will be unveiled at the 71st Annual L.A. Area Emmy Awards presentation on Saturday, July 27 at the Television Academy's Saban Media Center. The LA Kings and FOX Sports West combined to win four Emmys at last year's event. More info and the full list of nominees is available here.
IMPORTANT DATES | Via CapFriendly: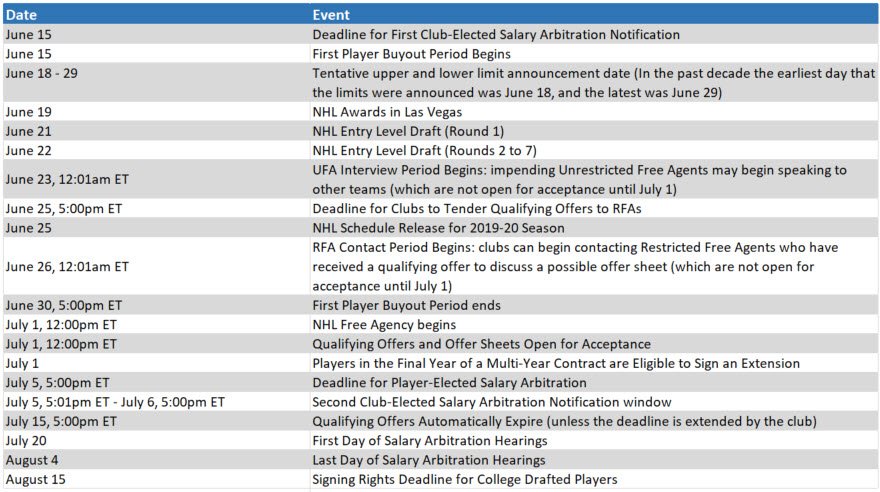 ELSEWHERE | An Inside Look at the LA Kings Draft Process (LAKings.com) … Jim Fox: From Shortstop to Right Wing (LAKings.com) … The LA Kings: What's in a Name? (LAKings.com) … Examining the Dion Phaneuf and Corey Perry buyout scenarios and the future for both players (The Athletic) … Stanley Cup coverage (LA Times)
PRESENTED WITHOUT CONTEXT
–Lead photo via Juan Ocampo/NHLI