Three notes to pass along before getting back to the Trevor Zegras profile.
OH, THAT'S INTERESTING |Via Pierre LeBrun this morning:
Hearing the Leafs and Kings have talked about a potential Patrick Marleau trade. Obviously there's the Todd McLellan connection there for Marleau so he might waive. But as of now I don't think the two teams have found a fit. Kings would need to unload a contract or two as well…

— Pierre LeBrun (@PierreVLeBrun) May 31, 2019
First of all, as was intimated, its not looking like there's a good probability this happens. "It's not dead, it's still a possibility, but I just don't think it's imminent at this point because of how complicated it is," he said, courtesy of TSN.
But for those wondering why the Kings, who are looking to get younger, would enter into discussions for a player who turns 40 in September and is coming off his worst season statistically since he was an 18-year-old rookie, this is because they are trying to add assets and gain future salary cap flexibility, which could occur in a hypothetical transaction. Keep in mind that Toronto is in a difficult cap crunch to re-sign Mitch Marner and Jake Gardner and will try to accommodate a trade request from Nikita Zaitsev, which would leave them perilously thin on the right side of the blue line. So, in addition to the potential massive Marner contract, they're also going to need to add pieces on defense and therefore will be motivated AAV hawkers.
So, why Los Angeles? Because if there's a means for the Kings to pull assets or draft picks from Toronto, or to somehow separate themselves from one of their own heavier contracts, then they're going to consider those options. This hypothetical exchange would be more about bringing in futures and flexibility than bringing in Patrick Marleau as part of the organizational "refresh" or "The Plan" or what-have-you.
Speaking with Andi Petrillo and Kristin Shilton on Toronto 1050's Leafs Lunch this afternoon, TSNs Bob McKenzie noted that even before the Zaitsev request that Toronto would ideally like to add a piece to their blue line. He clearly emphasized that though he wasn't linking Alec Martinez to any Marleau discussions, the Los Angeles defenseman was "eminently available" in trade discussions last season.
"I'm just saying if you can parlay Patrick Marleau into a National Hockey League defenseman who maybe fits the bill for what you're trying to do given what's going on with Zaitsev and Gardner, then great, that would be a perfect scenario. But there may also be other baggage you have to carry because taking a contract like Marleau's usually ends up costing a team an asset," McKenzie said.
With the risk of getting too deep into a hypothetical that was sparked by the 280 characters afforded by Twitter (and sustained, with important context, in the additional links above), if Marleau does ultimately end up in Los Angeles, the Kings should be wary of a 40-year-old on the last year of his contract joining a non-contending team vying to strengthen its team culture – a scenario that doesn't seem primed for success. But, again, were something like this to happen, I'm not expecting such a trade to be the endgame. In the unlikely event the Kings do trade for Marleau, it would be (say it with me) to create salary cap flexibility and claim another asset or two, and/or to set up another move down the line, not to bring in Patrick Marleau The LA King Woooo Let's Go.
Since we're neck-deep in rampant speculation, why not a little bit more?
TSN.com's Frank Seravalli, who raised the topic by acknowledging it was largely built on speculation, floated the idea that a team with ample cap space could buy Marleau out, which could be a more ideal situation for the player. Because Marleau was signed to a 35-and-older contract, a buyout wouldn't have any effect on his cap hit. But via CapFriendly, Marleau, who is due a $3-million signing bonus on July 1, would only cost a team $417K of actual money this year and next if bought out, and his $6.25 AAV would only be on the books for the upcoming 2019-20 season, not 2020-21. This would allow him to collect the remainder of his buyout while also signing a new contract for 2019-20, should he desire to. (He's also made over $97M in his career, so I don't know much of an influence compensation is in advance of his 40-year-old season.) I'm not sure if this is something that applies directly to the Kings but is still worth referencing as there are often teams using creative means to surpass the salary cap floor.
OIL COUNTRY | Via Jason Gregor of TSN 1260:
The #Oilers have parted ways with assistant coaches Trent Yawney and Manny Vivieros.

— Jason Gregor (@JasonGregor) May 31, 2019
As has been shared over the last week, we're expecting Yawney, a defensive and penalty killing specialist, to end up in Los Angeles alongside Todd McLellan. Also of note: Gregor also noted that former McLellan assistant Jay Woodcroft will remain with AHL-Bakersfield. Reading the tea leaves, I wasn't expecting him to move south across The Grapevine, though that wasn't based on what I was hearing internally, more just of gut intuition given his success with the Condors and the heavy movin' needed at Staples Center to return to contention.
SALT LAKE SHOWDOWN | As shared on Twitter this morning, the LA Kings and Vancouver Canucks will return to Salt Lake City for an exhibition game that will be held on Saturday, September 21. This will again be held at Vivint Smart Home Arena. Tickets will go on sale June 6. The entire preseason schedule will be released June 23.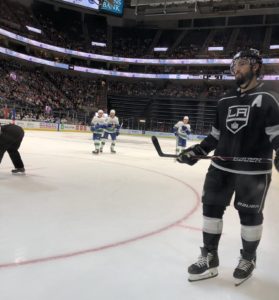 Via the Kings: Vivint Smart Home Arena announced today that the LA Kings will play a preseason game at 7 p.m. (MT) on Saturday, Sept. 21, serving as the home team, against the Vancouver Canucks in the second edition of the Salt Lake Shootout, presented by the Utah Sports Commission.
Tickets will go on sale online at 10 a.m. (MT) on June 6 as well as at the Vivint Smart Home Arena box office, starting as low as $39 in the upper bowl and $79 in the lower bowl. The Kings will announce the club's entire 2019 preseason schedule at a later date.
After a 10-year hiatus, the NHL returned to Salt Lake City last September as 12,367 fans witnessed the Kings' 4-1 win over Vancouver in the first of a three-year agreement to hold a preseason game at Vivint Smart Home Arena. A Kings preseason game will also be held in Salt Lake City in 2020.
The Kings featured two players with Utah connections last year with forward Trevor Lewis of Cottonwood Heights, who was the first native Utahn to win the Stanley Cup, and defenseman Daniel Brickley, who won back-to-back state championships at Skyline High School.
Vivint Smart Home Arena had an electric atmosphere last year as a big crowd enjoyed exciting NHL action in person," said Jim Olson, president of Vivint Smart Home Arena. "We look forward to another great night of hockey and the opportunity to again showcase the LA Kings and NHL in Salt Lake City."
Vivint Smart Home Arena, which was transformed by a $125 million renovation in 2017, served as the hockey home of the Salt Lake Golden Eagles from 1991-94, the Utah Grizzlies from 1995-97, including the International Hockey League championship season of 1996, and hosted the figure skating and short track speed skating competition at the 2002 Olympic Winter Games.
The Kings will also be hosting a special youth hockey camp in the area this summer. LA Kings Summer Camp Park City will take place on July 8-12 at the Park City Ice Arena for Mites through high school age divisions.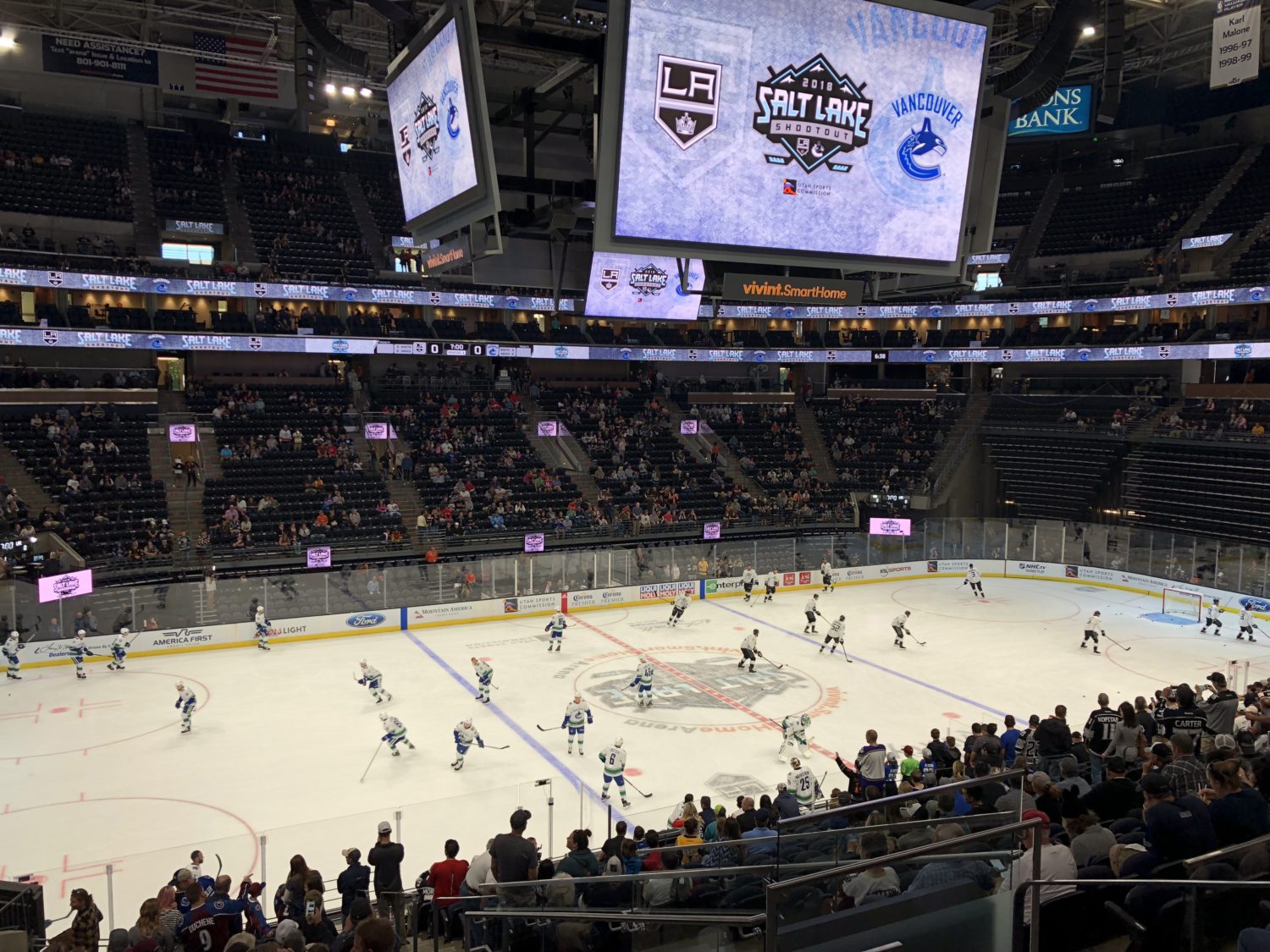 — Lead photo via Mark Blinch/NHLI