COACHING BITS. Just a few quick notes on the coaching search. There hasn't been a ton of movement away from the targets we'd all heard and shared recently. No announcement or hiring is imminent.
I did hear from a source outside the team that Trent Yawney, the former Anaheim penalty killing specialist who joined Todd McLellan in Edmonton a year ago, was "very likely" headed to Los Angeles. He's also someone known to work well with defensemen, which is something that the team lost when John Stevens was relieved of his duties and assistant roles were shuffled somewhat.
Yawney and Bakersfield coach Todd Woodcroft were foreseen and have been reported as potential McLellan assistants in Los Angeles. The Kings, of course, are one of seven teams that will feature a new head coach in 2019-20, and several teams without head coaching openings are shuffling their existing staffs, so there's competition for highly thought of assistants, particularly when there's also an opening (and potential resolution) with Edmonton, Yawney and Woodcroft's current employer.
Via TSN 1260 host Jason Gregor at OilersNation:
I still believe it would be beneficial for Tippett to keep at least one of those three assistants, so the players don't need to get used to an entirely new staff again. Ultimately it will be up to Tippett and who he hires, but considering his reputation for being such a good player's coach, I think he will see the value in having some continuity on the coaching staff.

The three assistants have permission to speak with other teams, but I've been told they will wait to speak with Tippett before having any serious conversations about other opportunities. There have been casual conversations about other openings, but nothing concrete.

The Los Angeles Kings and Toronto Maple Leafs are looking for a coach to run their defence, and Trent Yawney has worked with Todd McLellan twice before, so that is an easy connection.
Ex-King Jim Hiller followed Mike Babcock from Detroit to Toronto and has overseen some of the league's best power plays in his NHL tenure, and given his association with offense, I've thought aloud several times that he'd be a good fit for what ails L.A. But I haven't heard his name associated with the Kings, and it's probably more likely that he ends up in Edmonton or Nashville or Long Island rather than Los Angeles. He'd been given permission to interview outside the organization, and I believe he is exercising that opportunity this week.
As shared, there's nothing imminent; stay tuned as developments in Edmonton appear to have an impact elsewhere.
BLUE NOTE. Something I'm kind of happy about? Alex Steen has a chance at a Stanley Cup. Vice President of Hockey Operations Dave Taylor, too, of course, but as for current players, I've always had an appreciation for the way Steen has played. Never a player to cheat or shirk responsibility, he's an emotional and honest player whose St. Louis tenure predates their rivalry with Los Angeles this decade. He plays bigger than six-feet and is a competitive, hard-nosed pest of a player entrusted in all key situations. He was also a pretty reliable secondary scorer who potted 57 goals between 2013-15 – his 29 and 30-year-old seasons – and a versatile power play specialist capable of distributing the puck to the likes of Vladimir Tarasenko and Kevin Shattenkirk who could also screen goaltenders and even line up high for a one-timer. He's always been good at finding space.
I bring it up because he had an interesting observation when I interviewed him two years ago – you may find some good bits on how opposing players characterize their teams in the Quick Hits series – and he said, "I think we're built a little bit differently than we have been in the past. The game might look a little bit different than the typical Blues-Kings games." Surely this was a Blues team that came out and aggressively went after San Jose and found success through their physicality, but there are some stark differences between St. Louis in 2013 and St. Louis now. In our same conversation, Steen also acknowledged that "when things aren't going our way, it's easy to revert back to that," referring to the team's structure and heavier play, and while Jordan Binnington has provided some ample margins, they were again a very good forechecking and possession team under Berube, just as they had been in their most physical, defensive-minded years under Ken Hitchcock. From the All-Star Break on, they were just plain good, ranking fourth in Fenwick-close. (Boston ranked second in the same time frame.)
But there has been an evolution in their game. They're faster than they'd been when their "heavy" association was regularly applied; they're more skilled and they're younger. Robby Fabbri and Robert Thomas add to their offensive threat, with Thomas capable of providing the type of creativity that wasn't always a part of their successful teams earlier this decade. And while Kevin Shattenkirk has departed, this is still a blue line highly qualified to put the puck in the net as the only NHL team with three 10-goal scorers in the regular season. Vince Dunn, who missed the final game of the San Jose series, is a highly underrated player who scored 12 goals, averaging only 17-plus minutes. Colton Parayko and Alex Pietrangelo have reached double-digits in scoring, while Joel Edmunson plays that modern, smooth-skating, poised defensive game. This is a pretty good top-four that we didn't talk enough about this past year.
PRESENTED WITHOUT CONTEXT.
OK, some context in honor of the Dodger history set 17 years ago today.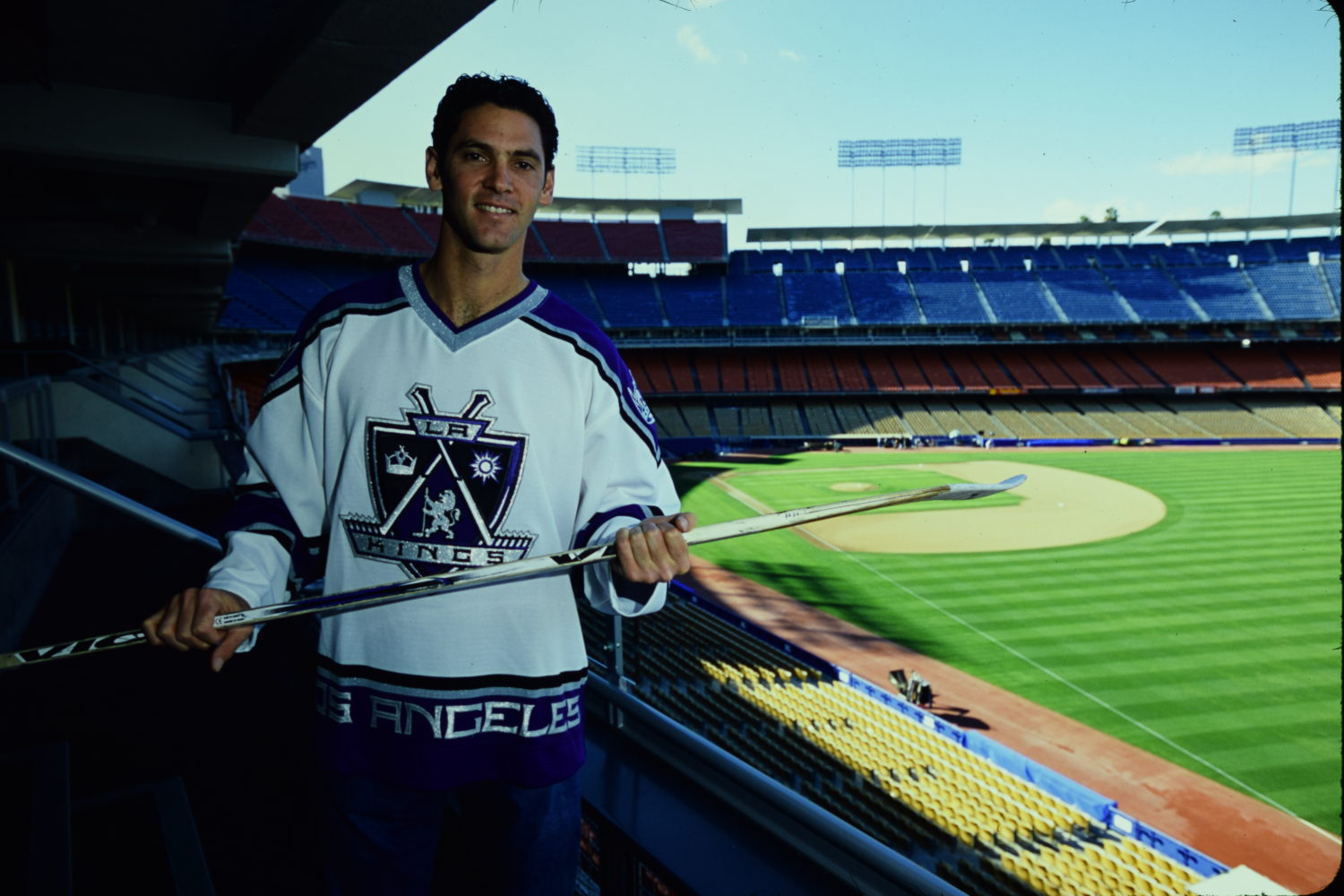 –Lead photo via Jonathan Kozub/NHLI