The final team left standing in the Kings organization saw its season come to an end last week as the Manchester Monarchs were eliminated from the ECHL's Kelly Cup Playoffs in the North Division Finals, losing in six games to the Newfoundland Growlers. Not known publicly at the time, but it would also prove to be the final game for the Monarchs, who announced yesterday that they have ceased operations at the conclusion of the season.
This piece won't take a look into that – See Jon's farewell to the Monarchs from yesterday. Manchester had a strong campaign and a strong run as the ECHL affiliate of the Kings, reaching the playoffs for the fourth straight ECHL season and the second round or further for the third consecutive season. Here, however, we take a look at the players that split their seasons between Ontario and Manchester.
Manchester's playoff roster featured several players who spent time in Ontario this season, including the trio of Drake Rymsha, Boko Imama and Craig Wyszomirski, who each played 25+ games with both the Reign and Monarchs.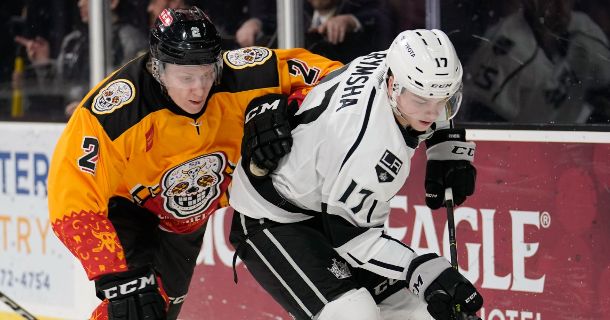 Rymsha inked his entry-level contract in August and began the season in the AHL with the Reign, making his professional debut on October 6 in Stockton. Rymsha collected three points (1-2-3) in 24 games during the 2018 portion of the season, as he found opportunity in the Ontario lineup hard to come by as a rookie, frequently skating on the fourth line with little to no time on special teams as he made the transition to the professional game.
"I think it's just the strength level," Rymsha said of the biggest difference between junior and professional hockey. "Obviously now you're playing against grown men, so to be able to go in the corner and win all those one-on-one battles, that's a big part of the game for sure."
Rymsha was assigned to the ECHL on January 4 and found a more consistent place in the lineup with the Monarchs. The 6-0 centerman tallied 13 points (8-5-13) from 35 games played, before a quick recall to Ontario, when he collected an assist before returning to Manchester for the playoff push. Rymsha went on to add a goal and an assist in eight games during the postseason.
"Pro [hockey] is a tough game," Rymsha said after the season ended in Manchester. "I wasn't getting a lot of minutes in the American League, [moving to the ECHL] was more for me to get some more touches and be put in some different situations, some more high-stress situations. Whether it's a faceoff at the end of the game, or just getting more of a regular shift. It was good."
Rymsha has two seasons remaining on his entry-level contract with the Kings, and will enter training camp with an opportunity to establish himself as more of a regular player at the AHL level during the 2019-20 season.
A frequent linemate of Rymsha's in the AHL was forward Boko Imama, who played his entire rookie season in 2017-18, along with the bulk of the 2018-19 season in Ontario, before he was assigned to the ECHL in early March.
Imama created a reputation as a physical forward in his time with the Reign, showing a willingness to drop the gloves and stand up for his teammates, while being a hard-checking presence on the forecheck in the offensive zone.
Like Rymsha, however, Imama found his opportunities with the Reign to be limited at times and though he improved his offensive output from a season prior (one assist in 17-18 to three goals and three assists in 18-19), he was limited to mostly fourth-line duty in the AHL when he was in the lineup, before moving to the Monarchs.
Imama collected a goal and six points in 11 regular-season games with Manchester, in addition to three goals and five points in ten postseason contests, which included a good looking, top-shelf snipe in a first-round series victory against Adirondack.
Where Mama Hides The 🍪, @bokojr! pic.twitter.com/KflJp9ngfF

— Ontario Reign (@ontarioreign) April 17, 2019
"My time here [in Manchester], I think it helped me gain a little bit more confidence, with my playing time and all that," Imama said. "Obviously I was happy to just come down here and bring my game and try to help the team the best I could."
Imama has one season remaining on his entry-level contract with Los Angeles, and will look to build off of his late season success with the Monarchs and return to the AHL next season in a more regular role.
Wyszomirski was a midseason add for Ontario, joining the Reign on a trio of PTO deals throughout the course of the season. The hulking blueliner played himself from the press box to a staple on the first defensive pairing as the season progressed, impressing coaches and players alike with his attitude and work ethic, as well as a willingness to stand up for his teammates.
"He's got a great personality, he's always upbeat, he does a lot of the little things to help his teammates, whether it's protect them in a scrum or taking on some big guys, he lays out some big hits, he blocks shots, he does all the things that guys really don't want to do and he makes no bones about it," Stothers said of Wyszomirski. "He knows what he is. He's not a guy that's going to be joining the offense, he knows he's not a power-play guy, but he takes pride in the little details and he wants to be a great penalty killer and he's proven that he's a good teammate. How could you not like him."
The Merrimack College product brought a simple game, playing within himself to earn minutes on the Ontario blueline. When opportunity called, Wyszomirski filled the void and became a regular at even strength and on the penalty kill down the stretch.
"I learned quite a bit," Wyszomirski said. "When you get up somewhere like [Ontario], you've just got to take every single day seriously. You can't get too comfortable, can't unpack. I just tried to go up, play my game and do what makes me successful and just be simple. The biggest thing I learned is to come to the rink every day with a smile and a good attitude because those are the only things you can really control. You can't control the lineup, bounces, all that good stuff. It's cliché to say, but working hard, bringing a good attitude and effort and good things will happen."
Wyszomirski will be an unrestricted free agent on July 1, though he is eligible to be qualified by Manchester at the ECHL level. Being qualified, or signing an ECHL SPC, would not impact Wyszomirski's ability to sign an NHL or AHL contact, or an AHL PTO.
*All Manchester post-season quotes are courtesy Monarchs Broadcaster Parker Wheeler.*